Home Online Casino Real Money
2009 WSOP Event Schedule WSOP TV Schedule Free Slot Games Site Map 3 Webmasters


All linked player names have free bios, courtesy of FullTiltPoker
Event #13 No-Limit Hold'em
Day 1
Buy-in: $2,500
Players: 1,088
Prize pool: $2,502,400 to the top 117

This will be an interesting event as many of the fan favorites are in this one, including some recent 2009 bracelet winners. All will start with 7500 chips. Seen in the field are Jerry Yang, Carlos Mortensen, Men "The Master" Nguyen, Barry Greenstein, Ted Lawson, Mark Seif, John Juanda, Cliff Josephy, J.C. Tran, Chad Bautista, Bill Gazes, Lee Childs, David Plastik, David "Devilfish" Ulliott, Phil Ivey, Tiffany Michelle, Bryan Devonshire, Yevgeniv Timoshenko, Dwyte Pilgrim, Alan Keating, Scott Clements and J.J. Liu.

Even though many of the players know each other, the atmosphere is more like professional courtesy amongst sharks. Early busts include WPT champion Yevgeniv Timoshenko, J.C. Tran, Amnon Filippi, Humberto Brenes, Jerry Yang, Joe Bartholdi, Jordan Morgan, Joe Awada, Grant Hinkle, Danny Alaei, Vivek Rajkumar, Shaun Deeb and James Mackey after having his pocket A's cracked by two pair. When the dinner break finished, there were 422 left in the field. The action moved up to scathing as big names were getting up from the tables faster than you could turn your head. By the time 2:00 AM came there were 175 left that would show up for Day 2.
Jochen Dickinger -- 176,400
Marcel Janicke -- 171,900
Philip Sousa -- 136,900
Eric Mutrie -- 136,600
Yven Portinga -- 136,000
Brett Switzer -- 134,700
John Hoang -- 120,600
David Sands -- 120,200
Torrey Reily -- 114,200
Day 2

After receiving an opportunity to soak my fingertips from writing reports, we were happy to see action take another hour to start at 2:00 PM. From the throng that began this tournament, the 175 returning players were looking just as determined as yesterday. On the first hand, second in chips on Day 1 Marcel Janicke jumped to chip leader and over 200K after taking out Alan Curl.

But in order for somebody to win, someone else has to lose. The list of the fallen had names like Scott Clements after his pocket Q's were stonewalled by another player with pocket A's, Mario Delis, Cliff "JohnnyBax" Josephy when his pocket 10's met the heart flush of another player, Paul Kobel, Lee Childs, Cory Carroll, Svetlana Gromenkova, Beth Shak and Joe Sebok.

An interesting prop bet between Beth Shak and Joe Sebok came to our attention as Sebok claims to not have known about Beth Shak getting a divorce, (sorry to hear that Beth). So Sebok will have to wear a lie detector and answer any questions given to him. The winner will win $5,000 and have to choose some humiliating articles of clothing for the loser to wear. Like Sebok in a bikini top and heels or Shak in a bunny costume. (Q: Why do us guys always want the girls to wear bunny costumes? A: Because we're guys!)

When the bubble burst, you heard table after table with someone going all-in. Players were going out so fast that you would have though tournament officials rolled a bowling ball through them. Phil Ivey played his hard charging style and went up to 40K, down to 22K then up to 300K before crippled down to 25K. Even though he is the short stack, never count Ivey out until his chips are gone. After the dust settled at 3:00 AM, there were 20 players that remained to fight it out for the gold bracelet and the title of champion.
Gregg Merkow -- 932,000
Angel Gullien -- 860,000
Kevin Stammin -- 739,000
Jeffrey Tunkel -- 694,000
Philip R. Sousa -- 470,000
Breet Seitzer -- 456,000
Shawn Glines -- 453,000
Roland DeWolfe -- 400,000
Kirill Gerasimov -- 390,000
Day 3 -- Final Table

Battle for the bracelet began at 1:15 PM, with all at the tables but Phil Ivey. Eventually he did show and had 25,000 chips to work a miracle with. He made it for a few hands, but went out in 18th position taking $18,467 which is enough for toilet paper in the Ivey household. Following him were Kirill Gerasimov in 17th, Roland De Wolfe in 15th and Garrett Beckman in 10th which then finalized the 9 for the final table.

First to go was Gregg Merkow in 9th after Kevin Stammen made a set of 10's on the turn. Next was Matthew Lynn losing to the paired K's of Bahador Ahmadi, leaving in 8th. In 7th was Oktay Altinbas, who saw the light of the cashiers cage courtesy of the two pair (J's and 8's) belonging to Angel Gullien. Antoine Berube picked up the money for a 6th place finish when he could not outdo the pocket 9's of Shawn Glines. After the dinner break, it was Torrey Reily taking a 5th place payout behind the flush win of Bahador Ahmadi. Bahador Ahmadi staked the claim to 4th place when his pocket 4's were overcome by the paired Queens of Kevin Stammen. And capping a spectacular performance, Shawn Glines finished in 3rd when his A K met the K K of Kevin Stammen.

For the heads up Kevin Stammen had 5.8 million on his side of the table and Angel Gullien had 2.4 million stacked up and ready. Approximately 20 hands went until the winning hand came and took place as follows. Stammen raised and Gullien called with both to see a flop of 9 8 2. Both then moved all-in after raising and reraising with Stammen revealing J J and Guillien J 9. Turn card was a 10 and river a 2, so Stammen had the larger two pair (J's and 2's) to become champion and the owner of the classic WSOP gold bracelet of champions.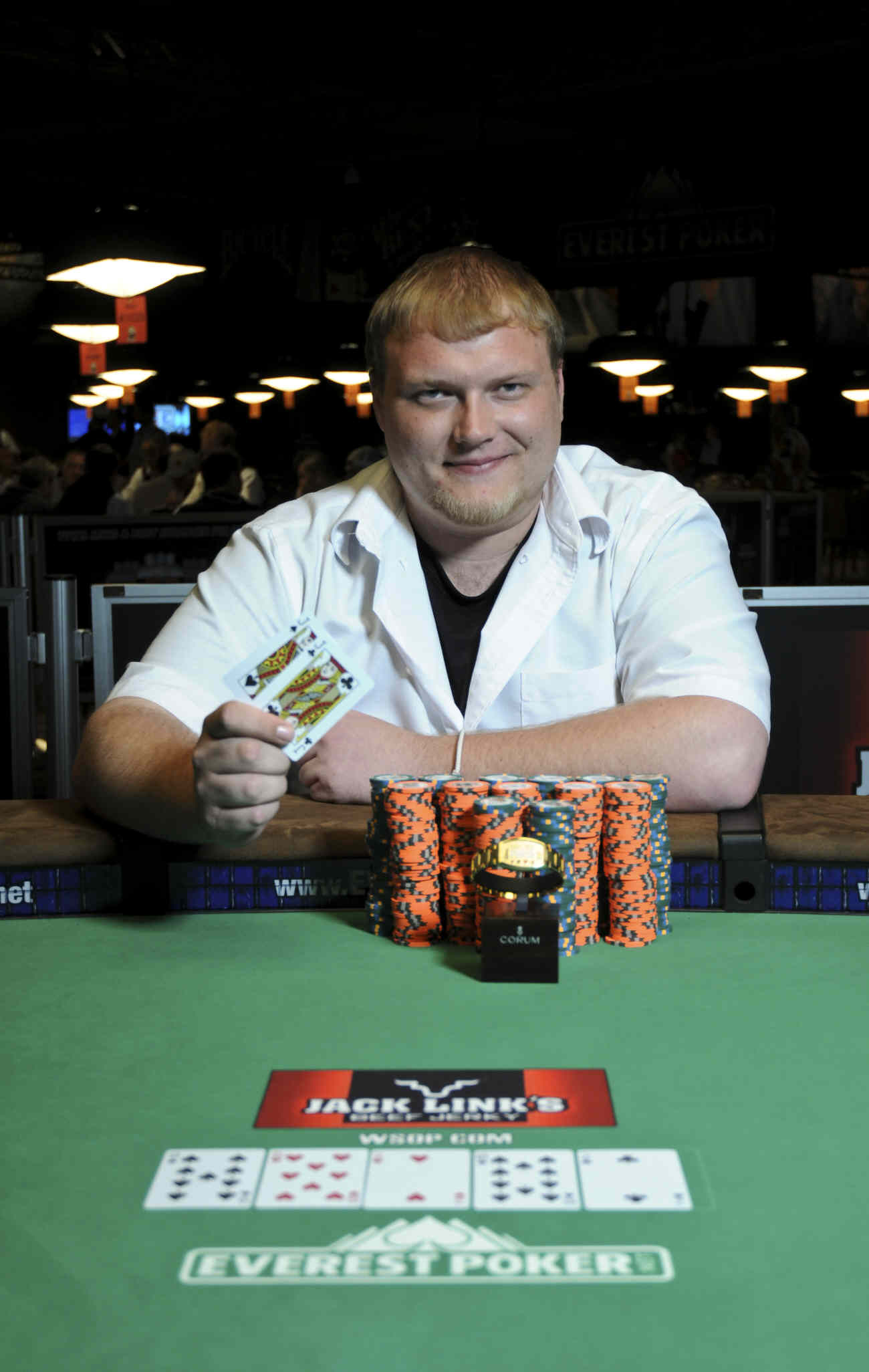 Kevin "Stamdogg" Stammen
Kevin Stammen -- $506,786
Angel Gullien -- $312,800
Shawn Glines -- $202,694
Bahador Ahmadi -- $139,934
Torrey Reily -- $100,446
Antoine Berube -- $75,547
Oktay Altinbas -- $59,356
Matthew Lynn -- $48,621
Gregg Merkow -- $41,439