Home Online Casino Real Money
2009 WSOP Event Schedule WSOP TV Schedule Free Slot Games Site Map 3 Webmasters


All linked player names have free bios, courtesy of FullTiltPoker
Event #14 Limit Hold'em / Six Handed
Day 1
Buy-in: $2,500
Players: 367
Prize pool: $844,100 to the top 36

This is the first six handed Limit Hold'Em tournament that has been on the WSOP schedule. All players will receive 7500 chips and play for 8 levels for today. This was one that would fill up in the next hour or so as many are playing in other events still. But some of the starting names were Nick Frangos, Vanessa Rousso, Fabrice Soulier, Barry Shulman, Terrance Chan, 2009 WSOP bracelet winner Lex Veldhuis, Marcel Luske, Jennifer Harman, Berry Johnston, Daniel Negreanu, Chip Jett, Liz Lieu, Bill Chen, Ylon Schwartz, Al Barbieri, Gavin Smith, Barry Greenstein, Andy Bloch, Phil Ivey, Erick Lindgren and Sorel Mizzi.

By the dinner break the numbers came down to 287, but no big names busts that we have heard of. But afterwards was a different story. Greg Mueller went out with the last of his chips losing to an opponent who paired his 8 card. Following him to the rail were Rob Hollink, Jean-Robert Bellande, John Myung and David Gee. At the end of the day there were 98 players to move on to Day 2. Which means there are still many big names in the game like Barry Greenstein, Daniel Negreanu, Rep Porter, Evelyn Ng, Barry Shulman, J.C. Tran, David Plastik and Grant Hinkle.
Jordan Cairns -- 76,600
Von Altizer -- 66,400
Franklin Klein Jr. -- 65,800
Alexander Veldhuis -- 65,200
Lennart Knost -- 60,500
Robert Como -- 59,500
Aaron Steury -- 58,400
Eric Buchman -- 54,600
Ernest Shakaryan -- 52,400
Day 2

Early on J.C. Tran had 22,500 chips and busted out when his opponent made a set of Queens on the river. Behind Tran was Evelyn Ng, Eric Buchman, Ernest Shakaryan, Ray Henson, Barry Greenstein, Eugene Katchalov, Matt Glantz, Dan Stuart, Daniel Alaei and Jonathan Chamberlain. The field of 98 was reduced to 11, with Daniel Negreanu responsible for a lot of the damage. He went from 24,300 chips on Day 1 to a well respectable 470,000 on Day 2 which means we will see him at the final table. Another who improved his lot was Barry Shulman who rocketed from 23,000 to 351,000.

Action will continue tomorrow at 1:00 PM. Stay with us and find out who the newest champion is!
Tommie Horrko -- 509,000
Daniel Negreanu -- 470,000
Barry Shulman -- 351,000
Brock Parker -- 335,000
Kevin Hong -- 286,000
Nikolay Losev -- 216,000
Kyle Ray -- 192,000
Robert Como Jr. -- 136,000
Shawn Buchanan -- 118,000
Day 3 Final Table

The day began at 1:00 PM and we needed five players to be eliminated before the final table could start. In 11th place was Jimmy Tran falling to the paired Kings of Barry Shulman and 10th place went to Robert Como who lost to the paired Aces of Kid Poker (Daniel Negreanu). Next to go was Nikolay Losev in 9th being silenced by the Ace high flush of Kyle Ray. Shawn Buchanan went to the rail in 8th becoming victim of the set of Queens made by Tommi Horkko. Jim Buckley left in 7th in a nasty fashion. In a 3-way with Daniel Negreanu and Brock Parker, lots of raises took place before a flop of A K 8. Next raises took place until Negreanu folded and Buckley went all-in and was called by Parker. Buckley had pocket K's and probably felt his heart drop when Parker produced pocket A's. Turn card was 5 and river a J. Ouch.

First to leave the final table was Kyle Ray in 6th when the hand between him and Kevin Hong resulted in Hong winning King high. This was a start of a roll for Hong as he quickly built up his stack to 700,000. At the same time, Barry Shulman was losing his assets and was beaten down to 20K before becoming busted in 5th place. Negreanu just couldn't be stopped at this point and crossed over the 1.7 million mark before Kevin Hong was booted in 4th after losing to the quad 5's of Brock Parker. In 3rd place was Tommi Horkko who could not stand up to the set of 10's made by Negreanu.

Heads up had Negreanu with 1.65 million chips to the 1.1 million of Brock Parker. Initially Negreanu won a number of hands, giving him a sizable edge against Parker. But soon whatever affected David Chiu at the final table in Event #12 seemed to have made its way to Negreanu. Nothing worked right for Kid Poker. On the last hand, Parker raised and Negreanu called with both seeing a flop of A 10 6. More bets, raises and a call produced a turn card of 4. Negreanu with K 10 went all-in and Parker called having A J. The river card was a 8, so the paired Aces of Parker earned him a gold bracelet and the right to be called champion.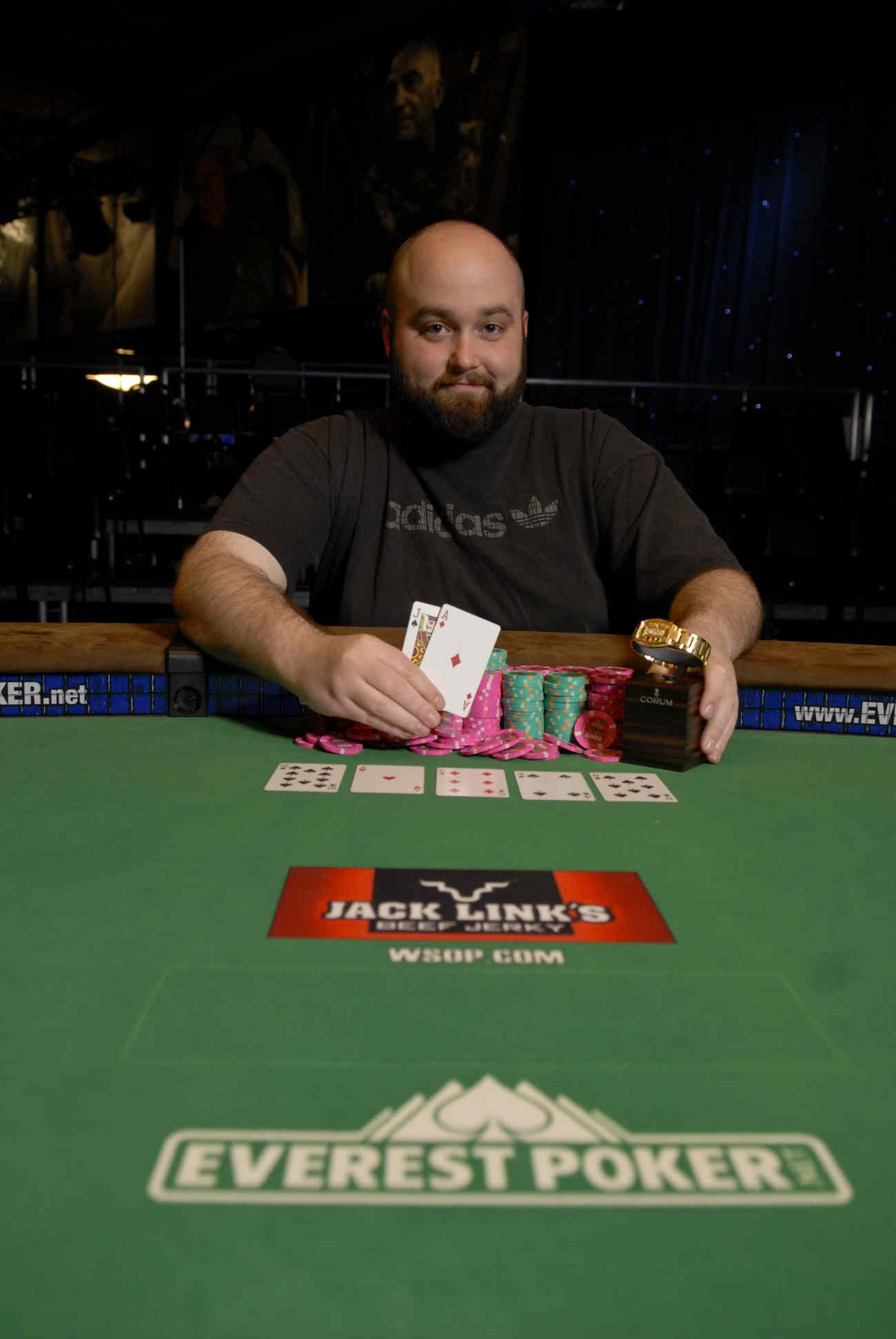 Brock Parker
Brock Parker -- $223,688
Daniel Negreanu -- $138,280
Tommi Horkko -- $89,660
Kevin Hong -- $60,885
Barry Shulman -- $43,201
Kyle Ray -- $31,966
Jim Buckley -- $23,179
Shawn Buchman -- $23,179
Nikolay Losev -- $16,184