Home Online Casino Real Money
2009 WSOP Event Schedule WSOP TV Schedule Free Slot Games Site Map 3 Webmasters


Event #15 No-Limit Hold'em
Day 1
Buy-in: $5,000
Players: 655
Prize pool: $3,078,500 going to the top 63

Well if you love Texas No Limit Hold'em, the WSOP means to make you happy! This time all entrants will receive 15,000 chips to play with. Players were slowly dragging themselves in as the long tense days of the WSOP tournaments combine with the fact that sleep is a desired luxury. Those seen so far are Andy Black, Tom Franklin, Steve Brecher, Ted Lawson, Alexander Kostritsyn, Mike Sexton, T.J. Cloutier, Scott Montegomery, Jerry Yang, John Juanda, Vanessa Rousso, Bill Edler, Scotty Nguyen, Bertrand Grospellier, Russell Rosenblum, Amanda Baker, Jeff Madsen and Peter Eastgate. And that just names a few.

Jeff Madsen busted out of the tournament as quickly as we found out he was at the tables. Antonio Esfandiari also busted out, but before he left the table Michael Gracz told him to check his belongings carefully as he may have another 5K chip under them. Now a friend is one who sees you in trouble and kicks over 5 grand to cover the entry fee. (Wish I had friends like that.) Also joining the ranks of the busted were David Singer, Howard Lederer, Michael Mizrachi, Justin Bonomo, Gavin Smith, Chris Ferguson, Greg Raymer, Chad Brown who lost to a King high flush, Phil Hellmuth Jr. when his pocket 5's were bested by the two pair (10's and 8's) of another opponent.

Gavin Griffin at one point hit quad 9's to keep his stack healthy. He will join up for the next round of play as will Nenad Medic 72,100, Scott Seiver 118,000, David Pham 113,700, Jimmy Fricke 112,200, Jesse Rios 83,400, Rob Hollink h 71,500, Glyn Beebe 71,300, Erik Seidel 65,900, Hasan Habib 65,100 and Andy Black h 62,500. In all, there were 165 that survived today's action and will return on Day 2.
Calixto Clemenceau -- 186,300
Alexander Turyansky -- 179,900
Faraz Jaka -- 172,200
Jason Somerville -- 159,000
Jared Ingles -- 154,000
Fabian Quoss -- 148,500
Brian Lemke -- 136,400
Steve Verrett -- 136,600
Paul Foltyn -- 131,900
Day 2

Within the first 10 minutes of play, Carlos Mortensen was eliminated by Theo Tran. Mortensen who started the day with 22,300 just hit bad luck when his pocket Q's met with Tran's paired Aces. Grant Hinkle was also a casualty early on, as was Andy Black, Jimmy Fricke, Erick Lindgren, Alexander Kostritsyn and Rob Hollink. Chau Giang also lost his all-in bid with A K when his opponent hit a set of Jacks on the flop.

But these players were hot in today's action. Ludovic Lacay doubled up when he made quad 7's by the river card. Cody Slaubaugh hit a big one sending him to 258K after a hand with Ryan Welch. Kathy Liebert was also looking pretty with over 240,000 in her stack. Action went hand to hand at the bubble, but afterwards there were 63 happy players left over who earned a minimum of $10,159 for their efforts. Later on, Christian Iacobellis hit quad 8's which beat the full house of his opponent resulting in his stack hitting 400,000. He was one of the 17 players that will move on to Day 3 which will decide who will become champion and newest owner of a WSOP gold bracelet.
Isaac Baron -- 1,101,000
Olivier Busquet -- 951,000
David Pham -- 880,000
Danny Illingworth -- 850,000
Billy Kopp -- 693,000
Fabian Quoss -- 617,000
Unk
Unk
Unk
Day 3 -- Final Table

Here are notes from the WSOP on the final table:

The 2009 World Series of Poker $5,000 buy-in No-Limit Hold'em champion is Brian Lemke. Prior to this victory, Lemke's biggest live poker win was about $8,000. He won about 80 times that amount in this tournament. Lemke was emotional following his victory. At the table, he wore a shirt in tribute to his late cousin – Justin Shronk – who sadly passed away at the age of 27 on April 22, 2009. Shronk was a producer for the poker radio show "Poker Road." Lemke collected $692,690 for first place. He was also awarded his first WSOP gold bracelet. The defending champion from 2008 was Scott Seiver, from Cold Springs Harbor, NY. He entered this year's tournament but did not cash.

Lemke commented that his final opponent, Fabian Quoss is a great player. Lemke stated he sat with Quoss during much of the later stages of the tournament and developed a healthy respect for his adversary. "I kind of feel bad for sucking out on him," Lemke said. "But that's poker – I'll take it." Note: Lemke caught a three-outer on the final hand of the night.

When heads-up play began, Fabian Quoss enjoyed slightly greater than a 4 to 1 chip lead over Brian Lemke. But during the match, Lemke became the aggressor and gradually chipped away at his opponent. Quoss was clearly unlucky on what turned out to be the final hand of the night. When the final hand was dealt, the players were close to even in chips, with Lemke holding the advantage. The final hand of the tournament came when all the money went into the pot pre-flop. Quoss had A-Q. Lemke had A-8. Lemke appeared to be in big trouble, but managed to hit a three-outer on the turn to make a straight. The final board showed J-10-9-Q-x, giving Quoss top pair, but Lemke the straight.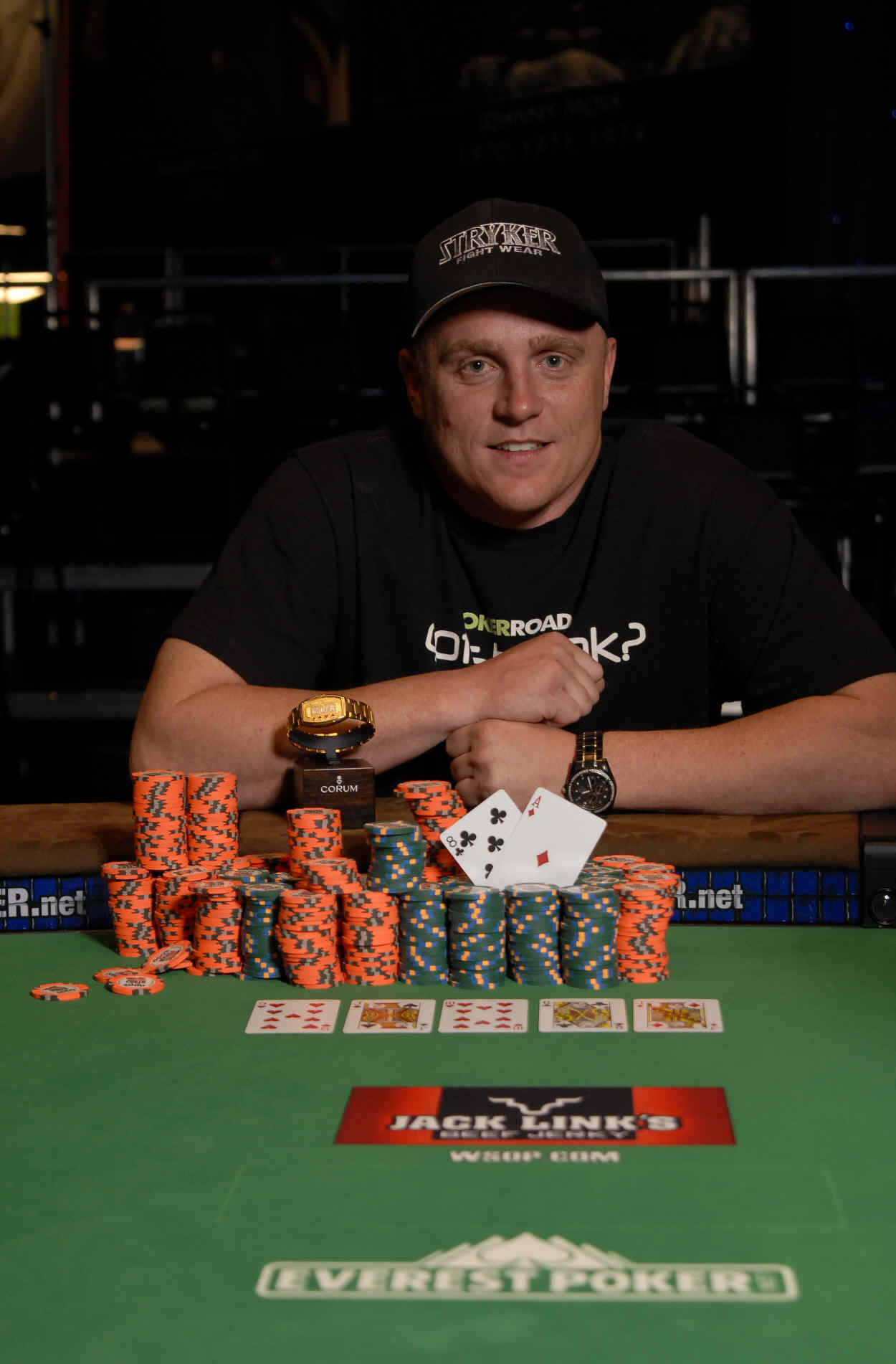 Brian Lemke
Brian Lemke -- $692,690
Fabian Quoss -- $427,911
Thomas Keller -- $280,851
Mike Sowers -- $194,930
Lika Gerasimova -- $142,688
Danny Illingworth -- $109,871
Issac Baron -- $88,783
Billy Kopp -- $75,115
Christian Iacobellis -- $66,403