Home 2009 WSOP Event Schedule WSOP TV Schedule Free Slot Games Site Map 3 Webmasters


All linked player names have free bios, courtesy of FullTiltPoker
Event #16 Seven Card Stud
Day 1
Buy-in: $1,500
Players: 359
Prize pool: $490,035

This one may not be as big as the World Championship Seven Card Stud tournament, but someone will end up with a gold bracelet and their name on the record books just the same. All players will receive 7500 chips to start this 3 day event. Settling down for a run at the gold are Katja Thater, Allen Kessler, Steve Wong, Chip Jett, Anna Wroblewski, John "Miami" Cernuto, Gary Benson, Thor Hansen, Keith Sexton, John Juanda, Men "The Master" Nguyen, Paul Darden, Ylon Schwartz, Dario Alioto, Ted Forrest, Chad Brown, Hoyt Corkins, Eli Elezra and Michael Binger.

Just as it looks like the family got together, some are already leaving. David Singer had his two pair punished by the set of 2's belonging to another player. Following him are Amnon Fillipi, Anna Wroblewski, Andy Bloch, Max Pescatori, Ted Forrest, Terrance Chan, Jan Von Halle and more. So many were going to the rail, it became difficult to see who they were. Mike Caro also left the game after meeting the full house (A's/2's) of another player. Justin Bonomo met the same full house fate and packed his goodies to say goodbye. Jeff Lisandro hit quad Jacks to make it to the upper end of the chip stats. In all, there were 97 players to move on to Day 2.
David Levi -- 49,600
Dutch Boyd -- 47,700
Eric Afriat -- 44,400
Jeff Lisandro -- 40,700
Rep Porter -- 37,600
Chad Burum -- 37,300
Jason Mercier -- 35,000
Thor Hansen -- 33,300
David Bach -- 31,800
Day 2

The action was back underway at 2:00 PM as Mel Judah moved on to the next tournament after losing to the set of Aces held by Jeff Lisandro. Then the tournament director moved over to the table Sam Grizzle was playing at and put him in the penalty box. We don't know what happened, but Sam seemed to be an unhappy camper from the start of today. Michael Mizrachi also busted out of the tournament. He was followed by Eli Elezra, Sam Grizzle (no details), Gary Benson, Robert Goldfarb, Chris Reslock, David Levi, Fabrice Soulier, Jason Mercier, Dutch Boyd and John Cernuto in 11th place.

When Day 2 was finished, there were 8 players left that will move on to the final table. Here are the names and chip counts:
Jeffrey Lisandro -- 334,000
Steven Stencil -- 323,000
John Juanda -- 287,000
Rodney Pardey Sr. -- 245,000
Eric Pardey -- 217,000
Nick Frangos -- 84,000
Mitch Schock -- 83,000
Daniel Studer -- 43,000
Day 3 -- Final Table

These notes on the final table are from the WSOP:

The 2009 World Series of Poker $1,500 buy-in Seven-Card Stud championship is Jeffrey Lisandro. Lisandro's trademark is a black fedora, which he commonly wears at the poker table. Prior to playing poker full-time, Lisandro was a real estate investor. With this victory, Lisandro has sealed his reputation as one of the world's top Seven-Card Stud players. He won his previous gold bracelet two years ago playing Seven-Card Stud. He also finished ninth in this year's ($10,000 buy-in) Seven-Card Stud World Championship, which concluded last week. Lisandro collected $124,975 for first place.

The defending champion from 2008 was Michael Rocco. He finished 12th in this event, which was the second-best defending champion performance within the past two years. Thang Luu successfully defended his title this year in the Omaha High-Low Split event, and Rocco came closest among the remaining 71 gold bracelet winners -- since the start of the 2008 WSOP.

Lisandro earned a wire-to-wire victory at the final table. He maintained a decisive chip lead throughout the nearly five-hour finale. The final hand came when Jeffrey Lisandro made a diamond flush on seventh-street against Rod Pardey, Sr., who made a straight.

Six players in WSOP history own two gold bracelets in Seven-Card Stud. They are Johnny Moss, Bones Berland, Marty Sigel, Ted Forrest, Mel Judah, Rod Pardey, Sr. and Men "the Master" Nguyen.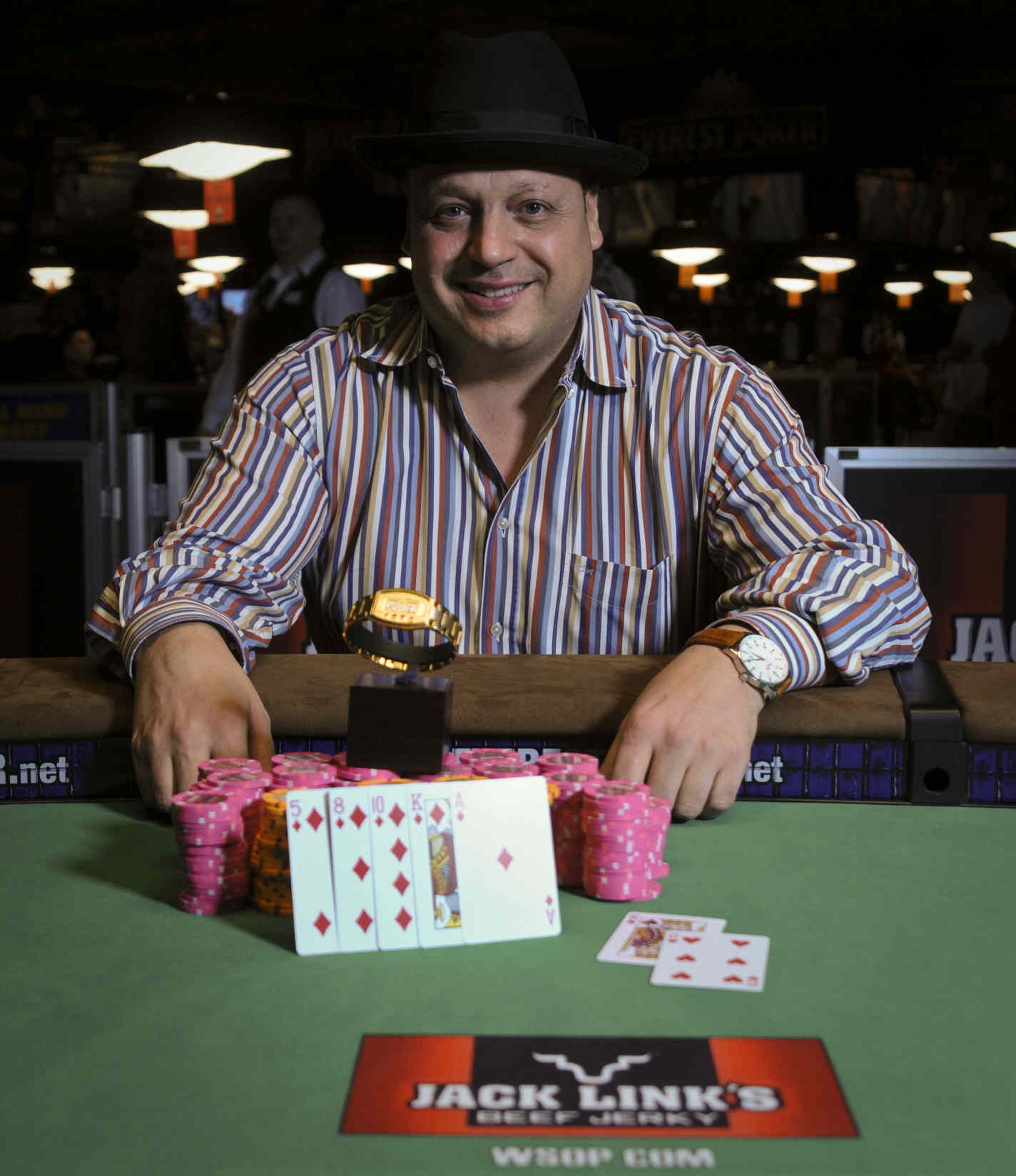 Jeffrey Lisandro
Jeffrey Lisandro -- $124,959
Rodney Pardey Sr. -- $77,230
Steven Stencil -- $50,626
Nikolaos Frangos -- $35,087
John Juanda -- $25,634
Eric Pardey -- $19,690
Daniel Studer -- $15,862
Mitchelle Schock -- $13,373