Home Online Casino Real Money
2009 WSOP Event Schedule WSOP TV Schedule Free Slot Games Site Map 3 Webmasters




All linked player names have free bios, courtesy of FullTiltPoker
Event #17 Ladies No-Limit Hold'em World Championship
Day 1
Buy-in: $1,000
Players: 1060
Prize pool: $964,600 to the top 117

In a different twist to starting off a tournament, it was the 1000+ ladies in the field who gave the order, "Dealers, shuffle up and deal!". And with that the ladies world championship was underway. Defending her title is last year's winner Svetlana Gromenkova who went to work on the field in order to earn her second WSOP gold bracelet. Also in the field are Shirley Williams (mother of David Williams), Maureen Feduniak, J.J.Liu, Maria Ho, Evelyn Ng, Kristy Gazes, Tiffany Michelle, Anna Wroblewski, Wooka Kim and Roni Taylor. The whole Amazon room is a lot nicer than usual and smells good too. This should be a fun group to watch as big glasses of alcohol were going around the room 20 min after start.

One of the first to go early is Kristy Gazes when her pocket A's met up with the set of J's of another player. Tiffany Michele also busted after her paired Aces met with the set of Queens of her opponent. The exciting hand of the day happened when Maya Gellar went all-in with pocket Q's and her opponent called with pocket J's. A flop of J J 8 came up, (you knew something happened with all the loud screams taking place), then a turn card of Q gave Maya a slight chance of redemption (more screams), but a river card of K sealed her fate and Maya walked sadly to the rail. She was followed by Amanda Leatherman,Amanda Baker, Beth Shak, Evelyn Ng and Shirley Williams when she was beaten by a Queen kicker by her opponent. By dinner break there were 378 ladies left in the field. These ladies are working hard to get that bracelet.

But Svetlana Gromenkova is just a machine, gaining all the right cards and making all the right moves with them. She just crept up slowly winning and made the cut for Day 2. J.J. Liu also played her game and finished the day with 38,300 in her stack. Maria Ho also will be up for Day 2 with 24,800. But the one to watch for probably has the cutest name in poker, chip leader Tammy Tibbles with over 100K in chips. There are 146 who will be at the tables for Day 2. Come back tomorrow to see what happens!
Tammy Tibbles -- 129,000
Svetlana Gromenkova -- 62,600
Anna Resnick -- 53,200
Patti Zarosky -- 51,000
Mychele Medina -- 50,100
Thuy Beltran -- 48,900
Lisa Parsons -- 46,300
Anna Kantor -- 46,200
Anh Le -- 45,900
Day 2

Well we just received the payout schedule for the final table players and here it is:

$195,390
$120,575
$78,132
$53,940
$38,719
$29,121
$22,880
$18,742
$15,793
The ladies have begun round 2 starting at 2:00 PM and it lasted until 3:00 AM the next day. Now thats how you fight for what you want! (Did somebody say gold bracelet?) Today is payday for the 117 who make it, and unlike the men who slow down and play tight, the women are pulling no punches taking out contenders left and right. Maria Ho quickly bumped her stack up to 34K with a full house (A's/5's), taking chips from an unhappy player. Within an hour, it was hand to hand at the bubble position 118 for the field. It took 20 minutes, but cheers were heard from all corners of the Amazon room when the bubble broke. The bubble girl was Katja Svendsen who had her pocket 8's overcome by another player holding pocket 10's.

Chip leader Tammy Tibbles pushed her stack up to 170,000 in early play, while others were walking away from the tables busted. Erica Schoenberg was one of the walkers after her Broadway straight was beat down by Lisa Parsons making a full house (10's/A's). Following Erica was Maria Stern, Anh Le, Susie Issacs, Debbie Burkhead, Michele Withers, Candy Kolfage, Ming Saelee, Karina Jett, Angie Tran and Julieta Bearden. Svetlana Gromenkova, the poker card samurai, ran into a streak of bad luck and is no longer in this tournament. And about 2:00 AM, Tammy Tibbles joined the list of the departed in 15th place as she lost the balance of her chips to J.J. Liu. (Liu soon busted in 13th place.) Here are the final table players:

Final Table Players with chip counts:

Lori Bender -- 643,000
Lisa Hamilton -- 527,000
Angel Pedroza -- 522,000
Lisa Parsons -- 427,000
Mari Lou Morelli -- 320,000
Dawn Thomas -- 212,000
Kim Rios -- 197,000
Lisa Santy -- 196,000
Kimberly Cunningham -- 140,000
Day 3 -- Final Table

Here are notes from the WSOP on the final table:

The 2009 World Series of Poker Ladies Poker Championship is Lisa Hamilton. This was only the second WSOP event Hamilton has played. She entered an event a few years ago, but was eliminated early. Hence, this was her first WSOP cash, which was an outright victory. Hamilton is a high-stakes cash-game player. She regularly sits in the upper strata of No-Limit games, from $10-20 up to $50-100 blinds, a big game by any standard. She rarely plays in poker tournaments. Hamilton collected $195,390 for first place. She was also awarded her first WSOP gold bracelet. As for future tournament plans, Hamilton stated that she plans to play only the WSOP Main Event.

The final table contained no former WSOP gold bracelet winners. This was the seventh of 18 finales held so far this year with no former winners -- which guaranteed a first-time champion. The defending champion from 2008 was Svetlana Gromenkova. She cashed again this year, finishing in 57th place.

The chip leader coming into the final table was Lori Bender. She ended up finishing second. Winner Lisa Hamilton started off Day Three in second place. Hamilton endured at least one scary moment late in the tournament. At the final table, she was all-in holding pocket kings against the (then) chip leader, Angel Pedroza, who had A-J suited. An ace flopped, but so did a king – giving Hamilton a set of kings. The set won. That was the critical hand which propelled her to victory. When heads-up play began, Hamilton had about a 3 to 1 chip advantage over Lori Bender. The final hand of the tournament came when Hamilton was dealt Q-8 versus Bender, holding 9-8. The flop came J-8-3. After a blank four on the turn, Bender check-raised all-in and Hamilton made the call. Hamilton tables second pair with the better kicker, which dragged the pot after a blank fell on the river. This was the quickest final table of the 2009 WSOP, to date. It clocked in as less than three hours.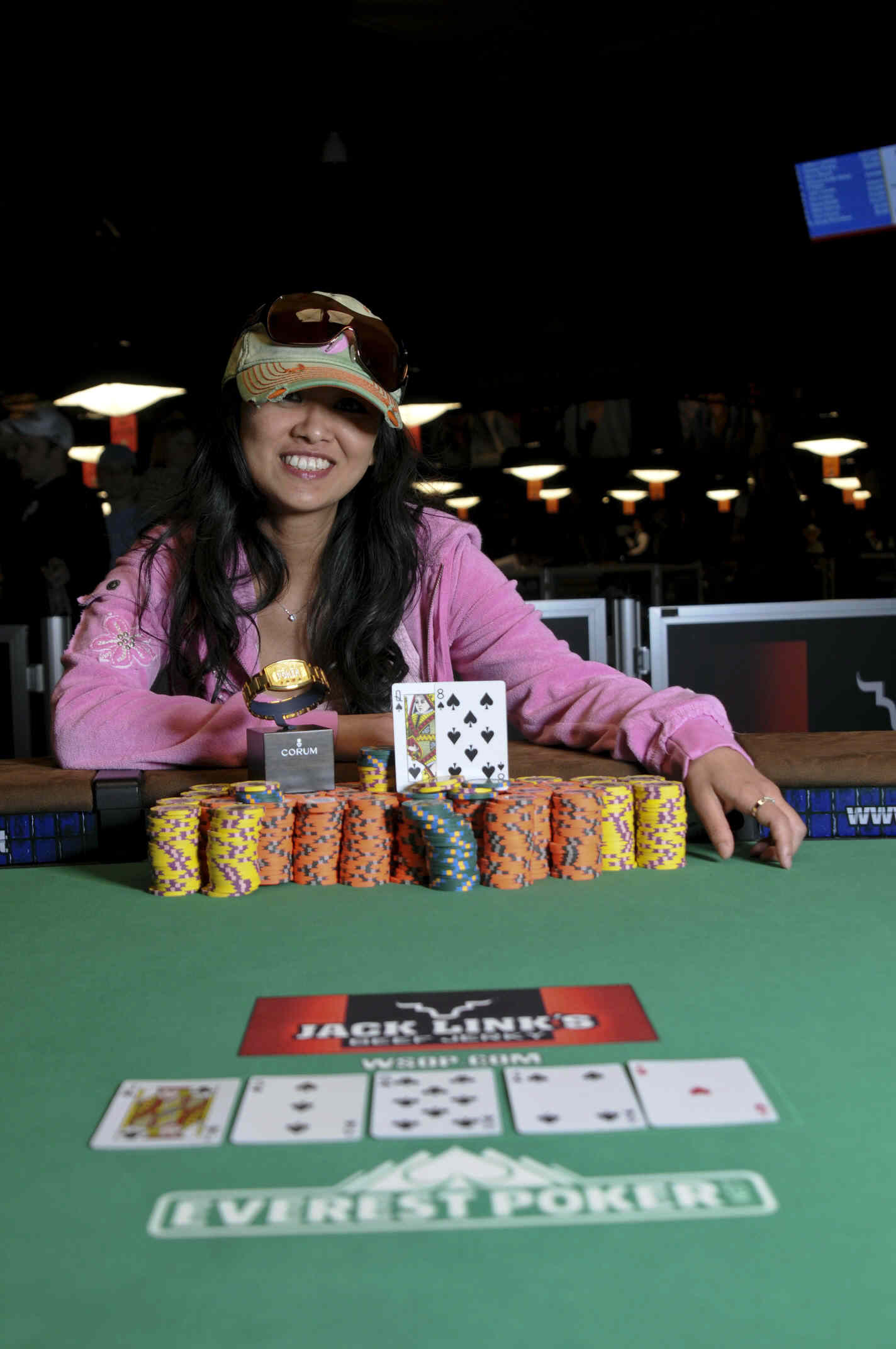 Lisa Hamilton
Lisa Hamilton -- $195,390
Lori Bender -- $120,575
Mari Lou Morelli -- $78,132
Angel Pedroza -- $53,940
Kimberly Cunningham -- $38,719
Kim Rios -- $29,121
Lisa Parsons -- $22,880
Dawn Thomas -- $18,742
Lisa Santy -- $15,793