Home 2009 WSOP Event Schedule WSOP TV Schedule Free Slot Games Site Map 3 Webmasters




All linked player names have free bios, courtesy of FullTiltPoker
Event #18 World Championship Omaha Hi-Low Split-8 or Better
Day 1
Buy-in: $10,000
Players: 179
Prize pool: $1,682,600 to the top 18

When the buyin goes up, the big names come out. And that is exactly what happened with this World Championship. Seen were Greg Raymer, Annie Duke, Scotty Nguyen, Marcel Luske, Lee Markholt, Phil Gordon, Jeff Madsen, Bruno Fituossi, Shirley Rosario, Jennifer Harman, Gavin Smith, Nick Schulman, Mike Patrick of ESPN, Barry Greenstein, Phil Hellmuth Jr., Doyle Brunson and Freddy Deeb. If you have never seen a WSOP event at the RIO, you should make it a point to do so at least once just to see the calibre of players who participate.

Side Bet of the Day: Players are actually discussing betting each other to see if President Barack Obama will come down and play at least one hand in the Main Event.

Bustouts include Marcel Luske, Brandon Adams, Greg Raymer and Jennifer Harman who lost the remainder of her stack around 2:00 AM. Sorry, but there just was not much action period going on in this one! There will be 133 players to return for Day 2.
Chris Bjorin -- 134,000
Scott Clements -- 130,800
Tom Koral -- 99,700
Patrick Bueno -- 98,400
David Benjamine -- 94,800
Cameron McKinley -- 90,100
Pat Rao -- 89,800
Phil Hellmuth Jr. -- 83,700
Josh Arieh -- 82,700
Day 2

Today needs to make up for the slow pace of yesterday as we need to get the final table ready. Things got underway at 2:00 PM and 10 minutes into play, Vitaly Lunkin was taken out by Ted Forrest. Bill Edler mucked his hand as Mike Matusow made a full house (J's/10's), resulting in Edler walking to the rail. There were many "Tables of Death" around. For example one table had John Hennigan, Michael Binger, Daniel Negreanu, Max Pescatori, Scott Clements, John D'Agostino and other pros plus one trembling amateur.

Doyle Brunson eliminated Matt Savage and Mike Sexton quadrupled up with an Ace high flush, only to join the ranks of the fallen 20 minutes later. He was followed by Farzad Bonyadi, Freddy Deeb, Brandon Cantu, Thang Luu, Erick Lindgren, John Juanda, Perry Friedman, Sam Farha, Manny Minaya, Mel Judah, Mike Wattel, Barry Greenstein, Todd Brunson, Sam Khouiss and Brent Carter. By 3:00 AM there were 17 left to return for a shot at final table action tomorrow. See you then!

Payout Schedule for Final Table

$445,898
$275,946
$182,730
$130,401
$97,422
$77,736
$65,453
$58,049
$54,179
Top 9 players with chip counts:

John Monnette -- 1,141,000
Ben Boyd -- 663,000
Scott Clements -- 477,000
Sam Khoueis -- 470,000
Greg Jamison -- 422,000
Yueqi Zhu -- 366,000
Daniel Alaei -- 297,000
Ville Wahlbeck -- 231,000
Jacobo Fernandez -- 218,000
Day 3 -- Final Table

This is from the official report from the WSOP:

The 2009 World Series of Poker Omaha High-Low Split champion is Daniel Alaei. Alaei is a 26-year-old professional poker player. He has more than $2.5 million in career tournament earnings, and more earnings in high-limit cash games. Alaei is perhaps best well known for his many appearances on popular television shows which feature cash game action, including the first three seasons of "High Stakes Poker." Alaei collected $445,898 for first place. He was also awarded his second WSOP gold bracelet. Alaei's first gold bracelet victory came in the Deuce-to-Seven Lowball event at the 2006 WSOP, at which he won a nearly identical sum of money ($430,000). With this victory, Alaei becomes the 124th player in history to achieve $1 million in winnings at the WSOP. The defending champion from 2008 was David Benyamine. He entered this tournament, but did not cash.

The runner up was Scott Clements, From Mt. Vernon, WA. Clements is an Omaha High-Low specialist. He won his two gold bracelets in Omaha High-Low Split (in 2006 and 2007). Had Clements won this event, he would have become the first player ever to win three Omaha High-Low gold braclets. Greg Jamison's achievement in this tournament merits special mention. He finished sixth. Jamison has now made the final table of this event three consecutive years. He finished second last year and was fifth in 2007. This rivals Thang Luu's remarkable achievement earlier this year, when he made his third straight final table in the $1,500 Omaha High-Low event.

The chip leader coming into the final table was Scott Clements. He ended up finishing in second place. He was the chip leader about 75 percent of the duration of the final table. Alaei was an average stack during most of the play. He stated his intent was to stay patient and not take too many risks early. Then, when Alaei managed to get a nice rush of cards, he accumulated chips quickly and coasted to victory. When heads-up play began, Alaei enjoyed a decisive 8 to 1 chip advantage over Scott Clements. It took only two hands for the tournament to end. The final hand of the tournament came when Alaei was dealt A-K-K-4 versus Clements' A-5-3-2. The final board showed Q-9-7-10-K, giving Alaei three kings and the win. The final table lasted about six hours.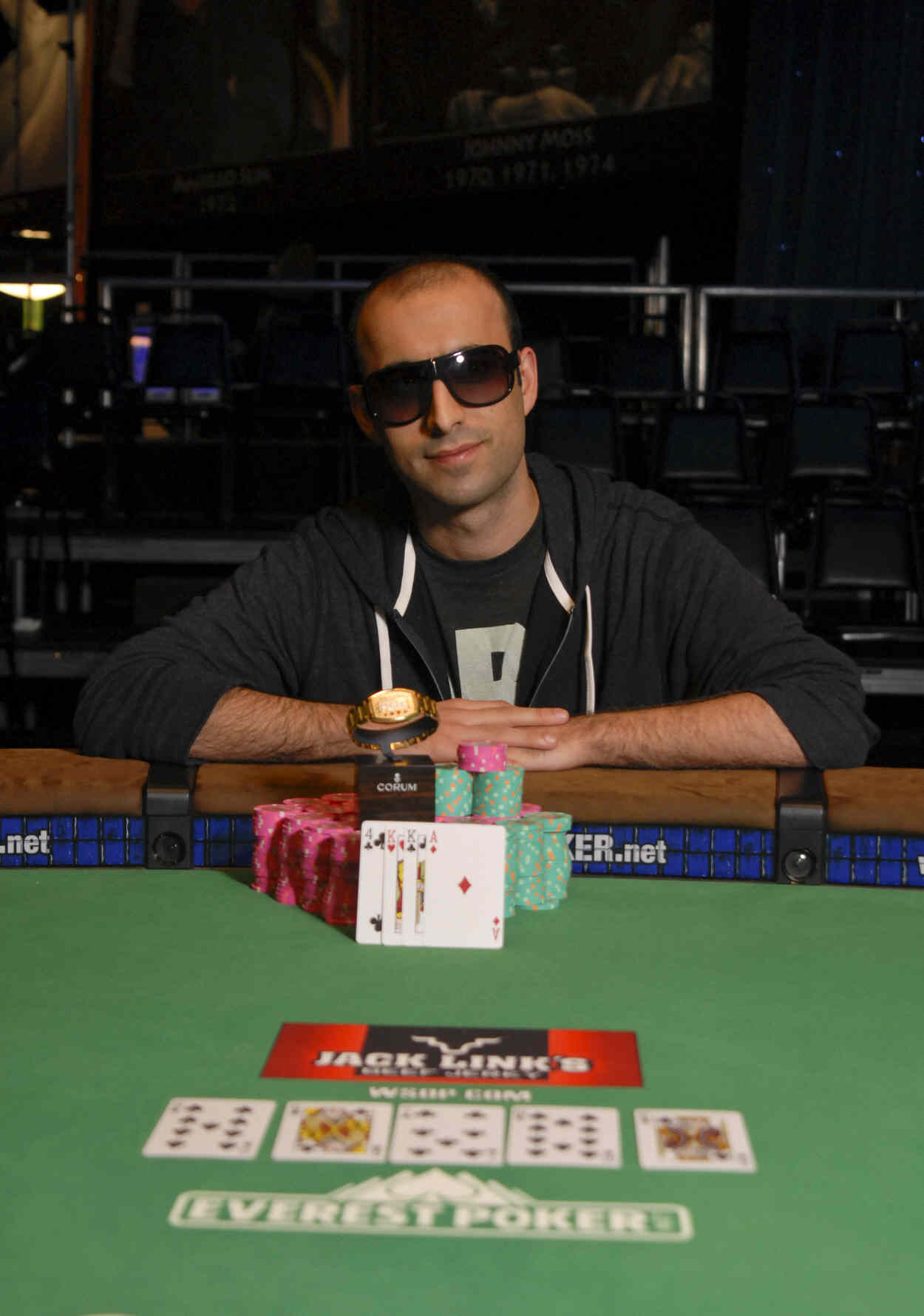 Daniel Alaei
Daniel Alaei -- $445,898
Scott Clements -- $275,946
Ben Boyd -- $182,730
Daniel Negreanu -- $130,401
John Monnette -- $97,422
Greg Jamison -- $77,736
Thomas Koral -- $65,453
Annie Duke -- $58,049
Yueqi "Rich" Zhu -- $54,179