Home 2009 WSOP Event Schedule WSOP TV Schedule Free Slot Games Site Map 3 Webmasters



All linked player names have free bios, courtesy of FullTiltPoker
Event #19 No-Limit Hold'em / Six Handed
Day 1
Buy-in: $2,500
Players: 1,068
Prize pool: $2,456,400 going to the top 108 players

Is this amazing or what! Over 1,000 people in this event playing six handed! This should be fun to view on ESPN. Seen in the field are Humberto Brenes, Issac Haxton, Joe Awada, Mark Seif, Brock Parker, Gavin Smith, Layne Flack, Thomas Fuller, Lee Watkinson, David "Devilfish" Ulliott, T.J. Cloutier, Erick Lindgren, Allen Cunnningham, Trond Eidsvig, David Singer and Victor Ramdin. First place will pay a nice $552,745 to the new champion, along with a nice gold bracelet.

Action got underway with Joe Sebok busted, losing to the two pair of another player. Behind him going to the rail were Jason Mercier, Andy Bloch, Jeff Williams, Jared Hamby, Justin Bonomo, Eric Froehlich and Greg Raymer who lost to the set of Queens belonging to Andy Schultz.

Some players who made the Day 2 cut were Jeff Garza 110,800, Howard Lederer h 93,000, Kenna James 90,600, Men Nguyen 77,800, Shaun Deeb 80,100, Eugene Katchalov 70,600, Blair Hinkle 60,400, Neil Channing 59,000 and Layne Flack 51,600. There will be a total of 135 players returning on Day 2. Here are the top players and chip counts on Day 1:
Brett Switzer -- 183,000
Nasr El Nasr -- 173,600
Rick Fuller -- 157,600
Daniel Zink -- 143,600
Stanislav Alekhin -- 141,700
Brock Parker -- 138,900
Jeff Manthe -- 137,500
James Sudworth -- 136,700
Yariv Levi -- 132,800
Day 2

Cards were in the air at 2:00 PM with the 135 that survived yesterday's round. In less than 1 hour, play went hand to hand until the next bust, due to the tournament being at the bubble. But when it went, 9 players went in 15 minutes and it did not slow down. Going to the cashiers cage were Marco Traniello, Neil Channing from the UK, Nasr El Nasr from Germany, Mark Hanna, Tony Cousineau, Evgeny Serebryakov, Layne Flack, Joe McGowan, Chris Klodnicki, Terrance Chan from Canada, Shawn Deeb, Bill Edler, Erick Lindgren and Blair Hinkle.

But to focus on who went out would have detracted from the individuals responsible for a lot of this happening. Brock Parker was on fire, leaving devastation in his wake. He went from his 138K to over 1.6 million to make the cut for the next round. And Joseph Serock put the Kung-Fu grip to many players as he went from Day 1 with 46,000 chips to chip leader with over 1.7 million. It was Serocks elimination of Men "The Master" Nguyen that actually put him over 1.8 million around 1:30 AM.

When Brock Parker ended another players dream of a gold bracelet around 2:45 AM, tournament officials said that it was time to bag the chips. There were 11 left that will compete in the last round to determine who is the new champion. Here they are with chip counts:
Joseph Serock -- 1,745,000
Brock Parker -- 1,603,000
Jesse Rios -- 745,000
Alexander Ivarsson -- 734,000
Russell Crane -- 672,000
Alexnder Wilson -- 603,000
Jay Kinkade -- 542,000
Clayton Newman -- 501,000
Brian Meinders -- 423,000
Brian Friesen -- 258,000
James Sudworth -- 247,000
Day 3 -- Final Table

Here are the notes on the final table from the WSOP. You may be surprised by the results, maybe not.

The 2009 World Series of Poker $2,500 buy-in Six-Handed No-Limit Hold'em champion is Brock Parker. Parker is a 27-year-old professional poker player. His real first name is John, but he goes by "Brock." Parker first started playing poker about ten years ago. But his interest in the game evolved from the card game Magic. Magic is a card game that is similar to poker in that it combines skill, psychology, and luck. By the time he took his turn in the spotlight of a WSOP final table Parker and others were accustomed to the pressure of playing in front of crowds and for money. Magic tournaments usually give away prize money which attracts big crowds. Another top player who is close to Parker and got his start in poker via Magic is David Williams, who won a gold bracelet in 2006. Parker collected $552,745 for first place. He was also awarded his second WSOP gold bracelet.

According to the official records, Parker now has 2 wins, 4 final table appearances, and 13 in-the-money finishes at the WSOP. Parker currently has $1,041,050 in WSOP winnings. With this victory, Parker becomes the 125th player in history to achieve $1 million in winnings at the WSOP. The defending champion from 2008 was Dario Minieri, from Rome, Italy. He entered this year's tournament, but did not cash.

The final table lasted about eight hours. This was one of the longer short-handed finales on record. Brock Parker was second in chips during most of the finale, never overcoming Joe Serock's chip lead until the final stages of the event. When heads-up play began, Joe Serock enjoyed a 2 to 1 chip advantage over Brock Parker. However, both players, and the audience, sensed it would be a tough battle. Parker seized control early by winning a few key posts and drew to close to even. Then, about 20 hands into the face off, Parker seized the chip lead for the first time. About one hour in the duel, the chip stacks were nearly dead even. Parker's dominance continued for another 15 minutes and he stood at 3 to 1 over Serock when the final hand was dealt. The final hand of the tournament came when Serock was dealt 10-10 and moved all-in. Parker called and tabled Q-Q. The bigger pair held up and Parker won the tournament.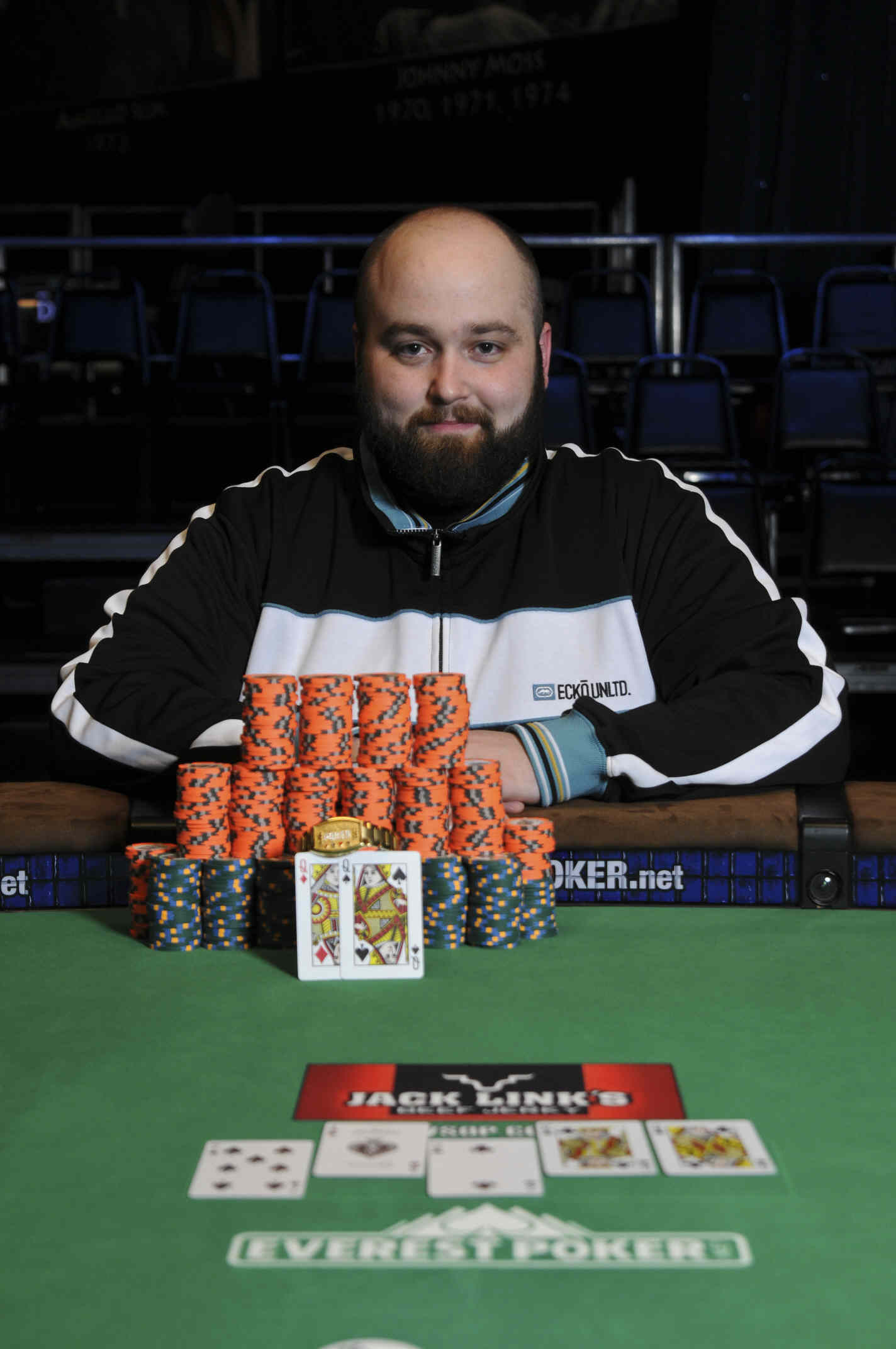 Brock Parker
Brock Parker -- $552,745
Joseph Serock -- $341,783
Russell Crane -- $220,633
Jesse Rios -- $148,661
Alex Wilson -- $104,323
Clayton Newman -- $76,123
Remaining players:

James Sudworth -- $54,777
Brian Meinders -- $54,777
Jay Kinkade -- $39,376
Alexander Ivarsson -- $39,376
Brian Friesen -- $28,297