Home 2009 WSOP Event Schedule WSOP TV Schedule Free Slot Games Site Map 3 Webmasters




All linked player names have free bios, courtesy of FullTiltPoker
Event #20 Pot Limit Hold'em
Day 1
Buy-in: $1,500
Players: 633
Prize pool: $864,045 to the top 63 finishers

Everyone playing in this event will begin with 4500 chips in their stack, beginning play at noon. Justin Young only lasted a few minutes this tournament. Busted by the flush of another player, he was at the cash games in less than 25 minutes after the tournament start. Following in quick fashion, (all players had not taken their seats yet), were Shane Schleger, Brandon Cantu, Gavin Smith and Allen Cunningham. And defending champion David Singer also fell. Wow! Many, many more followed. Too many to list in one summary.

But Kathy Liebert did well ending the day with 40,200 chips. And Mark Seif was on a roller coaster, falling to as low as 3,000 at one point, he rose to the occasion and ended the day with over 80K in his stack. World Poker Tour commentator Mike Sexton has got to be enjoying his time playing poker as he finished the day with 35,000 which was good enough to make the cut. Jason Dewitt became the first player over the 100K mark and held on to become Day 2 chip leader. Nick Stowell came out to the good after one hand in which he made a larger full house (J's/6's) than his opponent (9's/J's), which helped him vault over the 100K level in chips. Plus Erik Seidel finished with 61,400 as did Roland De Wolfe h with 40,000.

At the end of the day there were 61 players that will move on to Day 2.
Jason Dewitt -- 184,700
Jeremiah Vinsant -- 107,600
Nick Stowell -- 106,000
Kyle Carlston -- 92,400
Matt Honig -- 89,700
Mark Seif -- 83,000
David Chicotsky -- 82,400
Andreas Vandevenne -- 81,700
Mike Beasley -- 81,300
David Sands -- 78,100
Day 2

Final table payout schedule:

$194,434
$120,102
$78,826
$54,711
$40,048
$30,837
$24,919
$21,082
$18,637
Play continues at level 11 with blinds at 800/1600, call 1600 or make it 3200 to 5600. Seven minutes into play, Justin Scott was out after losing to the Ace high flush of another player. Fred Berger also took a walk to the rail. On a flop of K 9 7, both players re-raised and went all in. Berger showed A 9 and the other player has K 6. The rest of the cards showed 8 4, giving Berger no fries with that shake. Mike Sexton had no comment as he was also railbound after losing to the two pair (J's and 4's) of Jason Dewitt. Joe Sebok was on fire as he left the tournament. After seeing a flop of 7 8 8, he moved in with 20K and ended up with his opponent putting him all in of which he called. His opponent turned over K Q to Sebok's A Q. The rest of the cards were K K, giving his opponent a full house and the bust to Sebok. Sebok was so mad he left without his card to collect his winning. Following (far behind) Sebok were Mark Seif, Roland De Wolfe, Justin Frank, Kathy Liebert and Glynn Beebe.

The fun ended at around 1:30 AM, which was early compared to other events. For once we were able to get down to a final nine at the end of Day 2! Here are the players and their chip counts:
J.P Kelly -- 627,000
Jason Dewitt -- 476,000
Erik Seidel -- 337,000
Kyle Carlston 320,000
Marc Tschirch -- 268,000
Andrew Radel -- 250,000
Kirk Steward -- 231,000
Aaron Virchis -- 191,000
Ravi Raghavan -- 145,000
Day 3 - Final Table

Here is a summary of the final table from the WSOP:

The 2009 World Series of Poker $1,500 buy-in Pot-Limit Hold'em championship is John-Paul Kelly. Kelly is a former student who now plays professionally, mostly online and in Europe. He is 23-years-old. Prior to winning at the WSOP Kelly had enjoyed great success at tournaments in Europe, particularly the UK. He won seven tournaments within a 15-month span in 2005-2006. His lifetime accrued tournament winnings (live tournaments) prior to this victory was nearly $500,000. Kelly becomes the first English champion of 2009 and the first British citizen to win a WSOP gold bracelet since Ram Vaswani (Hendon, UK) won the Limit Hold'em Shootout on July 3, 2007. Kelly collected $194,045 for first place. He was also awarded his first WSOP gold bracelet. The defending champion from 2008 was David Singer. He entered this year's tournament, but did not cash.

The final table lasted about five hours. Kelly held onto the final table chip lead from start to finish. The closest any player came to his stack size was two different occasions when Marc Tshirch and Jason Dewitt each came within a 3 to 2 margin of the lead. But neither was able to seize the lead away from Kelly. The final hand of the tournament came when Kelly's aggressive semi-bluffing on early rounds led to a big payoff. Kelly was dealt A-Q and bet aggressively both pre- and post-flop, despite holding no pair. Tschirch had A-5 and called two big bets as the board showed 8-5-4. A queen on the turn turned the tables and allowed Kelly (suddenly holding top pair) to put his opponent his opponent all in with a big bet. Tschirch called and failed to improve, giving the victory to Kelly.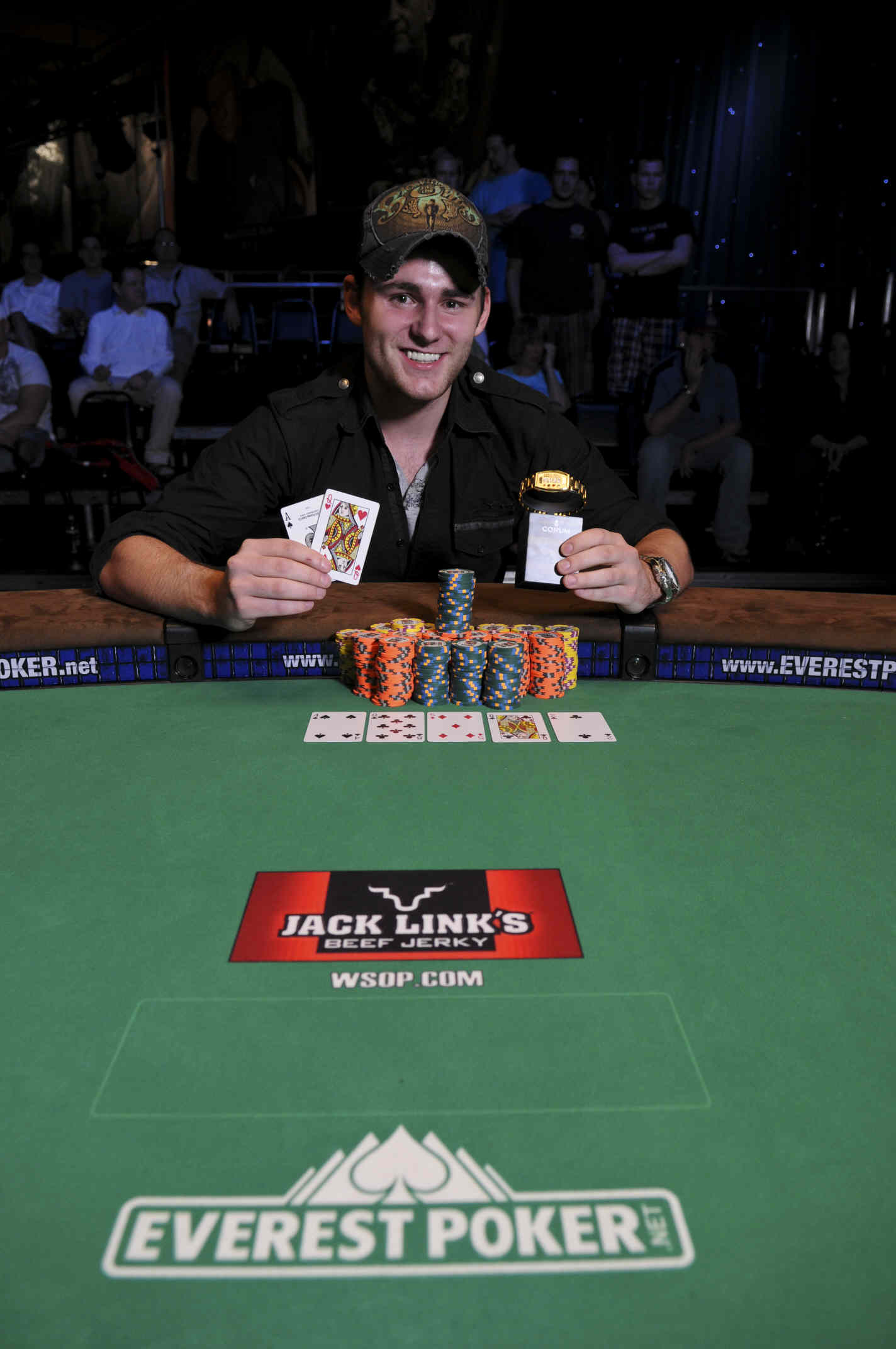 John-Paul Kelly
John-Paul Kelly -- $194,434
Marc Tschirch -- $120,102
Jason Dewitt -- $78,826
Kyle Carlston -- $54,711
Aaron Virchis -- $40,048
Tony Steward -- $30,837
Erik Seidel -- $24,919
Andrew Radel -- $21,082
Ravi Raghavan -- $18,637