Home 2009 WSOP Event Schedule WSOP TV Schedule Free Slot Games Site Map 3 Webmasters


All linked player names have free bios, courtesy of FullTiltPoker
Event #21 H.O.R.S.E.
Day 1
Buy-in: $3,000
Players: 452
Prize pool: $1,247,520 to the last 48

For those not familiar to this game, it is a challenge for the masters of poker. The reason is that it requires you know how to play different versions of poker well. For instance, this tournament has Limit Holdem, Omaha Hi-Low Split-8 or Better, Seven Card Razz , Seven Card Stud, even Card Stud Hi-Low Split-8 or Better, No-Limit Holdem, Pot-Limit Omaha, 2-7 Triple Draw Lowball as the games that will be rotated for all players. This event will have everyone beginning with 9,000 chips. Games will be changed every 30 minutes.

Speaking of poker masters, in the field are Vitaly Lunkin, Maria Ho, Barry Greenstein, Mike Matusow, Scotty Nguyen, Robert Williamson III , Bill Chen, Greg Raymer, Jeff Williams, Perry Friedman, Jerry Buss, Thor Hansen, Nick Frangos, Doyle Brunson, Chris Reslock, Chad Brown, Dewey Tomko, Gavin Smith, Jim McManus, Kristy Gazes, Ester Taylor, Shannon Elizabeth, Cyndi Violette, Marcel Luske, Layne Flack and Svetlana Gromenkova. Oh, and for those of you concerned Jerry Buss is sporting a Lakers hat and shirt and doesn't look too concerned about how they will perform. Looks like they will win tonight!

It's a big challenge not just to win your hands in H.O.R.S.E., but to keep in mind which game is being played at that moment. Most players bust because they were playing Texas No Limit Hold'em when Omaha 8 OB is on the table. Bustouts today included John D'Agostino, Jeff Lisandro, Jason Grey, Grey Raymer, Dutch Boyd, Linda Johnson, Ivan Demidov, Shannon Elizabeth, Michael Mizrachi, David Benyamine and Mike Matusow who was heard cursing everywhere after he lost. (Gotta stop hanging around Hellmuth!) There were 197 at the end of the day that will move on to the next round.
Rob Amereno -- 96,800
Frank Debus -- 62,100
Markus Golser -- 52,500
Scott Lake -- 51,600
Phillip Penn Sr. -- 50,600
Andre Akkari -- 50,200
David Singer -- 48,700
Michael Keiner -- 46,500
Chris Amaral -- 45,300
Day 2

Here is the payout schedule for the final table players:

$311,899
$192,866
$126,199
$87,264
$63,536
$48,590
$38,947
$32,647
$23,777
Early bustouts on Day 2 include Jennifer Harman, Chip Jett, Bryan Micon, Jimmy Fricke, Victor Ramdin and Mark Newhouse. During Stud-8, Berry Johnston was busted after losing to the wheel of Chau Giang. Giang held on to end the day with 149,000 chips. Daniel Negreanu was seen moving to the next event as he is no longer in this one after losing his chips in a round of Stud-8. John Juanda joined the list of the fallen as his all-in move during Hold'Em lost to an opponent having pocket 7's. Tony Ma was eliminated during Stud when his pocket K's were overcome by the other player who managed to hit a straight by the river.

Chris Ferguson during Omaha 8 OB lost his bid for another WSOP bracelet when the other player managed to hit the wheel and scoop with an A thru 5. Many players were not happy upon not making the cash, but the ultimate had to come from Al Barbieri. He lost during a hand of Razz, and became the bubble boy. When he was leaving the room he said loudly, "You can stick it up your $$$ and bubble it!!!" Anger management specialists should be able to get rich here at the WSOP.

More bizarre behaviour came as Chris Amaral asked the floor manager if he ate 3 of his chips during a hand could he leave and return them at a later time to still stay in the game. The floor manager after laughing his behind off, stated that either the chips would be removed from play or Amaral would be disqualified.

Well, after all was said and done, there were 21 left to fight it out for the championship by 3:00 AM. Here are the top 9:
Zac Fellows -- 471,000
James Van Alstyne -- 455,000
Timothy Finne -- 411,00
Michele Limongi -- 368,000
Martin Eikeng -- 335,000
Stewart Yancik -- 284,000
Gabriel Nassif -- 242,000
Ylon Schwartz -- 186,000
Frank Cremen -- 160,000
Day 3 -- Final Table

Here is the final table follow up from the WSOP:

The 2009 World Series of Poker $3,000 buy-in H.O.R.S.E. champion is Zac Fellows. Fellows collected $311,899 for first place. He was also awarded his first WSOP gold bracelet. Fellows currently has $481,284 in WSOP winnings. At his last final table in the $1,500 buy-in Limit Hold'em championship last year, Fellows came in second. He vowed to win given another chance and accomplished that feat in this tournament. The defending champion from 2008 was Jens Voertmann, from Dortmund, Germany. He entered this year's tournament, but did not cash.

H.O.R.S.E. is an acronym for the five most popular poker games played inside American cardrooms today. H.O.R.S.E. tournaments include a rotation of the following games -- Hold'em, Omaha High-Low Split, Razz, Seven-Card Stud, and Seven-Card Stud High-Low Split (also called Eight-or-Better). Many purists consider H.O.R.S.E. to be the ultimate test of poker skill, since it requires that players play all games well in order to win. This claim was perhaps best illustrated at the 2006 World Series of Poker, where H.O.R.S.E. returned to the tournament schedule after a long hiatus. For more than two decades, the late poker legend Chip Reese had been widely regarded as the best all-around player in the world. Appropriately, he won the inaugural tournament which cost $50,000 to enter and became the first H.O.R.S.E. world champion. The rotation of games in this tournament lasts eight hands. In other words – following eight dealt hands of Hold'em, there are eight hands of Omaha High-Low followed by eight hands of Razz, and so forth.

The final table lasted about ten hours, making it the second-longest finale of this year's WSOP, so far. The chip leader coming into the final table was James Van Alstyne. He ended up finishing second. Zac Fellows was second in chips during most of the finale. Once heads-up play began, he gained momentum and mostly dominated play during the final hour. Once Fellows had the chip lead, he never lost it. When heads-up play began, Fellows and Van Alstyne were close in chips. They battled heads-up for nearly two hours. The final hand of the tournament came in Limit Hold'em when Fellows was dealt 6-6 and made a full-house when the final board showed 6-5-3-J-3. Van Alstyne's last chips were committed on the turn and he revealed A-5, which was a pair of fives with a straight draw. The board paired, which sealed Van Alstyne's fate as the runner up and gave Fellows the title.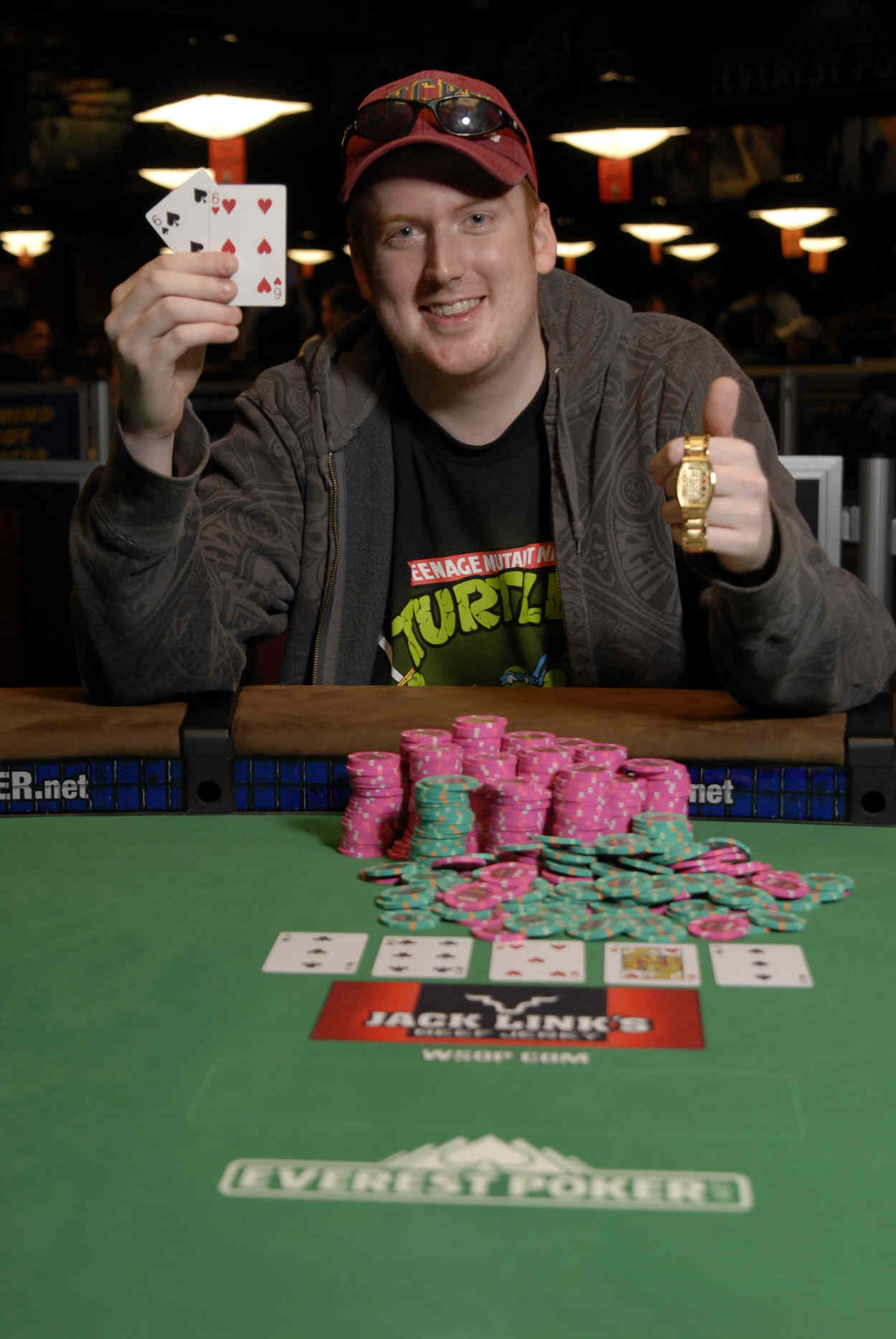 Zac Fellows
Zac Fellows -- $311,899
James Van Alstyne -- $192,866
Timothy Finne -- $126,199
Michele Limongi -- $87,264
Chris Amaral -- $63,536
Martin Eikeng -- $48,590
Gabriel Nassif -- $38,947
Matt Hawrilenko -- $32,647
Stewart Yancik -- $23,777