Home Online Casino Real Money
2009 WSOP Event Schedule WSOP TV Schedule Free Slot Games Site Map 3 Webmasters


All linked player names have free bios, courtesy of FullTiltPoker
Event #23 World Championship 2-7 Draw Lowball (No-Limit)
Day 1
Buy-in: $10,000
Players: 96
Prize pool: $902,400 with money going to the top 14

Everyone who enters this event received 10,000 chips plus two rebuy buttons good for 10,000 chips each during the first three levels. If they are not redeemed by level 3 then the chips are automatically given to the players. (Sweet!) The field even though it was small, was concentrated with top notch players. If you were at the WSOP in person, you would see killer tables such as the one having Greg Raymer, Tim Phan, Andy Black, Billy Baxter and Chino Rheem. Some who came to the party late were Doyle Brunson, Howard Lederer, Phil Ivey, Gus Hansen, Eli Elezra and Jennifer Harman.

The first three hours were fun for everyone, but after that players got down to business. In the Brasilia Room at the RIO, in less than 10 minutes after the 3rd level began Daniel Negreanu busted. You wouldn't have noticed it so fast if you hadn't heard, "Seat open!" throughout the room. But the reality is that not much is happening. In the first four hours there have been only 4 eliminations. Here is the payout schedule for the final table:

$279,742
$172,864
$112,042
$75,964
$53,783
$39,697
$30,492
$24,545
$19,871
Action continued to be slow even after dinner break. Dario Minieri was gone after he could not beat the 8 6 5 4 3 held by Michael Binger. He was followed by Billy Baxter who could not draw anything good enough to beat the 9 7 4 3 2 held by Greg Raymer. Jennifer Harman simply mucked her hand and went to the sidelines after losing to the J 10 9 7 2 of Jon "PearlJammed" Turner. Meanwhile, defending champion Mike Matusow continued to talk everyone to death while managing to make the cut for Day 2 with 41,500 chips. There were 57 players that will move on to the next round. Here are the top 9 with chip counts:
Roland DeWolfe -- 180,300
Stanislav Alekhin -- 121,000
Vince Musso -- 118,000
John Juanda -- 111,800
Tim Phan -- 98,500
Justin Smith -- 83,500
Daniel Harmetz -- 83,000
Anton Allemann -- 76,100
Doug Booth -- 74,000
Day 2

Player got the cards from the dealer at 2:00 PM and action was underway. An early elimination unfortunately was Doyle Brunson. Down to just 400 chips, Brunson moved all-in with Q J 5 4 2 and was called by Daniel Alaei with 10 7 6 2 and drew a 4 card giving him the hand and a farewell to the all time great Doyle "Texas Dolly" Brunson. Following Doyle were Johnny Chan, Jeff Lisandro, Howard Lederer, Jacobo Fernandez, Freddy Deeb, Gus Hansen, Andy Black, Shawn Shiekhan, Farzad Bonyadi, Eli Elezra, Andy Bloch, Phil Ivey, Greg Raymer, Greg Mueller and Sorel Mizzi.

Mike Matusow felt the pain of losing chips as the night slowly went south for him. He seemed to try to take the tension out of his situation by talking with Phil Hellmuth as much as possible. But fate caught up with Mike as he held 10 8, which lost to the 9 7 5 4 2 of Michael Binger. Binger moved up to 150K in chips and Mike moved out. He soon had a friend as Hellmuth also busted out. Jean-Robert Bellande was the bubble boy in 15th position. He revealed to Vince Musso that he had been staked and really did not want to lose at this point. But lose he did and Jean-Robert gracefully got up, shook Vince's hand and quietly left the Amazon room.

Vince continued on to become chip leader of a field of 10 for Day 3. He will be in good company as John Juanda, Nick Schulman, Justin Smith, David Benyamine and more top notch talent will join him. Here are the players who will fight for the championship:

Vince Musso -- 765,500
Ville Wahlbeck -- 481,000
John Juanda -- 387,000
Nick Schulman -- 300,000
Archie Karas -- 264,500
Steve Sung -- 212,500
David Benyamine -- 139,000
Justin Smith -- 122,500
Michael Binger -- 108,000
Roland De Wolfe -- 102,000
Day 3 -- Final Table

The remaining 10 players had to be set up on two tables, one the ESPN featured table and another featured table close by. 10th and 9th place were claimed by Roland DeWolfe and Justin Smith respectively. After this, tournament officials made the decision to combine the 8 remaining into one table. As soon as this was done, Michael Binger busted on the first hand in 8th place. Binger's 9 9 K 7 2 lost to John Juanda's 7 7 6 4 2. And it was David Benyamine who took 7th place after his 9 6 5 4 9 failed to overcome the J 8 7 3 2 of Steve Sung. Vince Musso who came into today as chip leader, finished in 6th place when he could not outdo the 7 5 4 3 2 of Ville Wahlbeck.

Less than 10 minutes later, Archie Karas ended up in 5th place after Karas turned over J 10 8 5 2, but was outdone by Steve Sung with 10 9 8 7 3. John Juanda moved all in preflop and was called by Nick Schulman who made 8 7 5 3 2 which was definitely better than the hand John got, resulting in Juanda finishing 4th. Steve Sung finished in 3rd after Nick Schulman pulled a rabbit out of his hat with a 10 7 5 4 3 to Sung's 10 8 5 4 3.

Heads up started with Schulman with 1,916,000 chips and Ville Wahlbeck with 964,000 on his side. A little over 1 1/2 hours went until the final hand which went as follows. After the draw card, Wahlbeck moved all-in and was immediately and happily called by Schulman. Walhbeck produced 9 9 8 5 2 to Schulman who had 7 5 4 3 2. And with that Nick Schulman took the title and the coveted WSOP gold bracelet that went with winning this particular tournament.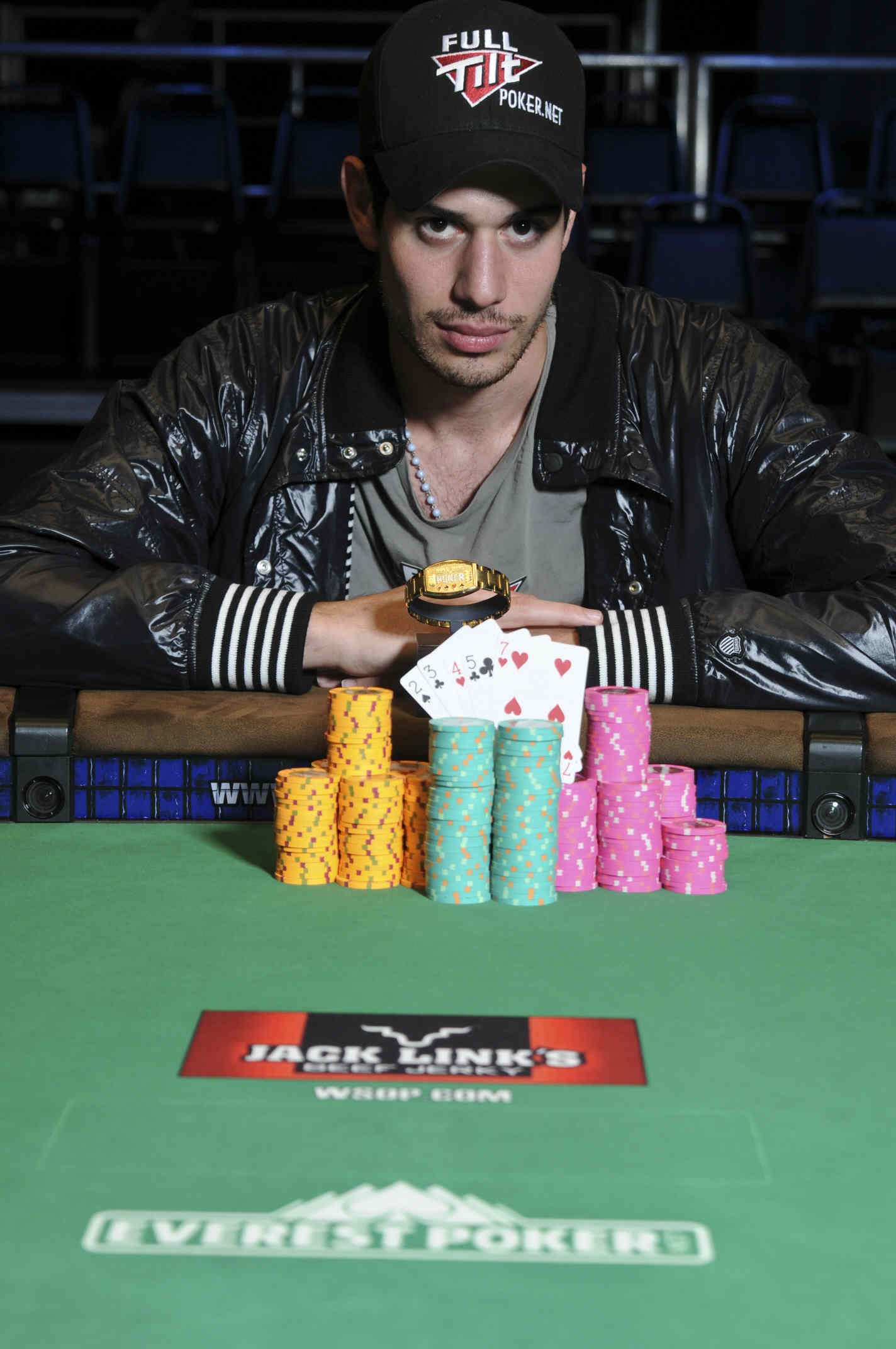 Nick Schulman
Nick Schulman -- $279,742
Ville Wahlbeck -- $172,864
Steve Sung -- $112,042
John Juanda -- $75,964
Archie Karas -- $53,783
Vince Musso -- $39,697
David Benyamine -- $30,492
Michael Binger -- $24,545
Justin Smith -- $19,871
Roland De Wolfe -- $19,871