Home 2009 WSOP Event Schedule WSOP TV Schedule Free Slot Games Site Map 3 Webmasters


All linked player names have free bios, courtesy of FullTiltPoker
Event #24 No-Limit Hold'em
Day 1
Buy-in: $1,500
Players: 2506
Prize pool: $3,420,690 going to the top 270

Once again the Amazon room was visited by a throng of players bent on poker world domination. And a lot of them came too, over 2500 approximately. And of course the big names were there such as Kathy Liebert, Neil Channing, Hevad Khan, Phil Hellmuth Jr., Humberto Brenes, Tiffany Michelle, Jason Mercier, Mark Seif, Lee Watkinson, Alex Jacob, Ivan Demidov, Chris Moorman, Vitaly Lunkin, Gavin Griffin, Brock Parker, Liv Boeree, Jesper Hougaard and Anna Wroblewski. This just names a few!

Early busts include Jeff Madsen, Shane Schleger, Suriander Sunar, Chris Ferguson, Shannon Shorr, Lee Watkinson and Gavin Griffin. Players were going out the tournament so fast that by 5:00 PM there were just 1300 left. Others leaving the sunny tables of Event #24 are Tom McEvoy, J.C. Tran, Eric Liu, Bill Edler, Anna Wroblewski and Jimmy Fricke. Phil Hellmuth also went bust to the quad 8's of another player. This event was so busy that by 1:30 AM, the field was down to the money position of 270 and the tournament director said to bag the chips for tomorrow. Here are the top players with chip counts:
Glenn McCaffrey -- 187,800
Darryll Fish -- 157,900
Marcus Meyer -- 153,000
Dean Hamrick -- 134,700
Mike Lynn -- 125,800
Seth Montegomery -- 123,000
Stuart Marshak -- 122,600
Ryan Barwacz -- 120,800
Jack Powell -- 166,900
Day 2

Players were a lot happier and did not drag things on seeing that even the first one out will receive $2,668 for their efforts. Lots of short stacks made things take off immediately. The EPT champion Pieter De Korver busted on the first hand. Player Humberto Brenes went up and down to 3000, then back up to over 32,000 before ending his bid for the bracelet 48 minutes after the start due to elimination. Chris Moorman also busted when his hand could not stand up to the pocket K's of his opponent. Things were moving so fast that after the first 3 hours, the field was down to 120 players. Not far behind Chris was Joe Sebok, Jeff Banghart, Dragan Galic, Kara Scott, Peter Rho, Stuart Barclay and Ryan Welch.

But some players were on fire with two players finishing the day with over 1 million in chips! Some of the names that will battle it out tomorrow are Michael Greco with 546,000 chips, Chris Sparks with 202,000, Mihai Manole with 436,000 and Roberto Correa with 309,000 in his corner. There were 19 players left at the end of Day 2. Here are the top 9 with chip counts:
Andy Seth -- 1,407,000
Alan Jaffray -- 1,193,000
Glenn Mccaffrey -- 737,000
Roberto Truijers -- 681,000
Dean Hamrick -- 629,000
Benny Champlin -- 623,000
Stuart Marshak -- 616,000
David Lerman -- 589,000
Andrew Seden -- 575,000
Day 3 -- Final Table

We have another 2 time bracelet winner! Here are the details from the WSOP:

Pete "the Greek" Vilandos Wins His Second WSOP Gold Bracelet – Previous Win Was Back in 1995
The 2009 World Series of Poker $1,500 buy-in No-Limit Hold'em champion is Pete Vilandos. Vilandos is a 69-year-old retiree who now plays poker professionally. Vilandos collected $607,276 for first place. He was also awarded his second WSOP gold bracelet. With this victory, Vilandos became the 62nd player in history to win exactly two gold bracelets. There are 115 players in WSOP who have won two gold bracelets, or more. Vilandos currently has $1,304,975 in WSOP winnings. With this cash, he became the 126th player in WSOP history to cross the million-mark in career winnings. Winner Pete Vilandos will have the Greek National Anthem played at his ceremony.

When the final table began, Vilandos was ranked seventh out of nine players. The final table lasted about seven hours. The big hand of the night took place when Vilandos won the biggest pot of the tournament with A-K versus Seth's A-Q. Following that swing, it took Vilandos only about ten minutes to close out the victory. The final hand of the tournament came when Vilandos was dealt A-5 versus Seth's A-J. Seth raised all-in pre-flop. Vilandos called and made a straight when the final board showed 10-4-3-2-K.

NOTE: Vilandos came into Day 3 with 325,000 chips in a field of 19 players.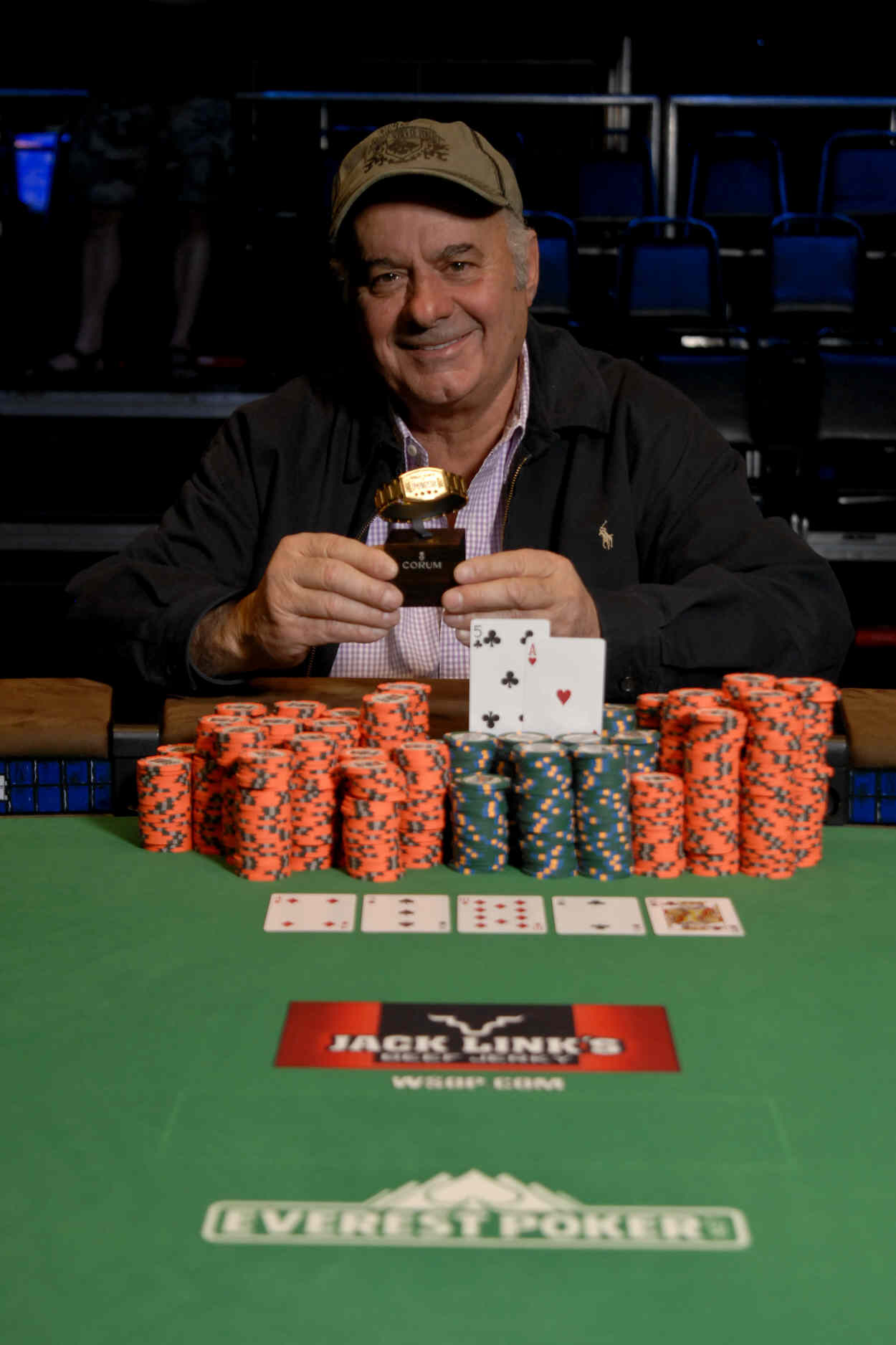 Pete "the Greek" Vilandos
Pete "the Greek" Vilandos -- $607,256
Andy Seth -- $372,855
Michael Greco -- $248,855
Glenn McCaffrey -- $176,165
Dean Hamrick -- $132,380
Allan Jaffrey -- $105,699
David Lerman -- $88,937
Souvanh Vilayvanh -- $79,017
Brian Fitzpatrick -- $73,886