Home 2009 WSOP Event Schedule WSOP TV Schedule Free Slot Games Site Map 3 Webmasters


All linked player names have free bios, courtesy of FullTiltPoker
Event #25 Omaha/Seven Card Stud Hi-Low-8 or Better
Day 1
Buy-in: $2,500
Players: 376
Prize pool: $864,800 with cash going to the top 40

A good sized crowd of players showed up for this battle of the bracelet. Seen in the field were Jerry Buss, Steve Wong, Toto Leonidas, Dutch Boyd, Phil Ivey, Katja Thater, Mike Sexton, Chau Giang, Tony Ma, Sam Grizzle, Daniel Negreanu, Dario Minieri, Jennifer Harman, Layne Flack and Marcel Luske. Action got underway at 5:30 AM. Here is the payout structure of the final table:

$220,538
$136,292
$89,342
$61,919
$45,237
$34,747
$27,993
$23,600
$16,517
Some of the names of the departed are Alexander Kostritsyn, Perry Friedman, Amnon Filippi, Vitaly Lunkin, Dario Minieri and John "Miami" Cernuto. There were 153 players left at 3:00 AM when everyone was told to bag their chips.
Can Hua -- 51,800
Dustin Sitar -- 46,600
Mark Scott -- 45,800
Allie Prescott -- 44,900
Jon Turner -- 43,300
Jan Sorenson -- 42,300
Stuart Spivack -- 39,800
Ming Lee -- 39,200
Kevin Iacofano -- 37,300
Day 2

Action continued at 2:00 PM with Stud-8. On the first hand Jeff Lisandro lost the remainder of his 3,900 chips he had from Day 1 and was the first big name to walk to the rail. Jan Sjavik also began on the low end of the chips with 6,400 and eventually busted out of the tournament. He was followed by Chris Bjorin from Sweden, Tony Ma, Michael Mizrachi, Ester Taylor and Carol Klein. Erick Lindgren was busted in a bad way when his opponent made quad Aces by the river card. While playing Stud, Jennifer Harman was eliminated by a player making two pair (5's and 6's). Hoyt Corkins busted as the first one after the bubble, taking home $4,393 for going in 40th place.

But there were many who did well which includes Phil Ivey who has already won 1 WSOP gold braclet. Could he win another, we will see. Tom Koral is still in contention with 139,000, Ming Lee with 97,000 and Mark Scott with 93,000. At the end of the day, there were 14 left standing. They will come back and hammer it out to see who becomes champion. Here are the top 9:
Jon Turner -- 465,000
Carlos Mortensen -- 328,000
Blair Rodman -- 290,000
Dutch Boyd -- 236,000
Steve Wong -- 226,000
Frank Debus -- 218,000
Eric Buchman -- 213,000
Matt Kelly -- 184,000
Phil Ivey -- 161,000
Day 3 -- Final Table

Here is the summary for this event from the WSOP:

Phil Ivey Wins Seventh WSOP Gold Bracelet
The 2009 World Series of Poker $2,500 buy-in Omaha High-Low Split / Seven-Card Stud High-Low Split champion is Phil Ivey. Ivey collected $220,538 for first place. He was also awarded his seventh WSOP gold bracelet. With this victory, Ivey joins Billy Baxter with seven WSOP titles, which ranks sixth on the all-time wins list. Remaining ahead of Ivey are Phil Hellmuth (11 wins), Doyle Brunson (10 wins), Johnny Moss (10 wins), Johnny Moss (9 wins), and Erik Seidel (8 wins). According to the official records, Ivey now has 7 wins, 19 final table appearances, and 33 in-the-money finishes at the WSOP. Ivey currently has $3,439,386 in WSOP winnings.

Ivey is one of the world's best-known and most-respected poker players. He is one of the rare few players who excels at both tournaments and cash games. Ivey routinely makes stratospheric-sized prop and sports bets. He reportedly bet $1 million on last year's Super Bowl. He won. This final table generated the biggest crowd of spectators yet, even more than the Champions Invitational played the first week of this year's Series. The finale was played on the more intimate secondary stage, which created an intense experience for both players and spectators. Fans stood ten deep around the rail following Ivey's historic victory.

The final table lasted about six hours. The chip leader at the start of the final table was Jon Turner. He ended up as the fifth-place finisher. He seized the chip lead when play became five-handed. When Dutch Boyd was eliminated fourth, Ivey had more than half of the total chips in play. But Ivey went cold for a spell and was actually third in chips to Mortensen and Lee when play was three-handed. Ivey remained patient and regained the advantage and eventually polished off both of his opponents one by one. When heads-up play began, Ivey enjoyed nearly a 2 to 1 chip lead over Lee. Ivey never appeared to be in serious danger of losing his chip lead, although the final duel lasted nearly an hour. The final hand of the tournament came when playing Stud-Eight. Ivey made trip queens (high) with Q-Q-3-5-8-7-Q (no low). Lee made a pair of jacks (high) with J-6-7-Q-J-5-K (no low).



NOTE: When 6 eliminations were made, Ivey stood 7th out of 8 players at the final table in terms of chip count.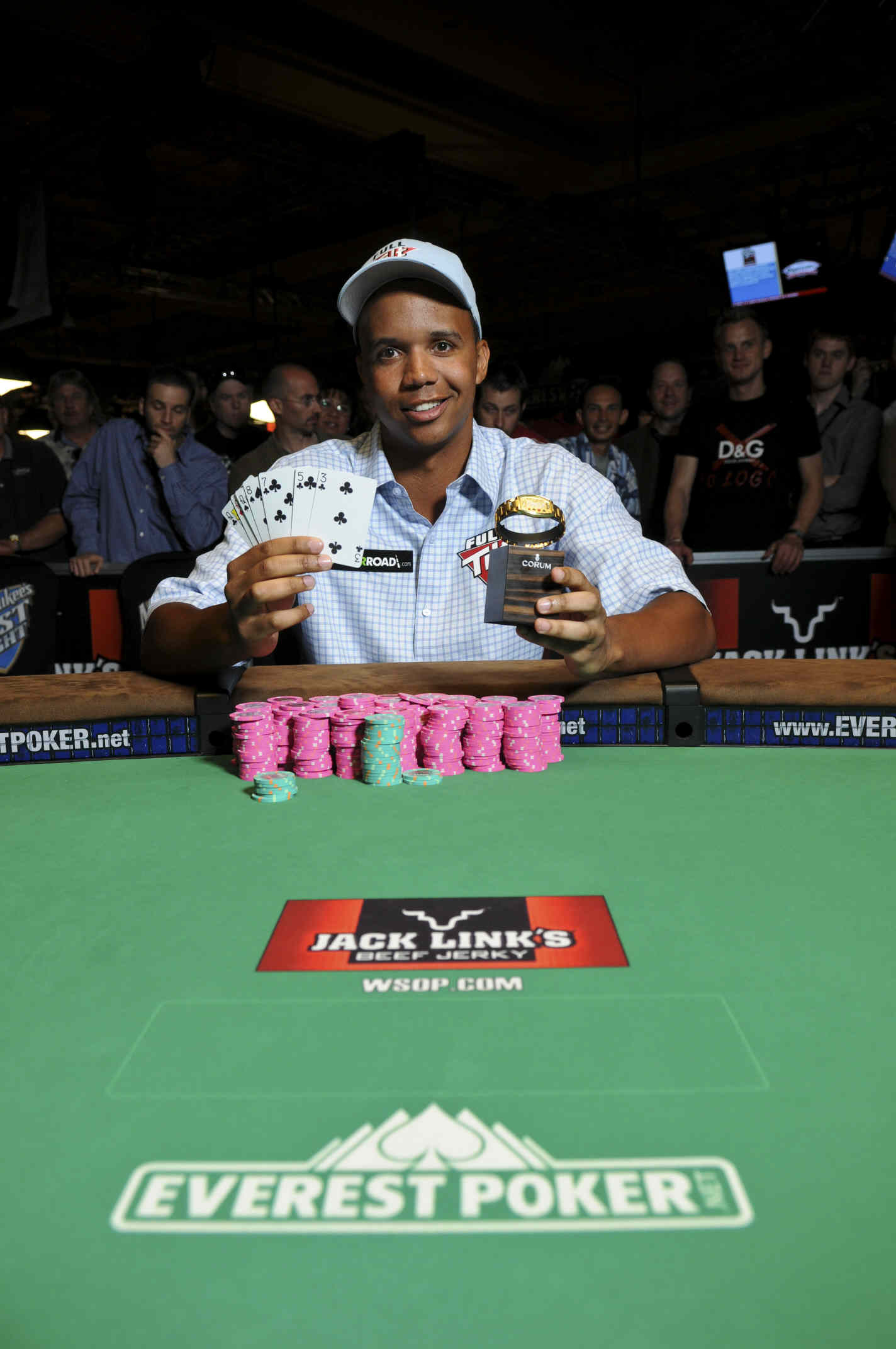 Phil Ivey
Phil Ivey -- $220,538
Ming Lee -- $136,292
Juan Carlos Mortensen -- $89,342
Dutch Boyd -- $61,919
Jon Turner -- $45,237
Eric Buchman -- $34,747
Thomas Koral -- $27,993
Peter Gelencser -- $23,600
Steve Wang -- $16,517