Home 2009 WSOP Event Schedule WSOP TV Schedule Free Slot Games Site Map 3 Webmasters




All linked player names have free bios, courtesy of FullTiltPoker
Event #27 Pot-Limit Omaha Hi-low Split-8 or Better
Day 1
Buy-in: $5,000
Players: 198
Prize pool: $930,600 to the top 18 finishers

Event #27 Pot-Limit Omaha Hi-low Split-8 or Better is a 'triple chance' tournament in which players start with 5,000 in chips and can elect to have two more sets of 5,000 at anytime during the first three levels. Sitting in chairs for this event are Mike Sexton, Mike Matusow, Justin Smith, Barney Boatman, Clonie Gowan, Kathy Liebert, Shannon Shorr, Nikolay Evadekov, Chris Bjorin, Erik Seidel, Andy Bloch, Daniel Alaei, Patrick Bueno, John "Miami" Cernuto, Kyle Bowker,Scott Clements, Chris Ferguson, Travis Erdman, Scott Fischman, Scotty Nguyen, Bruno Fituossi, Leif Force, Thor Hansen, Daniel Heimiller, Ryan Hughes and Jeff Lisandro.

Among the first to go in level 2 action were Ted Lawson and Lex Veldhuis. Things took a turn for many players when level 3 hit and a lot took the last 'chance' of 5,000 chips to play with. Eliminated were Van Marcus, James Van Alstyne, Fabrice Soulier, David Chiu, Perry Friedman and David Bach. Erik Seidel had his set of Aces crushed by the full house (A's/9's) made by another player. When 3:00 AM came there were 59 left to move on to Day 2.
J.D. Newitt -- 185,900
Sergio Ramirez III -- 134,200
Roland De Wolfe -- 130,800
Amnon Filippi -- 128,100
Benjamin Tang -- 123,800
Richard Ashby -- 122,300
Anthony Lellouche -- 100,100
Andy Black -- 97,000
Stewart Yancik -- 95,300
Day 2

Here is the payout schedule for the final table:
$246,616
$152,618
$101,063
$72,121
$53,881
$42,993
$36,200
$32,105
$29,965
Play started at 2:00, but the first 30 minutes have gone by and Phil Ivey has not shown up. Reports have it that he is running deep in the Omaha 8/Seven Card Stud-8 event so maybe his chances seem better over there. His stack began with 40,800 so he can endure being blinded off for a while. Michael Binger was scooped out of the tournament by the set of 9's made by Kirill Rabatov and Jason Mercier was taken out by Rolande DeWolfe. Ivey did run back over to his seat, played a few aggressive hand to bring his stack back to 54,000 before running, (and we do mean running), back to the other event. Those who lost chips while he was there were probably glad to see him get up and leave.

Scott Clements busted Eli Elezra and doubled up after making a full house (Q's/4's) with his chip stack currently at 140,000. Amnon Filippi lost the battle against Daniel Negreanu when Daniel made a full house (J's/10's). When 3:00 AM came, the 9 for the final table was established which has been unusual in this WSOP. The names for the final table are:
Scott Clements -- 801,000
Antony Lellouche -- 533,000
Roland De Wolfe -- 386,000
Alex Kravchenko -- 267,000
Brett Richey -- 238,000
John Racener -- 214,000
Armando Ruiz -- 192,000
Andrew Black -- 182,000
Robert Campbell -- 152,000
Day 3 -- Final Table

You can read the WSOP summary for a different perspective on this final table:

Roland de Wolfe Wins His First WSOP Gold Bracelet
The 2009 World Series of Poker $5,000 buy-in Pot-Limit Omaha High-Low Split champion is Roland De Wolfe. With this victory, De Wolfe won what some refer to as the "Triple Crown of Poker." He holds titles from each of three largest poker tournament series – including the World Series of Poker, World Poker Tour (WPT), and European Poker Tour (EPT). De Wolfe won a WPT championship held in Paris, in 2005. He won an EPT championship held in Dublin, in 2006. Now, De Wolfe has won the most coveted prize in poker, a WSOP gold bracelet, in 2009. Note: The only other player who has accomplished the so-called "Triple Crown of Poker" is Gavin Griffin. De Wolfe collected $246,616 for first place. He was also awarded his first WSOP gold bracelet. At the final table, De Wolfe wore a colorful union jack flag across his shirt, proudly representing the United Kingdom. The defending champion from 2008 was Martin Klaser, from Rheinbach, Germany. He entered this year's event but did not cash.

The chip leader at the start of the final table was Scott Clements. He ended up finishing in third place. When the final table began, Roland de Wolfe was ranked third out of nine players. The final table lasted about six hours. The biggest hand of the night took place when De Wolfe knocked out Scott Clements, by making the nut low and nut high on the river with a club flush. When heads-up play began, De Wolfe started with about a 4 to 1 chip advantage over Richey. The final hand of the tournament came when De Wolfe was dealt A-Q-8-4. Richey was dealt Q-J-10-9. The flop came 10-8-4, giving Richey the better hand, while re-drawing to a wrap-around straight. A blank deuce fell on the turn which helped neither player. But an ace on the river gave De Wolfe two pair (aces and eights) which scooped the last pot of the tournament.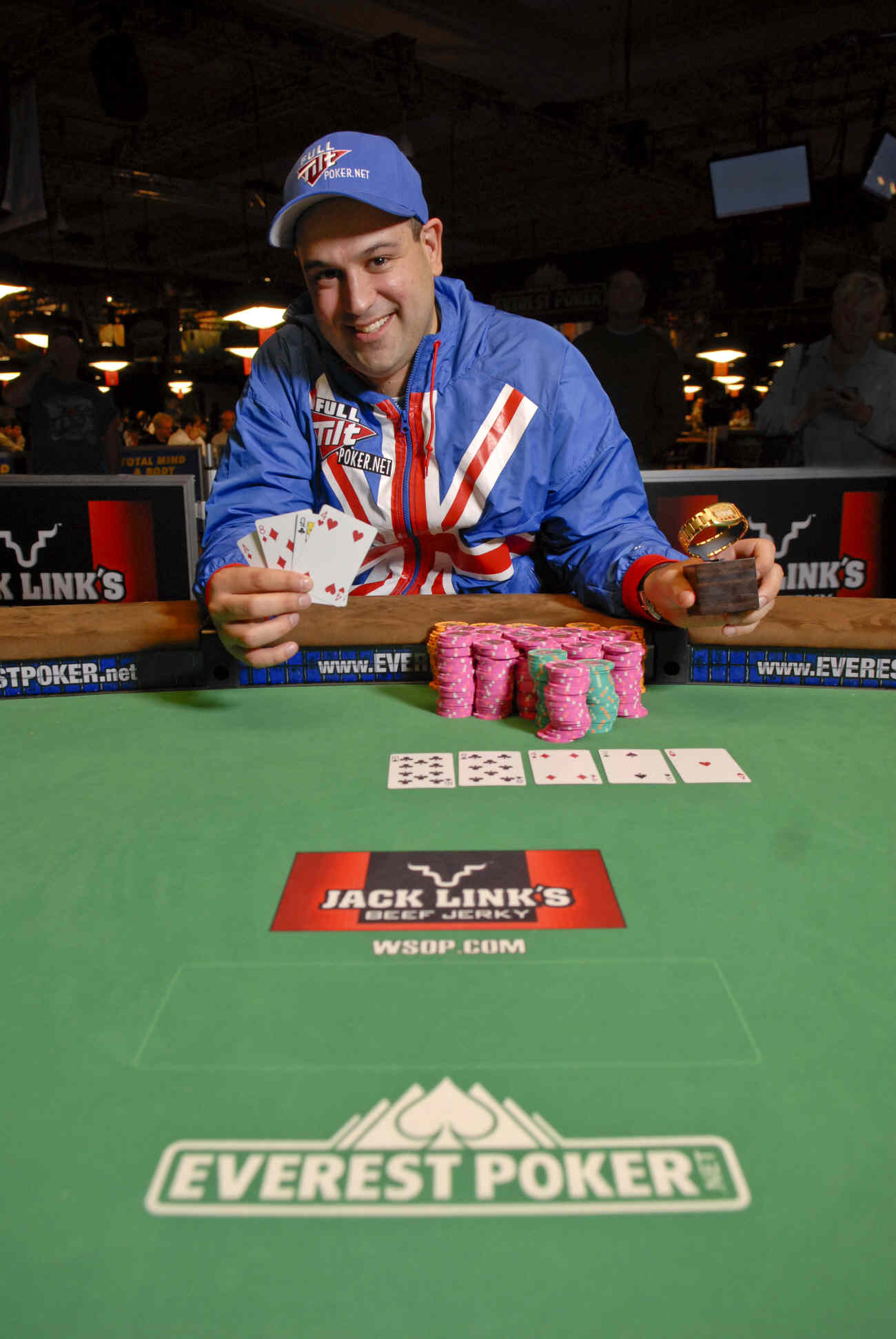 Roland De Wolfe
Roland De Wolfe -- $246,616
Brett Richey -- $152,618
Scott Clements -- $101,063
Robert Campbell -- $72,121
Alex Kravchenko -- $53,881
Andrew (Andy) Black -- $42,993
John Racener -- $36,200
Armando "Tiny" Ruiz -- $32,105
Anthony Lellouche -- $29,965