Home 2009 WSOP Event Schedule WSOP TV Schedule Free Slot Games Site Map 3 Webmasters




All linked player names have free bios, courtesy of FullTiltPoker
Event #30 Pot-Limit Omaha
Day 1
Buy-in: $2,500
Players: 436
Prize pool: $1,002,800 to the top 45

The names and faces are back to take another attempt at World Series of Poker gold bracelet glory. Taking seats are Katja Thater, Barry Greenstein, Rob Hollink, Lee Watkinson, Joe Beevers, Clonie Gowan, WPT announcer Mike Sexton, David Chiu, Jeff Lisandro, Can Kim Hua, Sam Farha, Greg Raymer, Robert Mizrachi, Chau Giang, Jesse Rios, Robert Binger, Men "The Master" Nguyen, Andy Bloch, Humberto Brenes and Jason Mercier. And that just names a few. This event also allows for add on chips.

Early busts include Gavin Griffin, Michael Mizrachi, Max Pescatori, Jimmy Fricke, Burt Boutin, Shannon Shorr, Daniel Negreanu, Nenad Medic, Gavin Smith, David Williams, Jon Van Halle, Jesper Hougaard, Chau Giang, Berry Johnston, Sammy Farha and Sabyl Cohen-Landrum. Phil Hellmuth went to the spectator side of the tournament when his opponent Mikey Stoltz completed a wheel when the last two cards hit the table. Dan Heimiller also followed Phil after Theo Jorgensen made a full house (5's/Q's). Things went pretty slow after that bust.

At the end of the day there are 61 players left.
J.C. Tran -- 176,900
Len Ashby -- 123,500
Jesse Rios -- 109,200
Chad Layne -- 106,000
Loren Klein -- 102,000
David Ewing -- 95,100
Jakcob Elbaz -- 95,000
Hertzel Zalewski -- 91,800
John Juanda -- 85,300
Day 2

Here is the payout schedule for the final table:

$235,685
$145,656
$95,837
$66,936
$49,387
$38,407
$31,427
$26,955
$24,207
The competition continues at 2:00 PM with early casualties coming fast. Vitaly Lunkin, Hoyt Corkins, Jeff Lewis and John Davis were gone in the first 30 minutes of play. Michael Keiner was crushed out of the tournament when the other player hit quad 10s on the river. Jeff Chapman also made an exit after seeing the straight of Anders Taylor. The title of bubble boy went to Andy Bloch who received some sympathy from the dealer who accidentally began to push the winners chips over to Bloch. Other players spoke up and the error was corrected. (I would write their names down for future reference Andy.)

After the bubble broke, Phil Ivey finished in 44th place losing to the set of 10's of Issac Barron. Ivey saw $4,883 for his efforts and another WSOP cash to his credit. Noah Boeken lost out to the Jack high flush of Pavel Minalov to finish in 37th place. Following them were Eli Elezra, Jesse Rios in 18th, Steve Sung in 16th and David Chiu in 15th. In a rarity this WSOP season, when it was time to bag chips, we actually had 9 for the final table. Here are the top players with chip counts:
Ross Boatman -- 718,000
Jeff Kimber -- 525,000
Theo Jorgensen -- 419,000
J.C. Tran -- 387,000
Rami Boukai -- 325,000
Jean Philippe Leandri -- 324,000
Dallas Flowers -- 239,000
Chad Layne -- 209,000
John Juanda -- 129,000
Day 3 -- Final Table

Below is the WSOP summary of the final table:

The 2009 World Series of Poker $2,500 buy-in Pot-Limit Omaha champion is J.C. Tran. Tran collected $235,685 for first place. He was also awarded his second WSOP gold bracelet. Tranís first WSOP win came last year. He won one of the $1,500 No-Limit Hold'em events, which paid $631,170. Tran currently has $1,653,992 in WSOP winnings. Tran wore the exact same baseball cap at the final table that he wore when he won his gold bracelet last year. The hat is unusual because it has an apparent defect. The hat is a New York Yankees team cap, with the "Y" upside down. Tran explained that the cap is rare and he has only worn it during his two WSOP gold bracelet wins. comparable event last year in this game and entry class. Flack did not enter this tournament.

Ross Boatman was the chip leader coming into the final table. When final table play began, Tran had about an average stack. He was ranked fifth of nine players. Tran took over the chip lead when play became four-handed and never lost it from that point forward. Tran personally eliminated five of his eight opponents in the finale. The final hand of the tournament came when Tran made a full house and scooped the last pot of the night. His opponent Jeff Kimber started with 6-4-4-3. Tran started with K-Q-8-8. All of Kimber's remaining chips went into the pot after the flop. The final board showed 9-7-7-8-3, giving Tran a full house with eights over sevens and the victory.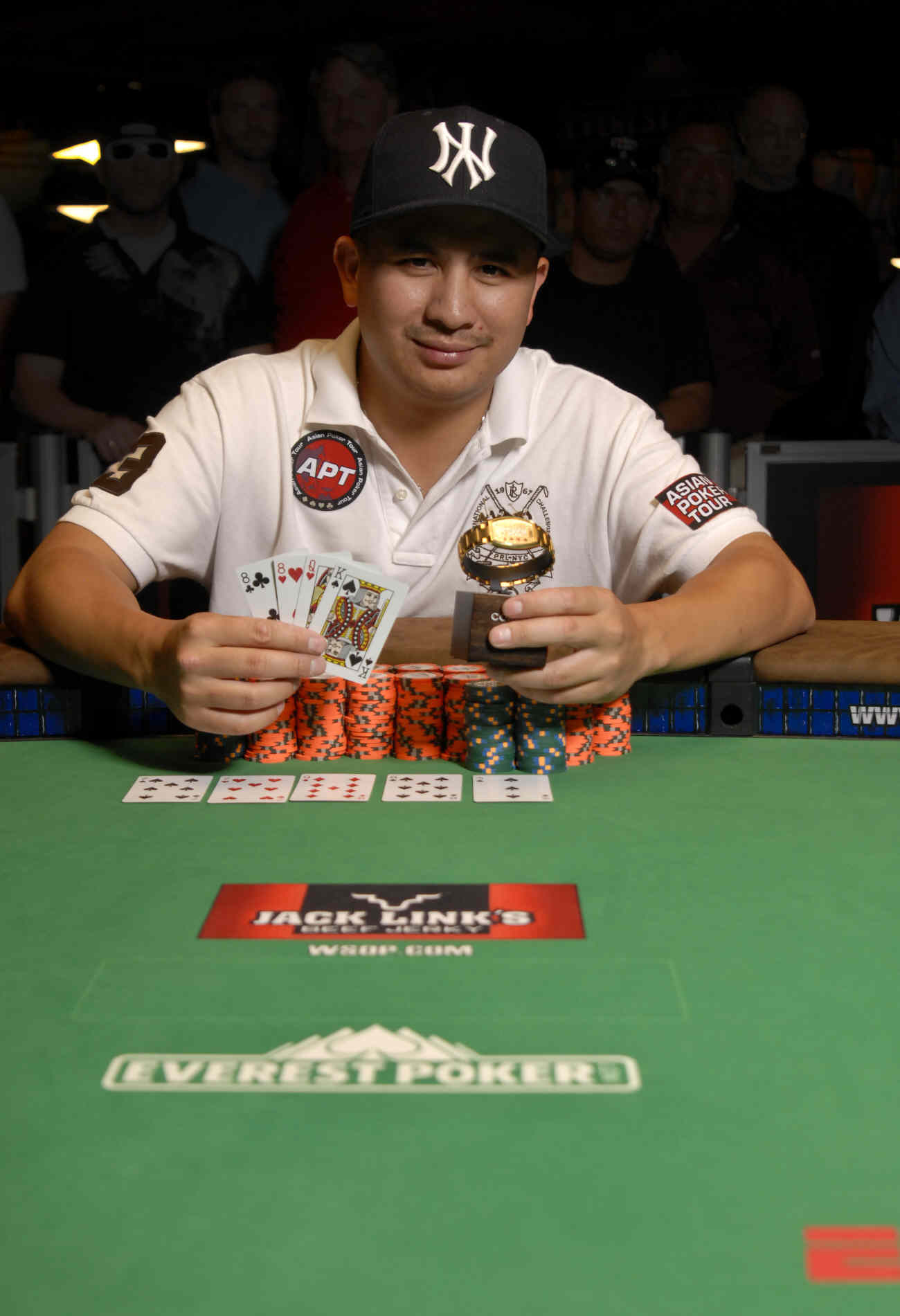 J.C. Tran
J.C. Tran -- $235,685
Jeff Kimber -- $145,656
Jean-Philippe Leandri -- $95,837
Ross Boatman -- $66,936
Dallas E. Flowers -- $49,387
Rami Boukai -- $38,407
Chad Layne -- $31,427
Theo Jorgensen -- $26,955
John Juanda -- $24,207