Home 2009 WSOP Event Schedule WSOP TV Schedule Free Slot Games Site Map 3 Webmasters


Event #31 H.O.R.S.E.
Day 1
Buy-in: $1,500
Players: 770
Prize pool: $1,051,050 for the top 72 finishers

The games that will comprise this round of HORSE are Limit Holdem, Omaha Hi-Low Split-8 or Better, Seven Card Razz, Seven Card Stud and Seven Card Stud Hi-Low Split-8 or Better. Whew! We normally put down the names of the players who are here, but the question is who isn't here. We will toss in the names as the event unfolds. The game will change every 8 hands. Cards were being dealt at 5:00 PM with very tough tables being watched by railbirds. But some players were dragging in to a seat with a portion of the stacks blinded away, because basically they are tired. Twelve to fourteen hour days back to back is enough to take the stride out of anyone.

It took time for the first bust to take place around 8:30, right before dinner break. But even after dinner break it was uneventful for a while. Omaha Hi/Low -- Brett Richey left the event after his low straight (J thru 7) was not as good as his opponent who made 9 7 x x. So Richey is free to stretch his legs for a bit. Stud -- Dutch Boyd slowly lost chips until he was gone. On his last hand, he had two pair (K's and 5's), but someone else hit a set of 10's to send Boyd to the rail. Following Boyd were Shirley Rosario, Chau Giang, Gavin Smith, Maria Ho, Daniel Negreanu, Mike Matusow and Mel Judah. Razz -- Phil Ivey also busted out after a full house (5's/A's) which was easily beaten by another player who held K Q x x, sending Ivey back to Event #30 Pot Limit Omaha where he still has chips. Razz -- Jason Mercier got busted by Bryan Micon.

By 3:00 AM it was time to end play and go get some rest or if you're in your twenties go party. (I'm going to bed.) Some of the players who made the cut for Day 2 are Chris Bjorin 31,100, Vanessa Rousso 30,900, Archie Karas 28,800, Fabrice Soulier 32,200, Annie Duke 23,700, James Van Alstyne 24,500, Shannon Shorr 20,200 and Toto Leonidas h with 7,100. Here is the payout schedule for the final table:
$247,033
$152,654
$100,165
$69,505
$50,881
$39,183
$31,657
$26,780
$19,265
A total of 220 players were left at the end of Day 1. Here are the top 9 with chip counts:
Sabic Sebastien -- 72,700
Eric Kurtzman -- 57,800
Chris FergusonMarco Traniello -- 55,000
Jim Silveira -- 55,000
Andy Black -- 54,300
Doug Saab -- 51,400
William Buckley -- 43,300
Vito Barone -- 42,300
Tianxiong Fu -- 41,500
Day 2

At 2:00 in the afternoon, it was back to the tables. Marcel Luske was on the short side with 11,100 chips and ended up busting out early. Stud -- Mickey Appleman was in even worse shape with just 3,600 chips and lost them in a 3 way hand with Lacey Jones and Steve Stencil. Stencil was in good shape after he hit his flush, Appleman was out the door. Following them were Barry Greenstein, Anna Wroblewski, Annie Duke and Perry Friedman. Eventually the players hit the money, and then it was off to the races to see who could get to the cashier's cage the fastest. The bubble was broken about 9:00 PM and by 10:00 we were down by 30 players.

Other busts include Thor Hansen who was eliminated during Stud in a hand with Roy Schiffman who managed to have a full house by the last card (A's/8's). Andy Black and Bryan Devonshire also met with misfortune and had to leave the tournament. At the end of Day 2 there were 23 left. These are the top 9 with counts:
Fabrice Soulier -- 351,000
Shannon Shorr -- 323,500
Mitch Schock -- 285,000
Brian Malcolm -- 247,500
Ronald Schiffman -- 224,000
Paul Evans -- 212,000
Phillip Marmorstein -- 209,500
Tad Jurgens -- 166,500
Joe Serock -- 152,500
Day 3 -- Final Table

Final table news as seen by the WSOP:

The 2009 World Series of Poker $1,500 buy-in H.O.R.S.E. champion is James Van Alstyne. Van Alstyne is a graduate of Stanford University. He earned his degree in electrical engineering. Van Alstyne is a 42-year-old poker pro. He has been playing seriously for about ten years. Van Alstyne collected $247,033 for first place. He was also awarded his first WSOP gold bracelet. Van Alstyne currently has $726,075 in WSOP winnings. This was Van Alstyne's third final table appearance so far at this year's WSOP. The defending champion from 2008 was James Schaaf. He cashed again this year, finishing in 65th place.

H.O.R.S.E. is an acronym for the five most popular poker games played inside American cardrooms today. H.O.R.S.E. tournaments include a rotation of the following games -- Hold'em, Omaha High-Low Split, Razz, Seven-Card Stud, and Seven-Card Stud High-Low Split (also called Eight-or-Better). Many purists consider H.O.R.S.E. to be the ultimate test of poker skill, since it requires that players play all games well in order to win. This claim was perhaps best illustrated at the 2006 World Series of Poker, where H.O.R.S.E. returned to the tournament schedule after a long hiatus. For more than two decades, the late poker legend Chip Reese had been widely regarded as the best all-around player in the world. Appropriately, he won the inaugural tournament which cost $50,000 to enter and became the first H.O.R.S.E. world champion. The rotation of games in this tournament lasts eight hands. In other words – following eight dealt hands of Hold'em, there are eight hands of Omaha High-Low followed by eight hands of Razz, and so forth.

Mitch Schock was the chip leader coming into the final table. He ended up finishing third. James Van Alstyne came into the final table ranked eighth out of nine players. He seized the chip lead about mid-way through the six-hour finale. Van Alstyne had a decisive advantage over Tad Jurgens when the final hand was dealt. The final hand of the tournament came in Seven-Card Stud when Van Alstyne's pair of tens bested Jurgens' pair of deuces.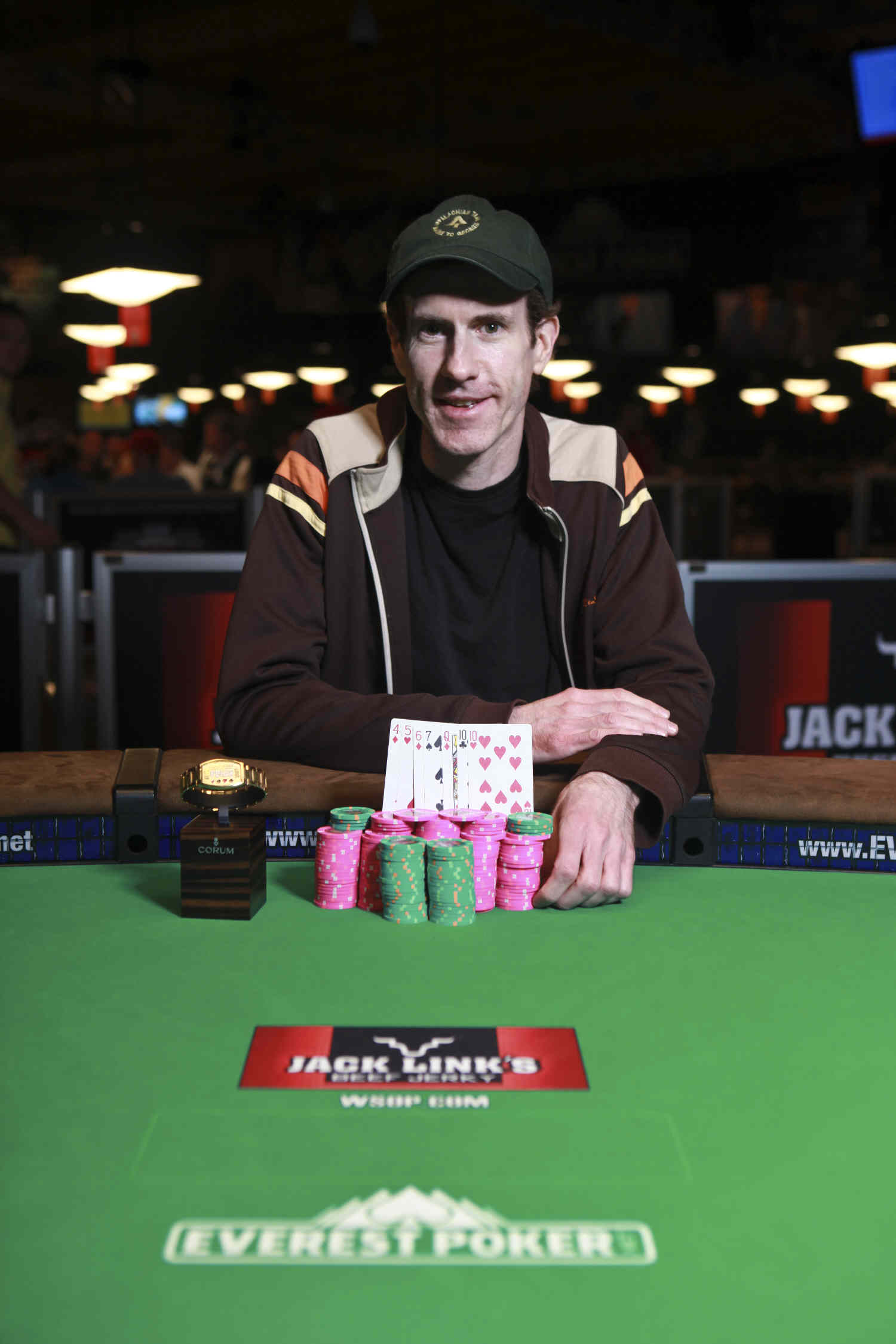 James Van Alstyne
James Van Alstyne -- $247,033
Tad Jurgens -- $152,654
Mitch Schock -- $100,165
Bryan "the Icon" Micon -- $69,505
Shannon Shorr -- $50,881
Brian Malcolm -- $39,183
Fabrice Soulier -- $31,657
Ron "Schifty" Schiffman -- $26,780
Farzad Rouhani -- $19,265