Home 2009 WSOP Event Schedule WSOP TV Schedule Free Slot Games Site Map 3 Webmasters




All linked player names have free bios, courtesy of FullTiltPoker
Event #32 No-Limit Hold'em
Day 1
Buy-in: $2,000
Players: 1,534
Prize pool: $2,791,880 split amongst the top 171

Event #32 No-Limit Hold'em made today another great day to be a poker player at the WSOP! The money, televised events and the gold bracelet make this a fantastic opportunity for anyone to be a star. Today will have the poker greats such as Ivan Demidov, Chau Giang, Neil Channing, Noah Schwartz, Allen Kessler, Alan Smurfit, Shannon Elizabeth,Scott Clements, Josh Arieh, Humberto Brenes, David Sklansky, Mark Seif and others in the field. Everyone started at 12 noon.

The pros were quickly establishing table rep, such as in a hand with David "Devilfish" Ulliott. He was able to put pressure on a player under the gun to where the other player folded pocket Queens face up. David turned over 8 5 suited to let everyone know that the Devilfish is not afraid to bluff. Clonie Gowan was busted in the early running as her pocket 9's could not overcome the paired 10's of Stephen Devlin. And Phil Hellmuth came at the end of level 4 to sit down. He got up a few minutes after busting in level 6, less than 2 hours later. Shannon Elizabeth was kicked out by the other players Queen kicker. Tiffany Michele who had been on fire for most of this tournament, was eliminated just before the tournament director said to bag the chips.

There were 220 players left at the end of Day 1. Here are the top 9:
Shan Jing -- 137,400
Daniel Makowsky -- 127,900
Ed Chang -- 121,900
Peter Feldman -- 116,700
Sergey Rybachenko -- 111,900
Ken Lennaard -- 109,200
Ryan Broderick -- 102,900
Alex Bolotin -- 100,700
Charles Dolan -- 97,500
Day 2

This payout schedule should make any final table player happy:

$530,548
$326,203
$214,974
$150,761
$108,883
$86,548
$71,192
$61,421
$55,279
At 2:00 PM, Day 2 began for the 220 who made the cut. Jeff Williams who ended Day 1 with 57,200 ended up giving it to Ed Cheng after Cheng made a larger two pair (A's and 10's) by the river. That resulted in Jeff joining the spectators. In a little over 90 minutes, the field grew quieter as the bubble was reached with hand to hand play for position 172. The bubble was popped with two players going out at the same time, but only one showed up to collect the money for position 171. After that other busts occurred to big players such as Scott Clements, David Levy, Jan Von Halle, Luke Staudenmaier, Neil Channing, Theo Tran, Brett Switzer, Kelly Kim and Tony Cousineau. Chris MacNeil took out both Chau Giang and Ryan Broderick at the same time when his pocket 8's turned into two pair (8's and 4's).

In a hot hand for Phillip Yeh, winning a four way hand allowed Yeh to nearly raise his stack 4 fold when he paired his King card on the river. Ed Chang who was doing well, busted in 37th place after losing to the full house (8's/K's) of Jan Sorensen. David Vu won a sweet hand with two pair (K's and J's) which raised his stack to 417,000, enabling him to move on to Day 3. In the last hour of play, Chris MacNeil rocketed over 350,000 to finish the day at 735,000. (Chris started the day with 26,900. Good job!) Neng Lee went over the 1 million mark before finishing the day with 830,000.

There were 19 who finished that will move on to Day 3. Here are the top 9 with chip counts:
Jason Boyes -- 976,000
Mika Paasonen - 894,000
Neng Lee -- 830,000
Christopher Macneil -- 735,000
Jim Pannell -- 644,000
Antoine Amourette -- 644,000
Eric Ladny -- 550,000
Angel Guillen -- 496,000
Peter Feldman -- 485,000
Day 3 -- Final Table

Here is the summary for this WSOP event:

The 2009 World Series of Poker $2,000 buy-in No-Limit Hold'em champion is Angel Guillen. Guillen is a 26-year-old professional poker player. He plays mostly online. Guillen becomes second Mexican National in history to win poker's most coveted prize. Guillen collected $530,548 for first place. He was also awarded his first WSOP gold bracelet. Guillen's enthusiastic victory brought back memories of last year's win by another Latino player -- Alexandre Gomes, from Brazil. Both players arguably were cheered to victory by the largest and most joyous crowds of any winner during the past two years. Guillen will be honored with the playing of the Mexican national anthem – which is Himno Nacional Mexicano. Guillen is fluent in both Spanish and English. Guillen attended college in Mexico City, and is a few credits short of a degree in economics. Guillen has worked in business, concentrating in investments.

Eric Ladny was the chip leader coming into the final table. He ended up finishing in fifth place. Guillen came into the final table ranked seventh out of nine players. In fact, two of the finalists had over 2,000,000 in chips while Guillen began with 604,000. He seized the chip lead about mid-way through the finale, traded the lead back and forth several times during the match. The heads-up match between Angel Guillen and Mika Paasonen lasted about six hours. Paasonen was all-in a few times during the fierce battle, but managed to survive each time his tournament life was at stake. When Guillen had about a 2 to 1 chip lead, the final hand of the tournament took place just after midnight when Guillen was dealt 3-3 and flopped a set when the board showed K-4-3. Paasonen moved all-in after the flop and tabled K-10, which was good for top pair. The set of threes held up, and Guillen sealed his victory.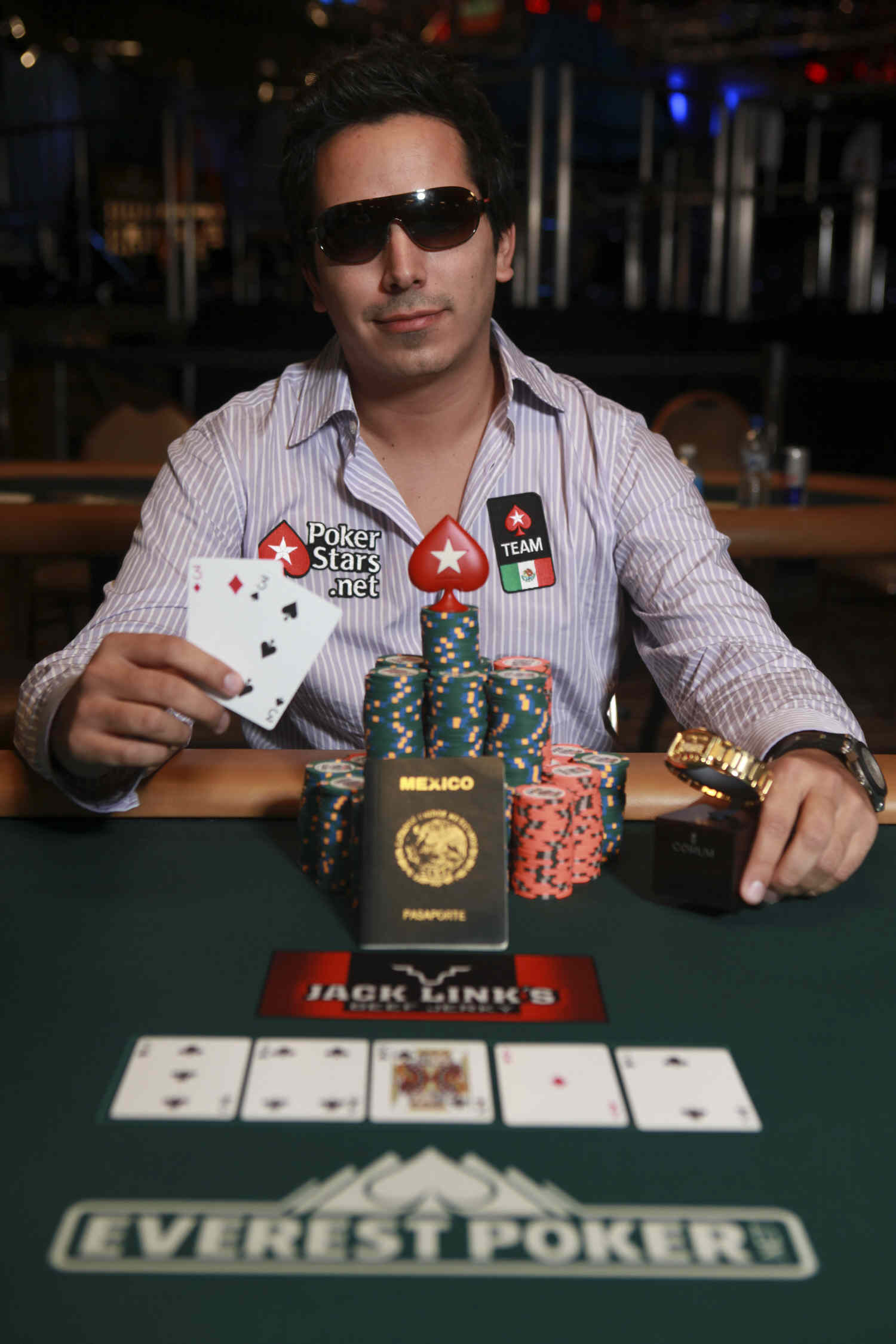 Angel Guillen
Angel Guillen -- $530,548
Mika Paasonen -- $326,203
Jason Boyes -- $214,974
Steve Kohner -- $150,761
Eric Ladny -- $108,883
Daniel Makowsky -- $86,548
Chris MacNeil -- $71,192
Antoine Amourette -- $61,421
Clark Hamagami -- $55,279