Home 2009 WSOP Event Schedule WSOP TV Schedule Free Slot Games Site Map 3 Webmasters




All linked player names have free bios, courtesy of FullTiltPoker
Event #33 World Championship Limit Hold'em
Day 1
Buy-in: $10,000
Players: 185
Prize pool: $1,739,000 for the top 18 finishers

In the evening (5:00 PM), you can expect the players to jump in especially if they were not able to make the cut for the afternoon tournament. So some of the names that were in Event #32 have now taken chairs in Event #33. We had to say some due to the 10 grand entry fee which makes most of us stop and think twice about entering. Players with big money such as Erik Seidel, Scotty Nguyen, Gabe Kaplan, Phil Ivey, Bill Chen, Daniel Negreanu, Chad Brown, Annie Duke, Maria Ho, Brock Parker (yeah, he definitely has the money!), Liz Lieu and Vitaly Lunkin took seats. Yevgeniv Timoshenko, at 21 after winning the WPT championship which made him an instant millionaire, yeah he has the cash too. Oh and for the record, Phil Hellmuth came 2 hours and 45 minutes after the tournament started to take his seat.

Players were being extremely cautious although we haven't been able to figure the reason. By 8:00 PM there were still 182 left in the field. When 11:00 rolled around Scotty Nguyen decided to order a drink, and amazingly the field began to loosen up. (We have no idea how many drinks he bought for other.) Falling off the tournament vine were Gabe Kaplan, Nick Schulman, Erick Lindgren, Phil Ivey, Phil Hellmuth (making a hasty exit in the process), Todd Witteles and John Juanda.

Some who made the cut for Day 2 are Vitaly Lunkin with 86,500 chips, Pat Pezzin 78,000, David Benyamine 74,600, Barry Greenstein 67,100, Todd Brunson 66,600, Brock Parker 52,200, Ville Wahlbeck 54,400 and Howard Lederer h 46,900. Players left in the event are 116.
Jennifer Harman h -- 127,600
Mark Klecan -- 117,000
Maria Ho -- 113,400
Josh Arieh -- 112,100
Shaun Deeb -- 106,000
Mark Teltscher -- 99,900
Randall Mccallum -- 95,000
Kyle Ray -- 90,300
Dmitry Gromov -- 87,800
Money payouts for the final table players:
$460,841
$285,195
$188,855
$134,772
$100,688
$80,341
$67,647
$59,995
$55,995
Day 2

Everyone came to take their seats at 2:00 PM for another round of action. With all these people we more than likely will have to stop at 3:00 AM, and those left will move on to Day 3. Brandon Wong was gone after Shaun Deeb paired his 9 card on the flop. Chris Ferguson who was short stacked with 9,600 met with disaster in the form of Josh Arieh. After a flop of A 7 6, Ferguson moved all-in with A Q but was called by Arieh holding A 7 which won the hand for Arieh. Ferguson was joined by Carlos Mortensen who mucked his cards after meeting the pocket J's of Kenny Shei. Falling in line doing the railbird shuffle were Erick Lindgren, Mike Baxter, Brock Parker, Brandon Adams, Joe Cassidy, Bruno Fitoussi, Annie Duke, Scotty Nguyen, Erik Seidel, Peter Gould, Nick Frangos, Barney Boatman, Mimi Tran and David Benyamine. Eli Elezra was gone after being beaten up by the cards of Todd Brunson. Vitaly Lunkin soon followed.

Daniel Alaei made the Day 3 cut after eliminating players like Doyle Brunson. With Brunson having K 7 and Alaei having A 9, Alaei turned his hand into two pair (A's and 10's) on the flop. Barry Greenstein also left the tournament room after his pocket Q's were silenced by the pocket A's of Steve Kim. And Farzad Bonyadi busted when his paired 8's were no match for the pocket J's of Joe McGowan.

It was 12 players that survived for Day 3 action. Here are the names of the top 9:
Kenny Hsiung -- 831,000
Michiel Brummelhuis -- 687,000
Mark Klecan -- 603,000
Matt Hawrilenko -- 601,000
Chad Brown -- 545,000
Greg Mueller -- 485,000
Matt Glantz -- 483,000
Soheil Shamseddin -- 385,000
Daniel Alaei -- 330,000
Day 3 -- Final Table

This is a summary of the facts sent to us by the WSOP:

The 2009 World Series of Poker $10,000 buy-in Limit Hold'em world champion is Greg "FBT" Mueller. Mueller is a 37-year-old professional poker player. He is a regular player on the major tournament circuit. Prior to playing poker for a living, Mueller played professional ice hockey in Europe. He played for nine seasons for a team based in Germany. He retired in 1999. Mueller collected $460,841 for first place. He was also awarded his first WSOP gold bracelet. With this victory, Mueller officially became the 127th player in WSOP history to win in excess of $1 million. The defending champion from 2008 was Rob Hollink. He entered this event but did not cash.

The End of Day One chip leader was Jennifer Harman, from Las Vegas, NV. She ended up finishing in 12th place. Kenny Hsiung was the chip leader coming into the final table. He ended up finishing ninth. Mueller came into the final table ranked sixth out of nine players. But the chips stacks were largely even between the top six players. He seized the chip lead about mid-way through the 11-hour finale. The decisive hand of the tournament took place when Mueller made a straight flush against Chad Brown, who presumably had the nut flush (his cards were not shown). Mueller and Brown went back and forth with a flurry of raises and re-raises before Brown surrendered his chip lead to Mueller – a fatal mistake from which he could recover. When play became heads-up between Mueller and runner up Pat Pezzin, the two players realized they shared at least one common trait – they were both Canadian. "It's going to be 'O Canada' for sure," Mueller beamed to his fellow countryman and rival.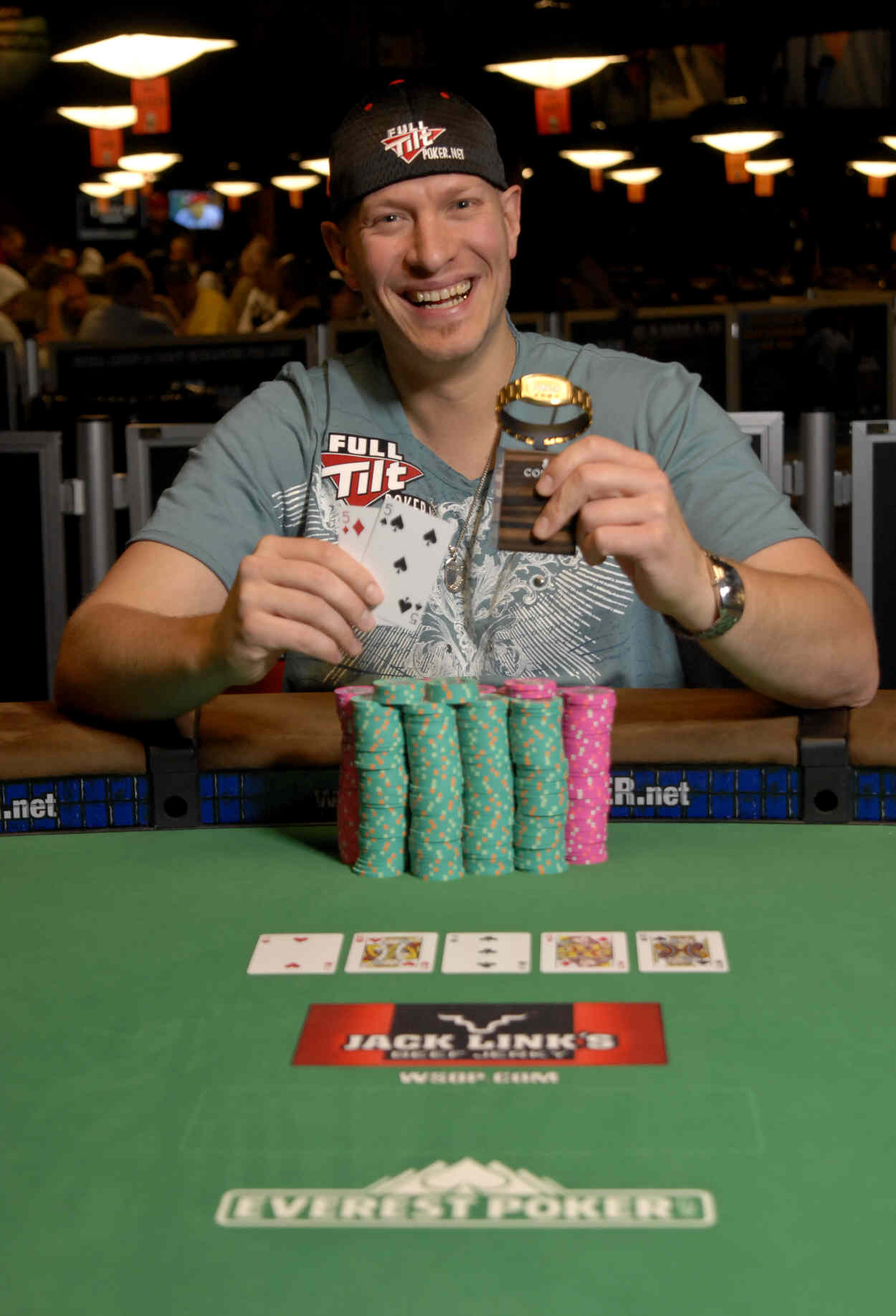 Greg Mueller
Greg "FBT" Mueller -- $460,841
Pat Pezzin -- $285,195
Chad Brown -- $188,855
Daniel Alaei -- $134,772
Matt Hawrilenko -- $100,688
Matt Glanz -- $80,341
Michiel Brummelhuis -- $67,647
Soheil Shamseddin -- $59,995
Kenny Hsiung -- $55,995