Home 2009 WSOP Event Schedule WSOP TV Schedule Free Slot Games Site Map 3 Webmasters


All linked player names have free bios, courtesy of FullTiltPoker
Event #34 No-Limit Hold'em
Day 1
Buy-in: $1,500
Players: 2,095
Prize pool: $2,859,675 going to the top 216

Man, there were a lot of people who turned out for this tournament! Everyone starts with 4,500 in chips and will try to outlast other players for 10 rounds today. The order to shuffle up and deal came at 12 noon, and within minutes players were busting out before everyone was seated! It was interesting knowing that the Amazon, Brasilia and Miranda rooms were having this in/out flow of players. In this motion of ocean was seen Phil Hellmuth, Pat Poels, Quinn Do, Jared Hamby, Justin Peche, Roland De Wolfe, Alex Kravchenko, James Mackey, Paul Wasicka, Luke Vrabel, Allen Cunningham, Paul Darden, Bertrand Grospellier, Matt Keikoan and Praz Bansi.

And the bustouts kept coming with some only staying a few minutes for their $1,500 buyin. But a good number came out in great shape. Players like Jared Hamby finishing with 64,400 which left him in position to try again tomorrow. Or Justin Peche 62,800 along with Roland DeWolfe 61,300, Alex Kravchenko 59,200, Paul Wasika 49,400, Dennis Phillips 48,800, Devin Porter 38,800, Tony Ma with 19,200, Chris Ferguson with 17,300 and Jeff Madsen with 17,000. On the short stack for Day 2 were Eric Arroyo 6,700, Thor Hansen 10,900 and Dennis Moore at 10,800.

At the end there were 240 remaining to move on to Day 2.
James Taylor -- 174,400
Scott Dorche -- 172,100
Cody Slaubaugh -- 140,200
Martin Jacobson -- 127,300
Steven Bradbury -- 108,700
Randy Pfeifer -- 103,600
Ray Spencer -- 98,800
Eric Baldwin -- 96,300
Eugene Katchalov -- 90,600
Day 2

Action started at 2:00 PM, with Jeff Madsen making an early exit on the first hand who started with 17,000 chips. Other bustouts include Chris Ferguson, Allen Cunningham, Dennis Phillips, Paul Wasicka, Eugene Katchalov, Alex Jacob, Pat Poels, Joe Pelton, Justin Peche and Tony Ma. Phil Hellmuth began the day with over 88K in chips, but things just went wrong at the worse possible times, sending him down to 16k then 13K in his stack. He would work his way up only to be slapped back down by the hand of fate. Eventually Phil was gone from the tournament after another player turned their A 5 into two pair. Phil not only got up from the chair, but had to payoff a $2,000 bet to Roland De Wolfe because Roland lasted longer than he did.

Bertrand Grospellier got in on a number of nice hands which enabled him to take the 27,200 from yesterday and grow it into 414,000 to end the day. Two other pros, James Mackey with 299,900 chips and Young Phan with 211,000 will also join Bertrand on Day 3 to compete for the championship bracelet.

At the end of the day, there were 21 players left in the field for Day 3. Here are the top 9:
Jonas Klausen -- 939,000
Martin Jacobson -- 806,000
Roland De Wolfe -- 644,000
Eric Baldwin -- 610,000
Joseph Cada -- 606,000
Benjamin Scholl -- 574,000
James Taylor -- 522,000
Pramesh Bansi -- 486,000
Steven Bradbury -- 475,000
Day 3 -- Final Table

Read the summary news from the WSOP on this event:

The 2009 World Series of Poker $1,500 buy-in No-Limit Hold'em champion is Eric Baldwin. Baldwin collected $521,991 for first place. He was also awarded his first WSOP gold bracelet. Baldwin attended the University of Wisconsin-Whitewater. He earned his college degree in psychology, with a minor in mathematics. According to the official records, Baldwin now has 1 win, 2 final table appearances, and 7 in-the-money finishes at the WSOP. On his future plans and goals. "My dream is to be sponsored by Miller Lite. That's kind of a joke. But I like to drink Miller Lite. I want to throw that out there. If Miller Lite needs a guy in the poker world, just give me a free supply, and we're golden." Note: WSOP official sponsor Milwaukee's Best Light is made by Miller Brewing Company, which also makes Miller Lite.

The defending champion from 2008 was Jesper Hougaard, from Copenhagen, Denmark. He did not enter this event. Phil Hellmuth's cash gives him 71 for his WSOP career – which ranks first on the all-time list. Chris "Jesus" Ferguson's cash gives him 58 for his WSOP career – which ranks third on the all-time list. Thor Hansen's cash gives him 45 for his WSOP career – which places him into a 14th-place tie on the all-time list. Allen Cunningham's cash gives him 38 for his WSOP career – which places into a 20th-place tie on the all-time list.

The End of Day One chip leader was Jonas Klausen. He ended up finishing in second place. Klausen was also the chip leader coming into the final table. Eric Baldwin came into the final table ranked second out of nine players. He seized the chip lead when play became heads-up in what was a 7-hour finale. The decisive hand of the tournament took place late when Klausen was dealt Q-10 and flopped top two pair. But Baldwin had 4-4 and flopped a set of fours. The board was a nightmare for Klausen, which showed Q-10-4. Baldwin's set of fours held up, which did massive damage to Klausen's stack. Baldwin later described the course of events as a "cooler hand." His comment reflected the notion that neither player could have gotten away from the hand, thus it was somewhat fortunate for Baldwin that he was on the favorable side of the break. The final hand of the tournament came when Baldwin had about an 8 to 1 chip advantage. Baldwin's 10-10 raced against Klausen's A-Q. With the large crowd shouting for aces, queens, and tens – neither player improved his hand. That mean the pocket tens dragged the final pot of the night, giving Baldwin his victory. The moment he won, Baldwin jumped into the crowd and was mobbed by about a dozen supporters, including his girlfriend.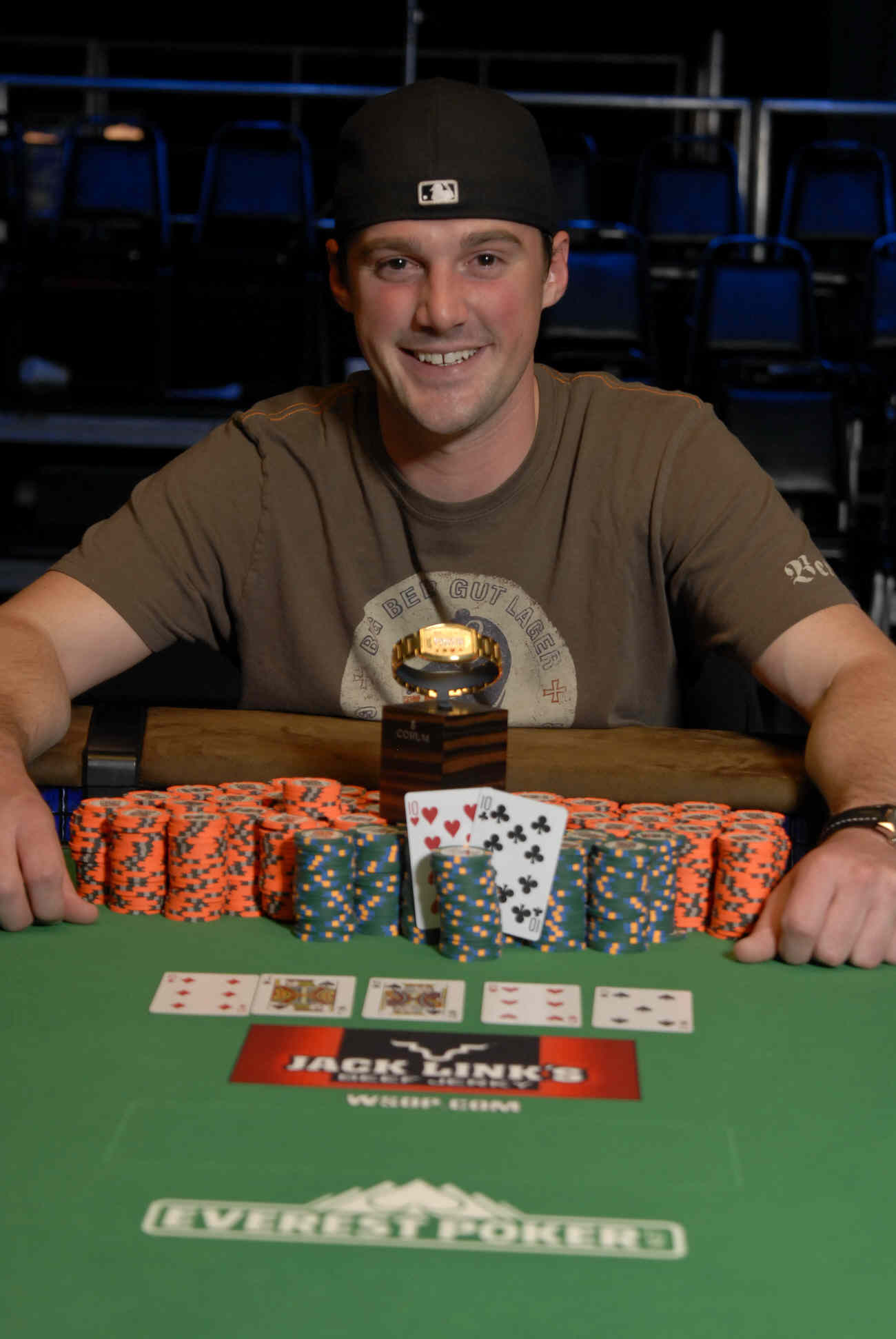 Eric Baldwin
Eric Baldwin -- $521,991
Jonas Klausen -- $322,371
James Taylor -- $213,045
Benjamin D. Scholl -- $150,132
Roland de Wolfe -- $112,957
Andrew Youngblood -- $89,221
Steven Bradbury -- $74,351
Martin Jacobson -- $65,486