Home 2009 WSOP Event Schedule WSOP TV Schedule Free Slot Games Site Map 3 Webmasters



All linked player names have free bios, courtesy of FullTiltPoker
Event #35 Pot-Limit Omaha
Day 1
Buy-in: $5,000
Players: 363
Prize pool: $1,706,100 for the top 36 finishers

All players will begin with $5,000 in chips plus two add on chips worth 5 grand each. If not used within the first three levels, the chips will automatically be given to those players to add to their current stacks. If they use them all, they will be at zero and out of the tournament. Some of the names in the field are Mike Sexton, Robert Williamson III , Alan Smurfit, Jason Hougaard, Berry Johnston, Jamie Pickering, Hevad Khan, John Juanda, Ted Lawson, Barry Greenstein, Sorel Mizzi, Daniel Negreanu, Scotty Nguyen, Robert Mizrachi, Max Pescatori, Joe Beevers, Bruno Fituossi and David "Devilfish" Ulliott. And that is just a few of them.

Vanessa Selbst busted out when her opponent made a flush on the river. Scott Seiver was right behind her after losing to the set of Kings made by Jimmy Fricke. Michael Mizrachi went to the rail courtesy of Brock Parker. Jacobo Fernandez lost a hand to the A A of Kido Pham when the cards dealt could not help him with his outside straight draw. A set of Aces was enough to beat Alexander Kostritsyn out of the rest of his chips, sending him to the sidelines. Phil Ivey came an hour late, turned the turbos on the cards growing his stack to 50K in the next hour, only to lose it all in a really bad beat. In a hand against Andrew Chen and three other players, Ivey made quad 6's on the turn. Ivey bet and Chen said all-in of which Ivey quickly called. Chen then turned over two cards needed for a straight flush (4 to 8 of diamonds) and sent Ivey to the rail. (That had to hurt bad!)

At the end of Day 1, there were 64 left for the next round. Here are the top 9 with chip counts:
Jesper Hougaard -- 208,500
Rifat Palevic -- 207,400
Edwards Ochana -- 181,900
Sorel Mizzi -- 177,000
Ralph Perry -- 174,400
Jeff Lisandro -- 162,500
Richard Austin -- 158,500
Sandra Naujoks -- 157,000
Cliff Josephy -- 148,000
Day 2

Round 2 began at 2:00 PM with a reminder of a rule from Jack Effel that the WSOP is an English only tournament. Keep that in mind if you want to play in the WSOP. Players were really dragging their carcasses into the chairs as the long back-to-back days are showing signs of wear. Pro player Matt Giannetti wasn't doing very well as he was seen running to a trash can, "making a deposit", wiping his mouth and going back to his chair to continue playing. Sorel Mizzi is on fire as he takes out player after player to work his way to the bracelet. After doubling up to 375,000 through Ralph Perry, he did so again a few minutes later in a bout with Jesper Hougaard. The Ace flush win against Hougaard brought Mizzi up to 660K. Jesper who was the chip leader ending Day 1, finished in 23rd place after meeting the set of Aces belonging to Issac Baron.

Others who were out of the tournament include Padraig Parkinson, Chris Ferguson, Dario Alioto, Marcel Luske, Bruno Fitoussi, Hoyt Corkins, Feming Chan and Tex Barch who became the bubble boy. Jeff Lisandro was broken soon after an encounter with Jonathan Cantor in which after both players saw a flop of A 10 7, they moved all-in. Cantor has A 10 5 2 and Lisandro had J 10 9 8 on his side of the table. The next two cards were A K, giving Cantor a full house (A's/10's), crushing the Jack high straight of Lisandro. This gave Cantor a 160,000 stack of chips and left Lisandro with just 2,000. Fabrice Soulier also left the tournament in 21st place thanks to the set of 2's belonging to Peter Jetten.

We have 11 players left from Day 2 that will move on to the battle for final table seats.
Sorel Mizzi -- 969,000
Rifat Palevic -- 949,000
Cliff "JonnyBax" Josephy -- 805,000
Richard Austin -- 537,000
Van Marcus -- 482,000
Felipe Ramos -- 372,000
Peter Jetten -- 370,000
Don Hindin -- 342,000
Jeppe Nielsen -- 242,000
Day 3 -- Final Table

Here are the surprising notes from the WSOP:

The 2009 World Series of Poker $5,000 buy-in Pot-Limit Omaha champion is Richard Austin. Following Austinís victory, he declined to be interviewed. Furthermore, Austin refuses to participate in the traditional WSOP gold bracelet ceremony. This means there will be no gold bracelet ceremony held on Saturday, June 20th. Austin is the first WSOP winner to decline participation in post-tournament activities. All other 34 gold bracelet winners this year have agreed to participate in interviews and festivities. The WSOP Media and Pubic Relations makes every effort to provide as much background information about the winner as possible. However, coverage of this tournament (Event 35) is, by necessity, limited to facts and figures about the event, rather than the winner.

The defending champion from 2009 was Phil Galfond, from. He entered this event but did not cash.

The chip leader coming into the final table was Cliff Josephy. He ended up taking third place. Winner Richard Austin came into the final table ranked fourth out of nine players. When play became three-handed, he had both of his opponents covered by about a 2 to 1 margin. The decisive moment of the tournament took place on the very final hand. In a monstrous three-way pot, with the gold bracelet at stake, Austin got very lucky against both of his opponents who were holding superior cards:

AUSTIN: Qh - Js - 8c - 5c
MIZZI: As - Ah - 5d - 3d
JOSEPHY: Ad - Kh - Ks - 8d

Mizzi and Josephy were the early aggressors. Both re-raised enough times to be all-in pre-flop. Austin called the raise with the inferior hand.

The flop came: Kc - 9d - 3c

Josephy had flopped a monster, with the top set (kings). Mizzi held an overpair (aces). Austin had a flush draw and an inside straight draw.

The turn came: 8s

The turn gave no improvement to any of the three players, although Josephy was in the lead with a set of kings when the final card was dealt.

The river came: 7c

The river gave Austin a club-flush. He had both of his opponents covered in chips and therefore won the tournament.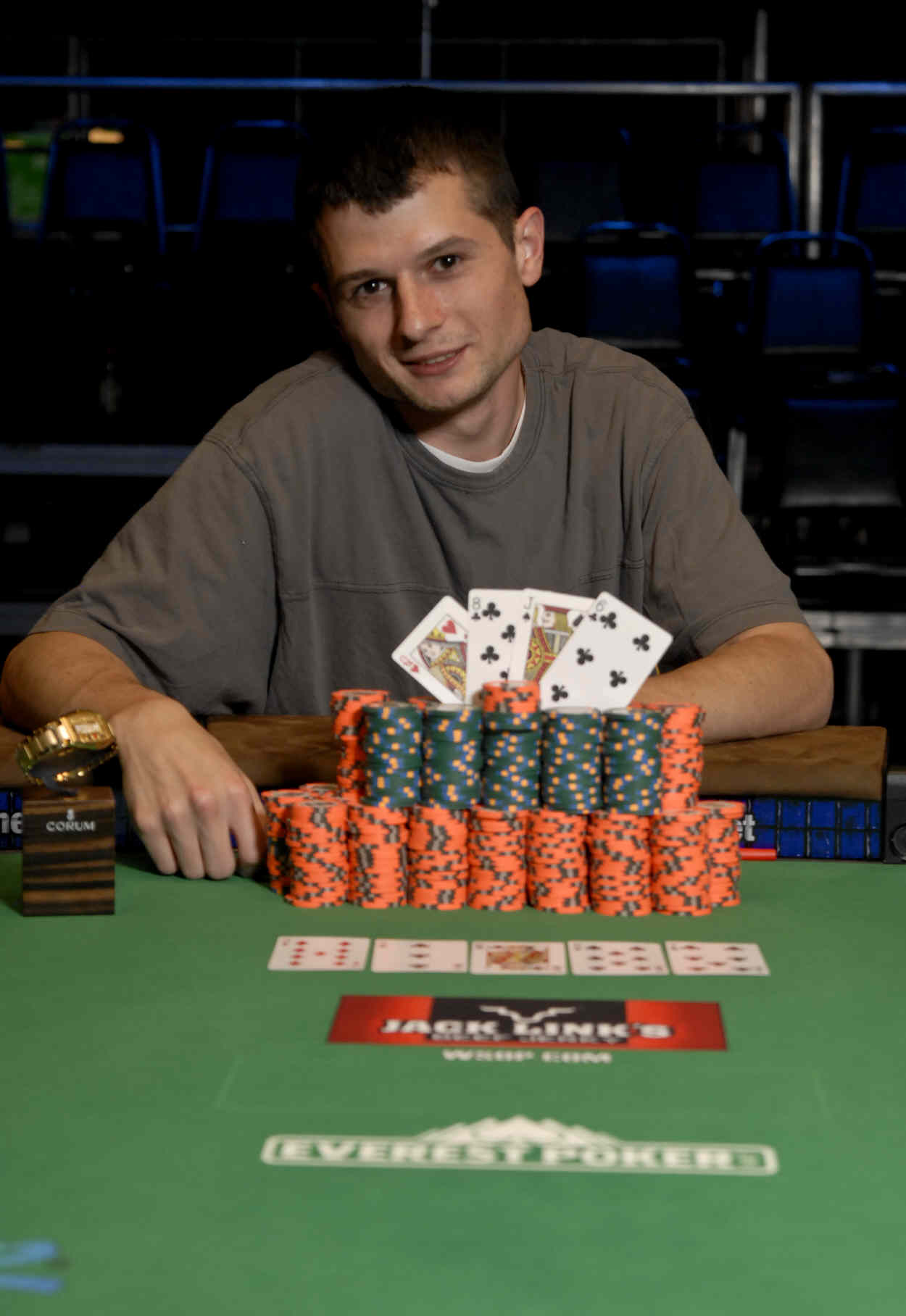 Richard Austin
Richard Austin -- $409,484
Sorrel Mizzi -- $253,048
Cliff Josephy -- $166,771
Dan Hindin -- $116,748
Rifat Palevic -- $86,516
Felipe "Mojave" Ramos -- $67,663
Van Marcus -- $55,687
Peter Jetten -- $48,112
Samuel Ngai -- $43,539