Home 2009 WSOP Event Schedule WSOP TV Schedule Free Slot Games Site Map 3 Webmasters




All linked player names have free bios, courtesy of FullTiltPoker
Event #36 No-Limit Hold'em
Day 1
Buy-in: $2,000
Players: 1,595
Prize pool: $3,084,900 to the top 171

Event #36 No-Limit Hold'em had players streaming to their seats slooooowwwlyyyy. Some like Allen Cunningham, Nenad Medic and Andy Bloch came at the beginning of level 3! Many players came from Canada, the United Kingdom, Hungary, Australia, Scotland, France, Germany and other places around the world. Amazing they all want to participate in this tournament series. Seen in the field were Michael Binger, Antonio Esfandiari, Maria Ho, Quinn Do, Andy Black, Neil Channing, Shawn Deeb, Clonie Gowan, Shannon Shorr, Roy Winston, Joe Beevers and Tony Ma.

Eliminations soon came forth as a good number of the players got seated at their tables. Thang Luu who successfully defended his title early in the 2009 WSOP, got busted after his set of Kings, were defeated by an opponent who had a royal flush draw that went to a flush by the river. Following him were Mark Newhouse, J.C. Tran, Jason Mercier, Alex Jacob, Vanessa Rousso, Jonathan Little, Dwyte Pilgrim, Theo Tran, Vanessa Selbst, Vivek Rajkumar, Nick Young, David Williams, Liv Boeree and Ylon Schwartz. After the dinner break, there were 610 in the field.

And the narrowing of the field continued. Gone from the tables were David Pham, Devin Porter, Sabyl-Cohen Landrum, Tony Dunst, Joe Sebok, Maria Ho, Kathy Liebert and Blair Hinkle. There were 213 survivors after Day 1. Here are the top 9 in the field:
Corwin Cole -- 185,700
Balazs Botond -- 160,000
Guillaume De La Gorce, -- 148,700
Dustin Dirksen -- 145,000
Philip Sparta -- 145,000
Karec Terrell -- 143,900
Jordan Rich -- 128,900
Theo Goethals -- 126,400
Jonathan Plens -- 123,800
Day 2

All players were at their seats at 2:00 PM and that's when the cards began being dealt. Soon after things got underway, busting out were Dennie Levi, Jeff Lisandro and Shannon Shorr who lost to the pocket 9's of Bobby Firestone. Action went hand to hand at position 172 which was the bubble, but after Phil Sparta took out a player with a pair of Aces, the speed of eliminations got a lot faster. Nina Tovich went to the cashier's cage after her pocket Q's met with the pocket Kings of her opponent. Pocket Queens were good enough for William Miner to take out pro player Darus Suharto. Shaun Deeb also went to collect his winnings after his pocket 6's were beaten by the paired Aces of another player. Following them were Rob Hollink, Rhynie Campbell, Michael Binger, Eugene Todd, Kenna James, David 'Chino' Rheem, Robert Cheung, Tony Ma, Jason Grey, Jason Wheeler, Matt Vance, Joe McGowan and Ken Yates.

After the dust settled around 2:45 AM, remaining players were told to bag their chips. Here are the final table payouts:
$586,212
$360,439
$237,537
$166,584
$120,311
$95,631
$78,664
$67,867
$61,081
A total of 17 players will compete on Day 3 for the gold bracelet. Here are the top 9 with chip counts:
Steven Tabb -- 1,086,000
Andrew Seden -- 995,000
Warren Woodall -- 881,000
Pat Atchison -- 852,000
Andrew White -- 808,000
Jordan Smith -- 800,000
Jack Powell -- 679,000
Laurence Grondin -- 608,000
Anthony Roux -- 561,000
Day 3 -- Final Table

This is the WSOP's summary on the event:

The 2009 World Series of Poker $2,000 buy-in No-Limit Hold'em champion is Jordan Smith. Smith is a 27-year-old professional poker player. Smith admits that his decision to play poker for a living caused some hardship, enduring virtually unavoidable financial pitfalls. Smith stated that each time he encountered difficulties, various backers (including his parents) were willing to help him out in times of need. When age 21, Smith dropped out of junior college to play poker for a living. He has been playing since then full time. He mostly plays online. Smith collected $586,212 for first place. He was also awarded his first WSOP gold bracelet. The defending champion from 2009 was Alexandre Gomes. He entered this event but did not cash.

The chip leader coming into the final table was Pat Atchison. He ended up finishing sixth. Winner Jordan Smith came into the final table ranked seventh out of nine players. Play at the final table lasted about nine hours. The final hand came when Jordan Smith flopped a diamond flush against Ken Lennaard, who flopped a higher-flush draw with top pair. Smith had 9-7 of diamonds. Lennaard had J-8 (jack of diamonds). The final board showed 8-4-3-3-6, with three diamonds. That meant Smith's flush held up. He won the tournament.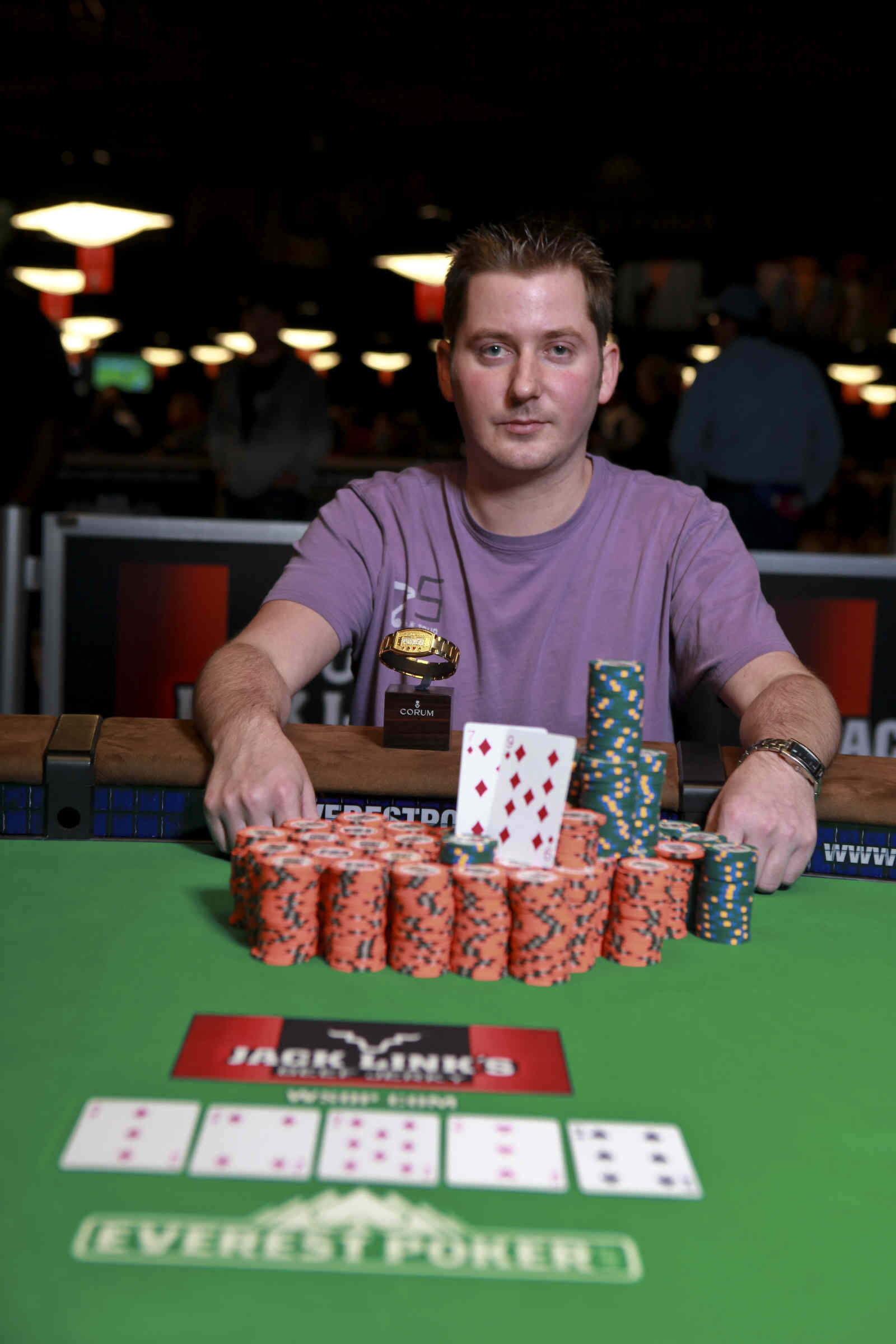 Jordan Smith
Jordan Smith -- $586,212
Ken Lennaard -- $360,439
Laurence Grondin -- $237,537
Joe Morneau -- $166,584
Anthony Roux -- $120,311
Patrick Atchison -- $95,631
Almira Skripchenko -- $78,664
Andrew Seden -- $67,867
Jonathan Plens -- $61,081