Home 2009 WSOP Event Schedule WSOP TV Schedule Free Slot Games Site Map 3 Webmasters


All linked player names have free bios, courtesy of FullTiltPoker
Event #38 Limit Hold'em
Day 1
Buy-in: $2,000
Players: 446
Prize pool: $811,720 to the top 45

All players began at 12 noon with stacks of 5,000 each with the goal of making it until 3 AM. Things really got off to a slow start. How slow? Well, players were still taking their chairs at 3:00 PM and by 3:30 PM only 6 of the 446 have busted out. Seen in the field are Dutch Limit Hold'Em specialist Marc Naalden, Erick Lindgren, Barry Greenstein, Teddy "Iceman" Monroe, Marcel Luske, Thor Hansen, Alex Kravchenko, Andrew Black, Jan VonHalle, Allen Cunningham, Phil Hellmuth Jr., Maria Ho and J.C. Tran. John Juanda eventually showed up after dinner break to a tiny and not-so-muscular 400 chips remaining in his stack. But you have to admire Juanda, he lasted 20 minutes with that stack before busting.

Gavin Smith had bad luck getting off the ground and watched his chips eaten by other players left and right. Eventually, Gavin did bust out of the tourney. Vitaly Lunkin also met with the poker reaper and is now on the sidelines. Seven time WSOP gold bracelet holder Phil Ivey is gone as well. Following them were Pam Brunson (daughter of Doyle Brunson), Victor Ramdin, Paul Darden, Erick Lindgren and Matt Hawrilenko. Tournament officials stopped play a little after 1 AM. (Nice!) There were 107 that would move on to Day 2. The names of the top 9 are:
David Baker -- 72,100
Jeff Wagner -- 59,200
Simen Sagstuen -- 58,400
Tommy Hang -- 58,400
Soheil Shamseddin -- 51,000
Diego Cordovez -- 50,400
Ian Johns -- 49,700
Ron Burke -- 47,600
Marvin Wassermann -- 44,800
Day 2

Bracelet hopefuls gathered back at the tables for another round at 2:00 PM. A few minutes into the action, Brock Parker who has had an amazing run this WSOP is gone from this event. Greg Mueller who just recently won a bracelet is also no longer here. Alex Kravchenko has left the table after his A 10 was not able to overcome his opponent holding A J. Daniel Negreanu lost to the pocket Q's of Ron Burke and became a railbird as well.

Names of the departed also include John Monette, David Sands, Michael Ma, Shannon Shorr and Soheil Shamseddin. Play continued until there were just 9 for the final table tomorrow! And on another note, Phil Hellmuth did make the money again, adding another cash to his WSOP record. The final table will take place at 2:00 PM.

Money for the final table:
$190,770
$117,902
$77,576
$54,182
$39,977
$31,088
$25,439
$21,819
$19,594
Names of the final table players:
Marc Naalden -- 755,000
Danny Qutami -- 323,000
Steven Cowley -- 322,000
Rep Porter -- 287,000
Alex Keating -- 284,000
Jameson Painter -- 205,000
Tommy Hang -- 202,000
Jared Odell -- 189,000
Ian Johns -- 113,000
Day 3 -- Final Table

This is the WSOP's summary on the event:

The 2009 World Series of Poker $2,000 buy-in Limit Hold'em champion is Marc Naalden. Naalden is a 40-year-old professional poker player. Prior to pursuing his poker career, Naalden worked as a derivatives trader on the options exchange for ten years. Naalden earned his college degree in economics. This is the fourth year Naalden as attended the WSOP. Prior to his victory, he estimates that he played in about 65 WSOP tournaments. He has entered about 13 events so far this year. Naalden collected $190,770 for first place. He was also awarded his first WSOP gold bracelet. Naalden will have the Dutch national anthem played at his WSOP gold bracelet ceremony.

Phil Hellmuth's in-the-money finish (17th) gives him 72 cashes for his career, the most in WSOP history. Daniel Negreanu's in-the-money finish (26th) gives him 39 cashes for his career, which currently ranks in a tie for 21st place on the all-time list. Alexander Kravchenko finished 35th. He has more WSOP cashes than any other Russian player (15). The defending champion from 2008 was Daniel Negreanu, from Las Vegas, NV. Last year's win gave Negreanu his fourth WSOP gold bracelet. He entered this event and cashed in 26th place.

The chip leader at the start of the final table was Marc Naalden. He never lost his lead during any point on Day Three. Naalden's toughest adversary was clearly the runner up Steve Cowley. It took about three hours to eliminate the players who finished third through ninth. It took another two hours to eliminate Cowley. The final hand of the tournament came when Cowley was low on chips and had A-5. Naalden had Q-8. Cowley was all-in pre-flop and saw his hopes of making a comeback vanish when the final board showed Q-9-10-4-10. Naalden's pair of queens (and tens) dragged the final pot of the tournament.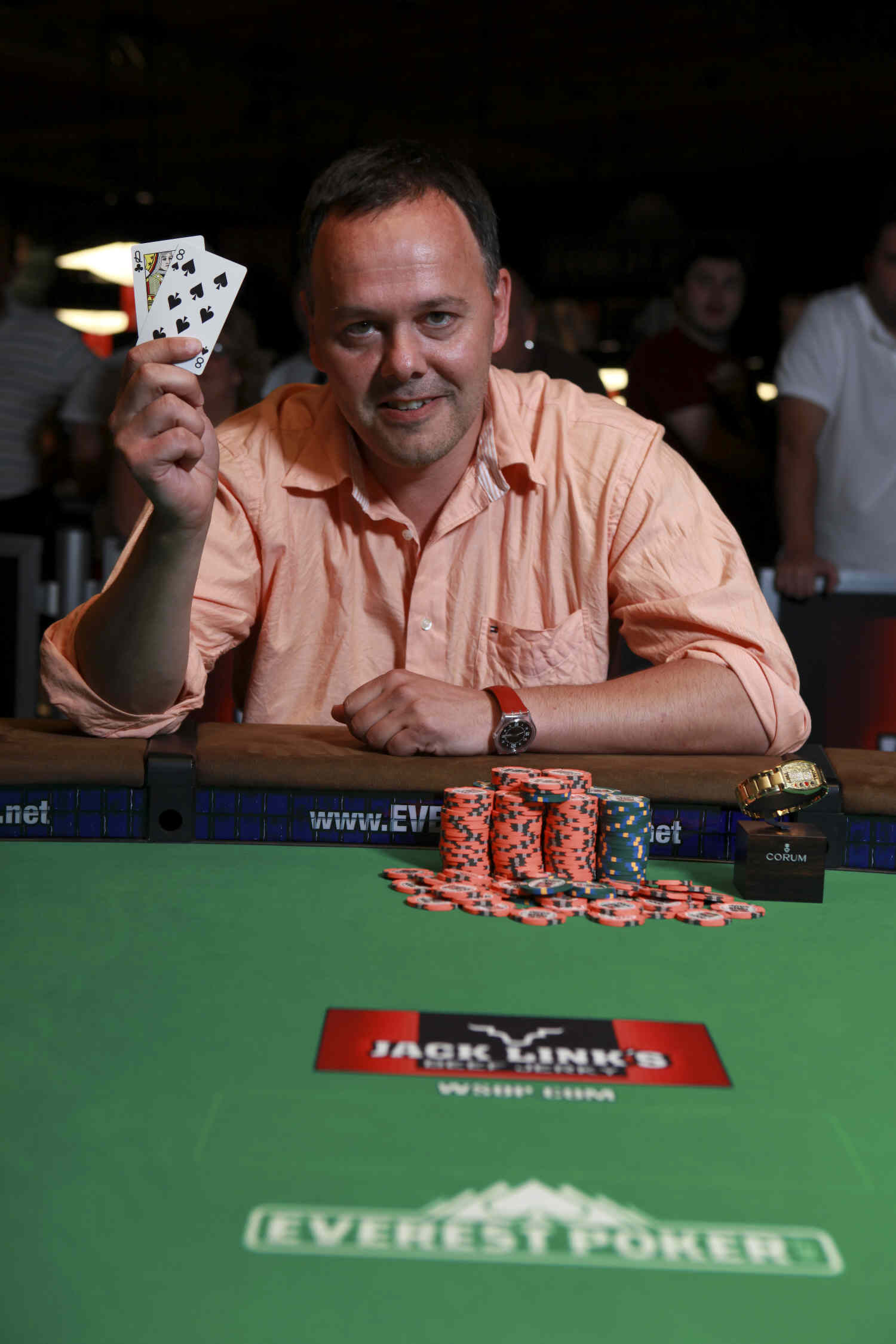 Marc Naalden
Marc Naalden -- $190,770
Steven Cowley -- $117,902
Ian Johns -- $77,576
Tam (Tommy) Hang -- $54,182
Alex Keating -- $39,977
Danny Qutami -- $31,088
Jared O'Dell, -- $25,439
Jameson Painter -- $21,819
Rep Porter -- $19,594