Home 2009 WSOP Event Schedule WSOP TV Schedule Free Slot Games Site Map 3 Webmasters


All linked player names have free bios, courtesy of FullTiltPoker
Event #39 No-Limit Hold'em
Day 1
Buy-in: $1,500
Players: 2,715
Prize pool: $3,705,975 split amongst the top 270

Once again we have another huge poker tournament taking place in the RIO. Because of the number of entrants, this tournament is being held in the Amazon, Miranda and Brasilia rooms. Lots of people were streaming in, and some were out of the running before everyone was seated. Dennis Phillips was only in his chair for 20 minutes. Kristy Gazes hit the door soon after arriving. John "The Razor" Phan also went to the rail in less than 15 minutes. About 1:45 PM nearly all were seated. What was so funny is when the 2:00 PM break came, like a herd of turtles, the players went to take a break. Just under 2700 players leaving and coming back in 20 minutes? May take a little longer than that. After break, the list of the fallen grew with players like Mickey Appleman, Clonie Gowan, Praz Bansi, Issac Haxton, Anna Wroblewski, Can Kim Hua, David "The Dragon" Pham, Victor Ramdin, Roland De Wolfe and J.C. Tran no longer in the game. Also, all players began with 5,000 chips each.

Rather than trying to tell you who left, lets take a look at those who will play on Day 2. Making the cut are Brandon Cantu with 86,600 chips, Grant Hinkle 85,800, Eugeny Serebryakov 59,500, Amanda Baker h 55,800, Matt Matros 45,700, Raymond Davis 45,100, Michiel Brummelhuis 41,400, Justin Bonomo 34,400 and Al Barbieri with 35,000. On the short stack are Tommy Le with 13,000 and Michael Cohen having 11,900. Action ended around 1:00 AM.

Players count remaining from Day 1 are 327.
Mohsin Charania -- 144,100
Chairud Vangchailued -- 124,500
Tom Grimes -- 109,000
Micah Raskin -- 107,700
Luis Sanchez -- 105,500
Tom McCormick -- 105,000
Vitor Coelho -- 104,700
Desmond Portano -- 102,600
Jan von Halle -- 101,400
Day 2

Today will be the money day so about 270 players will be very happy. The field still needs narrowing down to get there, but over 2,300 players were sent railside yesterday, so can another 100 follow at the same pace? We will see.

Things slowed down at position 272, but at 3:35 PM it was announced that the bubble had burst and of course grown men and women started acting like little kids. In the next hour and 45 minutes, 70 of them teetered, crawled and drooled toward the cashier's cage for their winnings. But then it was back to business. Christopher Wong lost to the set of 9's belonging to Amanda Baker and was busted. Jeff Williams had his A J against a player with A K and could not improve, resulting in his dismissal. And for those in the UK, boxing champ Audley Harrison busted out after making the money and a good effort. (Don't want to insult that guy!)

By the end of the night at 3:00 AM, there were 26 left in the field. These will come back and battle it out for the championship bracelet.
$657,969
$403,951
$269,609
$190,857
$143,421
$114,514
$96,355
$85,608
$80,049
There were 26 players who moved on to Day 2. Here are the top 9 with chip counts:
Michele Iacavone -- 1,605,200
Ray Foley -- 1,302,000
Joe Bartholdi -- 1,040,000
Chairud Vangchailued -- 707,000
Wei Mu -- 658,000
Shawn Glines -- 510,000
Nam Le -- 500,100
Mohsin Charania -- 471,000
Alex Jacob -- 433,000
Day 3 -- Final Table

Here is the final table news on Event #39 from the WSOP:

The 2009 World Series of Poker $1,500 buy-in No-Limit Hold'em champion is Ray Foley. Foley is a 37-year-old employee of Chrysler Financial. He works as a business manager in financial services. Foley is a graduate of Eastern Michigan University. He earned his degree in accounting, followed by an M.B.A. Foley plays poker recreationally. He started playing about five years ago. However, he is a winning player who has supplemented his income in recent years by playing poker. Foley has been contemplating turning to poker full time, given the problems of the American automotive industry. He states that decision might be easier to make now that he has won such a large cash prize. Foley collected $657,969 for first place. He was also awarded his first WSOP gold bracelet. The defending champion from 2008 was David Woo, from Atlanta, Ga. He entered this event but did not cash.

The chip leader at the start of the final table was Ray Foley. He lost the lead early and had to play catch up most of the way. But Foley overcame a 2 to 1 chip disadvantage to Brandon Cantu when play went heads-up and won a few momentous pots that determined the outcome of the match. Foley was all-in for his tournament life a few times, but got very fortunate to avoid elimination. He had A-7 and was all-in against Cantu's A-Q. But a split pot saved Foley. The final hand of the tournament came when Foley ended up having the best hand – J-Q versus Cantu's J-7 after the flop came jack-high. Foley's queen kicker ended up playing, which scooped the final pot of the tournament.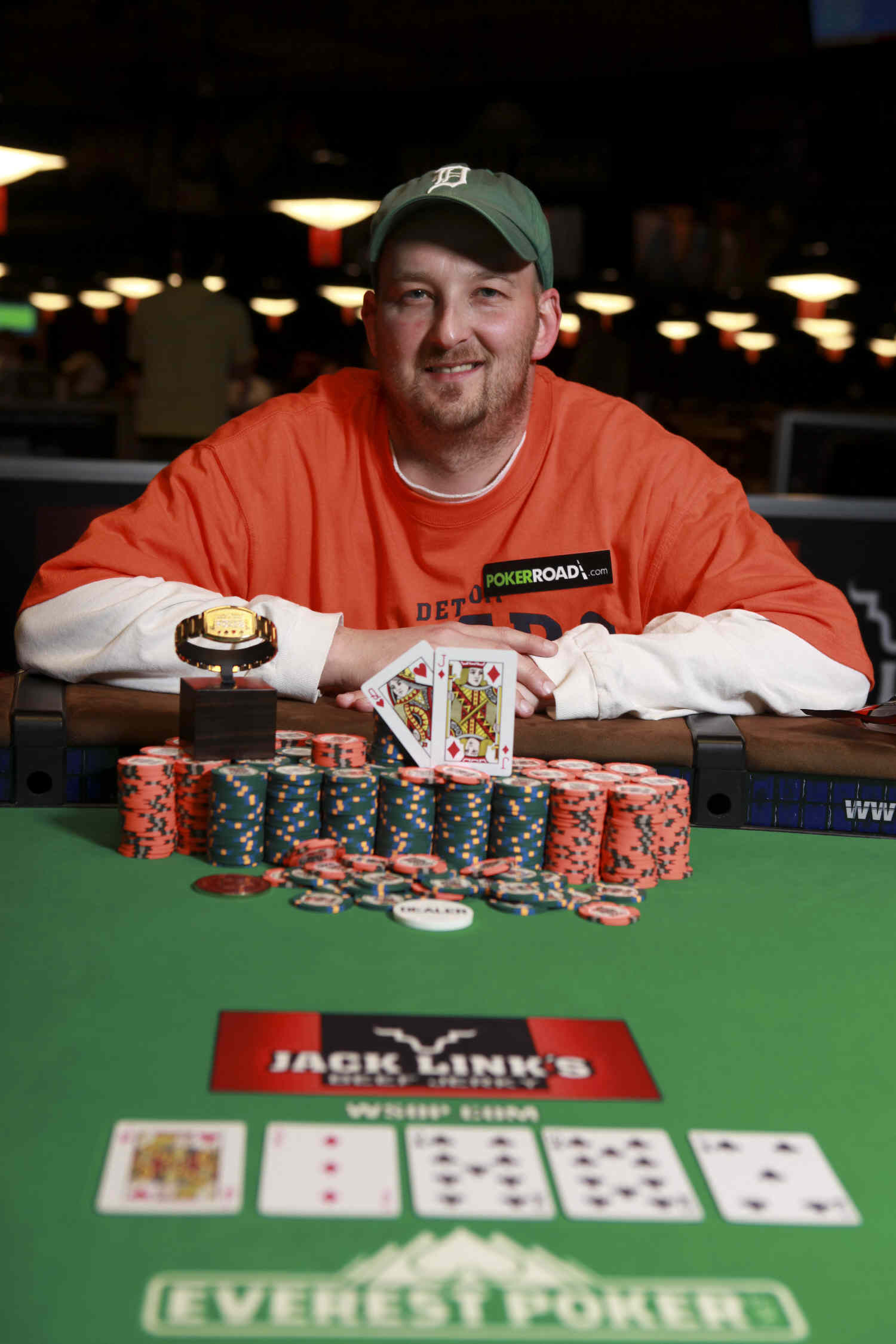 Ray Foley
Ray Foley -- $657,969
Brandon Cantu -- $403,951
Wei Mu -- $269,609
Alex Jacob -- $190,857
Tyler Spalding -- $143,421
Jonathan Markham -- $114,514
Chairud Vangchailued -- $96,355
Richard Lutes -- $85,608
Patrick O'Connor -- $80,049