Home 2009 WSOP Event Schedule WSOP TV Schedule Free Slot Games Site Map 3 Webmasters


All linked player names have free bios, courtesy of FullTiltPoker
Event #40 World Championship Pot-Limit Omaha
Day 1
Buy-in: $10,000
Players: 295
Prize pool: $2,773,000 for the top 27 finishers

This evening event has been given the direction to "Shuffle Up and Deal!" at 5:25 PM, so the cards are being dealt. At the tables are Brock Parker, Tom McEvoy, Humberto Brenes, Erik Seidel, David Benyamine, John Juanda, Scotty Nguyen, Barry Greenstein, David Williams, Lee Watkinson, Layne Flack, Mike Matusow, Vanessa Selbst, Patrick Antonius, Michael Mizrachi and Matt Graham. Plus last years champion Marty Smyth is now in the field to defend his title. (Only one player has managed to defend his title in 2008 and 2009, and that is Thang Luu.) Players began with 10,000 chips and two rebuy chips for back up.

John Duthie was one of the first major players out of the game after losing his chips to Matt Graham after Matt made two pair (K's and 5's) on the flop. Issac Haxton went to the rail after Tom Dwan made a set of 8's also on the flop. 2008 Main Event champion Peter Eastgate was also sent to the sidelines after meeting the full house (Q's/10's) of Eric Cajelais. Following them were Daniel Negreanu, Patrick Antonius, Eric Liu, David Benyamine, Amnon Filippi, Daniel Makowsky, Phil Ivey, Eric Froehlich, Mike Matusow and Roland De Wolfe. Also defending champ Marty Smyth also had his stack whacked, and went to the rail too.

At the end of the day there were 116 left in the field.
Nate Lindsay -- 482,200
Noah Schwartz -- 292,600
Ilari Sahamies -- 229,400
David Williams -- 223,000
Josh Arieh -- 220,600
Steve Zolotow -- 220,200
Matt Graham -- 191,400
Benjamin Grundy -- 191,000
Nathan Doudney -- 171,000
Day 2

Dealers were dealing at 2:00 PM to those players who were there. Fatigue was getting the best of them which may be why players were going to the rail almost immediately. Vanessa Selbst and Tony G went in the first 20 minutes. Matthew Greenwood lost to the nut straight of Stefan Mattson. Freddy Deeb lost to the spade flush made by another player. Hoyt Corkins became a victim of the poker gods anger when the Q J 10 9 he went all in with lost to the A A K 10 of his opponent when the board helped neither player. Ben Grundy also went to the rail courtesy of the set of Kings made by Ferit Gabriellson. Also gone are Erik Seidel, Steve Zolotow, Mikael Thuritz and John Hansen.

One player Nam Le who was in this event and the $1,500 No Limit Hold'Em has not been seen much today. He did show up for a few minutes, but outside of that his stack has been blinded off most of the day. He didn't show up soon after dinner break when at level 13, blinds are 1500/3000. But he did run back and forth between events, running his stack up over 100K several times. Le kept going...until the bubble was reached and he finished in bubble boy position number 28. Ouch! In true top pro fashion, Le got up and ran back to the other tournament where he still had chips. Two more eliminations, namely Erick Lindgren in 27th and Jonas Entin in 26th meant it was time to bag the chips and the rest of the players to come back tomorrow.

Payout schedule for final table players:
$679,402
$419,832
$278,409
$196,993
$148,438
$118,462
$99,855
$88,680
$82,746
A total of 25 will battle it out for the right to wear the gold bracelet. Here are the top 9:
Noah Schwartz -- 1,220,000
Marcus Golser -- 621,000
Robin Keston -- 606,000
Matt Graham -- 586,000
Nathan Doudney -- 585,000
Ferit Gabriellson -- 547,000
Stefan Mattsson -- 487,000
Barry Greenstein -- 467,000
Matt Vengrin -- 389,000
Day 3 -- Final Table

Read the final table comeback story from the WSOP news desk:

The 2009 World Series of Poker $10,000 buy-in Pot-Limit Omaha world champion is Matt Graham. Before he became a poker pro, Graham was a pre-med student. He dropped out of college to play poker and has enjoyed tremendous success on the tournament circuit and at the WSOP the past five years. Among Grahamís successes have been a win at the World Poker Open and in a $5,000 buy-in event at the Bellagio. Grahamís first WSOP gold bracelet came in last yearís $1,500 buy-in Limit Shootout event. With this victory, Graham became the 128th player in WSOP to earn in excess of $1 million in World Series winnings. Graham collected $679,402 for first place. He was also awarded his second WSOP gold bracelet.

The final table lasted about ten hours. The chip leader at the start of the final table was Matt Graham. He ended up winning the tournament. The final table chip distribution was one of the most even of any finale played this year. It took nearly three hours to bust out the first player. Furthermore, during the first five hours of play, players were separated by small margins. Vitaly Lunkinís elimination of Barry Greenstein gave him the chip lead, which he held during the majority of play. The heads-up match between Vitaly Lunkin and Matt Graham was as entertaining as any finale played at this yearís WSOP. Lunkin had his opponent on the ropes several times, but was never quite able to put Graham away with a knockout punch. The American managed to overcome the feisty Russianís 9 to 1 chip lead and staged a dramatic comeback. In the midst of doubling up three times and taking a slight chip lead, Graham won every hand of consequence during the final 45 minutes of play. The key hand of the match took place on the final hand of the tournament when Grahamís flopped set of tens held up against Lunkin, who missed a flush draw with two cards to be dealt. Two blanks on the turn and river gave Graham his second WSOP victory and the title, "2009 Pot-Limit Omaha World Champion."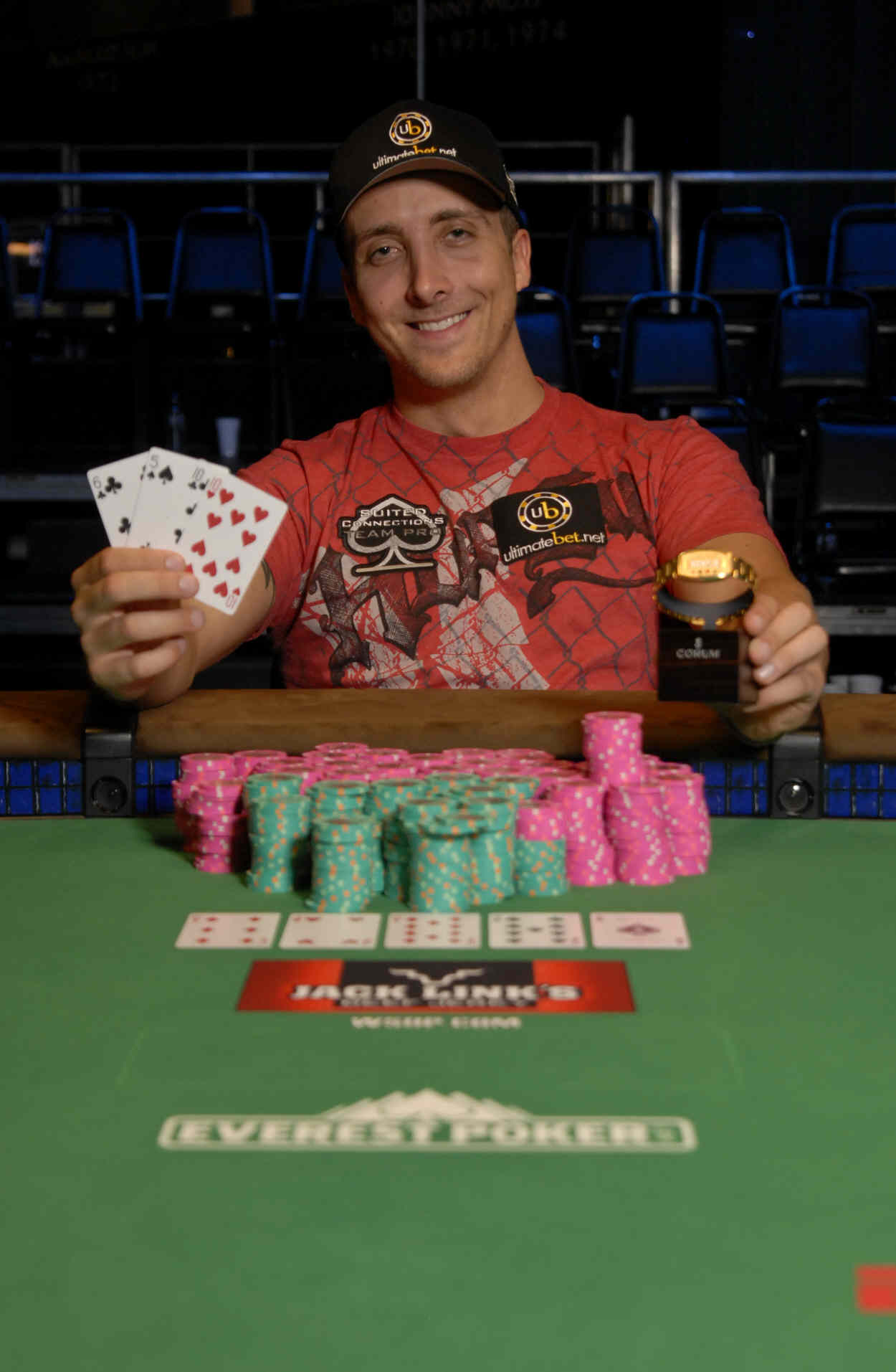 Matt Graham
Matt Graham -- $679,402
Vitaly Lunkin -- $419,832
Van Marcus -- $278,409
Robin Keston -- $196,993
Ferit "Fear It" Gabriellson -- $148,438
Stefan Mattsson -- $118,462
Josh Arieh -- $99,855
Richard Austin -- $88,680
Barry Greenstein -- $82,746