Home 2009 WSOP Event Schedule WSOP TV Schedule Free Slot Games Site Map 3 Webmasters




All linked player names have free bios, courtesy of FullTiltPoker
Event #41 No-Limit Hold'em Shootout (1,000 player max)
Day 1
Buy-in: $5,000
Players: 280
Prize pool: $1316000 to the top 30 finishers

The way this one will work is that when things got underway at 12:30 PM, there were 30 tables. Each seat had 15,000 with ten seats at a table. Only the winner of their table advances, and when they do it will be with 150,000 chips. These will play one of 5 six handed tables. Whoever wins those tables will be one of five players that will sit down and battle for the bracelet on Day 3.

So who were some of the testosterone filled individuals that came to the tables? In the field were Michael Gracz, Andy Bloch, Jason Gray, Quinn Do, Neil Channing, Kathy Liebert, Huck Seed, Daniel Negreanu, Chris Ferguson, Dennis Phillips, Carlos Mortensen, Hevad Khan, Jonathan Little, James Mackey, Nick Schulman, Terrance Chan, David Singer, Joe Sebok, Nicolay Losev, Steve Billirakis, Brock Parker, Mark Seif, Phil Ivey, Victor Ramdin, Jason Mercier and Gavin Smith.

With a tournament such as this, one thing players began looking for is the composition of the tables that they would be playing at. There were no easy tables, just hard, very hard and OMG!

All 30 remaining players who came out victorious from their tables have 150,000 chips each for the next round:
Michael Mercaldo
Lars Hougaard
Peter Feldman
Ryan Hughes
Mark Teltscher
Danny Wong
Barney Boatman
Justin Filtz
Nasr El Nasr
Wilf Saar
David Baker
Andrea Benelli
John Monnette
Peter Traply
Joseph Serock
Davidi Kitai
Maxim Lykov
Alexander Veldhuis
Amit Makhija
Jeffrey Frerichs
Jonathan Heath
Mark Radoja
Cort Kibler-Melby
Jean Gaspard
Roland Isra
David Pham
Andrew Lichtenberger
Neil Channing
Day 2

Day 2 will see the table winners on Day 1, play at one of 5 six handed tables. When they win their table they will have 900,000 chips in which to have on Day 3. Even if they lose, they will still see cash, so today is a good day. The cards began hitting the tables at 2:00 PM. Nasr El Nasr fought Barney Boatman and Phil Ivey hard to win his table. After Boatman took the balance of Ivey's chips, he then turned them over to Nasr after a flop of K K 8 in which Boatman went all in with pocket 7's. Nasr called with A 8, giving him the larger two pair. Turn and river card didn't improve things, so Nasr moved on to the final table. Andrew Lichtenberger advanced after crushing the pocket K's of David "The Dragon" Pham with a full house (Q's/5's) that Andrew made on the river. Danny Wong moved on after sending Peter Feldman to the rail with a Broadway straight. Peter Trapley claimed a chair at the final table when he finished off David Kitai with his pocket 10's that held to the river. And Maxim Lykov battled it out with Lex Veldhuis and won by a Jack kicker to make the final chair for tomorrow.

Payouts for the top 5:
$348,755
$215,402
$145,062
$105,609
$82,697
There are 5 players left with 900,000 chips each:
Maxim Lykov
Danny Wong
Andrew Lichtenberger
Peter Traply
Nasr El Nasr
Day 3 -- Final Table

Here is a summary of the WSOP coverage on this event:

The 2009 World Series of Poker $5,000 buy-in No-Limit Hold'em Shootout champion is Peter Traply. Traply is a 22-year-old professional poker player. Traply earned his college degree in communications. He decided to play poker for a time before deciding on what career he wishes to pursue. Traply is fluent in Hungarian. He speaks English well. Traply collected $348,755 for first place. He was also awarded his first WSOP gold bracelet.

The tournament was played over three consecutive days. The final table lasted about five hours. The final hand of the night came when Traply was dealt A-K versus Lichtenberger's A-J. Both players flopped and ace. But Traply's king-kicker proved to be the difference and scooped the final pot of the tournament. Traply was cheered to victory by about a dozen Hungarian supporters, chanting songs and slogans in their native language. Some of the Hungarians were poker players and others were visiting Las Vegas and heard about a Hungarian at the final table and decided to come and watch the finale. When Traply won, he was draped by a Hungarian flag with the national colors, red, green and white.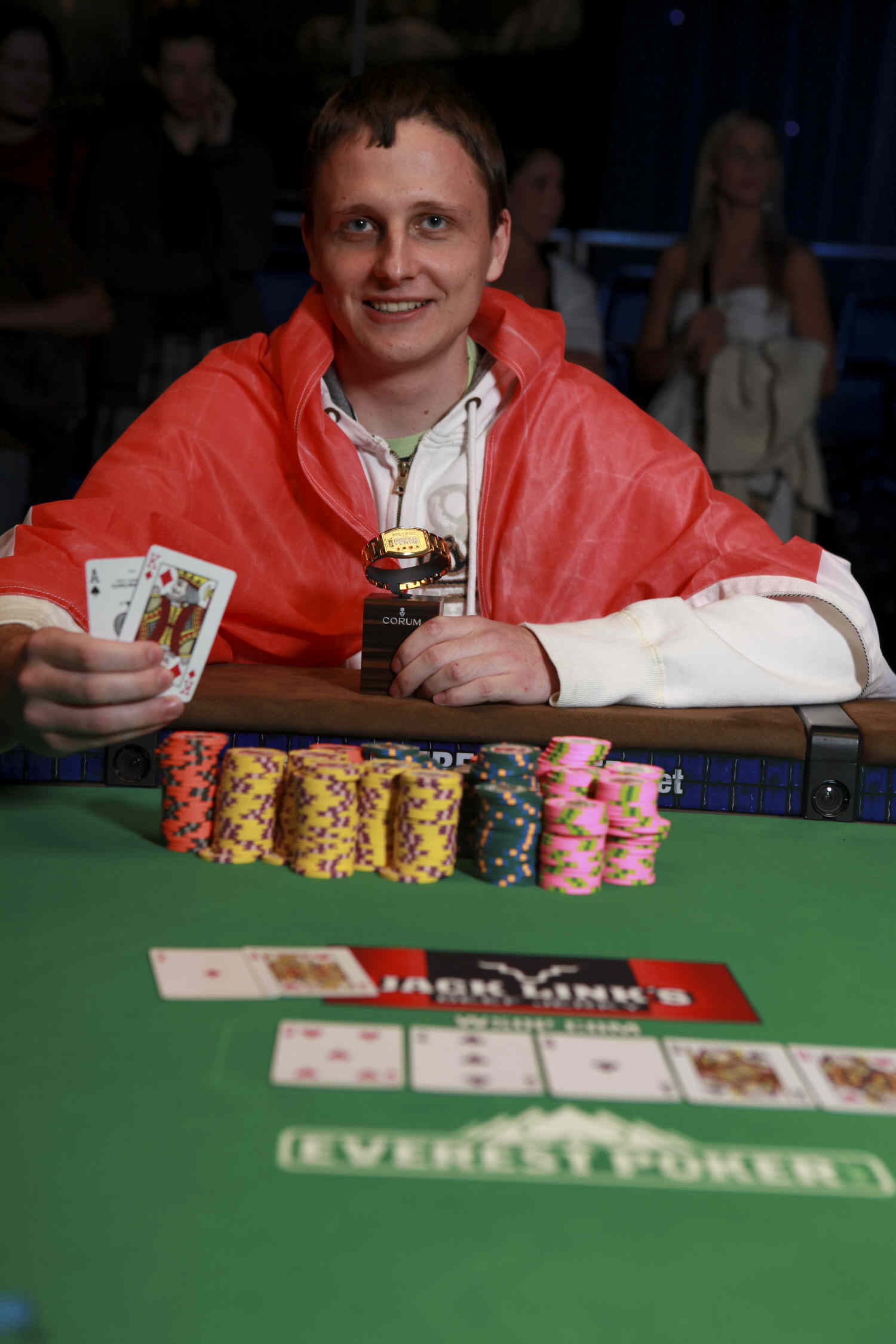 Peter Trapley
Peter Trapley -- $348,755
Andrew Lichtenberger -- $215,402
Max Lykov -- $145,062
Danny Wong -- $105,609
Nasr El Nasr -- $82,697