Home Online Casino Real Money
2009 WSOP Event Schedule WSOP TV Schedule Free Slot Games Site Map 3 Webmasters


Doyle's Casino Does Accept US Players!!!
Event #42 Mixed Event
Day 1
Buy-in: $2,500
Players: 412
Prize pool: $947,600 to the top 40 finishers

The Event #42 Mixed Event is different from H.O.R.S.E. in that there are 8 games in the rotation instead of 5 games. What will be played today are Limit Holdem, Omaha Hi-Low Split-8 or Better, Seven Card Razz, Seven Card Stud, Seven Card Stud Hi-Low Split-8 or Better, No-Limit Holdem, Pot-Limit Omaha and 2-7 Triple Draw Lowball. Tournament director Jack Effel said that a structure sheet needed to be at every table, so everyone could stay on the same page.

At 5:00 PM, players lined up to receive 7500 chips and their seating arrangement. Some of the players going to their seat were Sam Grizzle, Bryan Micon,Scott Clements, Jeff Lisandro, Allen Kessler, Greg Mueller, Clonie Gowan, Dan Shak, Chad Brown, Thor Hansen, Roland De Wolfe, Mel Judah, Gavin Smith, Chris Reslock, Scotty Nguyen, Katja Thater, Vanessa Rousso, Sorel Mizzi, Steve Billirakis, Tom Schneider, Can Kim Hua, Ville Wahlbeck, Mike Matusow, Jon "PearlJammed" Turner, J.C. Tran, Thang Luu, Eugene Katchalov, Robert Williamson III , Jennifer Harman, Daniel Negreanu, Allie Prescott, Layne Flack, John Hennigan and John Juanda.

Two hours into the action, Gavin Smith was up to 23,000 with most of it gained during a round of Pot-Limit Omaha. 2-7 Triple Draw -- Phil Ivey not having a good day, lost the last 150 chips he had to Mike Wattel, after he could not beat the 7-low hand Mike established. Razz -- Eli Elezra was railbound after losing to another player during this very challenging game. No Limit Hold'Em -- Allen Cunningham lost to the two pair (Q's and 6's) of another player to become railbound. Pot Limit Omaha -- David Chino Rheem was busted courtesy of the King high flush his opponent made. Omaha/8 -- Phil Hellmuth Jr. mucked his cards, got up and left when he lost his stack to the diamond flush of another player. At the end of the day there were 153 remaining. Here are the top 9 with chip counts:
Amnon Filippi -- 90,000
Steve Billirakis -- 59,275
Andrew Black -- 58,200
Nikolaos Frangos -- 54,550
Thayer Rasmussen -- 48,425
Dario Alioto -- 47,175
Eric Crain -- 46,200
Miguel Rodriguez -- 45,000
Frank Hernandez -- 43,700
Day 2

Making the cut for Day 2 were Yuval Bronshtein 34,375, Bob Slezak 32,100, Jens Voertmann 32,400, Thang Luu 30,900, Justin Bonomo 31,250, Todd Brunson 29,275, Michael Binger 28,200, Alexander Kostritsyn 27,025, Daniel Negreanu 24,050 and Blair Rodman 20,500. Dealers put cards on the table at 2:00 PM, signaling a return to the action. Razz -- Andy Bloch was ousted after his opponent made a 7 low which beat the 9 low Andy made. Stud/8 -- The pocket J's of Brock Parker were overcome by the pocket K's of Todd Brunson, sending Brock to the spectator side of things. No Limit Hold'Em -- Richard Toth said good bye to the idea of a bracelet when Tuan Le made a set of Queens. They were followed by Gavin Smith, Scott Clements, Chris Bjorin, Vanessa Rousso, Jason Mercier, Amnon Filippi, Ester Taylor, Jeff Lisandro and Justin Bonomo.

Limit Hold'Em -- Daniel Negreanu after making a pile of chips on quad Kings, is no longer at the tables. Negreanu put his chips to the center with pocket J's and was called by a player holding pocket K's that held to the river. Pot Limit Omaha -- Marcel Luske came out on the losing end of a 3 way hand involving Andy Black and Sebastian Sabic and stylishly walked out of the Amazon room. No Limit Hold'Em -- Ville Wahlbeck had his paired Kings beaten down by the paired Aces of Dario Alioto, and was sent to the rail. By the end of the day there were 14 left for Day 3.

Payout schedule for the final table:
$241,654
$149,341
$97,896
$67,848
$49,568
$38,074
$30,673
$25,860
$18,099
Here are the top 9 of the 14 who made Day 3:
Jon Turner -- 469,200
Jerrod Ankenman -- 412,400
Adam Friedman -- 325,300
Layne Flack -- 283,400
Altbregin Sergey -- 239,500
Dario Alioto -- 225,600
Danny Dang -- 220,000
Eric Crain -- 210,600
Chris Klodnicki -- 153,400
Day 3 -- Final Table

Read the WSOP summary on this event!

The 2009 World Series of Poker $2,500 buy-in Mixed Games champion is Jerrod Ankenman. Ankenman is a 32-year-old poker pro and book author. Prior to poker, he was a quantitative analyst. Ankenman is the co-author of "The Mathematics of Poker," along with two-time WSOP gold bracelet winner Bill Chen. As the book shows, Ankenman is a dedicated researcher and analyst. The book is not for the faint-hearted, as it explains poker situations in highly-detailed mathematical terms. Ankenman collected $241,654 for first place. He was also awarded his first WSOP gold bracelet. There was no defending champion, since the only Mixed Event played in 2008 was a $5,000 buy-in. That event was won by Anthony Rivera.

Mixed Games is similar to a HORSE tournament, except there are eight different games played instead of five. Games are played on a rotation basis. Games change every eight hands.

Jerrod Ankenman came to the final table on Day Three ranked second in chips. The heads-up match between Jerrod Ankenman and Sergey Altbregin began with the Russian player holding nearly a 2 to 1 chip advantage. But Ankenman won most of the key hands in the duel and ended up which his first WSOP victory. The final table lasted about six hours.

The final hand came during No Limit Hold'Em. After both players saw a flop of 3 6 4, Ankenman bet and Altbregin moved all-in of which Ankenman called. Altbregin had J 4 of diamonds and Ankenman revealed 6 5. The turn card was a 7 which gave Ankenman his straight and the river card was a 9 which gave Ankenman the right to wear a WSOP gold bracelet and the right to be called a champion.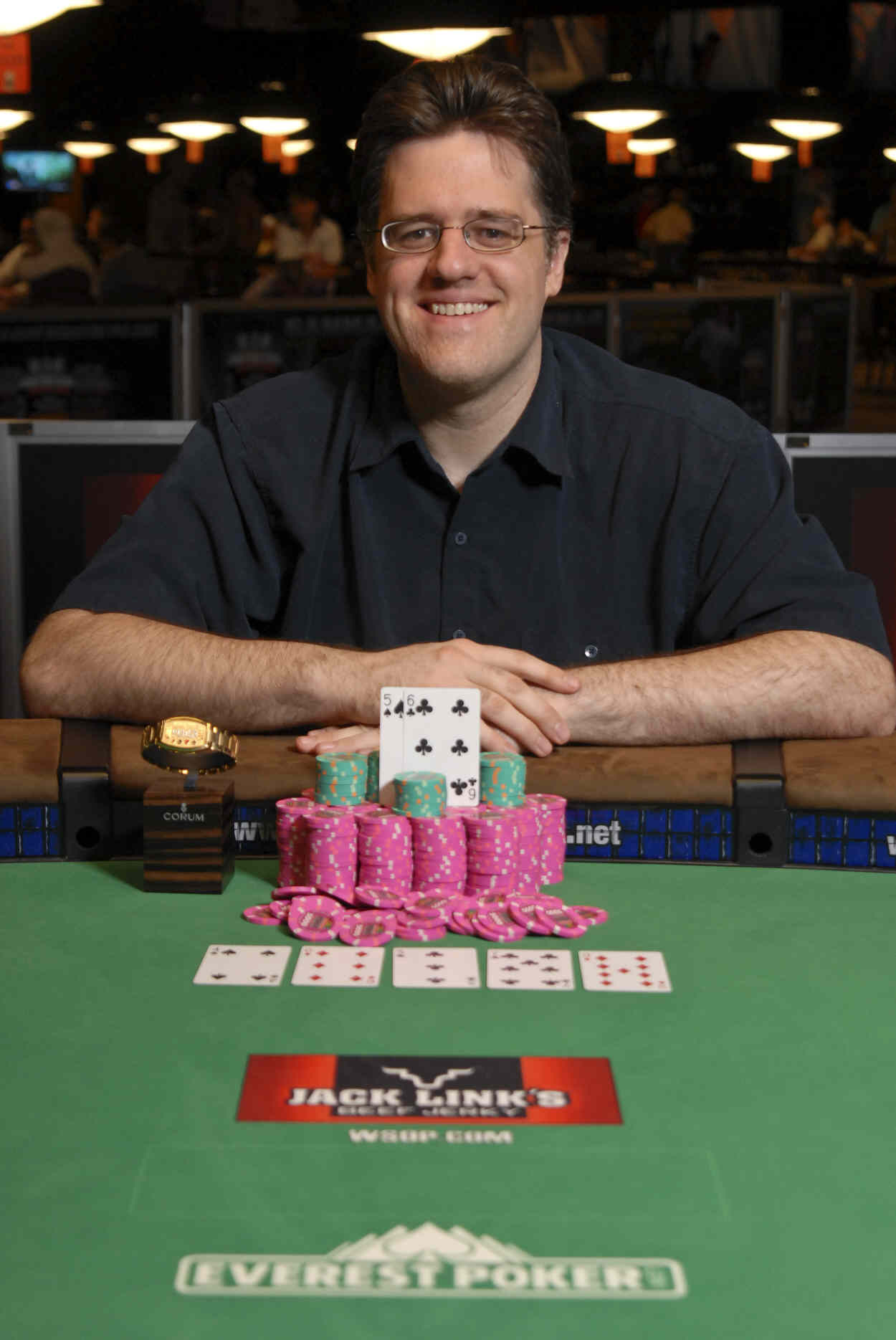 Jerrod Ankenman
Jerrod Ankenman -- $241,654
Sergey Altbregin -- $149,341
Christopher Klodnicki -- $97,896
Jeff Tims -- $67,848
Jon Turner -- $49,568
Eric Crain -- $38,074
Layne Flack -- $30,673
Dario Alioto -- $25,860
James Fricke -- $18,099