Home 2009 WSOP Event Schedule WSOP TV Schedule Free Slot Games Site Map 3 Webmasters


Event #43 Seniors No-Limit Hold'em World Championship
Day 1
Buy-in: $1,000
Players: 2,707
Prize pool: $2,463,370 to the top 270 finishers

Many of the big names in poker are Seniors, despite the change with so many Internet kids entering the fray. In the field today are Al D'Amato who is the current chair for the Poker Players Association and Amarillo Slim who is 80 years old. Also seen taking up chairs are Mike Sexton, Berry Johnston, Barry Shulman and his wife Allyn, Shirley Williams, Humberto Brenes, Paul "X-22" Magriel, Eric Hershler, Dan Morgan, Jim Meehan, John Esposito, Barbera Enright, Jack McClelland and Roy Koval.

Action was actually pretty frantic, despite what some have called less intense than the usual WSOP tournament this year. Some of the first to go were T.J. Cloutier, Dennis Phillips, Mike Sexton, Eddy Sharf and John "Miami" Cernuto. Later on PPA chairman Al D'Amato also was eliminated from the event. By 10:30 PM, over 2,000 players had hit the rail. When 1:30 AM the next day came, it was time to bag those chips.

There were 397 really tired Seniors who made the cut for Day 2:
Lloyd Shinn -- 86,500
Eric Hershler -- 82,500
John Bennett -- 73,700
Charles Simon -- 72,400
Conrad Granath - 63,300
Mike Simpson -- 61,400
Jay Colombo -- 57,700
John Alm -- 57,200
Jeff Heiberg -- 54,900
Day 2

When today started, there were 54 players at or below 7,000 in chips. That is one reason why an hour after 2:00 PM so many players were out of the running. In fact, eight tables were folded in the first 45 minutes of play. The bubble burst just before 5:00 PM when two players were gone on the same hand. This meant that they would split the money for 270th place which was $1,921. One of the players who went to the cashier's cage was Jim Meeham when his A 9 all-in move was called by another player who had pocket 7's. The board showed K J J 10 8, giving the losing end to Meeham. Jack McClelland also was sidelined when his A K was called by someone holding A J and another Jack came onto the felt. And Barbera Enright would not see WSOP bracelet number 4 in this event. Her move with pocket Queens was called by a player holding A 2, and yes another A 2 came on the flop with no Queen in sight. Plus Michael Prescott left the tables after meeting the two pair (A's and 3's) of Mike Simpson.

At the end of the day, there were 28 that would move to the last round to see who will become champion.

Payout schedule for the final table:
$437,358
$268,507
$179,210
$126,863
$95,332
$76,118
$64,047
$56,903
$53,208
Top 9 Final Table players:
Tom Thomas -- 917,000
Charles Simon -- 626,000
Scott Buller -- 541,000
John Bennett -- 487,000
Zip Vitullo -- 420,000
Richard McCall -- 414,000
David Posey -- 342,000
Mitch Garshofsky -- 309,000
Theodore Garner -- 303,000
Day 3 -- Final Table

Here is the WSOP summary on this event:

The 2009 World Series of Poker $1,000 buy-in Senior's No-Limit Hold'em World Champion is Michael T. Davis. Davis cashed in the Seniors World Championship last year. He finished 115th out of 2,218 entrants. Davis collected $437,358 for first place. He was also awarded his first WSOP gold bracelet. The defending champion from 2008 was Daniel Lacourse. He entered this year's event, but did not cash. To be eligible for entry into the Seniors No-Limit Hold'em world championship, the entrant must be age 50 or older -- which means the player had to have been born prior to June 22, 1959.

The tournament was played over three consecutive days. Due to the field size, Day Three was expected to run very long. But the final table lasted a reasonable six hours. Michael T. Davis won his victory in a very quiet manner. He never held the chip lead until about 15 minutes prior to victory. He won a series of late key pots which gave him the victory.

The final hand came when both Davis and Buller went all-in preflop. Davis turned over A 9 with Buller having A J on his side. The flop was 3 4 5, turn card a 9 pairing Davis's card and the river was a 4. So Davis with two pair (9's and 4's) won his first gold WSOP bracelet and the right for young girls to call him champion.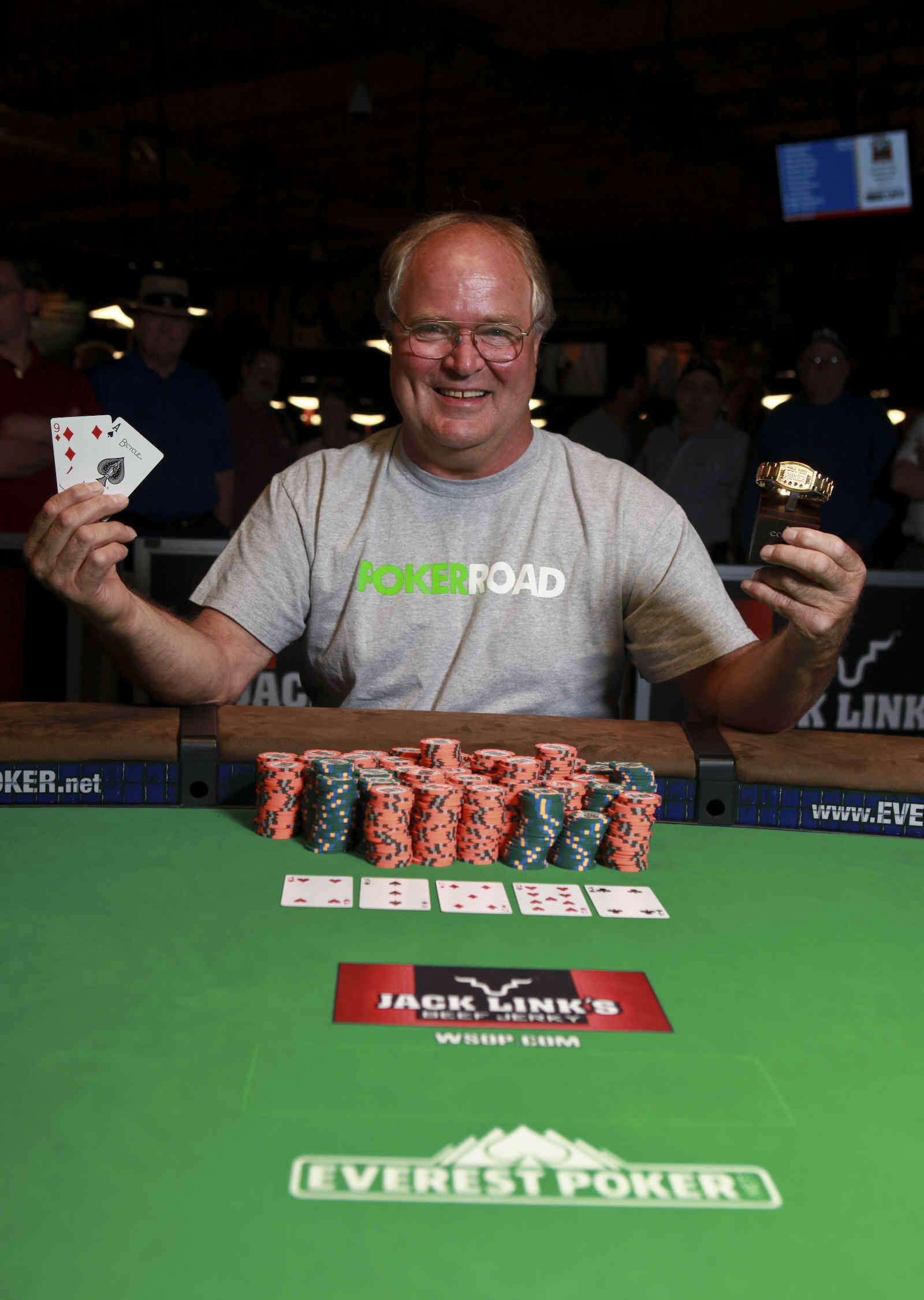 Michael T. Davis
Michael T. Davis -- $437,358
Scott Buller -- $268,507
Barry B. Bounds -- $179,210
Michael Joseph Morusty -- $126,863
Charles Simon -- $95,332
Dan DeLatorre -- $76,118
Art Duncan -- $64,047
Richard McCall -- $56,903
Vaughn Beck -- $53,208