Home 2009 WSOP Event Schedule WSOP TV Schedule Free Slot Games Site Map 3 Webmasters




All linked player names have free bios, courtesy of FullTiltPoker
Event #47 Mixed Hold'em (Limit/No-Limit)
Day 1
Buy-in: $2,500
Players: 527
Prize pool: $1,212,100 for the top 54

For players who like their mixes simple, this is the one for them. A combination of Limit and No Limit is all that will make up the games in this bracelet contention. The dealers will switch the games every 30 minutes. At the tables were Erick Lindgren who is trying to defend his title in this event that he won in 2008, Maria Ho, Barry Greenstein, Ylon Schwartz, David Chiu, David Williams, Mimi Tran, Roland De Wolfe, Vitaly Lunkin, Shannon Shorr, Mark Seif, Annie Duke, Daniel Negreanu, Liz Lieu, Michael Mizrachi, Tuan Le and Justin Bonomo.

During No-Limit, Andy Black lost a huge chunk of chips which really crippled him. He was out of the tournament a couple of hands later. Roland De Wolfe also went to the rail after his A 8 lost to the A K of another player. In Limit play, 2008 Main Event final table player Dennis Phillips had his Q J suited put to sleep by the A 8 suited that belonged to Danny Fuse after none of the cards dealt helped either player. Dennis did the railbird shuffle after that hand. And Allie Prescott had his set of 9's crushed by the K 9 of the other player when K 9 9 came on the flop. Following them were Sorel Mizzi, Liz Lieu, Mike Caro, Shannon Elizabeth, Michael Binger, Jeff Shulman and J.C. Tran. 2008 winner Erick Lindgren was also busted when his opponent turned his pocket 10's into two pair (10's and J's) by the river.

At the end of the day there were 67 left in the field.
Barry Greenstein -- 177,200
Hasan Habib -- 165,000
Brandon Demes -- 125,000
Bahador Ahmadi -- 122,100
Alexander Jung -- 120,200
Eli Elezra -- 108,800
Francois Billard -- 105,000
Frank Sinopoli -- 104,200
Daniel Negreanu -- 101,000
Day 2

At 2:00 PM, the 67 survivors from yesterday came back to the tables to take one more step towards the gold bracelet. Action began with No-Limit and Amnon Fillippi became an early casualty when Michael Goldberg paired his Queen card on the turn. As it got closer to the money, play went hand for hand. But instead of one player being gone at the bubble, it was three! What happened is that the three who busted will share the combined money for 53rd and 54th meaning that each will receive $3,159 for their efforts.

Marc Naalden busted in 42nd place when his K Q suited failed against another player holding A K that managed to hold up by the river. Daniel Negreanu also was sidelined in 37th by Barry Greenstein when Barry paired his Queen card on the turn. Andy Bloch finished in 32nd place taking home $7,030 for his troubles. Tommy Hang left the event in 29th after meeting the pocket A's of Allen Cunningham. Allen hung in there and finished in 15th place, losing to the A Q of Bahador "Baha" Ahmadi.

Now giving credit where credit is due, Barry Greenstein was a monster crushing players left and right, sometimes two or three at a time. But even though his poker sledgehammer broke around midnight, he still finished with over 190K in his stack to take a shot at the bracelet. Karlo Lopez also seemed to command chips to float from other players to himself, finishing as chip leader going into Day 3. But when you view the names at the final table, Barry and Karlo will not have an easy time of becoming champion of this event. Come back to see who wins!

Payout Schedule for the final table:
$278,804
$172,227
$112,967
$78,628
$57,671
$44,520
$36,084
$30,641
$27,199
Final table players with chip counts:
Karlo Lopez -- 941,000
Bahador Ahmadi -- 708,000
Matthew Woodard -- 653,000
Randy Haddox -- 555,000
John McGuinness -- 406,000
Ylon Schwartz -- 286,000
Barry Greenstein -- 193,000
Hasan Habib -- 114,000
Zachary Humphrey -- 99,000
Day 3 -- Final Table

Review the summary report from the WSOP Media Department:

The 2009 World Series of Poker $2,500 buy-in Mixed Hold'em (Limit/No-Limit) champion is Bahador "Baha" Ahmadi. Ahmadi is a 24-year-old semi-pro poker player. Ahmadi attended College of the Holy Cross, near Boston. He attended college on a football scholarship. Ahmadi decided to transfer to a college closer to home and attended the University of British Columbia, in Canada. He did not complete his degree but hopes to return to school sometime and finish his education. Ahamdi has worked various jobs when he's not playing poker or attending school. His worked a few summers in construction as a roofer. Ahmadi collected $278,804 for first place. He was also awarded his first WSOP gold bracelet.

Karlo "The Wizard" Lopez came to the final table on Day Three with the chip lead. He ended up busting out in fourth place. The eventual winner Jeff Ahmadi came to the final table on Day Three ranked second in chips. The heads-up match between Jeff Ahmadi and runner up John McGuinness lasted exactly one hand. Ahmadi moved all-in post-flop with a flush draw and got called by McGuinness holding pocket tens. A diamond on the turn gave Ahmadi his flush and left McGuinness drawing dead. Ahamdi became the latest WSOP champion. The final table lasted about 6 hours – which was relatively quick by 2009 standards. Most final tables this year have been running 9-10 hours.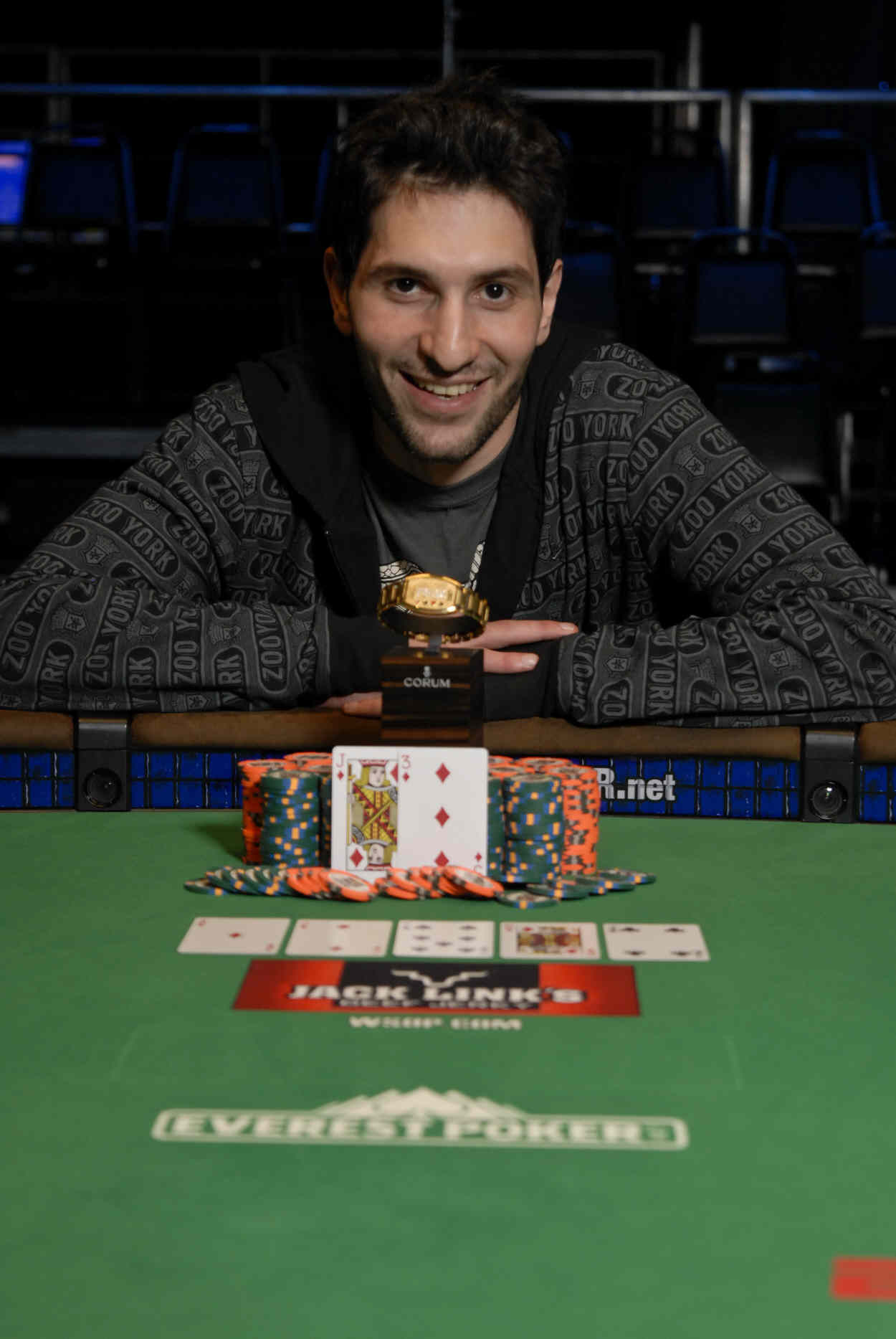 Bahador "Baha" Ahmadi
Bahador "Baha" Ahmadi -- $278,804
John "Sketchy" McGuinness -- $172,227
Ylon Schwartz -- $112,967
Karlo "The Wizard" Lopez -- $78,628
Barry Greenstein -- $57,671
Matthew Woodward -- $44,520
Randy Haddox -- $36,084
Hasan Habib -- $30,641
Zak Humphrey -- $27,199