Home 2009 WSOP Event Schedule WSOP TV Schedule Free Slot Games Site Map 3 Webmasters


Event #4A No Limit Hold'Em
Day 1
Buy-in: $1,000
Players: 2,998
Prize pool: $5,410,800

Well, we can tell you that before this event started, it was billed as a "stimulus special" with a $1000 buyin and that it sold out both days with a maximum capacity of 3000 each day. So this event will have a total of 6000 players in it. In fact, WSOP asked all the media covering the event to post that there will be no more players accepted into 4A/4B due to sellout on the 29th of May. This resulted in the Amazon, Miranda and Brasilia poker rooms at the RIO being packed! Seen in todays field were rap star Nelly, Ivan Demidov, Greg Mueller, Lee Childs, Kevin Saul, Chris Moorman, Chris Ferguson, Dewey Tomko, James Mackey, WPT Champion Yevgeniy Timoshenko, David Singer, Captain Tom Franklin and David Williams. Bustouts were occuring so fast that 90 minutes into play, tables were being broken down due to eliminations. Leaving the field are Joe Sebok, Per Magnus Ummer from Cyprus, Marco Traniello, Hevad Khan, Shannon Shorr, Yevgeniy Timoshenko, David Williams and Maria Ho. In fact, by dinner break over 2,000 players had been eliminated. Now that's fast!

By 1:00 AM, there were 375 players left in the field. They were told to bag their chips and will take a rest while those who registered for 4B play. We have been notified that the survivors of both 4A and 4B will be combined for another slugfest round of action.
Jeremiah DeGreef -- 132,200
Jonathan Tamayo -- 107,500
Jonathan Aguire -- 93,500
David Jones -- 90,700
Tommy Janssen -- 80,200
Justin Allen -- 78,500
Will Failla -- 76,100
Edwardo Santi -- 73,000
Grayson Ramage -- 72,900
Event #4B No Limit Hold'Em
Day 1
Buy-in: $1,000
Players: 3,014
Prize pool: $5,410,800

At 12:00 noon another 3,000 players began their participation in managed chaos for Day 4B of this event. Some of the faces in the field include Phil Ivey, Daniel Negreanu, Marcel Luske, Chad Brown, John Juanda, Kathy Liebert, Andy Black, David Chiu, John Phan, J.J. Liu, Bill Edler, Tiffany Michelle, Jeff Madsen, Liv Boeree, Michael Mizrachi, Joe Awada, David Rheem, Lee Watkinson and Lee Markholt. With so many people, the dehumidifiers and air conditioners were on overtime.

But a number of players did help out by fanning the breeze as they flew out of the event after being busted. Some of the disappointed faces were Fabrice Soulier, Jonathan Little, Erick Lindgren, Marcel Luske, Phil Ivey, Thor Hansen and Tony Cousineau who lost to the set of Queens of another player. Dwyte Pilgrim also is gone after his all-in with pocket K's were beaten by the set of 8's his opponent made on the river. Plus, it was reported that in the Amazon room, player Ari Engel actually passed out for a few seconds at the table before being revived. He seemed okay and did continue in the event. Tournament officials have reported that 6,012 entrants participated in event 4. Payouts will go to 621 places with the winner receiving $771,106 along with a well deserved bracelet. All final table players will take home at least 6 figures for their efforts. And the prize pool reached $5,410,800. Here are the top 9 with chip counts:
J.C. Tran -- 130,000
Alex Shin -- 103,300
Mark Fink -- 100,300
Danny Fuhs -- 85,700
John Monnette -- 83,700
Allan Puzantyan -- 76,100
Thomas Bass -- 74,700
Jack Powell -- 72,900
Michael Pietrzak -- 63,900
Day 2 (Combination of both 4A and 4B)

So now there are 721 players which is very close to the 621 payout position. This means that action will slow up as we come to the bubble. Outside of that, the goal is to start at 2:00 PM and continue until 3:00 AM the next day. One of the first to go was old school favorite Billy Baxter, and his A K suited could not hold up to J.C. Tran's pocket 9's, sending Baxter to the sidelines. At the bubble, action was being played hand to hand, when two exits happened at the same time resulting in those two players splitting the $1,894 prize for 621st place. After that, major showdowns with hands no one would think of playing popped up everywhere. This sent busted players to get their money like lemmings off the edge of a cliff. Some faces seen heading out were EPT winner Jason Mercier, Liv Boeree, Tony Ma, Jonathan Tamayo, Eric Mizrachi busted by a player with pocket 7's and John Myung. At the end of the day, chips were bagged at 3:00 AM by a group of 50 tired players.

Of those that remain, some of the big names in the field making it tough for everyone are Jonathan Aguiar with (283,000 chips), Dan Heimiller (267,000), Tom Mercer (206,000), Brent Roberts (187,000), Jack Powell from the UK (551,000), Eric Mizrachi (127,000) and Lee Watkinson (106,000).
Robert Comegys -- 1,186,000
Danny Fuhs -- 1,112,000
Eric Chhor -- 895,000
Stephan Ma -- 809,000
Amanda Baker -- 704,000
Jamie Armstrong -- 618,000
Richard Yelland -- 558,000
Jack Powell -- 551,000
Nathan Mullen -- 550,000
Day 3

Tournament officials have decided to play until we reach the final 9, take a dinner break and continue until there is a new champion. Action continues at level 20 with 6000/12,000 blinds and a 1000 ante in the Brasilia room here at the RIO. Greg Buonocore was among the first bustouts courtesy of Amanda Baker after her paired Jacks overcame Buonocore's pocket 7's. Eric Mizrachi was also eliminated after his all-in with A 10 suited lost to the two pair (K's and 2's) of Brent Roberts. Lee Watkinson left the event in 36th place after losing to the full house (9's/6's) belonging to Jonathan Aguiar. Amanda Baker soon followed after her pocket Q's lost to the pocket A's of Jeff Oakes. And Jack Powell, the last player from the UK, picked up the winnings for 30th place when the paired 10's of Nathan Mullen put him out to pasteur.

Once the field reached 27 players, everything was moved over to the Amazon room. In the next few minutes Brent Roberts joined the railbirds when his A K met the pocket J's of "Pete" Panayote. Steve Ma lost to the set of Kings made by another player, resulting in a 15th place finish. Then Eric Chhor laid claim to 10th place when he lost to the two pair (A's and 6's) of Steve Sung.

But after reaching the 9 for the final table, it was decided that this round of action would take too long for ESPN taping. (And it is hard to get cheering, slightly drunk crowds to make for great taping at 4 or 5 in the morning. By that time they are slushed and passed out!) So it was decided to have the final table played tomorrow at 1:00 PM. Here are the final nine with chip counts:
Dan Heimiller -- 4,155,000
Steve Sung -- 3,395,000
Panayote "Pete" Vilandos -- 1,940,000
James Matz III -- 1,885,000
Jeff Oakes -- 1,680,000
Larry Sidebotham -- 1,500,000
Phong Huynh -- 1,310,000
Nathan Mullen -- 1,210,000
Danny Fuhs -- 965,000
Final Table

Here are some final table notes as given by the WSOP:

The 2009 World Series of Poker "Stimulus Special" $1,000 buy-in No-Limit Hold'em champion is Steven Sung. Sung is a 24-year-old professional poker player. Prior to entering this tournament, Sung played in the Special Anniversary $40,000 buy-in No-Limit Hold'em Championship. He did not cash. So Sung was already stuck the sum of $40,000 just two days into this year's WSOP. However, he more than made up the deficit by winning this event.

A $1,500 No-Limit Hold'em tournament is customarily the first major event on the schedule with mass appeal. However, the inaugural "Stimulus Special" was aptly named in reference to concerns about the global economy. While markets continue to be uncertain in many countries, there seems to be no doubt that the poker economy is continuing to thrive – at least at the WSOP.

This was the largest non-WSOP Main Event tournament in poker history. The previous record was set at the 2008 WSOP when the first No-Limit Hold'em competition ($1,500 buy-in Event #2) attracted 3,929 entrants. The number of players in the $1,000 buy-in "Stimulus Special" – 6,012! – demolished the previous mark and represented a whopping 53 percent increase in attendance over the previous record many initially thought might not be broken for some time!

First to leave in 9th was Danny Fuhs when his two pair lost to the set of 10's belonging to Phong Huynh. In 8th Phong Huynh became the next victim when his set of 3's loses to James Matz holding a set of J's. Jeff Oakes had his pocket 5's beaten up by Steve Sung with a set of A's, resulting in a 7th place finish. Daniel Heimiller picks up the cash for a 6th place finish after losing to the two pair of Steve Sung. Nathan Mullen became Steve's next victim, leaving in 5th after Steve unleashed a two pair punch (J's and 10's) on him. Larry Sidebotham received 227 times his entry fee for a 4th place finish courtesy of James Matz III. Next it was Matz himself who went to the rail in 3rd losing to the paired 5's of Steve Sung.

Chip count at the heads up was Steve Sung 12,400,000 and Panayote "Pete" Vilandos had 5,600,000. These guys were tired and only let this thing go for 45 minutes. Here was the last hand. Both players moved all-in preflop. Sung showed pocket K's and Vilandos revealed pocket 8's. None of the cards improved the hand of either player, so Steve Sung became the newest WSOP champion evidenced by the classic gold bracelet.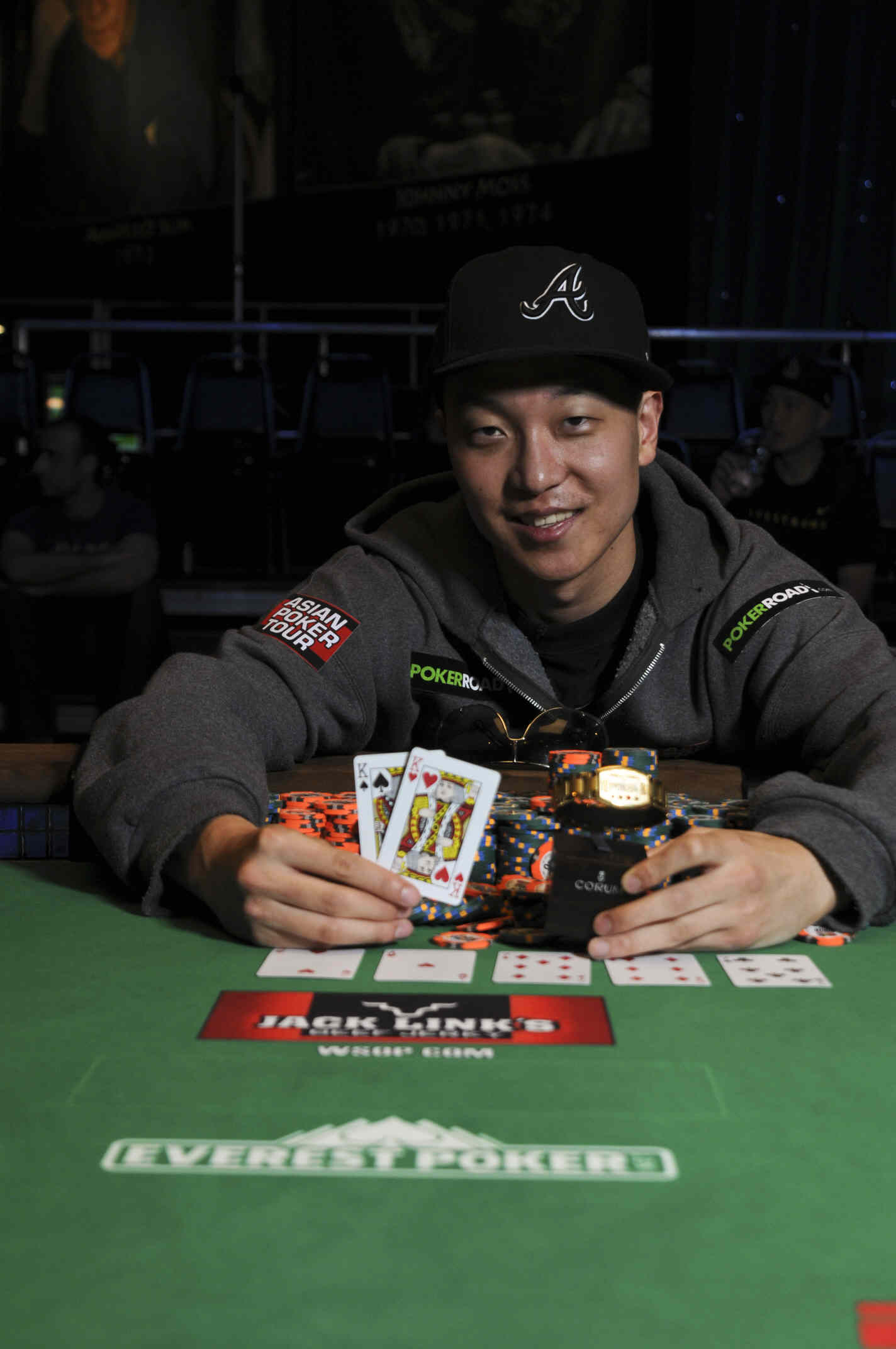 Steve Sung
Steve Sung -- $771,338
Panayote "Pete" Vilandos -- $473,282
James Matz III -- $313,826
Larry Sidebotham -- $227,253
Nathan Mullen -- $175,851
Daniel Heimiller -- $145,009
Jeffrey Oakes -- $126,612
Phong Huynh -- $117,414
Daniel Fuhs -- $114,167