Home Online Casino Real Money
2009 WSOP Event Schedule WSOP TV Schedule Free Slot Games Site Map 3 Webmasters




All linked player names have free bios, courtesy of FullTiltPoker
Event #50 Limit Hold´┐Żem Shootout (1,000 player max)
Day 1
Buy-in: $1,500
Players: 571
Prize pool: $779024 to the top 64

Event #50 Limit Hold´┐Żem Shootout was set up to handle 1,000 players with 10 at each table. Those who ended up winning their table would be the one to go on to the next day of the shootout. Players began with 4,500 in chips with blinds at 25/50 and limits at 50/100. Some of the names at the tables were Maria Ho, Michael Binger, Mark Seif, Berry Johnston, Shaun Deeb, Alan Goerhing, Allen Cunningham, Svetlana Gromenkova, Evelyn Ng, Joe Sebok, Michael Mizrachi, Jeff Williams, David Plastik, Scott Seiver, Tom McEvoy, Rep Porter, Greg Mueller, Men "The Master" Nguyen, Nick Frangos, Marcus Naalden, Gavin Griffin, J.J.Liu, Grant Hinkle, Nam Le and Maya Gellar.

From this point on it was a hoe down of a showdown as Mike Thorpe was the first to win his table with two pair (J's and Ks). Soon afterwards, Nick Binger won his table with a set of Aces to bust his heads up opponent. Kyle Ray knocked out Evelyn Ng who had a nice advantage going into the heads up. Ray goes to Day 2 on the win. And also seeing a seat tomorrow is Jean-Robert Bellande who won his table. David Plastik drew pocket A's that held to defeat Claudio Rinaldi and move to the next round. Juha Helppi won with a Broadway straight and he will be joined by Greg Mueller, Dan Heimiller, Marcus Naalden, David Williams, Millie Shiu and Jeffrey Siegal.

At the end of Day 1, there were 64 players left in the field. They will come back to play 8 eight handed tables. Those who win will compete at the final table. Here are the top 64 with 45,000 chips in each stack:
SIEGAL, JEFFREY
CORDOVEZ, DIEGO
KNOST, LENNARTADAM
SHIU, MILLIE
RAY, KYLE
PONZIO, ALESSANDRO
SHLEZ, VADIM
LOCICERO, MARCO
DWEK, JONATHAN
GEARY, JAMES
OLIVEIRA, RAUL
NAALDEN, MARCUS A
PETERSEN, JACOB
DANG, TRAI
MICHAUD, NORMAN
SNOW, ALAN
KEOWN, CLINTON
STERLING, MATTHEW
WAN, LAP-KI
TANNIRU, ROBERT
BRENES, HUMBERTO
GALLMAN, JAMES
LAURIA, ROBERT
PLASTIK, DAVID
SCHNEIDER, THOMAS
HELPPI, JUHA
THORPE, MICHAEL
KRAUS, DANIEL
BYRNE, MICHAEL
PARKER, JOHN
BEASLEY, WILLIAM
WILLIAMS, DAVID
BUCKLEY, JAMES
TOH, WILLIAM
HALIOUA, MICHEL
CAMPBELL, ROBERT
BOUDREAU, JEFFREY
HIATT, SAMUEL
HAAKENSON, ERIK
BARBERO, JOSE
PATELIDAS, ANTONIO
LENNAARD, KEN
HAGEN, ANDREAS
RAY, ROBERT
KIM, STEVE
GODDARD, BRIAN
NECKAR, JONATHAN
HOIVOLD, ANDREAS
PANOS, PETER
BINGER, NICHOLAS
GINZBURG, ROMAN
HENSON, RAYMOND
BUCHANAN, SHAWN
BELLANDE, JEAN-ROBERT
MALAGUTI, FLAMINIO
EARLY, BENJAMIN
WITTELES, RONALD
KITTLE, SCOTT
HEIMILLER, DANIEL
PECHAC, JAMES
VAN DEN BIJGAART, JOSEPHUS
LEAH, MICHAEL
PAN, QINGHAI
Day 2

Yesterday ended around 3:45 AM for the 64 who played like crazy to win their respective tables. They got together again at 2:00 PM to establish a final 8 for Day 3. Joep Van Den Bijgaart was the first to win his table at around 10:00 PM that night, when he paired his King card verses Qinghai Pan. Next was David Williams who flopped a flush against Michel Halioua, winning that hand. Greg Mueller went back and forth against Tom Schneider, eventually winning with two pair (9's and 8's). Matthew Sterling won his bout against Robert Tanniru with a pair of 10's. Millie Shiu fought hard and long verses Ben Ponzio to win, taking him down with an Ace high hand. Flaminio Malaguti received his seat with a pair of 9's to take opportunity away from Andreas Hoivold. Marcus Naalden advanced after defeating Jacob Peterson with a pair of 10's. And Jose Barbero let Johnny Neckar know that his Kung Fu was strong to claim victory and a chance at the bracelet of champions.

Payout schedule for the final table:
$194,909
$120,614
$77,138
$51,145
$35,058
$24,824
$18,136
$13,655
All who won their table on Day 2 advanced to the final table with 360,000 chips each. Here are the players who made the final table:
David Williams
Flaminio Malaguti
Joep Van Den Bijgaart
Jose Barbero
Marc Naalden
Matthew Sterling
Millie Shiu
Day 3 -- Final Table

Here is the summary on this event from information given by the WSOP:

The 2009 World Series of Poker $1,500 buy-in Limit Shootout champion is Greg Mueller. Mueller is a 37-year-old professional poker player. He is a regular player on the major tournament circuit. Prior to playing poker for a living, Mueller played professional ice hockey in Europe. He played for nine seasons for a team based in Germany. He retired in 1999. Mueller is fluent in both English and German languages. Mueller has done modeling and has been featured in television commercials. "FBT" stands for "Full-Blown Tilt." Mueller collected $194,854 for first place. He was also awarded his second WSOP gold bracelet. In Event #33, Mueller won the $10,000 buy-in Limit Hold´┐Żem World Championship. This victory (again, in Limit Hold´┐Żem) reaffirms his status at the best limit tournament player in the world at this time. The defending champion in the event from 2008 was Matthew Graham. He entered this year's tournament, but did not cash.

On former gold bracelet winners finishing 1-2-3 at the final table and the experience factor: "Oh, experience is important big time. The last two final tables I won I caught a lot of cards and got lucky for sure. But when you get into this situation, experience counts. You don't panic when you get into a negative situation. It's just like in sports. You see sports team when they get into a playoff drive -- they sign a 40-year-old experienced player who might be a little slower. But the experience is more important."

When heads-up play began, Mueller enjoyed a 4 to 1 chip advantage over Naalden. The Dutch player drew event and then took the lead temporarily, in a duel that lasted two hours. But Mueller regained his advantaged and gradually wore down Naalden in a fury of raises and re-raises whenever he believed he held the edge. The final hand came when Mueller and Naalden both flopped top pair (kings), but Mueller´┐Żs higher kicker played and scooped the pot. After Mueller´┐Żs win, several experienced poker players watching the action remarked that Mueller never seemed to miss a bet and was able to extract the most chips out of his opponent when he held the advantage during a hand. This was arguably the key difference in the match. The final table lasted about nine hours ´┐Ż about average in duration.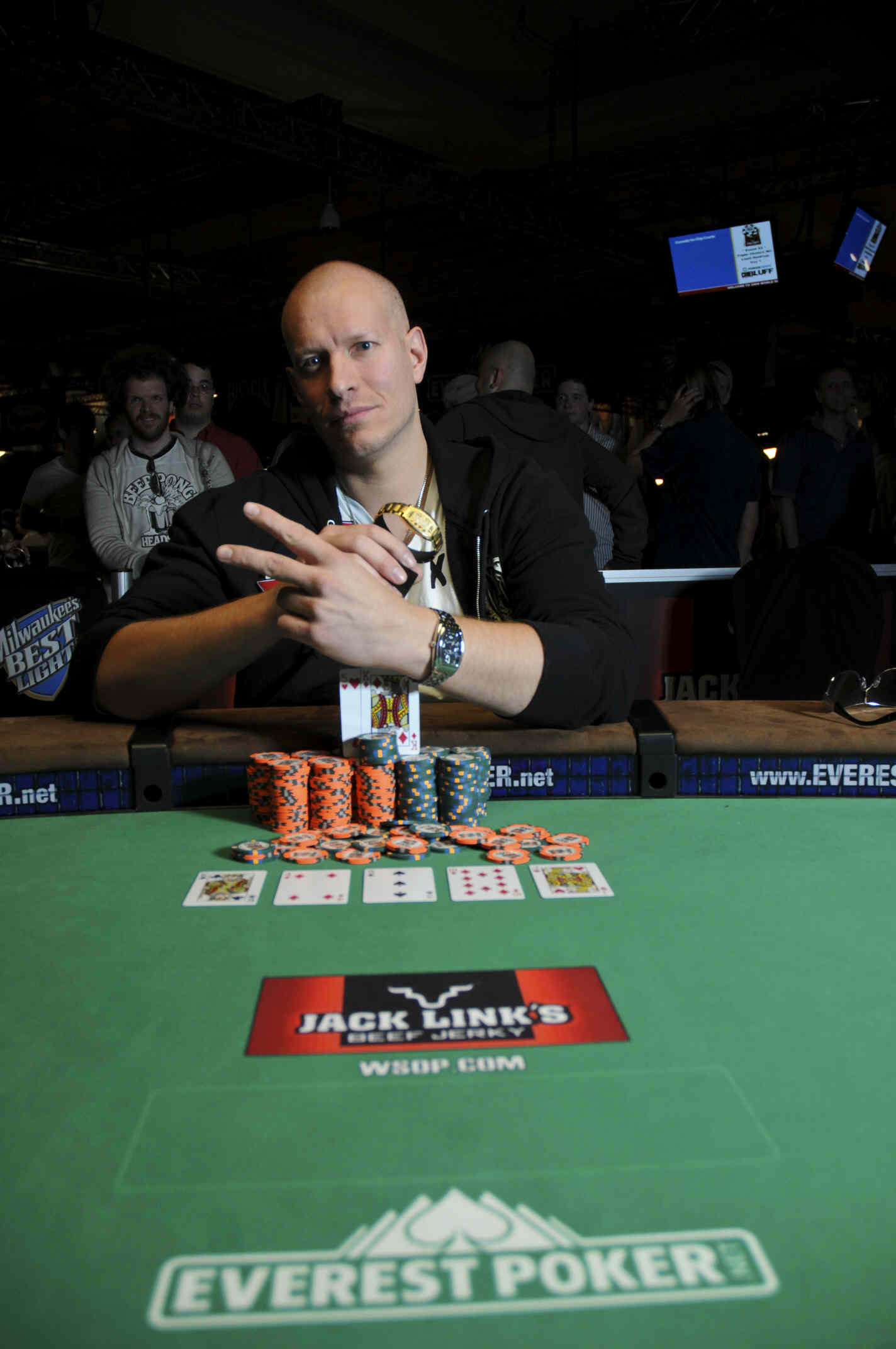 Greg Mueller
Greg "FBT" Mueller -- $194,909
Marc Naalden -- $120,614
David Williams -- $77,138
Millie Shiu -- $51,145
Matt Sterling -- $35,058
Flaminio Malaguti -- $24,824
Joep Van Den Bigaart -- $18,136
Jose "Nacho" Barbero -- $13,655