Home 2009 WSOP Event Schedule WSOP TV Schedule Free Slot Games Site Map 3 Webmasters


Event #51 No-Limit Hold'em
Day 1
Buy-in: $1,500
Players: 2,781
Prize pool: $3,796,065 for the top 297 finishers

This event was a hot one! The WSOP Media asked us on June 27th to let the public know that there would be no more entries because the number of players entering had been capped. All players will start with 4,500 chips each. Many big names came out to compete as well such as Mark Seif, Men "The Master" Nguyen, Tony Cousineau, Kathy Liebert, Jason Mercier, Kenna James, Hevad Khan, Mike Watson, Thomas Keller, Wooka Kim, David Levi, Jesse Rios, Bryan Micon, Lee Markholt, Katja Thater, Michael Binger and Jason Grey.

Leaving almost as quick as they came in were Noah Boeken, J.C. Tran, Nick Frangos, Blair Hinkle and Kevin Saul. This is within the first 90 minutes, and not all entrants have been seated at their tables yet! In fact this was so crazy that by 4:00 PM, the field had lost over 1,000 players. Other faces seen moving away from the tables were Kathy Liebert, Kenna James, James Mackey, Shaun Deeb, J.J. Liu, Chris Moore, Hevad Khan, John Friedberg and Paul Waskicka.

In all the carnage, one hot mentionable hand happened. A player by the name of Marc Fluss saw a flop of Kd 10d Qd and went all-in. He was called by two other players. Fluss probably had a smile as big as the Las Vegas strip when he turned over the Ad Jd for a Royal Flush. He tripled up on the hand to have 20K in his stack.

By 1:15 AM, tournament officials ended the day and had players bag their chips. The number of players remaining after Day 1 was 349. Here are the top 9 with chip counts:
Christopher Bonita -- 131,700
Ryan Price -- 130,000
Cody Slaubaugh -- 125,900
Phong Huynh -- 123,300
Steven Van Zadelhoff -- 118,000
Kevin Armstrong -- 117,700
Jason Helder -- 117,700
Hon Le -- 115,900
Kenneth Shelton -- 105,600
Day 2

Final Table Payout Schedule:
$664,426
$412,632
$272,405
$192,650
$145,199
$115,817
$97,634
$86,702
$80,894
This second round has 30 players still standing out of the 349 that began play today. Here are the top 9 names of who will play for a final table seat.
Thibaut Durand -- 1,650,000
Owen Crowe -- 1,002,500
Josh Schlein -- 875,000
Georgios Kapalas -- 782,000
Eric Lupovich -- 548,000
Jesse Haabuk -- 434,000
Diego Vilela -- 425,000
Rafael Belloso -- 410,000
Viktoria Szilasi -- 393,000
Day 3 -- Final Table

The 2009 World Series of Poker $1,500 buy-in No-Limit Hold'em champion is Carston Joh. Joh is fluent in both German (his native language) and English. Joh was caught up in the poker book around 2002 and 2003 which attracted many European players. Joh's preferred poker game is Pot-Limit Omaha. Joh collected $664,426 for first place. He was also awarded his first WSOP gold bracelet. The defending champion in the event from 2008 was J.C. Tran. Note that he won the corresponding event on last year's schedule (there are multiple $1,500 buy-in No-Limit Hold'em tournaments). He entered this year's tournament, but did not cash.

This event was a complete sell out. This was the ninth tournament to reach maximum capacity at this year's WSOP. This is the most gold bracelet events ever to sell out within a single year. A complete "sell out" means every seat at every available table is sold and additional players are/were turned away at registration. A complete sell out occurs are various numbers, based on the total tables and seats available for tournament use. Events which have sold out this year include: 4, 7, 22, 24, 28, 29, 39, 43, and 51.

The chip leader at the start of the final table was Jason Helder. He suffered a brutal run on the feature table and busted out first, in eighth place. Carsten Joh started play at the final table ranked seventh in chips, out of eight players. After being a distant third in chips when play was three-handed, took control late in the tournament and defeated Andrew Chen in heads-up play. When heads-up play began, Joh enjoyed a slight chip lead over Chen. It took 33 minutes for Joh to close out the victory. Chen missed a diamond draw on the final hand of the night, while Joh dragged the last hand of the tournament with trip sixes. The final table lasted about seven hours – slightly below average in duration.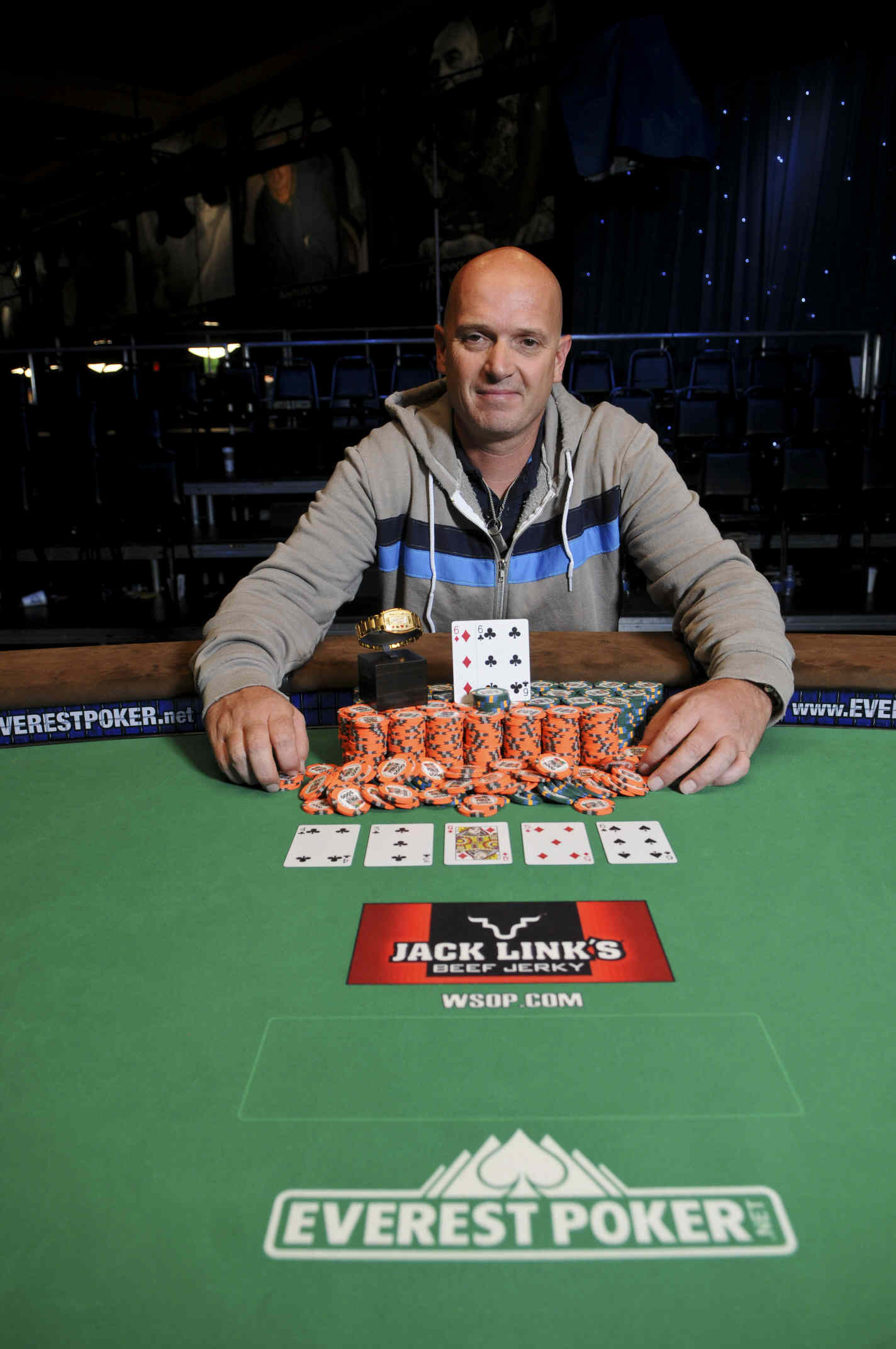 Carsten Joh
Carsten Joh -- $664,426
Andrew Chen -- $412,632
David Walasinski -- $272,405
Steven Levy -- $192,650
Owen Crowe -- $145,199
Thibaut Durand -- $115,817
Georgios Kapalas -- $97,634
Jason Helder -- $86,702
Nathan Page -- $80,894