Home Online Casino Real Money
2009 WSOP Event Schedule WSOP TV Schedule Free Slot Games Site Map 3 Webmasters


All linked player names have free bios, courtesy of FullTiltPoker
Event #52 Triple Chance No-Limit Hold´┐Żem
Day 1
Buy-in: $3,000
Players: 854
Prize pool: $2,357,040 for the top 81 finishers

For those who are not familiar with "Triple Chance" it works as follows. Each player receives a third of their stack up front with two "non-playing chips" that can each be redeemed for the amount of the original stack. Players have the choice of redemption whenever they wish for the first few levels. After that the chips are automatically added to a players stack. So each player will start out with 3000 chips and can redeem for 6000 more when they wish. Action begins at noon.

Within the first hour Tony Cousineau busted out after suffering one tragic hand after another. Theo Tran, Vanessa Rousso, Neil Channing, Sorel Mizzi and Daniel Negreanu suffered the same early exit fate. Gavin Smith went all-in with pocket Kings, only to meet another player with pocket A's who received another Ace on the river, busting Gavin in the process. Eric Froehlich was sent to the rail courtesy of Andy Black who had a Jack kicker that won the hand. Chris Ferguson also is no longer in the tournament after his suited connectors Kc Qc could not overcome the A J held by Max Katz. Close to midnight, Andy Black had his all-in move with pocket K's fail to stop the other player who made a Broadway straight by the river. Also not taking a seat on Day 2 were Eli Elezra, Erick Lindgren, Berry Johnston and David Singer.

At 1:00 AM the next morning, there were left 153 players left for Day 2. Here are the top 9 finishers with chip counts:
Timothy Horan -- 149,000
Harris Pavlou -- 137,300
Karfa Holt -- 130,600
Antonio Esfandiari -- 127,900
David Bornstein -- 120,800
Blake Cahill -- 120,800
Michiel Brummelhuis -- 120,000
Tracey Scala -- 119,200
Issac Baron -- 114,000
Day 2

Another event #54 No Limit Hold'Em was being played at the same time, so starting time for Day 2 was pushed back an hour. And eight minutes into the action, James Van Alstyne who was short stacked said good bye to the rest of the field after losing the rest of his chips. Eric Cajelais was hit by the pocket 6's of Lee Childs and ended up walking to the rail. Clonie Gowan lost to the pocket 8's of Karga Holt and was gone. Joe Tehan was beaten to the sidelines by the pocket J's belonging to Tim Horan. John Juanda made a move with A J, but met with resistance in the form of pocket 10's by another player, resulting in John moseying off into the west.

From the information we gathered, there were about 75 players left before dinner break. Chips were pretty much spread out evenly among those still at the tables. But it was after the bubble burst that players like Jason Dewitt and Alan Dewitt really made big plays which vaulted them over the 1 million chip mark going into the final table. And with other names like Eric Lynch, An Tran plus players from Russia, Germany, United Kingdom and Canada, this will be a great final table to watch on ESPN.

Payout Schedule for the final table
$506,800
$313,227
$205,180
$142,035
$103,591
$79,385
$63,781
$53,622
$47,070
At the end of the day there were 16 players left. Here are the top 9 players with chip counts:
Jason Dewitt -- 1,599,000
Alex Millar -- 1,006,000
Karga Holt -- 715,000
Michael Noda -- 641,000
Joe Patrick -- 538,000
Jorg Peisert -- 477,000
Benjamin Gilbert -- 421,000
Michael Katz -- 356,000
Jason Somerville and Warren Watson (tied) -- 320,000
Day 3 -- Final Table

Here is information from the WSOP on this event:

The 2009 World Series of Poker $3,000 buy-in Triple-Chance No-Limit Hold´┐Żem champion is Jorg Peisert. Peisert has only been playing poker for about two years. Prior to entering this tournament, Preisert had entered only one other WSOP event. He busted out early in that tournament. So, this was only the second WSOP tournament Preisert has ever played. Peisert collected $506,800 for first place. He was also awarded his first WSOP gold bracelet. The winner Jorg Peisert will be honored with the playing of his country´┐Żs national anthem, "Deutchland Uber Alles."

Eventual winner Jorg Peisert started play at the final table ranked sixth in chips, out of nine players. He was never in serious danger of busting out. Peisert made a major jump in the standings when play became three-handed. By the time play was heads-up, Peisert had a sizable advantage over Jason Dewitt. The final hand came when Peisert´┐Żs pocket nines held up to drag the last pot of the tournament. The final table was played in the Green section of the Amazon Room at the Rio. The ESPN Main Stage was reserved for the HORSE world championship. Another final table ended on this day as well, which was the $1,500 buy-in Seven-Card Stud High-Low Split championship. The final table lasted about eight hours ´┐Ż about average in duration for this year´┐Żs WSOP.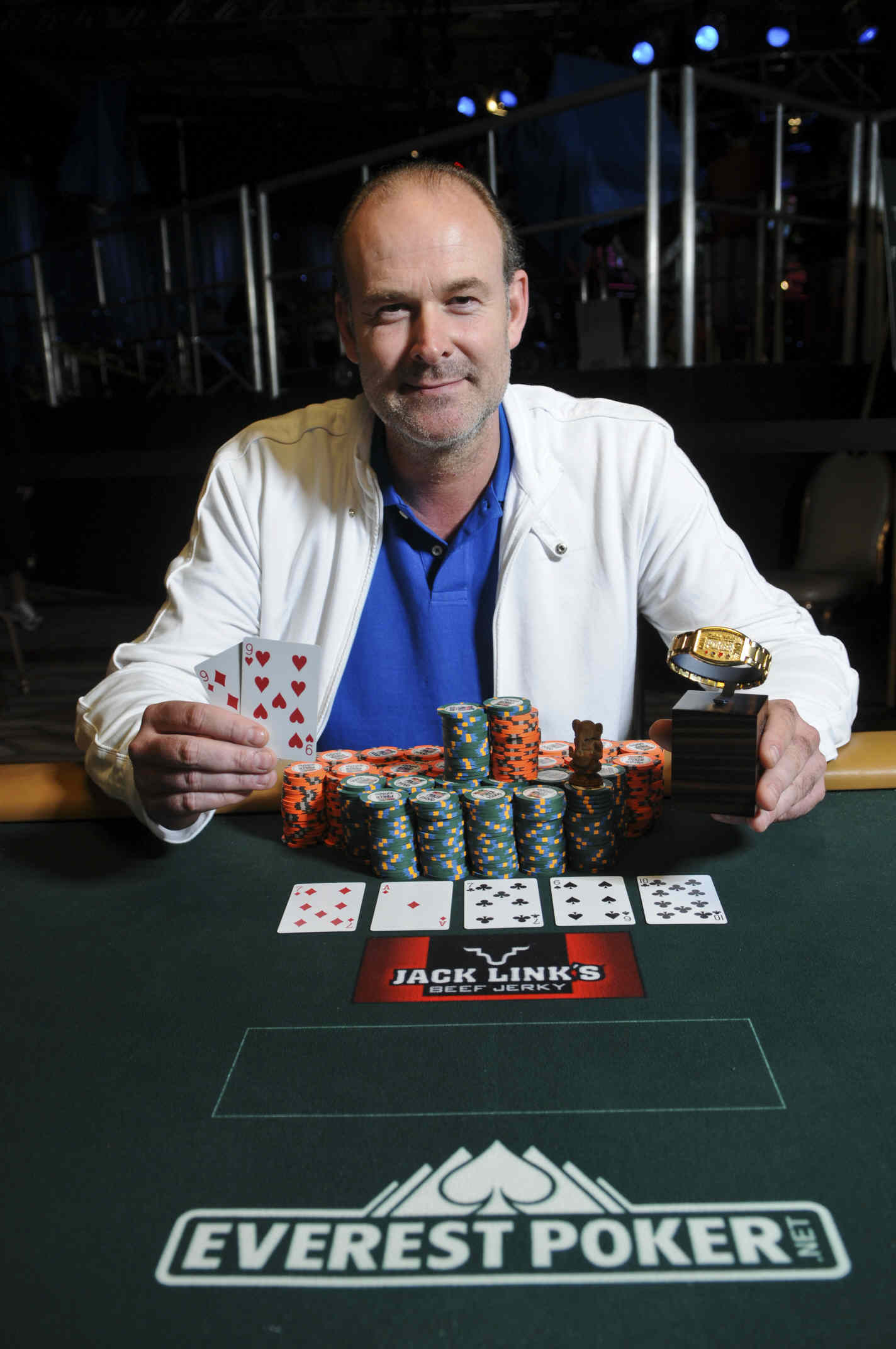 Jorg Peisert
Jorg Peisert -- $506,800
Jason Dewitt -- $313,227
Benjamin Gilbert -- $205,180
Michael Noda -- $142,035
Jason Somerville -- $103,591
Michael Katz -- $79,385
Karga Holt -- $63,781
William Erickson -- $53,622
Warren Watson -- $47,070