Home 2009 WSOP Event Schedule WSOP TV Schedule Free Slot Games Site Map 3 Webmasters


Event #55 2-7 Triple Draw Lowball (Limit)
Day 1
Buy-in: $2,500
Players: 258
Prize pool: $593,400 to the top 24 finishers

Event #55 2-7 Triple Draw Lowball is a game where you have to have a different train of thought when the dealer gives you the cards, because the best hand you can get is 2 3 4 5 7. Tournament director Jack Effel also reminded the players that straights and flushes count against them. Nice guy that Jack.

Showing up at the starting gate at 5:00 PM were Erick Lindgren, David Singer, Allen Kessler, Thor Hansen, Bill Chen, Mike Sexton, Jimmy Fricke, Dave Sklansky, Jon "PearlJammed" Turner, Billy Baxter, Fabrice Soulier, John Monnette, Steve Wong, Max Pescatori, Rob Hollink, Alex Jacob, Victor Ramdin, Frank Kassela, Kelly Kim, Sam Grizzle, Gavin Smith, Robert Williamson III , Nam Le and Can Kim Hua. All players began with 7,500 in chips.

Going out early was Shannon Elizabeth after the 10 7 low she made was beaten to death by another player with a better hand. Following close behind her was Eli Elezraalthough we were not able to learn the details on what happened. Robert Williamson III also hit the rail after the pair of 4's he made were too high to fight off a 9 8 7 5 3 from another player. Robert Mizrachi also met a hand he could not win against and left the tables as a result. Joining the list of the departed are Mike Sexton, Kelly Kim, Erick Lindgren, David "Chino" Rheem, Bill Chen, Bryan Devonshire, David Singer, Todd Brunson and Marcel Luske. Tournament officials stopped everything around 3:00 AM and said to the last 72 that they should bag their chips. Here are the top 9 with chip counts:
Ewenstein, Adam -- 71,800
Peltekci, Mike -- 65,100
Fuller, Rick -- 55,200
Jennings, Terrance -- 54,100
Fernandez, Jacobo -- 53,900
Lee, Jasper -- 46,600
Rodman, Blair -- 46,500
Tanaka, Masayoshi -- 46,400
Lord, Kris -- 42,800
Day 2

The remaining players will continue in the Miranda room to see who gets to the final table. The gun, (metaphorically speaking), went off at 2:15 PM and the players were off and running. First bust on the day was Richard Toth moving to the rail defeated...for now anyway. Victor Ramdin made a straight against Jacobo Fernandez who made a 7 6 5 4 2 low and followed Toth to the sidelines. Greg Mueller hit a pair of 5's which meant he had to walk from the tables when compared to the 9 8 6 4 3 of Hung La. La also made a 7 6 5 4 2 which was enough to send Jimmy Fricke away as well. David Sklansky has more time to write another poker book now that he is not at the tables in Event 55. David was pushed out by the 8 6 5 3 2 of Jason Lester.

La, La, La, La, La was all you were hearing on the floor until...Hung La met his demise from Gabriel Nassif who made the nuts with 7 5 4 3 2. No more La, La, La, just sniffles as he walked away from his chair. He was joined by Billy Baxter, Gioi Luong, Jeff Duvall, Tuan Le, Justin Smith in 22nd place, Hasan Habib, Daniel Negreanu and Jacobo Fernandez in 10th place. Now that the final table is established, everyone bagged their chips to come back tomorrow for the championship.

Payout Schedule for the final table players:
$166,151
$102,313
$66,286
$44,941
$31,819
$23,484
$17,934
$17,934
There will be 9 players at this final table. Here are the names with chip counts:
Abraham Mosseri -- 447,000
Blair Rodman -- 358,000
Masayoshi Tanaka -- 345,000
John Juanda -- 182,000
Julie Schneider -- 163,000
Brad Libson -- 146,000
Hertzel Zalewski -- 111,000
Nam Le -- 95,000
Kris Lord -- 87,000
Day 3 -- Final Table

Here is the WSOP summary information on this final table:

The 2009 World Series of Poker $2,500 buy-in Deuce-to-Seven Triple Draw Lowball (Limit) champion is Abe Mosseri. Mosseri is a 36-year-old professional poker player. Mosseri plays poker mostly online. Mosseri collected $166,151 for first place. He was also awarded his first WSOP gold bracelet. Mosseri intends to play in this year's WSOP Main Event. The defending champion in the event from 2008 was John Phan. He entered this year's tournament, but did not cash.

This game is rarely played anywhere except at the very highest levels. It is rarely spread inside public cardrooms -- either as cash games or tournaments. In fact, the WSOP is one of the few places where this poker variant is offered. Deuce-to-Seven Draw Triple Draw Lowball means the worst, or lowest ranked hand wins the pot. The very best possible 2-7 lowball hand is 2-3-4-5-7 of mixed suits. An ace counts as a high card. Flushes and straights count against the player. While a wheel (A-2-3-4-5) is the perfect hand in standard lowball, in Deuce-to-Seven it is usually a losing hand since the straight counts against the player. Players may draw up to three times to make their hand. There is some difference of opinion as to where and when this game originated. Since the 1930s, variations of lowball have been spread throughout California and Nevada. According to poker theorist David Sklansky, Limit 'Double-Draw' Lowball was first spread at the (now defunct) Vegas World during the early 1980s. Others cited a game called "Ten-Handed Triple-Draw Lowball" as the forbearer of Triple Draw, which was played at 'Amarillo Slim's' Super Bowl of Poker tournaments in Reno and Lake Tahoe during the period 1979 through 1984. Since ten-handed poker could only accommodate perhaps three or four players at most due to the number of cards needed to complete a hand, reducing the number of cards (to five) enabled more players to sit in the game.

Eventual winner Abe Mosseri started play at the final table ranked third in chips, out of eight players. The early chip leader was Bradley Libson, who ended up busting out in sixth place. When heads-up play began, Mosseri and the eventual runner-up finisher Masayoshi Tanaka were about even in chips. It took Mosseri about an hour to defeat his final foe and win his first WSOP title.

Mosseri was on fire, catching so many right cards it would remind one of Chris Moneymaker in the 2003 Main Event. After numerous raises and betting, Mosseri showed he had 7 6 5 3 2, with the only response from Tanaka is that he could not produce anything better and Mosseri was declared the champion of Event #55.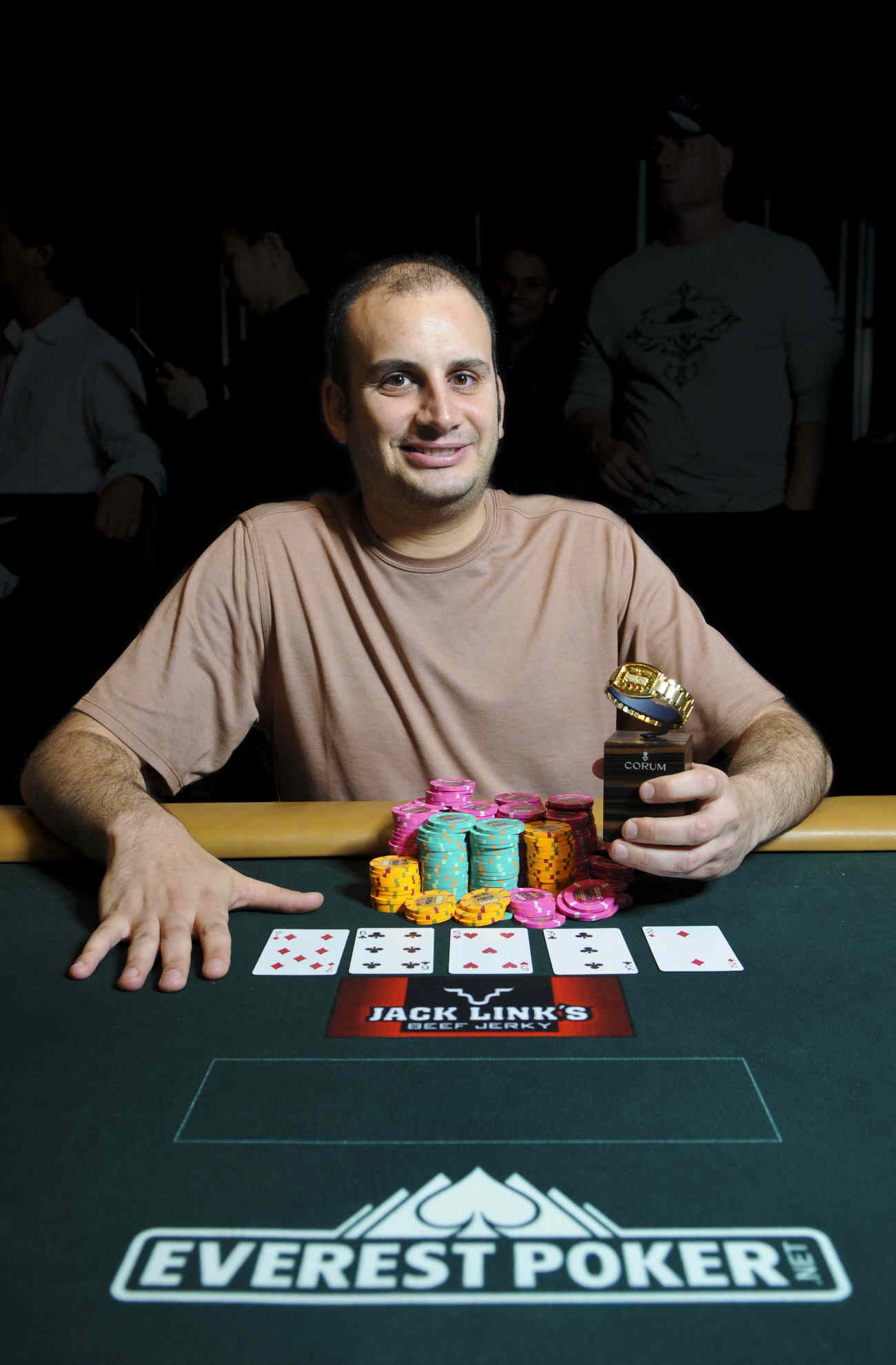 Abe Mosseri
Abe Mosseri -- $166,151
Masayoshi Tanaka -- $102,313
June Schneider -- $66,286
John Juanda -- $44,941
Blair Rodman -- $31,819
Bradley Libson -- $23,484
Kris Lord -- $17,934
Hertzel Zalewski -- $17,934