Home 2009 WSOP Event Schedule WSOP TV Schedule Free Slot Games Site Map 3 Webmasters




All linked player names have free bios, courtesy of FullTiltPoker
Event #56 No-Limit Hold'em / Six Handed
Day 1
Buy-in: $5,000
Players: 928
Prize pool: $4,361,600 for the top 90

Well this event will be the make it or break it regarding a chance to get a bracelet in a 2009 WSOP event. Unless you either enter the Main Event or fly to Europe for the World Series of Poker Europe that will take place this September. So with determined looks on their faces and 15,000 chips each, the chairs filled up with players seething with testosterone and estrogen. Staking their spots in the field were Juha Helppi, Andy Black, Bill Chen, Marc Naalden, Jeniffer Tilly, Eli Elezra, Jamie Gold, Lee Watkinson, Bill Edler, Scotty Nguyen, Russell Rosenblum, Nenad Medic and T.J. Cloutier. And there were still many, many more top names coming through the door, seated 6 to a table.

Even with 15K in chips there were early busts in the first 45 minutes. Terrance Chan went to the rail after losing to the Ace high flush of Phil Laak. An hour later David Singer became a victim of Dennis Phillips when the pocket J's of Phillips held up against Singer holding A K. Phillips also busted Noah Boeken with two pair (A's and K's). Jeff Lisandro also went to the rail after his pocket 8's were crushed by the full house (6's/5's) of his opponent. Tony G also didn't last long enough to heckle Phil Hellmuth, losing to a set of 2's made by the other player. Following them before the dinner break were Brock Parker, Jennifer Tilly, Maria Ho, Dutch Boyd, Vanessa Rousso, Jamie Gold, Matt Graham, Jeff Madsen and Daniel Negreanu.

Hellmuth showed up late as usual, (we think he is trying to avoid Tony G), but managed to crank up his stack to 40K quickly and finish the day with 101,000 chips. Shaun Deeb also stacked up the chips ending his day with 114,800 chips. Unfortunately for Chris Ferguson he built up his castle to around 137,000 by 11:30 PM. By 1:00 AM he had lost them all to a player who made quad Jacks and hit the rail. Tournament officials ended things a few hands after that.

Players left at the end of Day 1: 160
Rory Mathews -- 369,800
Sander Lylloff -- 360,000
Rui Cao -- 354,900
Faraz Jaka -- 294,500
Lars Bonding -- 288,300
Lee Vlastaris -- 239,500
David Peters -- 237,400
Eugene Katchalov -- 216,100
Thorsten Schaefer -- 198,000
Day 2

Day 2 began with the goal of getting down to a final table or 3:00 AM which ever comes first. Players got down to business as Eli Elezra on the short stack got A K and moved all-in with them. Another player called with pocket J's and they held up, sending Elezra out for a drink. Matt Woodward went to the sidelines when his A K met up with the A A of another player. Mike Caro had his bracelet dream ended by Phil Hellmuth when his pocket 7's were overrun by the pocket K's of Hellmuth.

Joining the list of the departed were Phil Laak, Kenna James, Barney Boatman, Jean Gaspard, Sirous Jamshidi, Juha Helppi, Alex Kravchenko, Lex Veldhuis, Lee Childs, Burt Boutin, Russell Rosenblum and Frank Rusnak right before dinner break. After a hot meal, players went back at it with Yevgeniv Timonshenko leaving his chair in a couple of hands after losing the majority of his chips when his opponent made a Queen high straight. Bill Childs also lost to the pocket A's of Shaun Deeb who eventually made two pair (A's and 8's), resulting in a 36th place finish and a $19,453 payday for Childs. Phil Hellmuth made his 74th cash when his pocket 7's lost to the paired Kings of Peter Feldman. By 3:00 AM, it was time for those who survived to bag their chips.

Payout Schedule for final table:
$1,003,218
$619,608
$400,525
$269,983
$189,555
$138,393
$100,229
$100,229
$72,446
There were 16 left for Day 3 action. Top 9 players with chip counts:
Rory Mathews -- 1,358,000
Peter Feldman -- 1,328,000
Matt Hawrilenko -- 1,327,000
Robert Kay -- 1,213,000
Thorsten Schaefer -- 1,094,000
James St. Hilaire -- 876,000
Jonas Wexler -- 848,000
John Conkright -- 749,000
Alexander Venovsky -- 684,000
Day 3 -- Final Table

Here is the WSOP summary on the last tournament before the Main Event:

The 2009 World Series of Poker $5,000 buy-in Six-Handed No-Limit Hold'em champion is Matt Hawrilenko. Hawrilenko is 27-years-old. He is a graduate of Princeton University. He earned his degree in Public Policy Administration. Prior to becoming a poker pro, Hawrilenko was an options trader. He worked for the Susquehanna Financial Group, which has fueled a number of highly-skilled former WSOP gold bracelet winners, including Bill Chen, Jay Sipelstein, Eric Brooks, Jerrod Ankenman, Matt Glanz, and Rep Porter. This was Hawrilenko's third final table appearance at this year's WSOP. Hawrilenko collected $1,003,218 for first place. He was also awarded his first WSOP gold bracelet.

Phil Hellmuth's 24th-place finish in this event was the 74th cash if his WSOP career. This ranks first on the all-time cashes list, which is Men "the Master" Nguyen's 230th-place showing in this event gives him 65 cashes at the WSOP. This currently ranks second on the all-time list. Through the conclusion of Event #56, the 2009 WSOP has attracted 54,381 entries. $112,968,294 in total prize money has been awarded to winners.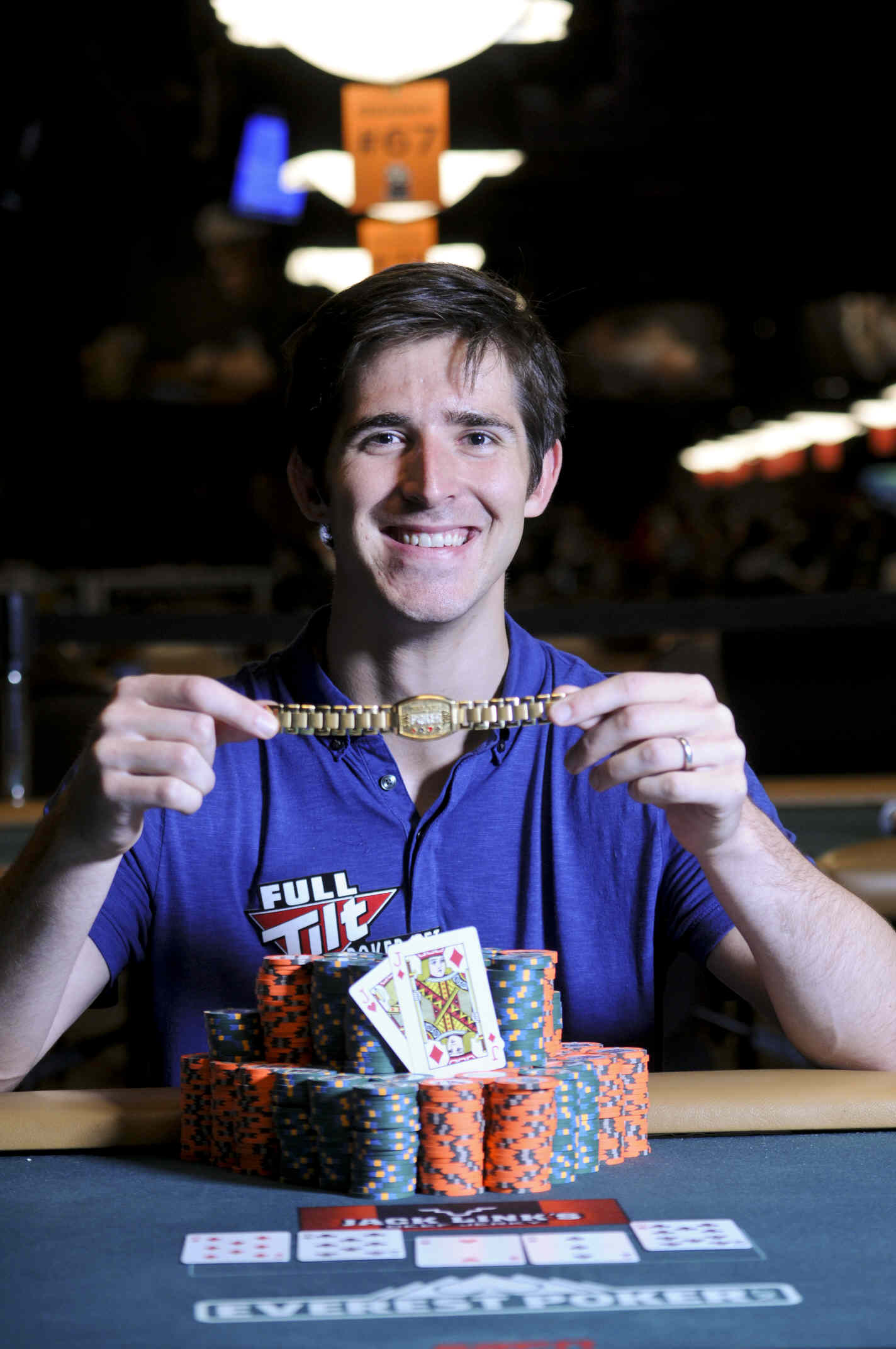 Matt Hawrilenko
Matt Hawrilenko -- $1,003,218
Josh Brikis -- $619,608
Faraz Jaka -- $400,525
Sean Keeton -- $269,983
Jonas Wexler -- $189,555
Matthew Waxman -- $138,393
Robert Kay -- $100,229
Thorsten Schafer -- $100,229
James St Hilaire -- $72,446