Home 2009 WSOP Event Schedule WSOP TV Schedule Free Slot Games Site Map 3 Webmasters




All linked player names have free bios, courtesy of FullTiltPoker
Event #6 World Championship Seven Card Stud
Day 1
Buy-in: $10,000
Players: 142
Prize pool: $1,334,800 divided between the final 16

Count on Event #6 World Championship Seven Card Stud being a very good event to watch as high powered players pony up the money to be seated. Some of the faces at the tables include Jerry Buss, Thang Luu determined to own more than 1 WSOP bracelet, Chad Brown, Bill Chen, Katja Thater, John Hennigan, Scotty Nguyen, Andy Bloch, Phil Ivey, David Benyamine, Mel Judah, Perry Friedman, Jennifer Harman, Greg Raymer, Kirill Gerasimov, Howard Lederer, Rob Hollink h and Barry Greenstein. All players started with 30,000 in their stacks.

Last year's champ Eric Brooks is also at the tables to defend his title. But with the high chip stacks players started with on top of the low levels, only 1 player busted before dinner break. And that was after 4 levels of play. The only major bust we know about was Allen Kessler (7 7 Q) courtesy of Hasan Habib (K K 10), with neither player improving their position on that one. By 3:00 AM, there were 101 left at the tables before officials had everyone bag their chips. Here are the top 9 with counts:
David Oppenheim -- 97,000
Ben Lin -- 96,500
John "Miami" Cernuto -- 91,600
Nick Frangos -- 90,600
Barry Mullinax -- 90,000
Daniel Robison -- 84,300
Toto Leonidas -- 84,100
Matt Glantz -- 78,300
Steve Zolotow -- 73,500
Day 2

Cards were in the air by 2:00 PM, and the players were focused on winning that bracelet. And here is the payout schedule for the final table which helps players to focus:
$373,744
$231,014
$152,915
$107,959
$80,969
$64,297
$53,866
$47,532
$36,267
First to go was Robert Mizrachi being defeated by the full house (10's/2's) of Max Pescatori. Following him were Jens Voertmann, Tad Jurgens, Nick Shulman, Mark Seif, John Juanda and Erick Lindgren. David Oppenheim who was the chip leader going into today, was crippled and then discarded from the event. Oppenheim was up to 140K when a big bet was lost to an opponent who won the hand Aces up. That crippled him to 26,000 which he lost very quickly in the next few minutes. Johnny Chan, Chad Brown and Todd Brunson also ended up walking to the sidelines.

At another table last year's champion Eric Brooks still in the game at this point, fought hard to protect his title. But later on he busted in 13th place. Eric did a fantastic job, barely missing the final table. Daniel Negreanu really turned things around being underwater with 20,000 at one point, and heroically turning it into 290,000 chips just 1 1/2 hours later. By chip bagging time there were 11 players left which are split between 2 tables. They are:

Table 1

Hasan Habib -- 593,000
Jeff Lisandro -- 524,000
Ville Wahlbeck -- 472,000
Ray Dehkharghani -- 141,000
Max Pescatori -- did not report
Table 2
Eric Drache -- 755,000
Freddie Ellis -- 580,000
Tim Phan -- 450,000
Ivan Schertzer -- 368,000
Greg Mueller -- 208,000
Daniel Negreanu -- 191,000
Final Table

Final Table noted from the WSOP:

The 2009 World Series of Poker $10,000 buy-in Seven-Card Stud champion is Freddie Ellis. He is the new Seven-Card Stud World Champion. Freddie Ellis is a 74-year-old real estate broker. Ellis was exhausted immediately following his victory. Visibly worn-out from the 13-hour final table, he took only a few questions in a post-tournament interview.

"This is the main reason I came to Las Vegas, to play in the World Championship of Seven-Card Stud." This was the first WSOP event Ellis had ever entered. Ellis collected $373,751 for first place. He was also awarded his first WSOP gold bracelet.

The final table was comprised of three former WSOP gold bracelet winners – Max Pescatori, Hasan Habib, and Jeffrey Lisandro. The runner up was Eric Drache, from Las Vegas, NV. Drache is well-known as a Seven-Card Stud specialist. It would be difficult, if not impossible, to find two more compelling people to cheer for when the match became heads-up. Both players attracted large galleries of fans and well-wishers. The two finalists did not disappoint their supporters, playing two-handed see-saw battle for more than four hours. Eric Drache is a living legend. He served as the WSOP Tournament Director from the mid-1970s until 1987.

Starting at 1:00 PM, the first to bust in 11th place was Ray Dehkharghani with Daniel Negreanu soon following in 10th place. Now that the final table was established, it was the two pair (K's and 6's) belonging to Ville Wahlbeck that put Jeffrey Lisandro out of the competition in 9th place. Limits were at 18,000/36,000 ante 4000 and bring-in at 5000 before Lisandro's bust. Tim Phan lost his stack in a 3 way with Freddie Ellis, Ivan Schertzer and himself. Ivan Schertzer did manage to make a set of 10's by 5th street which held up. Tim Phan ended up finishing in 8th place, (no details on that hand). Greg Mueller ended his quest in 7th after meeting the paired Aces of Hasan Habib. But soon Ivan Schertzer went to the rail in 6th, losing to the full house (5's/K's) of Eric Drache. Hasan Habib had plenty of bad breaks at this final table, which resulted in going from as high as 1 million chips to a 5th place finish in this event. Less than 10 minutes later, Max Pescatori fell victim of a set of Queens owned by Ville Wahlbeck for a 4th place win.

It was a slooowwww grind with not much happening for a while before the 3rd place winner Ville Wahlbeck met his demise. He had been beaten down to under 200K in chips when he pushed it all in with K K on his side. But Drache had A A on his and none of the other cards helped either player. Exit to the rail, stage right.

At the heads up Freddie Ellis had 2,490,000 chips and Eric Drache had 1,770,000. Both were highly experienced Seven Card Stud players, so this was a sight to see. It did take 4 hours to complete as both opponents sought after weaknesses that didn't exist. They were both under a lot of pressure as action continued at level 28 which had $20,000 ante, $30,000 low card, $100,000 completion and $100,000/$200,000 limits. Finally, after a few bad hands Drache took his last 20,000 and put it in. Ellis called and when the dust settled, Ellis had established a heart flush to win the event along with his first WSOP gold bracelet.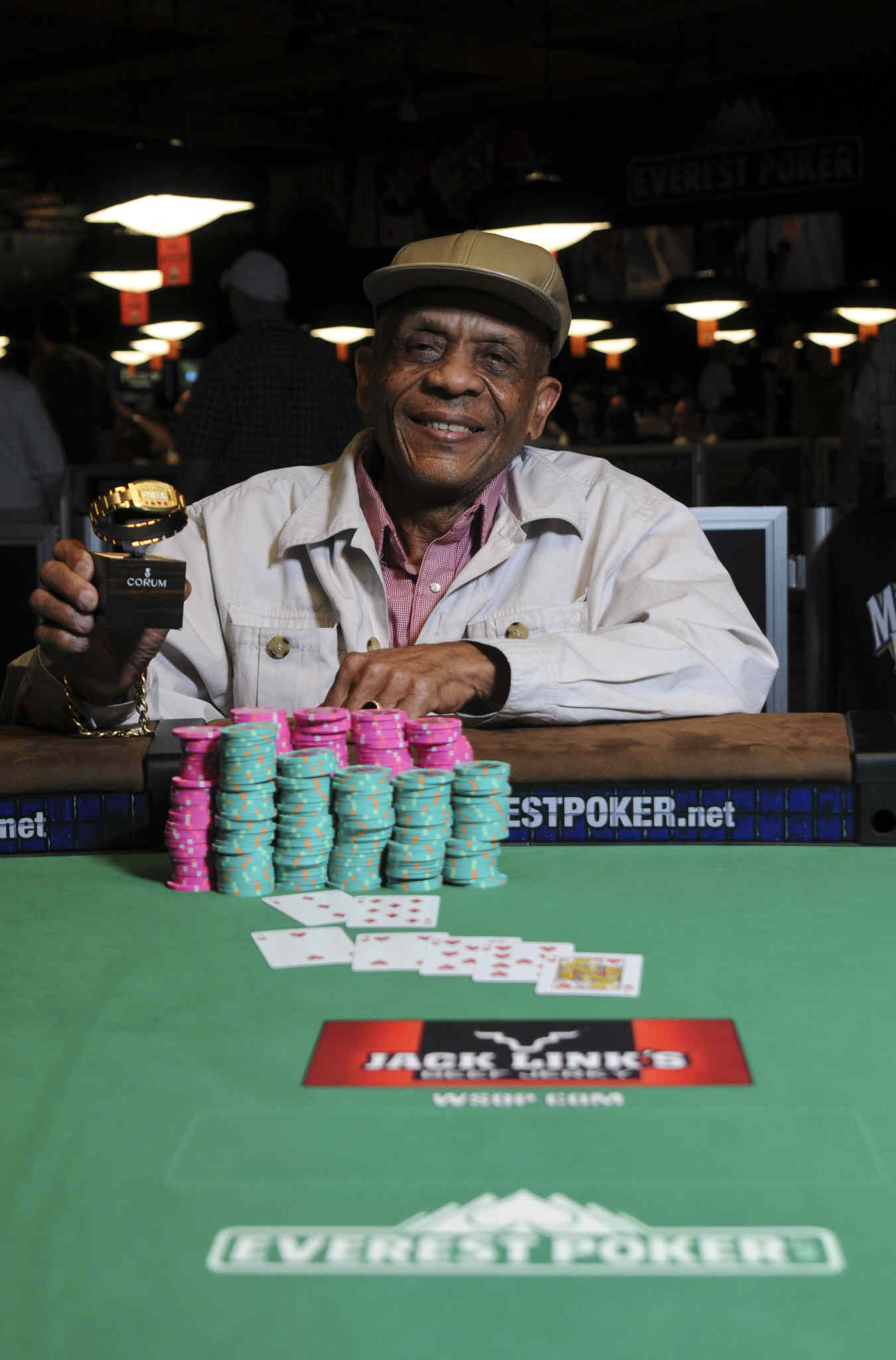 Freddie Ellis
Freddie Ellis -- $373,744
Eric Drache -- $231,014
Ville Wahlbeck -- $152,915
Max Pescatori -- $107,959
Hasan Habib -- $80,969
Ivan Schertzer -- $64,297
Greg Mueller -- $53,866
Tim Phan -- $47,532
Jeffrey Lisandro -- $36,267