Home Online Casino Real Money
2009 WSOP Event Schedule WSOP TV Schedule Free Slot Games Site Map 3 Webmasters




All linked player names have free bios, courtesy of FullTiltPoker
Event #7 No Limit Hold'Em
Day 1
Buy-in: $1,500
Players: 2,791
Prize pool: $3,809,715 going to the top 297 players

Wow, this was a very good sized field. Some of the faces seen were Evelyn Ng, Kelly Kim, Maria Ho, Erica Schoenberg, Hevad Khan, T.J. Cloutier, Kenna James, Theo Tran, Trond Eidsvig, Kathy Liebert, Freddy Deeb, Scott Seiver, James Akenhead, Brandon Cantu, Justin Bonomo, Bertrand Grospellier and Gavin Smith. You truly need to be at the RIO to see and admire the level of the boom, boom, firepower here on the floor.

Among the first to go was Bill Gazes after his pocket Queens were overcome by the King high straight of another player. Following them out the door were Freddy Deeb, Dario Minieri, Jean Bellande, Joe Sebok, Morgan Machina, C.K. Hua, Vanessa Rousso, Ester Taylor, Barry Schulman and Kristy Gazes. Phil Hellmuth also busted after going in with Qh 8h and having his opponent turn over pocket Q's. Before Phil went in, the board had 10h 7h 3 Q. The river bricked for Phil and he lost out to the set of Queens the other player made. Needless to say everyone stopped to see which way he would blow up. It was disappointingly mild for those used to his spectacular episodes after losing. Chris Ferguson who placed third in this event last year, busted out on Day 1. We will look forward to seeing him in other events. A total of 337 remain for Day 2. Here are the top 9 finishers:


Victor Greeley -- 195,300
Jerry Fowler -- 183,200
Gary Tang -- 145,300
Hyun Jung -- 129,700
Jacobo Fernandez -- 123,000
James Passavant -- 112,500
Enio Bozzano -- 105,900
Paul Dominiski -- 102,300
Christian Choi -- 101,700
Day 2
As we get closer to the bubble, 337 players will become more conservative. The order to "Shuffle Up And Deal!" was given and everyone went to work in the Amazon room. Blinds were at 600/1200 with a 100 ante. Players began doubling and growing their stacks. Shawn Deeb doubled up twice early on to have a stack of 80K chips 45 minutes into the action. After the bubble burst, players were going out at the rate of 1 per minute.

Seen heading to the cashier's cage were Joe Tehan, Trond Eidsvig, Alex Jacob, Lee Childs, Sorel Mizzi, Brandon Cantu and Quinn Do after his opponent hit a King high flush on the turn. Then misfortune placed its touch on Shawn Deeb and he lost all his chips in two hands! Oh well, next event Shawn.

But not everyone was on the losing end of things. At the end of the day there were 33 left in the field. Names like Francois Safieddine (215,000 chips), Philip Sousa (278,000 chips), Tom Koral (286,000) and Jason Riesenberg (318,000) will be at the tables to keep things hopping. Here are the top 9 with counts:
Craig McConville -- 1,035,000
Steve Karp -- 957,000
Jacob Kalb -- 894,000
Jeremy Joseph -- 697,000
Walter Wright -- 596,000
Michael Pesek -- 592,000
Mark Salinaro -- 556,000
Travis Johnson -- 458,000
Paul Dominski -- 448,000
Day 3 -- Final Table

This should be a wild day as there will be 33 players here to compete for the championship and the gold bracelet. Play continued at level 20 with blinds at 8,000/16,000 and ante of 2,000, just a few minutes after 1:00 PM. Big pots quickly moved players into the 1 million chip area. Kam Low, Walter Wright, and Jim McClain did this in the first hour of play. Two hours into the action there were only 18 left with just 9 to go. When we got down to 10 players, there were two of them with over 2 million in chips, namely Travis Johnson 2,050,000 and Craig McConville 2,470,000. The 10th player to go was Jacob Kalb who took his pocket J's all-in preflop and was called by Craig McConville with A K suited. The flop showed K K 3 and another 3 on the turn, giving Craig a full house and the rest of Jacob's chips.

After dinner break it was time to go back to the table. Kam Low went out in 9th place, losing to the set of Queens belonging to Travis Johnson. Next hand it was James McClain in 8th, after being set straight (Queen high that is) by Mark Salinaro. Walter Wright ended his bracelet quest in 7th due to the pocket 5's of Travis Johnson. In 6th place was Brian McInnis, taking home a six figure payout for his efforts in this event. For a 5th place finish was Craig McConville who went from over 3.1 million chips to zip after receiving the thumbs down from the hand of fate. The man who could not lose, started hemorrhaging chips only to have the last of his stack go to Travis Johnson. That put Travis over the 5 million mark at this final table. Mark Salinaro had his pocket 7's put to sleep by the paired Kings belonging to Steve Karp for a 4th place finish for Mark. Then Mike Ciotola ended up in 3rd after seeing the paired Aces of Travis Johnson.

It was time for heads up between Travis Johnson with 10,000,000 chips and Steve Karp having 2,500,000. After 45 minutes of Johnson pressuring Karp at every opportunity, the winning hand came. Karp raised and Johnson moved all-in at which Karp instantly called. Karp produced pocket 5's and Johnson has A Q. The flop was K 10 4, turn card a Q and the river card a J, giving Johnson a Broadway straight and the gold bracelet!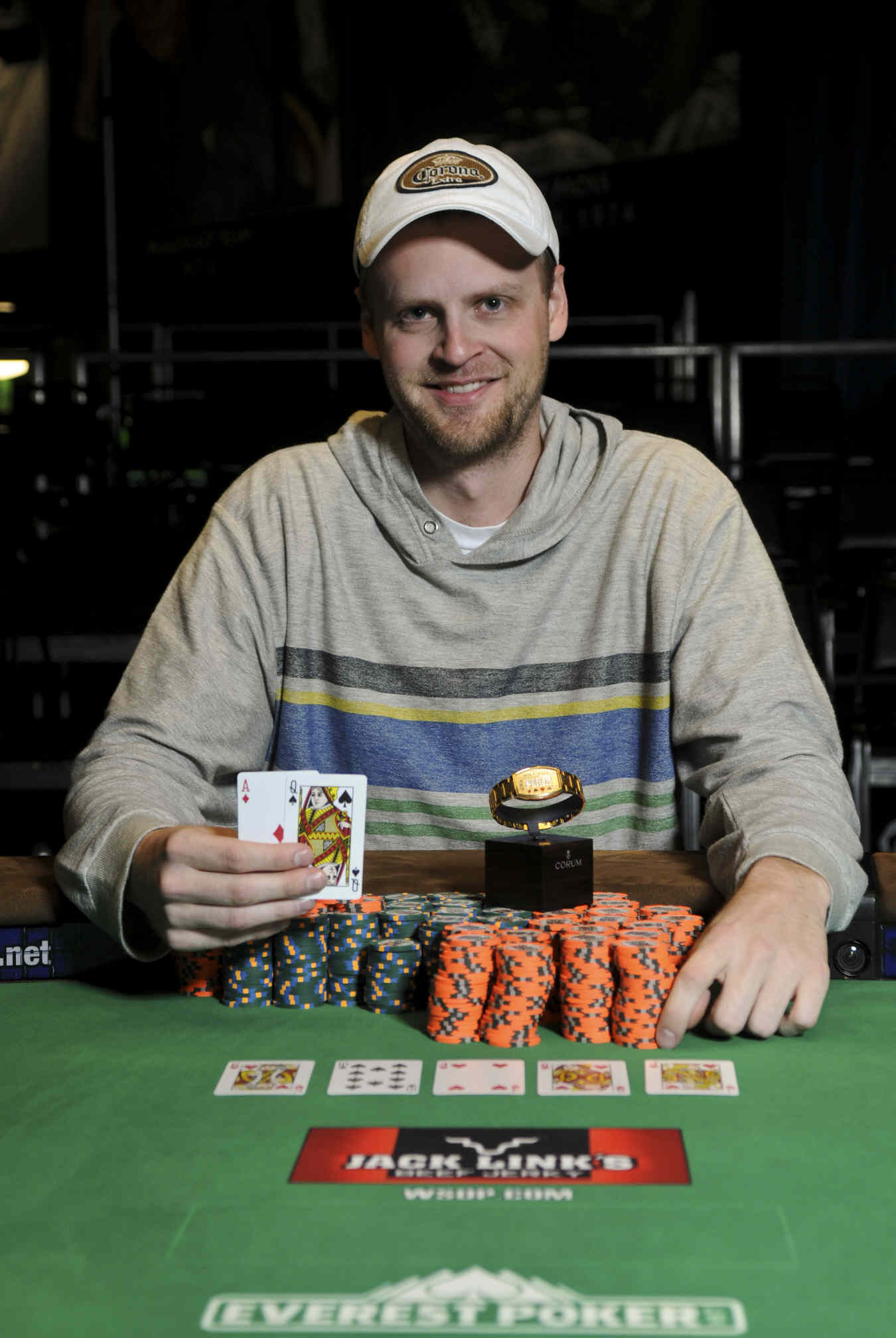 Travis Johnson
Travis Johnson -- $666,853
Steve Karp -- $414,116
Mike Ciotola -- $273,385
Mark Salinaro -- $193,343
Craig McConville -- $145,721
Brian McInnis -- $116,234
Walter Wright -- $97,985
James McClain -- $87,013
Kam Low -- $81,185