Home 2009 WSOP Event Schedule WSOP TV Schedule Free Slot Games Site Map 3 Webmasters




All linked player names have free bios, courtesy of FullTiltPoker
Event #8 2-7 Draw Lowball No Limit
Day 1
Buy-in: $2,500
Players: 147
Prize pool: $338,100 going to the top 21

The description for Event #8 2-7 Draw Lowball No Limit did not say so, but this is a triple chance event. What that means is that 1) all players start with 2500 chips, but have the option of adding on at anytime during the first three levels. 2) the first player in must put a raise into the pot. 3) this event is a single draw event, not a triple draw event. We now take you back to our regularly scheduled programming.

Seen in the field are Berry Johnston, Doyle Brunson, Andy Black, David Grey, Robert Mizrachi, Mickey Appleman, Jean Robert-Bellande, Dutch Boyd, Juan Carlos Mortensen, Jennifer Harman, Nam Le, Greg Raymer, Jimmy Fricke, Mike Caro, Erick Lindgren, Huck Seed, Scotty Nguyen, Chau Giang, Freddy Deeb and Barry Greenstein. And John "The Razor" Pham is here who won the version of this event last year, (2008 WSOP Event #40 2-7 Triple Draw Lowball).

Action was underway at 5:00 PM for the field of 147. It actually took a while to get going because so many players were scooting in late from other events or just plain did a Phil Hellmuth an hour or so into the fray. But what was interesting was that you overheard some of the famous prop bets being discussed. Johnny Hennigan and Erick Lindgren actually discussed but did not initiate a $2 million dollar prop bet. Wow! Anyway, even triple chips were not enough to help some as Mike Caro and Nikolay Evdakov were busted before the third level. After the third level began, Jimmy Fricke went straight to the rail courtesy of Mike Matusow. Mike Wattel and Kenny Bedoya were both eliminated by Erik Seidel on the same hand. Then Josh Arieh and Michael Mizrachi were also both gone. Mizrachi lost to the 9 - 5 low held by Tracey Nguyen resulting in his boot to the rail. Many top names were no longer with us, and by the time the day ended there were 35 players left. Here are the top 9:
Layne Flack -- 75,125
Raphael Zimmerman -- 60,750
Yan Chen -- 48,500
Phil Ivey -- 46,700
David Grey -- 46,025
Rodeen Talebi -- 45,000
Phil Hellmuth Jr. -- 41,150
Mike Matusow -- 40,975
John Monnette -- 39,650
Day 2

The remaining 35 players came back to their seats at 2:00 PM for another round of play. Farzhad Bonyadi was eliminated by Phil Ivey when Ivey had a better low. Erik Seidel went to the sidelines after John Monnette produced a better Jack low than Seidel. John Juanda is also no longer in this event courtesy of Daniel Alaei. Earlier, Erick Lindgren offered Daniel a $10,000 freeroll if he took out Juanda and Barry Greenstein during this event. He's halfway there!

Also it seems that Tony G can't get close to Phil Hellmuth's good side. When Phil lost a nasty hand, Tony stood up from the table he was at and was yelling if Phil was okay. After Tony started coming closer to the table that Phil was at, Phil called the floor to have Tony escorted back to his table. Phil said they had a meeting and that Tony could not be allowed to be at the same table with him. (If we get any advance notice that they will get into it, we will sell tickets.) Well Hellmuth did bust and of course it wasn't pretty. He shot up so fast that the massage therapist that was trying to help Phil jumped back to keep from getting knocked down. And Tony G offered his condolences over and over again. If Phil was willing to wait, Tony said he would bubble and they could walk out hand in hand and face the music. Phil grabbed his stuff and left.

Daniel Alaei was the bubble boy and was not able to knock Greenstein out of the event. Erick Lindgren went out in 20th place, Barry Greenstein left in 18th, Vanessa Rousso in 17th, Freddy Deeb in 12th, David Grey in 11th, Tony G in 9th and Layne Flack in 8th place.

At the end of the day there were 7 players left to go for the gold. Let's see if Phil Ivey can add another bracelet to his existing collection.
John Monnette -- 259,000
Raphael Zimmerman -- 238,000
Yan Chen -- 159,000
Elia Ahmadian -- 136,900
Eric Kesselman -- 119,400
Phil Ivey -- 106,300
Rodeen Talebi -- 94,500
Day 3 -- Final Table

Here are comments on this event from the WSOP:

The 2009 World Series of Poker $2,500 buy-in No-Limit Deuce-to-Seven Draw Lowball champion is Phil Ivey. Ivey is one of the world's best-known and most-respected poker players. This was his sixth WSOP gold bracelet, moving him into a five-player tie for seventh place on the all-time wins list. Ivey joins Layne Flack, Men "the Master" Nguyen, Jay Heimowitz, and T.J. Cloutier who each have six career wins. This was his first WSOP win in more than four years. Ivey's last win came in 2005.

Ivey collected $96,361 for first place. He was also awarded his sixth WSOP gold bracelet. Ivey now has 31 WSOP cashes, and 19 final table appearances.

Various Deuce-to-Seven tournaments have been a constant at the WSOP since 1973. In the past, Deuce-to-Seven has been played almost exclusively by high-stakes cash-game pros, and at the WSOP. This game is rarely spread inside public cardrooms -- either as cash games or tournaments. However, it is now becoming more popular as an online game. Deuce-to-Seven Lowball means the worst, or lowest-ranked hand wins the pot. The very best possible 2-7 lowball hand is 2-3-4-5-7 of mixed suits. An ace counts as a high card. Flushes and straights count against the player. While a wheel (A-2-3-4-5) is the perfect hand in standard lowball, in Deuce-to-Seven it is usually a losing hand since the straight counts against the player.

The final hand of the night came down to a single card when the players were somewhat close in chips. Ivey was dealt 7-6-4-2 and moved all-in. Monnette called the raise and showed 9-7-5-2. Ivey was the clear favorite, but Monnette was very much alive. But he caught a 7, which paired his hand (bad in lowball). Ivey caught a 5, which gave him a super-strong 7-6-5-4-2 – and the victory.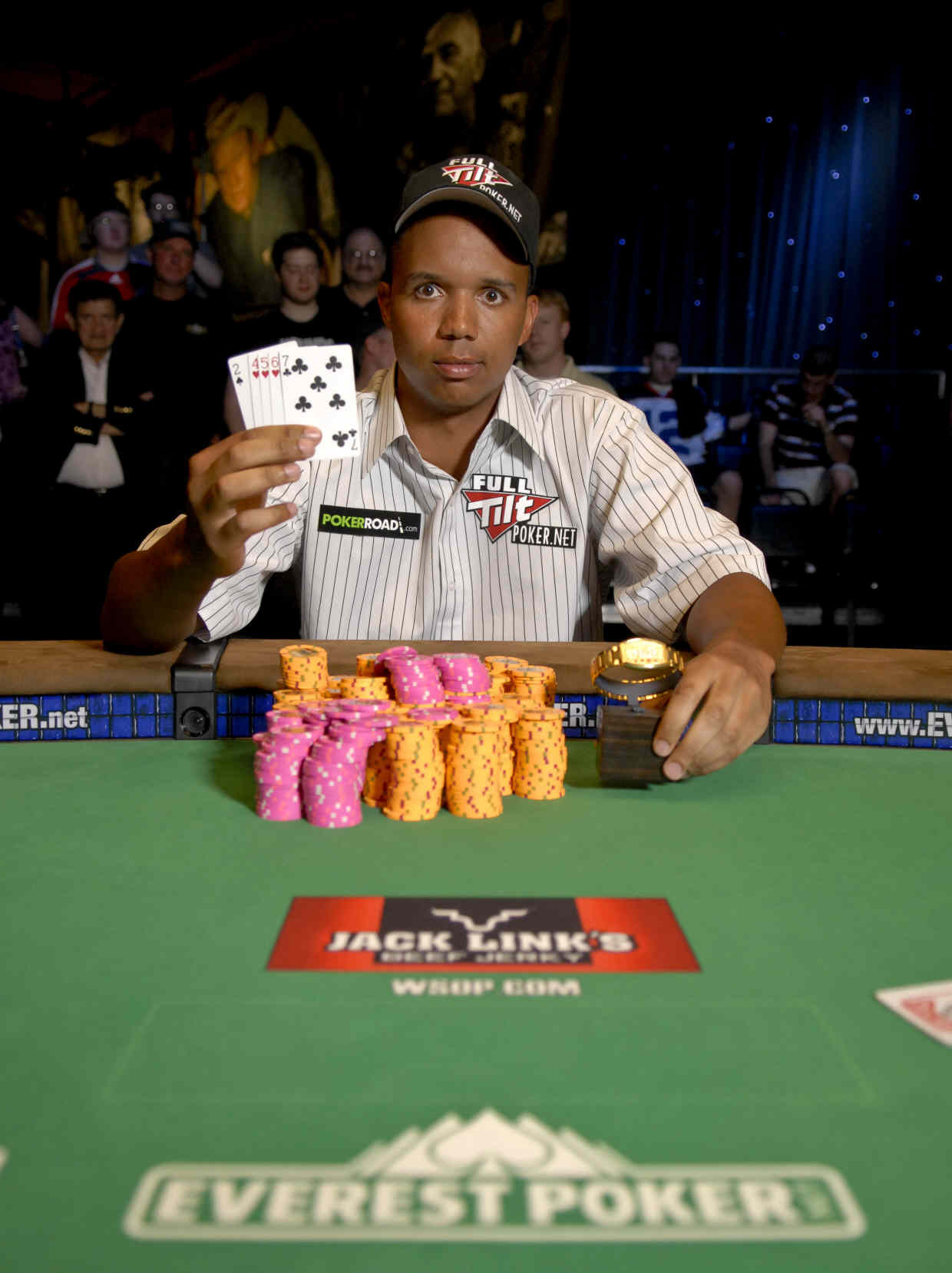 Phil Ivey
Phil Ivey -- $96,367
John Monnette -- $59,586
Yan Chen -- $38,891
Eric Kesselman -- $26,757
Rodeen Talebi -- $19,346
Raphael Zimmerman -- $14,663
Elia Ahmadian -- $11,627