Home Online Casino Real Money
2009 WSOP Event Schedule WSOP TV Schedule Free Slot Games Site Map 3 Webmasters


All linked player names have free bios, courtesy of FullTiltPoker
Event #9 No Limit Hold'Em/Six Handed
Day 1
Buy-in: $1,500
Players: 1,459
Prize pool: $1,991,535 divided between the final 144

At 12 noon, Event #9 No Limit Hold'Em/Six Handed got underway once Tom McEvoy gave the directive to "Shuffle Up and Deal". Mostly all the online poker rooms offer No Limit Hold'Em in this fashion so the 1400+ players who signed up were to be expected. Seen in the field were Bill Chen, Maria Ho, Neil Channing, Evelyn Ng, Clonie Gowan, Kevin Saul, Jeff Madsen, David Singer, Kathy Liebert, rapper Nelly, Joe Sebok, Mark Petrillo, Scott Seiver, Jimmy Fricke, T.J. Cloutier, Chau Giang, Men "The Master" Nguyen, Vivek Rajkumar h and Alan Sass.

Some left so fast due to eliminations they forgot to say hi. Seen leaving the field were rapper Nelly, Justin Bonomo, Jonathan Little, Jeff Williams, T.J. Cloutier, Mark Vos, Chau Giang, Ivan Demidov, Robert Mizrachi, Mike Caro, Joe Sebok, Tim Vance, Dario Mineri, Chris Moorman and Men "The Master" Nguyen. (Ask anyone in the Media, their heads are spinning watching players.) Around 12:30 AM, ten levels of play had been completed so the remaining 105 players bagged their chips and went to sleep. Here are the top 9 with official WSOP chip counts:
David Fox -- 186,600
Richard Freire -- 172,100
David Squires -- 169,300
Robert Lipkin -- 168,100
Ken Aldridge -- 157,800
Mathieu Clavet -- 152,700
Doug Lee -- 152,300
Allen Puzantyan -- 135,400
Jones Mackoff -- 131,200
Day 2

The goal of the day was to play until the last 6 for the final table have been established. Action started at 2:00 PM, and first bust of the day was Issac Haxton. Haxton was on the short stack with 21,700 which did not last long. Carlos Mortensen also went to the sidelines when his pocket J's met with the 7 high straight of Mats Garatin. Following him are Matt Stout, James McGuire, Todd Witteles, Thomas Fuller, Bill Chen, Robert Toye, Joe Awada after meeting the pocket A's of Allen Brown, Jerimiah Smith after having his pocket 6's beaten up by the pocket K's of Jason Melnick and Mike Batell.

After dinner break there were 42 left with 36 eliminations to go. And bustouts did take place with big chip gains for some players. Manny Miniya took pocket A's (As Ad) into a 3 way hand and came out with 565,000 chips. He competed against Alan Sass Ac Kh and Mats Gavatin Kc Ks all-in preflop. The table showed 6h 7h Qh with an Ah on the turn which looked great for Sass. But the hand of fate liked Manny better as evidenced by the Qd on the river, giving him a full house (A's/Q's) for the win. Carman Cavella also went big as he called an all-in preflop move by Allen Brown to end up with a full house (2's/10's) and 825,000 in his stack. Oh yeah, Mr. Brown joined the list of the departed after that hand.

Eliminations continued until 3:00 AM when the tournament directors said to bag up the chips and come back tomorrow. This means there will be 8 players that will hammer it out instead of 6. There will be two tables, each with 4 players a piece. Here are the names of the competitors:
Bryce Yockey -- 1,489,000
Charles Furey -- 1,169,000
Carman Cavella -- 1,059,000
Peter Gould -- 780,000
Bryn Kenny -- 656,000
Praz Bansi -- 630,000
Ken Aldridge -- 411,000
Manny Minaya -- 339,000
Day 3 -- Final Table

Play began just after 1:00 PM and within 10 minutes the first bust happened. Bryn Kenney, in 8th place, lost to the Jack kicker of Carman Cavella. Next in 7th was Praz Bansi who moved all-in with A 10 and lost to Bryce Yockey who called him with A J. So now we have the needed 6 for the final table.

After ESPN got their film in their cameras, we were back in the action. In 6th place was Manny Minaya when he pushed to the center all his chips preflop holding pocket 8's and was called by Peter Gould with pocket 9's. No other cards improved the position of either player, so Manny went to pick up the cash for his efforts. From that point, most of the action was overly careful, as a raise or all-in was enough to make the other players back off. It took 4 hours for the next bust to occur. Charles Furey just wished it had not been him in 5th place. Furey moved all-in preflop with pocket 10's and was called by Ken Aldridge with pocket 9's. The flop was 9 3 7, giving joy and pain to the faces of both players. Turn card was a Q and river a 3 which stopped the Charles Furey quest for a gold WSOP bracelet with a full house (9's/3's). In the next elimination, Bryce Yockey with pocket 10's went all-in with Carman Cavella having Kh Qh preflop. But the hand of fate had other plans and placed a Queen with two 8 cards on the board, giving the win to Cavella and the slap to Yockey who left in 4th place. In 3rd place was Peter Gould who lost when Ken Aldridge paired his Ace card on the turn.

So now we have the heads up between Ken Aldridge with 2,960,000 chips and Carman Cavella having 3,610,000 chips. One factor that makes heads up so interesting is that occasionally, one player makes an incredible comeback after being down to a chip and a chair. After Aldridge turned the tables on Cavella, he ground him down to a very short stack, went all-in only to have Cavella survive as he doubled and re-doubled his stack putting him back in the game. But after 3 hours, the last hand came when both went all-in preflop, Cavella having K 4 and Aldridge showing K Q. The flop produced 9 9 K, turn card 10 and a J for the river. So Ken Aldridge made a King high straight and became the newest champion and WSOP gold bracelet holder.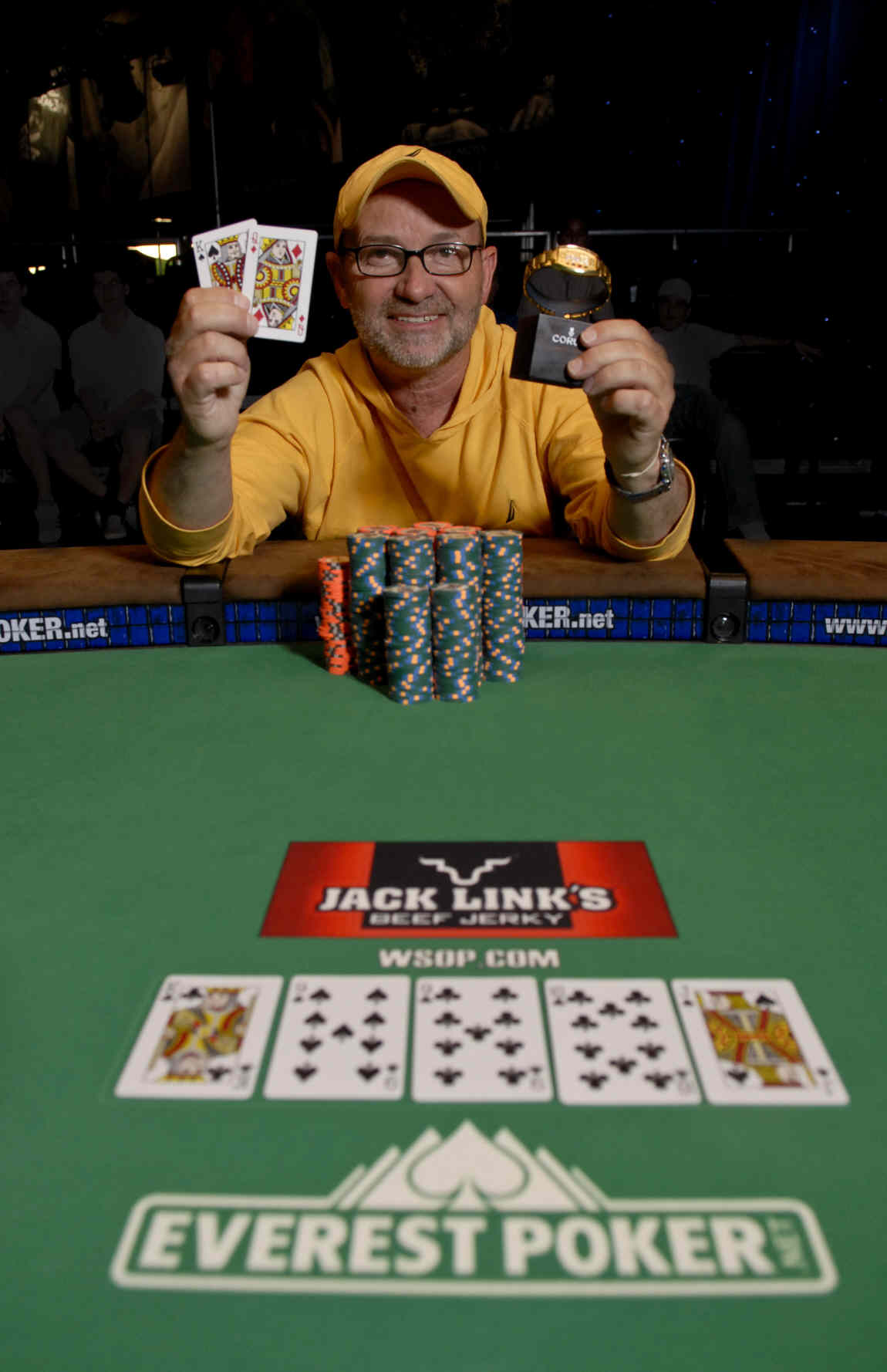 Ken Aldridge
Ken Aldridge -- $428,259
Carman Cavella -- $264,814
Peter Gould -- $170,953
Bryce Yockey -- $115,230
Charles Furey -- $80,896
Manny Minaya -- $59,049
Praz Bansi -- $42,320
Bryn Kenney -- $42,320