Home Online Casino Real Money
2010 WSOP Event Schedule WSOP TV Schedule Free Slot Games Site Map 3 Webmasters

Click on Event Schedule link to view available reports!


All linked player names have free bios, courtesy of FullTiltPoker
Event #10 Seven Card Stud Championship
Day 1
Buy-in: $10,000
Players: 150
Prize pool: $1,410,000 for the top 16

The Seven Card Stud Championship is going on at the same time as the Lakers/Celtics game, and the attention of many players is focused between here and there. Taking seats at the tables are Steve Billirakis, Barry Greenstein, Jeff Lisandro, Scotty Nguyen, Daniel Negreanu, Sorel Mizzi, Erick Lindgren, Scott Clements, Ralph Perry, David Benjamine, Chau Giang, Jennifer Harman, Hasan Habib, Mel Judah, Greg Raymer, Yuval Bronshtein, Doyle Brunson, Cyndy Violette, Greg Mueller and Ted Forrest. Returning to the tables is last year's champion Freddie Ellis. Everyone received $30,000 in chips for their $10K entry fee.

Hitting the rail before dinner were Cyndy Violette, Matt Hawrilenko, Erick Lindgren. Annie Duke's chair was vacant as well. Greg Raymer was knocked out of the running by Doyle Brunson, so sometimes it takes a champion to beat a champion. Day 1 had 85 players that will move on to Day 2. Here are the top 9 with chip counts:
Michael Mizrachi -- 191,900
Vladimir Schmelev -- 178,100
Eric Buchman -- 119,000
Ray Dehkharghani -- 108,300
Doyle Brunson -- 105,100
Alexander Kostritsyn -- 99,400
Men Nguyen -- 97,700
Edouard Mignot Bonnefous -- 97,500
Todd Barlow -- 96,100
Cash amounts for the final table finishers:
$394,807
$243,958
$152,787
$110,628
$86,461
$68,949
$55,991
$46,205
$38,676
Day 2

Still in the running on Day 2 is 2009 Champion Freddie Ellis with 89,000. Also in the mix are Nick Schulman with 96,000, John Racener 78,200, Robert Mizrachi 72,900, Greg Mueller 63,500, Daniel Negreanu 55,300, Chris Ferguson 50,900, Hasan Habib 55,300, Denise Molloy 50,400, Allen Kessler 37,900 and Todd Brunson 42,800. Soon after the start, short stacked players Alexander Kravchenco, Nick Frangos and Benjamin Lin busted out. Luck ran out for Allen Kessler as his 9 7/ 7 K 3 K needed help to stay alive verses the Aces and 10's made by Alessio Isaia had, but the needed card never came and Kessler had to say good bye.

At the end of the levels played, there were 12 left to move on to Day 3. Play will continue at level 17 with limits of $10,000/$20,000, ante of $2,000, low card of $3,000 and completion of $10,000.
Vladimir Schmelev -- 921,000 (chips)
Sirious Jamshidi -- 638,000
Michael Mizrachi -- 544,000
Nikolay Evdakov -- 543,000
Steve Billirakis -- 448,000
Joe Cassidy -- 410,000
Men Nguyen -- 302,000
Dan Heimiller -- 222,000
Eric Buchman -- 142,000
Final Table

Final table action began at 3:00 PM. It took 3 hours to get down to the 9 for the final table. First to end his quest for the bracelet was Dan Heimiller in 9th place. In a battle between him and Men Nguyen, Heimiller had many outs for himself but none materialized leaving Nguyen the winner with split Aces. Split Aces also sent Sirious Jamshidi away in 8th after Brandon Adams ended up with them, victorious by the 7th street. Vladimir Schmelev finished in 6th after losing to the two pair (A's and 8's) belonging to Men Nguyen. The two pair belonging to Brandon Adams (10's and K's) were also responsible for busting Michael Mizrachi in 5th place. Nikolay Evdakov eliminated Joe Cassidy in 5th with a pair of 9's he made on fourth street. Then Evdakov had to vacate his chair after losing to Nguyen when his split Aces were beaten by the two pair (6's and 5's) turned over by Nguyen, resulting in Evdakov's 4th place finish. Two hands later, Steve Billirakis walked away in 3rd place courtesy of the set of 7's made by Nguyen.

Heads up began with Men "The Master" Nguyen having 2,700,000 chips verses Brandon Adams with 1,800,000. It isn't known if it was the number of beers consumed by Nguyen or the confidence, but he went in blind on many hands and won them. (The beers.) And Adams held up to the drunken trash talk very well. Even when the stack in front of Adams continued to dwindle, Men still kept going in blind. And when the last hand took place, Men convinced Adams to go all in blind too! Adams made a pair of Queens on fourth street, but Men got made a pair of Kings on the river and won bracelet number seven. In fact, when he knew he had the other King, he yelled, "Picture!", and almost fell backwards off the stage. Poker, you gotta love it.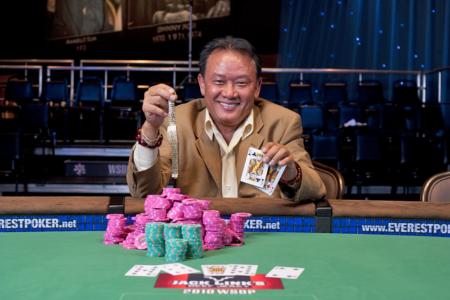 Event #10 Champion -- Men 'The Master' Nguyen
Men Nguyen -- $394,807
Brandon Adams -- $243,958
Steve Billirakis -- $152,787
Nikolay Evdakov -- $110,628
Joe Cassidy -- $86,461
Michael Mizrachi -- $68,949
Vladimir Schmelev -- $55,991
Sirious Jamshidi -- $46,205
Dan Heimiller -- $38,676