Home Online Casino Real Money
2010 WSOP Event Schedule WSOP TV Schedule Free Slot Games Site Map 3 Webmasters

Click on Event Schedule link to view available reports!


Play Video Poker games here like Aces and Faces!
Event #13A And B No Limit Hold'Em
Day 1
Buy-in: $1,000
Players: 3,042
Prize pool: $2,737,800 for the top 324 finishers

Day 1A

Event #13A And B No Limit Hold'Em will probably take 4 days to play seeing that day 1 was split into 1A and 1B. Things got underway at 12 noon with tournament director Jack Effel giving the go ahead to the dealers. Scurrying to thier seats are Vitaly Lunkin, Kathy Liebert, David Singer, Barry Shulman, Chad Bautista, Tom McEvoy, John "Miami" Cernuto, Paul Wasicka, Jan Van Halle, Nenad Medic and Melissa Hayden. Some of the "Tables of Death" were incredible. Initially one had Cory Carroll, Andy Black, Allen Cunningham, Kathy Liebert and John Cernuto. Ugh! So the quest for another bracelet began.

Player Billy Kopp went out after his straight flush draw lost to the pocket Q's of George "Riley" Panagakis. Following him were Katja Thater, Allen Kessler, Bryan Devonshire, Kevin Saul, Jeff Williams and Joe Sebok. Allen Cunningham also left, but not without a fight. Cunningham went all-in with pocket 10's and was called by a player with pocket J's. The flop was 9 J 9, which probably made Cunningham's heart drop, but the turn card was a 10. As the river card came from the dealer, everyone at the table saw it was an 8 which did not give the 4th 10 Cunningham needed to stay alive. Allen just got up and quickly made his exit from the Pavilion Room. Total number of players on Day 1A was 1,992 with 278 making the cut for the next round.
Andrew Black -- 90,275
Pedro Reis -- 78,550
Marcello Delgrosso -- 68,300
Steven Mcloughlin -- 56,600
Shaun Hartlin -- 55,750
Jeremy Maher -- 55,700
Andrew Youngblood -- 54,300
Diogo Borges -- 54,200
Michael Leibgorin -- 54,050
Day 1B

Game plan for the next field of dreamers is to play 8 1/2 levels to match the time spent on day 1A. Players seen so far are Jerry Yang who won the Main Event in 2007, Joe Cada who won last year, Burt Boutin, J.C. Tran, David Pham, Kelly Kim, Sorel Mizzi, Bertrand Grospellier, Berry Johnston, Phil Hellmuth, Nam Le, Antonio Esfandiari, Michael "The Grinder" Mizrachi, Brian Rast, John Phan, Eugene Todd and Ylon Schwartz.

Today was not a good day for Jerry Yang as it only took 35 minutes for him to bust out on day 1B. Yang had it all-in with two pair (7's and 6's), but it wasn't enough to fend off the flopped straight made by his opponent. Five minutes later, Erica Schoenberg lost with A K suited to the pocket 10's of the other player. Then, so many players were being eliminated to where it was almost offensive. Seen leaving the field were Joe Cada, Neil Channing, Marco Traniello, Bertrand Grospellier, Annette Obrestad, Bernard Lee, Humberto Brenes, Jonathan Little and Jason Mercier. Phil Helllmuth had been nursing a short stack when he went in with A Q and was called by a player with pocket 9's which held to the river. Everyone said he made a graceful exit, but we were not close enough to actually hear anything. After dinner break there were 327 players left which was pared down to 168 by the end of the day. This will make a total of 446 that will see Day 2 chairs.
Michael Lederer -- 77,350
Narinder Singh Khasria -- 76,000
Jack Schanbacher -- 63,150
David Baker -- 60,950
Matthew Vance -- 60,475
Jonathan Tare -- 57,450
Robert Bryan -- 55,100
Robert Diaz -- 47,600
Jason Jochem -- 46,075
Payouts for the final table players
$472,479
$292,232
$206,813
$149,702
$109,621
$81,203
$60,833
$46,077
$35,290
Day 2

Things started at 2:30 pm for the 446 players from Day 1, and it took two hours to reach hand for hand play before the money was reached. As soon as the money was reached, players were shouting "all-in" from the corners of the room. Gone were Paul Wasicka, Perry Friedman and Phil Gordon. And the busts kept coming even after dinner break. Around 10:00 PM, it was decided to continue up to level 17 with blinds at $3,000/$6,000 and an ante of $500 and call it a night. Before the evening ended, John "The Razor" Pham was eliminated and Shaun Deeb was crippled in a hand where the opponent made a set of 7's and was soon vanquished from the field. A total of 56 will come back tomorrow in order to get one step closer to the bracelet.

Sidelined during Day 2 play were Jan Von Halle, John Cernuto, Bill Chen, David Levi, Lisa Parsons, Liv Boeree, Michael Chow, Davidi Kitai, Gregg Merkow, Vitaly Lunkin and Victor Ramdin. But still in the running are Burt Boutin with 67,000 chips, Andy Black with 51,000, Ylon Schwartz 183,000 and Jared Hamby 217,000 outside of those who made the top 9. Day 3 will begin at 2:30 PM tomorrow.
Matthew Vance -- 547,000
Christopher Brammer -- 518,000
Mats Gavatin -- 453,000
Daniel Carter -- 417,000
Carl Olson -- 325,000
Philip Sparta -- 280,000
Kyung Han -- 259,000
Jeremy Defrande -- 247,000
Jasper Wetemans -- 228,000
Day 3

Not much to report on this round except play went at a good clip. It took 6 1/2 hours to reach the 9 for the final table. Tournament officials wanted to play down to a champion, but things went soooo slow to where it was decided to call it a night and come back tomorrow for the final table. Here are the players and their chip counts:
David Baker -- 2,553,000
Matthew Vance -- 1,731,000
Steven Gee -- 1,540,000
Nicholas Heather -- 993,000
Kyung Han -- 613,000
Daniel Thomas -- 602,000
Jared Hamby -- 423,000
Mats Gavatin -- 393,000
Jeffrey Gross -- 281,000
Final Table

The fifth and last day of play will continue at level 23 with blinds at $12,000/$24,000 and antes of $3,000. Just 30 minutes into play, Mats Gavatin left the table in 9th place when his paired Aces could not hold up to the set of Jacks made by Nicholas Heather. Jared Hamby finished in 8th place after his effort with pocket 9's lost to the wheel made by David Baker. Kyung Han made an all-in attempt with pocket 8's and David Baker silenced it with a Broadway straight, busting Han in 7th. Daniel Thomas tried to take another step to poker immortality with pocket J's, but failed in 6th place when Matt Vance made quad Aces on the river. And Jeffrey Gross received no help with his all-in when Vance produced pocket Q's preflop that held to the river, putting Gross on the rail in 5th. Next on the Vance hit list was Nicholas Heather who moved in with pocket 2's and fell when Vance paired his Ace card on the flop, halting Heather's advance in 4th. In 3rd place was David Baker who had the misfortune of losing to the Queen kicker of Steven Gee.

On the final hand Stven Gee paired his Ace card on the turn and defeated the J Q of Matthew Vance in order to capture the gold bracelet of champions.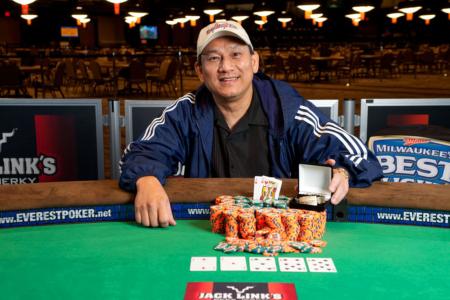 2010 Bracelet Champion #13 -- Steven Gee
Steven Gee -- $472,479
Matthew Vance -- $292,232
David Baker -- $206,813
Nicholas Heather -- $149,702
Jeffrey Gross -- $109,621
Daniel Thomas -- $81,203
Kyung Han -- $60,833
Jared Hamby -- $46,077
Mats Gavatin -- $35,290