Home Online Casino Real Money
2010 WSOP Event Schedule WSOP TV Schedule Free Slot Games Site Map 3 Webmasters

Click on Event Schedule link to view available reports!




All linked player names have free bios, courtesy of FullTiltPoker
Event #14 2-7 Draw Lowball (No-Limit)
Day 1
Buy-in: $1,500
Players: 250
Prize pool: $337,500 for the top 28

Event #14 2-7 Draw Lowball (No-Limit) is a little different in that there will be a no limit structure and only be a single draw. All players start with a 1,500 chip stack and will receive three additional add-ons each worth 1,000 in tournament chips. At any time during the first 4 levels a player can take their add-on, but must have used them all by the beginning of the 5th level. Dealers began shuffling cards at 5:00 PM. Although there are just 23 tables set up, there are many notable players seated at them. Seen are Daniel Negreanu, Mike Matusow, Annette Obrestad, Lex Veldhuis, Archie Karas, Michael Glantz, Greg Raymer, Chau Giang, John D'Agostino, Justin Bonomo, Fabrice Soulier, Katja Thater, Kevin Saul, Sabyl Landrum, Dewey Tomko, Erick Lindgren, Chad Brown and Peter Gelencser who won the Event #7 $2,500 2-7 Triple Draw bracelet. And of course defending champion Phil Ivey.

Early busts include Steve Zolotow and Jean-Robert Bellande. Bellande's opponent managed a 10 8 5 4 3 and Bellande was doing better until he drew a King on seventh street. Young Phan was also railbound after his 8 6 5 4 2 was overcome by Lyle Berman's 7 5 3 2 6. Tom Schneider tabled Q 6 5 4 3 which was low enough to send Marc Karam away after he drew an Ace on his first card. Phil Hellmuth also followed close behind as David "Chino" Rheem with 9 8 7 4 3 in his hand made Hellmuth flash a 10 card as he grabbed his coat and emptied his seat. Rep Porter took the rest of Chau Giang's chips with a 7 5 4 3 2 which naturally outperformed Giang's King led hand. Others who are no longer in the field are Sorel Mizzi, Layne Flack, David Singer, Dewey Tomko, Alexander Kostritsyn, Greg Mueller, Annette Obrestad and Phil Ivey who will not be repeating another bracelet performance this year. At the end of the day, there were 68 that will return tomorrow for day 2.

Top 9 with chip counts
Nicholas Binger -- 54,300
Scott Seiver -- 46,875
Chino Rheem -- 42,725
Keith Lehr -- 39,850
Sean Snyder -- 33,000
Josh Arieh -- 32,725
Loi Phan -- 31,850
Dario Minieri -- 31,725
Alexander Kravchenko -- 30,250
Day 2

As day 2 began at 3:00 PM, it only took two minutes before a player busted. On the first hand, one player tabled 7 5 4 3 2 resulting in an instant muck and dash from the other player. Jeff Lisandro put in his last 6,000 chips and lost them to David "Chino" Rheem. Rheem showed 8 7 6 4 2, to which Lisandro just folded and left. Brandon Cantu also went the way of the fallen after seeing his opponent reveal 8 7 5 3 2 which was superior to what Cantu did not show as he mucked his hand. Chad Brown also left the building after making a six high straight which lost to everyone else in the hand. He was followed by Will "The Thrill" Failla, Steve Sung, Danny Estes and Michael Binger who was so upset over his loss to Peter Gelencser who just won a bracelet in Triple Draw lowball that he cussed and swore from his seat all the way out of the Amazon room. Gelenscer just stacked up his 32,000 in chips and continued to play until he was busted after dinner break in 23rd place by the 10 9 8 6 2 of Rheem. J.C. Tran left in 15th place after his Q - 8 hand was bettered by the Q - 7 of Nick Binger. Erik Seidel was gone in 14th after drawing a Queen card by 7th street. And David "Chino" Rheem who played very well on both Days 1 and 2, was busted in 9th place just missing the final table when he drew a King card on his second go round, ending his chance at a bracelet. In the last 5 hands tournament officials wanted to play there was one more bust in 8th. And with that there will be 7 for the final table tommorrow.

Payouts for the final table players
$92,817
$57,375
$37,857
$25,839
$18,096
$12,997
$9,568
$7,215
$5,572
Final Table players with chip counts
Nicholas Binger -- 309,500
Derric Haynie -- 189,000
Yan Chen -- 182,500
Mike Wattel -- 146,000
Alexander Kravchenko -- 144,500
James Bord -- 83,800
Todd Bui -- 68,500
Final Table

Play got underway at 3:00 PM. About 1 1/2 hours went by before Alexander Kravchenko busted in 7th place. On his last draw, he pulled a 4 which paired what he had on the board, losing the hand to Mike Wattel. Next was James Bord who drew his last card to break up a 2 thru 6 straight he made, only to pair his 3 card which was stronger than what Yan Chen had resulting in a 6th place finish for Bord. Then Todd Bui moved all-in and was called by Chen. Chen had 10 8 7 4 3 and Bui had 10 6 3 2 and drew an Ace card, ending a good run for Bui in 5th place. Derric Haynie laid claim to 4th place after moving all-in with 9 8 6 5 3 on which he stood pat. But Mike Wattel who hesistated calling for a couple of minutes, tabled 8 6 4 3 2 on which he stood pat and won the hand. The very next hand saw Nick Binger finish in 3rd after losing to Mike Wattel when he drew a Queen card on his second draw trying to improve his hand against the 10 9 6 5 2 of Wattel.

The beginning of the heads up saw both players not too far divided in chips with Wattel having 505,000 and Chen with 620,000. It took three hours for Chen to secure his bracelet win over the highly determined Mike Wattel. On the last hand Chen raised by 24,000 only to have an all-in response from Wattel of which Chen took his time to call. Wattel stood pat on his Q J 9 10 4, but Chen ended up with the better hand with 10 8 7 6 2, resulting in a 2nd place finish for Wattel and a gold bracelet for Chen which officially crowns him as champion.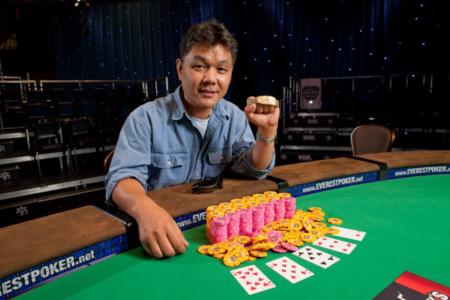 2010 Bracelet Champion #14 -- Yan Chen
Yan Chen -- $92,817
Mike Wattel -- $57,375
Nick Binger -- $37,857
Derric Haynie -- $25,839
Todd Thuan Bui -- $18,096
James Bord -- $12,997
Alexander Kravchenko -- $9,568