Home Online Casino Real Money
2010 WSOP Event Schedule WSOP TV Schedule Free Slot Games Site Map 3 Webmasters

Click on Event Schedule link to view available reports!


Play Video Poker games here like Aces and Faces!
Event #15 Seven Card Stud Hi-Low Split-8 or Better Championship
Day 1
Buy-in: $10,000
Players: 170
Prize pool: $1,598,000 divided between the top 16

Event #15 Seven Card Stud Hi-Low Split-8 or Better Championship had an entrants list that included names such as Brandon Adams, Daniel Alaei, James Van Alstyne, Josh Arieh, Steve Billirakis, Andy Bloch, Doyle Brunson, Scott Clements, David Chiu, Eli Elezra, Ted Forrest, Chau Giang, Gus Hansen, Barry Greenstein, Jennifer Harman Traniello, Hasan Habib, John Juanda, Phil Ivey, Alfredo Leonidas, Mike Matusow, Scotty Nguyen, Greg Raymer, ESPN's Norman Chad, Nick Schulman and Huck Seed. Also taking a seat is last year's champion Jeff Lisandro. In a bit of an ironic twist, Norman Chad was seated at the same table as Phil Ivey. On one 3 way hand in particular, Chad was confident in his hand to lead out with a raise, having Ivey reraise. Then Chad made the high board on sixth street and bet out. Both Ivey and the other player called him down. All 3 checked the river, and then Ivey turned over two Aces he had in the hole and scooped the pot. Poor Chad, he should have run while he had the chance. The ESPN personality ended the day with 5,800 chips which put him second from the bottom and Ivey had 109,800 in his corner which placed him second from the top.

But at least Chad did not bust out. Gone from the field are Micheal Binger, Tony Guoga, Annie Duke, Todd Brunson, Matt Hawrilenko, Greg Raymer, Rob Hollink, David Chiu, Steve Billirakis, Andy Bloch, Jennifer Harman, Doyle Brunson, Mike Sexton, Jean-Robert Bellande, Thor Hansen and John D'Agostino. There were 107 remaining for Day 2 play.
Marco Johnson -- 121,500
Alexander Dovzhenko -- 116,600
Phil Ivey -- 109,800
Christopher George -- 103,500
Sirious Jamshidi -- 103,100
Jennifer Harman Traniello -- 93,500
Francisco Hernandez -- 89,000
Barry Greenstein -- 88,700
Richard Ashby -- 87,300
Cash Payouts for the final table:
$447,446
$276,485
$173,159
$125,379
$97,989
$78,142
$63,456
$52,366
$43,833
Day 2

Day 2 action got underway from 3;00 PM. One thing that the smaller field created was high level tables of death. At one table, seated were Hasan Habib, Phil Ivey, John Juanda, John Racener, Mel Judah, David Singer and Farzhad Bonyadi. And this was not the only one! The busts went hard and leveled the biggest names. Daniel Negreanu only lasted a couple of hand into day 2 before his seat was vacated. Tom Dwan got caught between the full house high (9's/10's) of Abe Mosseri and the low made by Steve Zolotow, resulting in an early dismissal. Then Zolotow busted Ray Dehkharghani with a wheel (A thru 5) and scooped the pot. A full house made by Gus Hansen (4's/7's) was enough to bust David Bach out of the running. Brandon Adams received the signed copy of the book from Barry Greenstein after besting Barry's paired 8's with two pair (10's and 7's). And a major 5 way hand resulted in Jason Mercier busting both Eli Elezra and Robert Mizrachi at the same time with a pair of aces and a 7-6-4-3-A low. But even with that victory, a hour later Mercier was eliminated from the field by Vladimir Schmelev who made quad 6's on sixth street.

After lunch, Phil Hellmuth met his demise through Blair Rodman after Rodman made two pair (Q's and 5's), beating the pair of Aces made by Hellmuth. It did not take much longer for the field to fall to only 18 players. Making the cut were Alfredo Leonidas with 112,000 chips, Jennifer Harman with 197,000 chips, Blair Rodman with 284,000 and Chip Jett with 178,000. They will return tomorrow to battle down to the final table and then to determine a new champion.
Frank Kassela -- 515,000
Sergey Altbregin -- 497,000
Kirill Rabtsov -- 388,000
Alessio Isaia -- 382,000
Marco Johnson -- 379,000
John Juanda -- 368,000
Christopher George -- 317,000
Allen Kessler -- 316,000
Steve Zolotow -- 301,000
Final Table

And at 3:30 PM the pro studded field got underway. On the way to the final table, Alfredo Leonidas busted in 16th place, Blair Rodman in 15th and George Lind in 10th. It still did not reasonable dilute the pros in play. Seated were Jennifer Harman, Allen Kessler, Steve Zolotow, John Juanda, Dario Minieri and other well known players. First to leave in a heavy hand was Gary Benson in 9th. In a battle with six players going to fourth street, Benson with a pair of Queens was caught between Frank Kassela with a pair of Kings and Allen Kessler who's hand was so low he just mucked his cards. After dinner break, Dario Minieri was gone in 8th after his pair of Aces were supplanted by the two pair (6's and 3's) made by Allen Kessler. Then in 7th was Vladimir Schemelev who was sandwiched between the set of 10's made by Kassela and the 7 5 low of Harman. But Schemelev picked up enough points to take the lead in the 2010 World Series of Poker Player of the Year race, complementing his performance so far. Kirill Rabtsov finished his bid for the bracelet in 6th, falling to the full house (K's/8's) belonging to Kassela which beat Rabtsov's flush made on the river. John Juanda thought he had the scoop on an all-in move, but Kassela revealed a set of Aces which took the balance of Juanda's chips and shipped them over to Kassela's ever growing pile. Juanda finished in 5th. Twenty minutes later saw Steve Zolotow end up in 4th place when Kassela made a set of 9's on sixth street and Zolotow could not muster a better hand. Then cutie-pie Jennifer Harman said goodbye in 3rd place when she could not overcome the paired 4's made by Kessler on her all-in move.

Twelve hours have passed and it is 3:35 AM the next day with Allen "Chainsaw" Kessler with 1,030,000 chips and Frank Kassela having 4,070,000 chips on his side of the table. Many brave hearted attempts to win were made by Kessler, but the poker gods were on the side of Kassela as the stack in front of Kessler dwindled. On the last hand, Kessler made two pair (10's and 8's) by seventh street, but Kassela outdid that with a larger two pair (7's and Q's). The two players shook hands, Kessler went to pick up the largest payout in his career and Kassela posed for a picture with his new gold bracelet which is the sign of champions here at the WSOP.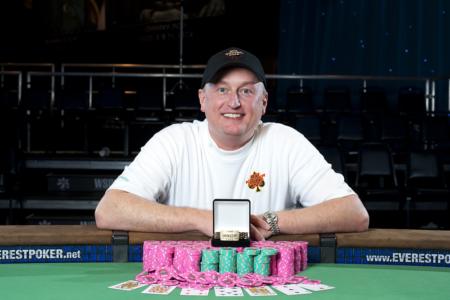 2010 Bracelet Champion #15 -- Frank Kassela
Frank Kassela -- $447,446
Allen Kessler -- $276,485
Jennifer Harman -- $173,159
Steve Zolotow -- $125,379
John Juanda -- $97,989
Kirill Rabtsov -- $78,142
Vladimir Schemelev -- $63,456
Dario Minieri -- $52,366
Gary Benson -- $43,833