Home Online Casino Real Money
2010 WSOP Event Schedule WSOP TV Schedule Free Slot Games Site Map 3 Webmasters

Click on Event Schedule link to view available reports!




All linked player names have free bios, courtesy of FullTiltPoker
Event #2 $50,000 Player's Championship
Day 1
Buy-in: $50,000
Players: 116
Prize pool: $5,568,000 going to the top 16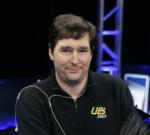 The $50,000 Player's Championship is actually the H.O.R.S.E. tournament reworked. The popularity of H.O.R.S.E. has dropped to where the WSOP decided to make changes in this big money event. Games that will be played in rotation in this event include Limit Hold'em, Omaha Hi-Low Split-8 or Better, Seven Card Razz , Seven Card Stud, Seven Card Stud Hi-Low Split-8 or Better, No-Limit Hold'em, Pot-Limit Omaha, 2-7 Triple Draw Lowball. The Final Table will play only No Limit Hold'Em. Action will begin in the Amazon room for five levels of 90 minutes each. Starting stacks will be 150,000 chips per player.

Only the top pros and the rich will enter this event as the entry fee is in the stratosphere. Taking seats so far are Andy Bloch, Josh Arieh, James Van Alstyne, Doyle Brunson, Todd Brunson, Bill Chen, Hoyt Corkins, Eli Elezra, Chris Ferguson, Chau Giang, Gus Hansen, Phil Ivey, Phil Hellmuth Jr., Issac Haxton, John Juanda, Howard Lederer, Vitaly Lunkin, Carlos Mortensen, Robert Mizrachi, Michael Mizrachi, Greg Mueller, Daniel Negreanu, Brett Richey, 2009 H.O.R.S.E. champion David Bach and Greg Raymer. As things got underway, each player received a $100 food voucher to cover lunch and dinner which was nice. After that, the first to bust during Pot Limit Omaha was Dan Shak. He lost big during an all-in against Dan Kelly and left his chair a few minutes later. Over the rest of Day 1, 6 more busted. They were Freddy Deeb, Andrew Brown, Daniel Townsend, Greg Mueller, Marc Karam and Tom Dwan.

Final Table Payout Schedule:
$1,559,046
$963,375
$603,348
$436,865
$341,429
$272,275
$221,105
$182,463
$152,730
Top players with chip counts:
Erik Sagstrom -- 329,100
David Oppenheim -- 313,800
Doyle Brunson -- 269,200
Edwin Ting -- 258,900
Justin Bonomo -- 257,300
Joseph Serock -- 253,900
Steve Billirakis -- 251,900
John Cernuto -- 251,400
Vladimir Schmelev -- 243,700
Day 2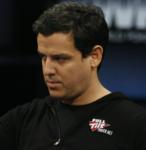 Goal for the day was to survive 6 more levels of play beginning at 3:00 PM. But today was a painful experience for many players. Bustouts took place all over with Tony Guoga among the first to leave after a round of Razz against Ashton Griffin. In this game where the worse hand wins, Griffin made a wheel after the river card was dealt and Guoga grabbed his gear and made a hasty exit. But any satisfaction for Griffin was short lived as a few minutes later during Stud, his Ace high hand could not overcome the paired Queens of another player, forcing him to follow Guoga's footsteps. Stud also claimed Daniel Negreanu as he lost the remainder of his chips to Eli Elezra. Greg Raymer had his stack slowly bleed away, with the last of it being claimed by Ted Forrest, sending Raymer to the rail. In a round of No Limit Hold'Em, Todd Brunson was busted after meeting the set of Aces made by Roman Yitzhaki.

After dinner break, Ted Lawson was eliminated by Mike Matusow during a round of 2-7 triple draw. Carlos Mortensen and Marco Johnson also went out during Triple Draw play. Jason Mercier lost out to Eugene Katchalov while playing Stud 8 or Better. Mercier could not improve his split fours and a Jack verses the split Queens and a ten held by Katchalov. Ralph Perry got caught between the high and low during Stud 8 or Better, ending his chances for a bracelet and he was followed by Mike Matusow losing to the flush made by George Lind on sixth street. Hoyt Corkins was the loser in a battle between him and Mikael Thuritz and is no longer at the tables. At the end of the sixth level, chips were bagged and 54 will take seats on Day 3.
Kirk Morrison -- 741,000
Andy Bloch -- 716,500
Mikael Thuritz -- 697,500
Nick Schulman -- 683,000
Erik Sagstrom -- 656,000
Robert Mizrachi -- 625,500
Daniel Alaei -- 605,500
Brett Richey -- 578,000
Alexander Kostritsyn -- 525,000
Day 3

As the play goes on for another 6 levels, first one out is Sorel Mizzi during Razz. He lost to Doyle Brunson who made a 10-6-3-2-A low, winning the rest of Mizzi's chips. Following quickly were Barry Greenstein, Steve Billirakis and George Lind. Lind made a straight on fifth street during Stud but ran into quads, stopping him cold. Tuan Le and Phil Ivey were left on the curb during Stud 8 or Better, a round of No Limit Hold'Em claimed Justin Bonomo and last year's champion David Bach will not repeat with another win as he joined the ranks of the busted. Bach took the last of his chips to the middle with A 5 only to meet the pocket A's of Eric Sagstrom which held to the river. During 2-7 Triple Draw, Chris Ferguson bested Jeff Lisandro with an 8-6-5-4-2 hand. Lisandro then emptied his seat. Scott Clements missed his flush draw and lost to the King high straight of Michael Mizrachi in Stud, sending Clements out for some fresh air.

Once dinner was over, it was back to the tables. Eugene Katchalov lost out to the A K of Cole South during Limit Hold'Em, leaving Katchalov railbound. Scotty Nguyen was free for two fisted drinking after Abe Mosseri made a Jack high straight flush which earned him the balance of Scotty's chips. As the night drew to a close, Doyle Brunson was eliminated by Andy Bloch during No Limit Hold'em. By the river Bloch made two pair (A's and 10's) to send the legend away to the relief of others in the field. At the end of Day 3 there were 21 left that will continue to try and see the money on Day 4.
Michael Mizrachi -- 1,483,000
Vladimir Schmelev -- 1,432,000
David Oppenheim -- 1,340,000
Abe Mosseri -- 1,338,000
Daniel Alaei -- 1,227,000
Robert Mizrachi -- 1,032,000
Mikael Thuritz -- 952,000
Allen Bari -- 940,000
James Van Alstyne -- 845,000
Day 4

The goal for today is to reach the number needed for the final table. This could take 5 or 6 levels of play. An hour into the action, Eli Elezra was the first to bustout in Limit Hold'em. After a flop of A Q 8, Daniel Alaei bet with Eli pushing the rest of his chips into the pot and Daniel called it. Daniel turned over A 10 with Eli having K Q. Eli never caught up and ended up on the sidelines, finishing in 21st place. Soon after, James Van Alstyne was squeezed between the high made by Allen Bari and the low hit by Alexander Kostritsyn during Stud 8 or Better and was out of the event. Just two minutes later Erik Seidel busted when the two pair he hit were not enough to overcome the set of 10's made by Vladimir Schmelev.

Andy Bloch went out in 16th in Stud 8 or Better after losing to the rolled up set of 3's made by Vladimir Schmelev. Brett Richey took the cash for 13th after losing to the nut flush made by Robert Mizrachi during Pot Limit Omaha. Lyle Berman was taken down in 12th by a very bad beat with the game being Pot Limit Omaha. He made quad 6's on the turn, but Robert Mizrachi hit another Ace on the river for quad Aces, with Berman responding with a quiet and orderly exit from the Amazon room. (Thank God it wasn't Hellmuth losing here!) Berman was followed by Abe Mosseri in 11th, Alexander Kostritsyn in 10th, Nick Schulman in 9th which leaves 8 very tired players for the final table. They will continue at 3:00 PM tomorrow.
Robert Mizrachi -- 3,125,000
David Baker -- 3,095,000
John Juanda -- 2,620,000
Mikael Thuritz -- 2,300,000
Michael Mizrachi -- 2,175,000
Vladimir Schmelev -- 1,925,000
Daniel Alaei -- 1,705,000
David Oppenheim -- 460,000
Final Table

First thing to mention is that the final table will make ESPN, so when the WSOP viewing schedule comes out we'll tell you the dates and times. And the only game will be No Limit Hold'Em. Blinds started off at $20,000/$40,000 with a $10,000 ante. David Oppenheim began as the short stack and went to work and increasing his pile to 1.8 million chips within the first 90 minutes. But Mikael Thuritz was not that fortunate as his bust in 8th place was one that turned out the light at the end of the tunnel. With his last 55K, Thuritz went all-in preflop with Q J suited and was called by Michael Mizrachi with 6 4. The flop was 6 6 4 with two meaningless cards, which showed Thuritz the way to the cashier's cage. In 7th was Daniel Alaei who took his short stack and made his preflop move with A 6 and was called by Vladimir Schmelev with A K. The King kicker won the hand for Schmelev and gave the boot to Alaei. David Baker left in 6th after losing the rest of his chips to Michael Mizrachi who called him with A K and had the fortune of his King kicker holding to the river.

Then Michael Mizrachi did the unthinkable, he busted his own brother out of the tournament in 5th place! Robert Mizrachi moved all-in with A 10 and was called by Michael "The Grinder" Mizrachi with Q J. The board showed 8 2 3 J 2 giving The Grinder two pair and another page in sibling rival history. Amazingly, it was the only time the railbirds were completely quiet during the final table. John Juanda had to settle for 4th as his K 9 suited was not enough to beat the pocket 10's of Schmelev. From this point it was a long time before an elimination took place, with each player raking in pots or folding. Hands were being played every 3 to 4 minutes. But David Oppenheim ended up in 3rd after he went in with pocket 8's against Schmelev with K Q, only to suffer defeat when another Queen landed on the river.

Heads up began with Mizrachi having 10,635,000 chips and Schmelev with 6,765,000. At one point Schmelev had almost 13 million in chips, but the Grinder turned that when he doubled up with a nut flush hand. Then Schmelev lost chips continuously to where he was down to 575,000. The winning hand took place when The Grinder moved all-in on the button and Schmelev called. Grinder has Q 5 and Schmelev has Q 8. The board showed 9 6 4 5 4, which sent out a huge eruption of cheers from the crowd. And with that Michael Mizrachi lays claim to the second gold bracelet here at the RIO and a beautiful trophy.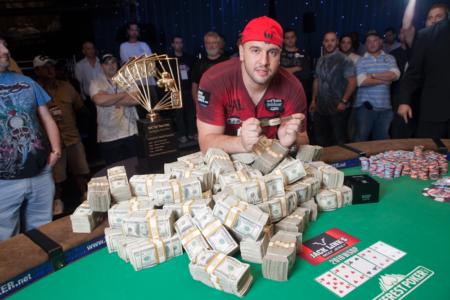 Event #2 Champion -- Michael Mizrachi
Michael Mizrachi -- $1,559,046
Vladimir Schmelev -- $963,375
David Oppenheim -- $603,348
John Juanda -- $436,865
Robert Mizrachi -- $341,429
David Baker -- $272,275
Daniel Alaei -- $221,105
Mikael Thuritz -- $182,463