Home Online Casino Real Money
2010 WSOP Event Schedule WSOP TV Schedule Free Slot Games Site Map 3 Webmasters

Click on Event Schedule link to view available reports!




All linked player names have free bios, courtesy of FullTiltPoker
Event #20 Pot-Limit Omaha
Buy-in: $1,500
Players: 885
Prize pool: $1,194,750 for the top 81 finishers

Event #20 Pot-Limit Omaha is continuing to see a higher level of attendance for the WSOP this year. WSOP attendance is up 10 percent over 2009 through the first 20 bracelets. One of the players taking up chairs is last year's champion Jason Mercier focused on a repeat performance. Seen taking seats after paying the entry fee were James Akenhead, Barny Boatman, Roland DeWolfe, Josh Arieh, Jeff Banghart, Praz Bansi, Scott Fischman, Nick Binger, Andy Black, Jeremiah Degreef, Chris Ferguson, Chau Giang, Jesper Hougaard, Brett Jungblut, Phil Ivey , Nam Le, Hevad Khan, Matt Keikoan, Kathy Liebert, Erick Lindgren, Tom McEvoy and Carlos Mortensen. One change in this Pot-Limit Omaha this year is that Harrah's implemented a 2nd chance stipulation, where players are given three extra red tokens worth 1,000 each on top of the initial 1,500. Players can exchange these tokens for chips at any time as long as they're in a hand.

Day 1 came to a close with just 95 players remaining in the field. Day 2 finished off all but 9 who were fortunate enough to make the final table.

The final table contained two former WSOP gold bracelet winners, Nenad Medic and Blair Rodman. In all, the action lasted 8 hours and 10 minutes until a champion was crowned. First to bust in 9th place was short stacked Denton Pfister who's Q Q 10 6 fell victim to the paired Aces John Barch made on the flop. On the very next hand Tyler Patterson with 10 Q A 6 was firmly shut down by Blair Rodman who made a full house (A's/8's) by the turn card. Patterson finished 8th. Then the hand of fate dropped the Klinghammer on Blair Rodman, sending Rodman off in 7th place after establishing two pair (A's and 6's) by the turn for Klinghammer. Chris Hyong Chang picked up his winnings for capturing 6th place. Ashkan Razavi grabbed the payout for 5th after being caught between the high and low of Klinghammer and Nenad Medic. Soon after Medic was leaving in 4th when he lost to the Ace kicker of John Barch after the board produced K J J K K. And on the very next hand, Barch busted Trai Dang in 3rd when his paired Kings became the winning hand in their battle.

Once the heads up started, John Barch had 3,570,000 chips verses the 410,000 in front of Klinghammer Thibaut. And on the first hand it was all over. The flop was J A 7 followed by a round of betting and a 10 card on the turn. Then both players moved all in with J 7 8 2 for John and 8 10 7 2 for Klinghammer. The last card was a Queen which resulted in a pair of Jacks for John. This win allowed John Barch to take home his first WSOP gold bracelet.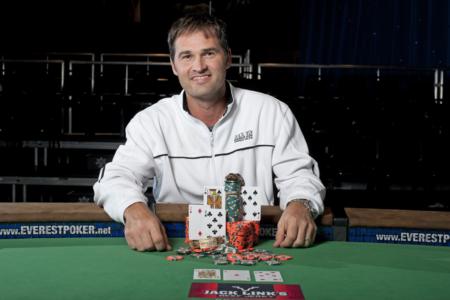 2010 Bracelet Champion #20 -- John 'Tex' Barch
John Barch -- $256,919
Klinghammer Thibaut -- $158,698
Trai Dang -- $102,306
Nenad Medic -- $74,946
Ashkan Razavi -- $55,711
Chris Hyong Chang -- $41,971
Blair Rodman -- $32,007
Tyler Patterson -- $24,695
Denton Pfister -- $19,259