Home Online Casino Real Money
2010 WSOP Event Schedule WSOP TV Schedule Free Slot Games Site Map 3 Webmasters

Click on Event Schedule link to view available reports!




All linked player names have free bios, courtesy of FullTiltPoker
Event #22 Ladies No-Limit Hold'em Championship
Day 1
Buy-in: $1,000
Players: $1,054
Prize pool: $948,600 for the top 117

Event #22 Ladies No-Limit Hold'em Championship had a number of top names in the game represented and recognized in the field. Seen were Amanda Baker, Pamela Brunson, Barbara Enright, Shannon Elizabeth, Maureen Feduniak, Svetlana Gromenkova, Lisa Hamilton, Melissa Hayden, Maria Ho, Karina Jett, Linda Johnson, Christiane Klecz, Nancy Todd Tyner, Suzan Landrum, J.J. Liu, Barbara Mcnab, Denise Molloy, Evelyn Ng, Kim Wooka, Lisa Parsons, Vanessa Rousso, Erica Schoenberg, Vanessa Selbst, Allyn Jaffrey Shulman, Jennifer Tilly and...Shaun Deeb? Upon closer observation it was the male player Shaun Deeb. He showed up in a pink slip, straw hat, and lipstick to match. There were other men in the field, but we didn't recognize them. Could Shaun be 'coming out' to send a message today? We don't know, but men entering the women's event is just gay. (Later we found out Deeb has explained that he's playing today because he lost a prop bet and that he plans on donating any money he wins to a charity benefiting a female cause.) Well, when the first 'he/she' busted out, the entire floor of women stood up and applauded as he skulked away from the tables. And one by one, as the men left the field they met rounds of applause from the floor. (One of the men was penalized two rounds of play for using a tampon as card protector.)

Vanessa Rousso busted after she took the last of her chips and went in with A 9. Sara Underwood called her with pocket Q's which developed into a set by the river, sending Rousso to the sidelines. Shannon Elizabeth was busted by Svetlana Gromenkova when her A 5 suited was beaten by the paired Kings of Gromenkova. At the end of Day 1, the head count fell to 136. Action will begin again at 2:30 PM tomorrow.
La Sengphet -- 148,500
Svetlana Gromenkova -- 70,100
Wooka Kim -- 65,200
Stacy Matuson-Taylor -- 65,100
Linda Johnson -- 64,400
Faithful Lo -- 62,700
Liv Boeree -- 57,700
Kami Chisholm -- 55,600
Evelyn Ng -- 55,200
Day 2



Payout Schedule for the Final Table Players
$192,132
$118,897
$74,389
$53,994
$39,860
$29,880
$22,728
$17,520
$13,688
Final Table Players with Chip Counts
Sidsel Boesen -- 789,000
Kami Chisholm -- 529,000
Timmi Derosa -- 437,000
Holly Hodge -- 279,000
Vanessa Hellebuyck -- 277,000
Bonnie Overfield -- 226,000
La Sengphet -- 206,000
Loren Watterworth -- 75,000
Final Table Results
Just to begin to quell controversy, WSOP Media Director Nollan Dalla stated before the beginning of the final table, that the WSOP will always support the Ladies events. This was in response to several men entering the event as a sign of protest to the fact that this was a "ladies event". One thing that was said was the ladies will always have their day and they deserve it. We agree with the WSOP that the ladies deserve an event just for them. With 56 other events, the guys need to get over it and move on. With that said, the final table got underway at 3:15 PM and it took about two hours for the first bust to take place. Loren Watterworth left the table in 9th place after her move with A 10 fell to the two pair (A's and J's) made by Sidsel Boesen. In 8th place was Bonnie Overfield who thought her A K suited was good until Timmi Derosa turned over pocket A's that held to the river. Then La Sengphet was headed in the direction of the rail in 7th place when the set of Jacks made by Allison Whalen showed her the way. On the next hand, Holly Hodge claimed the cash for 6th after Derosa paired her Queen card on the turn, giving Derosa the win. Not much longer after that Vanessa Hellebuyck began to make her move winning pots and watching her chip stack grow. Boesen called the preflop all-in from Kami Chisholm with pocket A's that ended up increasing her stack as well along with seeing Chisholm off in 5th place. Allison Whalen tried her best with pocket 2's backing her all-in move, but Hellebuyck brandished the dreaded pocket A's on her, resulting in a 4th place finish for Whalen. Derosa made a valient play with Q J suited connector cards, but a pair of 6's made the dealer push all the 850,000+ chips she wagered over to Hellebuyck. Derosa ended her quest for poker immortality in 3rd place.

The heads up had Hellebuyck with a massive lead with 2,594,000 chips and Boesen ready with 564,000 in front of her. It took just 7 hands of play to send the title of champion over to Hellebuyck. On a preflop all-in, Boesen had 9 10 of diamonds while Hellebuyck had pocket 5's. None of the dealer cards helped either player and Vanessa Hellebuyck became a happy woman indeed!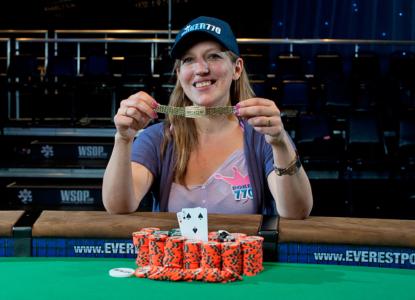 2010 Bracelet Champion #22 -- Vanessa Hellebuyck
Vanessa Hellebuyck -- $192,132
Sidsel Boesen -- $118,897
Timmi Derosa -- $74,389
Allison Whalen -- $53,994
Kami Chisholm -- $39,860
Holly Hodge -- $29,880
La Sengphet -- $22,728
Bonnie Overfield -- $17,520
Loren Watterworth -- $13,688