Home Online Casino Real Money
2010 WSOP Event Schedule WSOP TV Schedule Free Slot Games Site Map 3 Webmasters

Click on Event Schedule link to view available reports!




All linked player names have free bios, courtesy of FullTiltPoker
Event #23 Limit Hold'em / Six Handed
Day 1
Buy-in: $2,500
Players: 384
Prize pool: $883,200 for the top 36 finishers

Event #23 Limit Hold'em / Six Handed is the second 6 handed get together on the schedule so far, with the first taking place just a few days earlier. Brock Parker who won last year will attempt a repeat performance as he takes his seat. Also seen coming to he tables are Dwyte Pilgrim, Todd Witteles, Max Pescatori, Daniel Negreanu, Rob Hollink, Marc Naalden, Phil Ivey, Bryan Devonshire, Barry Greenstein, Phil Hellmuth, Matt Glantz, Jimmy Fricke, Chris Ferguson, Scott Fischman, Eli Elezra, Tom Dwan, Marcello Delgrosso, Alexandre Gomes, Feming Chan, Andy Bloch, Chad Brown and Howard Lederer. All players will start with 7,500 in chips. The game started promptly at 5:00 PM.

Advancing early was Dwyte Pilgrim as a nice full house on the back end (9's/8's) allowed him to jump over the 10K mark with his stack. Also having the luck of the Irish for a player who isn't Irish is Phil Ivey. Ivey actually got beat down to just two $25 green chips, and then worked things that only Ivey can do. He doubled, tripled and quadrupled his stack! By the time the smoke cleared he was back from the brink up to 1,500. (He worked his way back to 4,400 before getting busted.) And speaking of unusual and strange acts, a player sitting at one of the tables seemed to have taken in too much sugar as he kept blairing out whatever was on his mind. Well tournament officials told him that if he continued he would not be at the tables much longer. He garnered the first penalty of the day, and later officials came and repeatedly folded his hand so they could talk to him about his behavior. So take note, having a good time is okay. Getting on the last nerves of others is not.

As the day continued, the list of the fallen grew. Gone were Vanessa Selbst, Phil Hellmuth, Barry Greenstein, Marcel Luske, David Sklansky, Hoyt Corkins, Daniel Negreanu, Shannon Shorr and Tommy Vedes. We will continue the action tomorrow at 3:00 PM.
Alexander Queen -- 74,400
Richard Li -- 74,200
David Webb -- 62,400
Keith Ferrera -- 61,700
Justin Bonomo -- 56,900
Brian Meinders -- 52,400
David Baker -- 51,100
George Lind -- 49,600
Albert Minnullin -- 49,100
Day 2

Day 2 continued with more eliminations taking place. Gone was Patti Gallagher who took the last of her short stack and moved in with J 8. Scott Witteles called and managed to show Patti the exit when he paired his Queen card. Bertrand "ElkY" Grospellier did his best but kept hemorraghing chips to other players until his demise halted his quest for the bracelet. Following close behind were Joe Sebok, Soheil Shamseddin, Annie Duke, Andy Bloch, Matt Hawrilenko, George Lind and Noah Boeken. And knocked out a few steps shy of the money were both Erick Lindgren and Vitaly Lunkin at the same time! In a 3 way hand involving both players and Christopher Vitch, Vitch came out the dominate force with an A 7. (Later it was learned that both players were the bubble eliminations needed to get to the money.)

And as usual, the short stacks then put their chests out and got brave. Which led to the long lines at the cashier's cage. At the nights end, there were 12 players left that will spend one more day battling for the bracelet.

Payout Schedule for the final table
$234,065
$144,650
$93,892
$62,769
$43,117
$30,399
Top 9 players with chip counts
Al Barbieri -- 415,000
Albert Minnullin -- 367,000
Christopher Vitch -- 352,000
Dutch Boyd -- 349,000
Brian Meinders -- 300,000
Anh Le -- 289,000
Art Parmann -- 202,000
J.J. Liu -- 182,000
Dana Kellstrom -- 151,000
Final Table

With a 3:00 PM start, it took until 6:30 PM to get down to 6 for the final table. Leaving in 9th was Jeff Norman who had his all-in effort with A J cut short by the two pair (K's and Q's) belonging to Domenico Denotaristefani. Next in a 3 way hand involving Anh Le, J.J. Liu and Julian Parmann, Le went out in 8th and Liu followed in 7th after Parmann became top dog with a set of 7's made on the flop.

In 6th place was Al "Sugar Bear" Barbieri, leaving the table after his set of 7's lost out to the full house (4's/7's) belonging to Brian Meinders. Dismissed in 5th was Domenico Denotaristefani, being escorted to the rail by the pocket J's of Albert Minnullin. Five minutes later, Julian Parmann busted in 4th when he lost to the paired 10's of Meinders. Then the rain fell on Minnullin as Meinders took all of his chips and busted him in two successive hands. First hand saw Meinders take the majority of his stack with two pair (J's and 2's), then the rest went after Meinders won when he paired his King card, sending Minnullin away in 3rd place.

The two remaining players went at it tooth and nail as hands were being played every three minutes. We couldn't even get their chip counts before the fray began. But limits were at $50,000/$100,000 for the level. Dutch Boyd put pressure on when he could, trying to take as many pots as he could until the big hand. Meinders was under 100K in chips when he went all-in preflop with A 8 against the J 10 of Boyd. The dealer felted J 2 9 7 8, giving a pair of Jacks to Boyd and his second gold WSOP bracelet. He won his first in a six handed event back in 2006.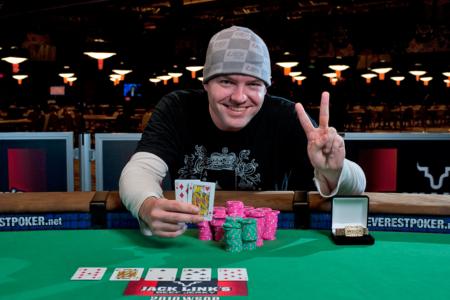 2010 Bracelet Champion #23 -- Dutch Boyd
Dutch Boyd -- $234,065
Brian Meinders -- $144,650
Albert Minnullin -- $93,892
Julian Parmann -- $62,769
Domenico Denotaristefani -- $43,117
Al Barbieri -- $30,399