Home Online Casino Real Money
2010 WSOP Event Schedule WSOP TV Schedule Free Slot Games Site Map 3 Webmasters

Click on Event Schedule link to view available reports!




All linked player names have free bios, courtesy of FullTiltPoker
Event #25 Omaha Hi-Low Split-8 or Better Championship
Day 1
Buy-in: $10,000
Players: 212
Prize pool: $1,992,800 divided between the last 27 left

Event #25 Omaha Hi-Low Split-8 or Better Championship had tons of top names in the field like Sorel Mizzi, John Kabbaj, Alexander Kravchenko, David Benyamine, Mel Judah, Jeffrey Lisandro, Rob Hollink, Brandon Adams, Alexander Kostritsyn, Josh Arieh, Yuval Bronshtein, Doyle Brunson, James Van Alstyne, Toto Leonidas, Lakers owner Jerry Buss, John Cernuto, David Chiu, Hoyt Corkins, Scott Clements, Freddy Deeb, Eli Elezra, Annie Duke, Tom Dwan, Ted Forrest, Chris Ferguson, Phil Hellmuth, Hasan Habib, Allen Kessler, John Juanda, Phil Ivey and Eugene Katchalov. We expect quick exits and intense battles.

Action started at 5:00 PM, and the one and only Mike Matusow made his presence known. He started swearing and yelling before he even took his seat saying, "Look at this table I've got! Look at these f***ing people!". Then he looks at Jason Mercier and says, "I've got the f***ing spook of spooks at my table!". Good ol' Mike. Well at least he is not at the World Cup embarrasing the US in front of the world. Also, so many prop bets are going out loudly from other players like Jean-Robert Bellande, Mike Matusow, Allen Kessler and Scott Clements to where one player asked if anyone had a joint so he could tune them out.

Back to the action, Hoyt Corkins left the tables after his K Q J 6 turned ugly after a Jack came on the flop, resulting in George Lind winning with a A Q 9 2 low. Tom Dwan and Scott Clements were both caught in between the high and low of two other players in seperate hands, and are now on the rail. John Hennigan is no longer in the field after meeting the A 10 5 4 hand of Eli Elezra which enabled him to make the club flush and the nut low for the win. Michael "The Grinder" Mizrachi was just busted by Nick Schulman and has emptied his seat for good. Tournament officials ended the day after 3:00 AM the next day came around. They will sleep for 12 hours and come back for more at 3:00 PM.

Payout Schedule for the Final Table
$488,241
$301,789
$225,325
$169,368
$128,097
$97,507
$74,670
$57,552
$44,618
Top 9 with chip counts for Day 1
Sergey Altbregin -- 390,000
Sammy Farha -- 310,000
Eric Baldwin -- 285,000
Pat Pezzin -- 274,000
Dale Phillips -- 260,000
Tai Nguyen -- 255,000
John D'Agostino -- 255,000
Jeffrey Lisandro -- 240,000
Jose De Paz -- 225,000
Day 2

Short stacked players Tom Schneider, Shannon Shorr and Erick Lindgren were among the early busts on Day 2. Lakers owner Jerry Buss suffered defeat when the set of 3's he made were outdone by the wheel made by his opponent. Nikolay Evdakov could not beat the high and low made by Carlos Mortensen and is among the pile of the busted on day 2. Hasan Habib joined them after his opponent made an Ace flush high and a better low draw, forcing Habib to turn over the rest of his chips. They have been followed by Todd Brunson, Ted Lawson, Andy Bloch, Tony Ma, James Van Alstyne, Andrew Yeh, Tony Cousineau, Phil Ivey, Michael Mizrachi, Phil Hellmuth, Tony Guoga, Mel Judah, Mike Matusow and Daniel Smith. Plus last year's champion Daniel Alaei was just busted by Mike Sexton, meaning there is one more chair empty.

Close to 4:00 AM the next day, Jeffrey Lisandro was eliminated in 24th place, taking home $17,138 for his efforts. And with that officials told the 23 remaining players to bag their chips for the night.
Michael Chow -- 600,000
Abe Mosseri -- 531,000
Sammy Farha -- 512,000
Eugene Katchalov -- 463,000
Sergey Altbregin -- 444,000
Mike Sexton -- 386,000
Steve Wong -- 363,000
Tai Nguyen -- 325,000
Jean-Robert Bellande -- 314,000
Final Table

Sammy Farha won his 3rd gold bracelet at the 2010 World Series of Poker. On the hand that won it all for him, Dempsey had been crippled on the previous hand and decided to push his last 200,000 to the middle with J 8 6 5. Farha called with J 9 7 4. The dealer laid out 10 4 3 on the table, which initially did not make Farha happy. But then a 10 came on the turn and the river card was another 10. It took a second for both parties to realize that Farha made the high with a full house (10's/4's), but that his J 9 also just squeeked by the J 8 of Dempsey. Farha stood up quickly from his chair and streched his arms to his sides in celebration.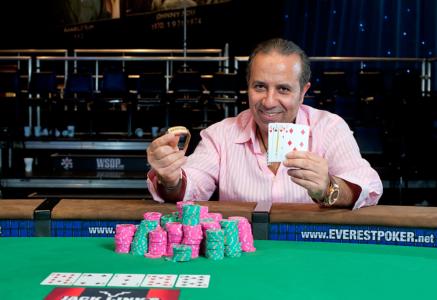 2010 Bracelet Champion #25 -- Sam Farha
Sammy Farha -- $488,241
James Dempsey -- $301,789
Yueqi Zhu -- $225,325
Sergey Altbregin -- $169,368
Tony Merksick -- $128,097
Michael Chow -- $97,507
Eugene Katchalov -- $74,670
Abe Mosseri -- $57,552
Steve Wong -- $44,618