Home Online Casino Real Money
2010 WSOP Event Schedule WSOP TV Schedule Free Slot Games Site Map 3 Webmasters

Click on Event Schedule link to view available reports!


Play Video Poker games here like Aces and Faces!
Event #26 No-Limit Hold'em / Six Handed
Day 1
Buy-in: $1,500
Players: 1,245
Prize pool: $2,863,500, paying to 126th place

The Event #26 No-Limit Hold'em / Six Handed had a list of entrants that included Jonathan Aguiar, Praz Bansi, Al Barbieri, Joe Bartholdi, Alfredo Leonidas, Tom Franklin, Amit Makhija, Jeff Madsen, Brock Parker (Who won the title last year), David Pham, Dwyte Pilgrim, John Racener, Greg Raymer, Antonio Esfandiari, Eli Elezra, Chris Ferguson, Layne Flack, Markus Gonsalves, Alexandre Gomes, Barry Greenstein, Bertrand Grospellier, Melissa Hayden, Phil Hellmuth, John Hennigan, Phil Ivey and Woo Ka Kim. All players will begin with 7,500 chips.

Early eliminations happened to Michael "The Grinder" Mizrachi, Jonathan Little, Alex Bolotin, Vanessa Rousso, Annie Duke and Allen Cunningham. Brock Parker also went to the rail after being busted and will not be able to defend his title. Humberto Brenes has vacated his seat after his pocket 9's were overrun by the paired Q's of Ben Maerefat. Following close behind was Phil Ivey when his opponent paired their King card, beating the Q J held by Ivey. Tommy Vedes left the building after his opponent won the rest of his chips with a pair of 4's made on the river. David Williams joined the list of the fallen after his opponent took the majority of his chips with a King high flush and then got the rest of the chips a few hands later. And Barry Greenstein signed another copy of his book, 'Ace on the River' to give to the player who busted him out of contention. Around 1:00 AM, tournament officials told the 156 remaining players to bag their chips and come back tomorrow for Day 2.
William Haydon -- 179,300
Luigi Caramatti -- 171,400
Timothy Begley -- 167,700
Erik Cajelais -- 163,000
Richard Robinson -- 152,100
Pedro Fernandez -- 144,300
Al Barbieri -- 133,000
Christian Jeppsson -- 129,900
Farhan Madhani -- 125,800
Day 2

Things got underway at 2:30 PM for the sleepy eyed field of players. Now that we are past the halfway mark, entants are coming to their chairs later and later simply because they are tired. Early on busts include Jared Hamby who lost his chips in a 3 way hand where Alexander Yen won with a Broadway straight made on the river. Four and a half hours into play, the money was reached by a very happy 126 players, many who needed caffeine to make it to the cashier's cage after busting. (Maybe I need some caffeine too.) Jeff Shulman was off to the cashier's cage when Alexander Ivarsson turned his 7 6 suited connectors into two pair, beating the K Q held by Shulman.

At the end of 10 levels of play, Daniel Negreanu was busted in 16th place, just missing the Day 3 cut. What happened is that Steve Cowley moved in preflop with pocket 8's and was called by Negreanu holding Q J. The dealer laid out 7 8 Q for the flop, turn card was a 7 with a 5 on the river. So Cowley moved on with a full house (8's/7's) and Negreanu picked up $23,537 for his efforts. There will be 15 returning to the tables to take one last stab at winning the gold bracelet of champions.

Payout Schedule for the Final Table
$630,031
$391,068
$248,265
$163,649
$110,903
$77,228
Top 9 with Chip Counts
Steve Cowley -- 1,279,000
Martins Adeniya -- 823,000
Jeffrey Papola -- 797,000
William Haydon -- 776,000
Joe Baldwin -- 707,000
Justin Smith -- 641,000
Jarred Solomon -- 542,000
Javier Etayo -- 505,000
Clement Thumy -- 500,000
Final Table

Play began at 3:00 PM, taking just 2 1/2 hours and the elimination of Javier Etayo in 7th place to pare the field down to just 6 contenders for the final table. Action continued at level 24 with blinds at $15,000/$30,000 with ante at $4,000. Chip leader Steve Cowley was the first to go in 6th place. Although he had many outs, none materialized so the two pair of Jeffrey Papola (J's and 10's) held to the river. In 5th was Jarred Solomon who had 4 to a straight and 3 to a Royal Flush, but in the end the paired Aces belonging to Joe Baldwin stayed on top. Following Solomon was Eduard Scharf in 4th losing to the pocket A's of Papola.

In the next all-in, Baldwin moved to the center with pocket K's, only to be pushed aside with the paired Aces of William Haydon, resulting in a 3rd place payout for Baldwin. When the heads up started, Haydon had 7,390,000 chips and Papola braced himself with 1,910,000 chips. Lasting only a few hands, the one that won it all for Haydon happened as follows. Papola went all-in preflop with A 6 and Haydon called holding A J. None of the cards from the dealer helped either player and William Haydon happily held his gold bracelet thanks to a Jack kicker.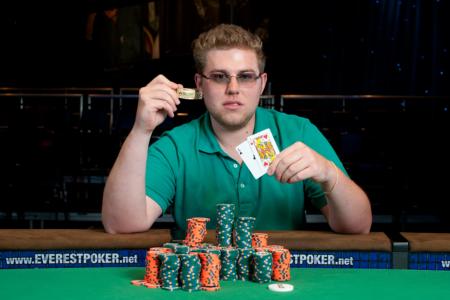 2010 Bracelet Champion #26 -- William Haydon
William Haydon -- $630,031
Jeffrey Papola -- $391,068
Joe Baldwin -- $248,265
Eduard Scharf -- $163,649
Jarred Solomon -- $110,903
Steve Cowley -- $77,228