Home Online Casino Real Money
2010 WSOP Event Schedule WSOP TV Schedule Free Slot Games Site Map 3 Webmasters

Click on Event Schedule link to view available reports!




All linked player names have free bios, courtesy of FullTiltPoker
Event #27 Seven Card Stud Hi-Low-8 or Better
Day 1
Buy-in: $1,500
Players: 644
Prize pool: $869,400 for the top 64

Event #27 Seven Card Stud Hi-Low-8 or Better started on time at 5:00 PM for the 644 who entered. Everyone will receive 4,500 in chips and will do what they can to survive 10 levels of play. Taking up chairs in this event are David Sklansky, Liv Boeree, Gavin Smith, Andy Bloch, Dan Heimiller, Nikolay Evdakov, Rod Pardey, Svetlana Gromenkova, David Singer, ESPN announcer Norman Chad, Frank Kassela, Allen Kessler, Perry Friedman, Howard Lederer, Phil Ivey, John Juanda, Daniel Negreanu, Mike Matusow, Phil Hellmuth, Richard Toth and Jason Mercier.

After dinner break, Daniel Negreanu decided to play a hand for his tournament life blind with Chris Grigorian who did the same. And he did not make it. Daniel just grabbed his goodies and went off to the other tournament. Right before level six was done, Phil Hellmuth was eliminated from the field as was Mike Matusow and David Williams. It took until 3:00 AM the next day to pare the field down to 208 players, but after they get some well deserved sleep it will be time for them to come back for Day 2.
Odette Tremblay -- 43,700
David Levi -- 43,300
Daniel Studer -- 42,600
Jonathan Bascom -- 38,000
David Warga -- 37,000
Debbie Hickok -- 32,500
Jeffrey Lisandro -- 32,400
Richard Burke -- 31,900
Colby Pitt -- 31,400
Day 2

Today will be a good day for some as we will get to the money for a fortunate 64 players. But not for 'Eskimo' Paul Clark who made a set of 10's in his all-in move that failed against the flush made by Jan Sjavic. Clark forced his cards down on the table very hard and walked away as calmly as he could. Jeremiah Degreef got caught between the high and low made by two other players, sending him to the rail. Once the money was made, the following players were gone from the tables by the time tournament officials said good night, John D'Agostino, Phil Ivey, Annie Duke, Doug Carli, Omar Mahmood, Scott Clements, Jeff Duvall, John Racener and Dutch Boyd. There will be 23 that will return tomorrow, and they will continue until there is a champion.

Payout Schedule for the Final Table
$208,682
$129,253
$87,400
$60,588
$42,913
$31,046
$22,926
$17,274
$13,275
Top 9 Players with Chip Counts
Maxwell Troy -- 430,000
Christopher George -- 375,000
David Levi -- 216,000
Karina Jett -- 187,000
Allyn Marshall -- 150,000
Jonathan Bascom -- 138,000
David Warga -- 138,000
Kevin MacPhee -- 138,000
Michael Foti -- 137,000
Final Table

Action continued at 3 in the afternoon and reached the 8 needed for the final table by 7:30 PM at which the players took a nice dinner break. First to leave in 8th was Allen Bari courtesy of the winning Ace high hand of Karina Jett. Then Chris Tryba took home the cash for 7th after his two pair were brushed aside by the set of 9's made by Christopher George. Johnathan Bascom finished 6th after meeting the full house (6's/K's) made by Maxwell Troy. Christopher George got caught between the low of Jett and the two pair (2's and 8's) of David Levi, resulting in a trip to the cashier's cage and a 5th place ending. Then Karina Jett fought off leaving with skillful betting with a short stack for a while, but then she cashed out in 4th after the two pair of Maxwell (K's and Q's) were superior to the two pair she had (8's and 7's). And in 3rd place was David Levi who left his chair after the two pair of David Warga (K's and 5's) beat the paired 10's he pulled together.

But that was not the end of the perils that fell on Levi. When he went to the cashier's cage a man walked up to him and said he owed him money. Levi said that wasn't true and the man threatened to hit him. Security came over and the man left. Levi wasn't harmed but he was a bit flustered, asking security why they didn't do more to protect him. You never know what people will do for money. When Greg Raymer won the Main Event in 2004, he took his box of cash up to his room, only to have two men pull a gun on him to try and take it. That's when Harrah's went to using the Players Card to award money to players. Enough of dark poker history.

On the winning hand for David Warga, he had a superior two pair (6's and 7's) beating the pair of 10's made by Troy. Warga then picked up his second gold WSOP bracelet. He won his first in the Casino Employee event in 2002.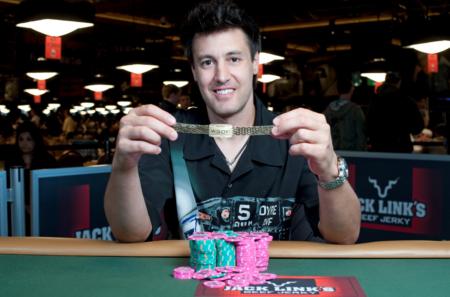 2010 Bracelet Champion #27 -- David Warga
David Warga -- $208,682
Maxwell Troy -- $129,253
David Levi -- $87,400
Karina Jett -- $60,588
Christopher George -- $42,913
Jonathan Bascom -- $31,046
Christopher Tryba -- $22,926
Allen Bari -- $17,274
Topias Wahlbeck -- $13,275