Home Online Casino Real Money
2010 WSOP Event Schedule WSOP TV Schedule Free Slot Games Site Map 3 Webmasters

Click on Event Schedule link to view available reports!


Play Video Poker games here like Aces and Faces!
Event #29 Limit Hold'em Championship
Day 1
Buy-in: $10,000
Players: 171
Prize pool: $1,607,400 for the top 18

Event #29 Limit Hold'em Championship seemed to take a precedence over other events for some reason. Players like Phil Ivey and Tom Dwan were running back and forth between this one and Event #28. In fact Ivey was blinded out of #28 because he spent so much time at this one. The only benefits we could see for guys on this level to stay here instead of there is for one there are fewer players and plus they know many of these players and their styles of play. With all the high level firepower here, it's tougher to get a bracelet but with some advantages. In the field were Brandon Adams, Michael Mizrachi, Chad Brown, Andy Bloch, David Benyamine, Doyle Brunson, Todd Brunson, Bill Chen, Eric Froehlich, Hoyt Corkins, Jennifer Harman Traniello, Phil Hellmuth, Howard Lederer, Maria Ho, Liz Lieu, Kathy Liebert, Michael Mizrachi, Robert Mizrachi, Brock Parker and Barry Shulman.

Everyone had 30,000 chips in front of them and will play for 8 levels. But not much happened and the pace was actually pretty slow with only 69 gone from the field on day 1. Eliminated from the field were Terrance Chan, Howard Lederer, Jimmy Fricke, Daniel Negreanu, Nikolay Evdakov and Soheil Shamseddin.

Some of the names who will be seeing a chair on Day 2 are Nick Schulman 85,800, David Chiu 73,200, Doyle Brunson 63,500, Vitaly Lunkin 61,800, Phil Ivey 53,300, Vanessa Rousso 32,300, Barry Greenstein 40,900, Chris Ferguson 39,800, Justin Bonomo 46,800, Alfredo Leonidas 26,600 and Dwyte Pilgrim 23,400. The pain will resume at 3:00 PM tomorrow.

Payout Schedule for the Final Table
$425,969
$263,243
$190,701
$140,760
$105,782
$80,884
$62,897
$49,732
$39,959
Top 9 with Chip Counts
Jeffrey Lisandro -- 130,900
Michael Reed -- 123,600
Brett Richey -- 113,800
Hoyt Corkins -- 109,900
Zvi Groysman -- 107,100
Vladimir Shchemelev -- 99,800
Albert Minnullin -- 97,600
Daniel Idema -- 95,800
Shaun Deeb -- 89,000
Day 2

As players were getting into their seats once play started at 3:00 PM, Lex Veldhuis had already busted after the first four hands were dealt at his table. Yikes! Following him was Phil Hellmuth who knew he was going to bust when he saw the dealer cards on the flop. As he left the table he said, "Some brilliant f***ing players here,". Attaboy Phil. Also going through the revolving door of elimination was Jeffrey Lisandro, Matt Glantz, Dan Heimiller, Maria Ho, Shaun Deeb, Dwyte Pilgrim, Doyle Brunson, Justin Bonomo, Brett Richey, Vitaly Lunkin, Steve Sung, Mark Newhouse, Michael Reed and Kenny Hsiung who took home some cash as he left in 18th place.

At the end of the day, there were 13 remaining that will fight for the bracelet on day 3. Two of the 13 who made the cut for the final round are David Chiu who is the short stack at the table with 144,000 and Michael Mizrachi having 256,000 chips in his corner.
Kyle Ray -- 643,000
Daniel Idema -- 634,000
Jameson Painter -- 574,000
Dave Baker -- 542,000
Darren Woods -- 529,000
Matt Keikoan -- 418,000
Simon Morris -- 364,000
Brock Parker -- 351,000
Zvi Groysman -- 278,000
Final Table

This was a long day as play got underway at 3:00 PM. It took until 5:00 AM the next day to complete! In the beginning David Chiu was falling badly, but managed to double up in a hand with Kyle Ray to 125,000 and continued to rocket upwards, lasting long enough to finish in 9th place. Chiu went in with pocket 6's and was called by Matt Keikoan with pocket K's which turned into a set on the flop, giving Keikoan the winning hand. In 8th was a saddened Michael Mizrachi who went in with pocket K's verses the 8 9 suited connectors of Simon Morris when the flop gave Morris an open ended straight draw. The turn gave a 7 which made the straight for Morris and sent Mizrachi to the cashier. Morris won that battle, but lost the one with Keikoan to finish in 7th place due to the Ace kicker held by Keikoan. Zvi Groysman took the money for 6th place after his all-in move with A 9 suited lost to the two pair of Daniel Idema (Q's and J's). And Brock Parker who was looking to wear bracelet number 3 was denied and had to settle for 5th place after he pushed the last of his chips in with K 3 and lost them to the A Q of Jameson Painter after nothing came on the board to help either player. Painter then had to battle with Keikoan and went home in 4th place, when after a flop of 10 3 A both went all-in. Keikoan showed a set of 3's verses the paired Aces of Painter which stayed that way with bricks on the turn and river. Kyle Ray walked away from the table in 3rd about 10 minutes later after his gutshot straight draw didn't make it and Keikoan won the hand with a pair of Jacks.

About 12 minutes into the heads up, Idema almost won but the Ace and 8 hand held by Keikoan turned into two pair, giving Keikoan a second wind and a larger pile of chips. The volatility was incredible with millions of chips moving back and forth over the next few hours. In the last hour Idema was crippled on a major hand and went all-in with the 145K in chips he had left. This last hand which won the bracelet for Keikoan went as follows. Idema pushed to the middle with 2 4 offsuit and Keikoan called with A 7. The dealer laid out J Q Q K Q which didn't help either player, but it was just what Matt Keikoan needed to claim the title of champion.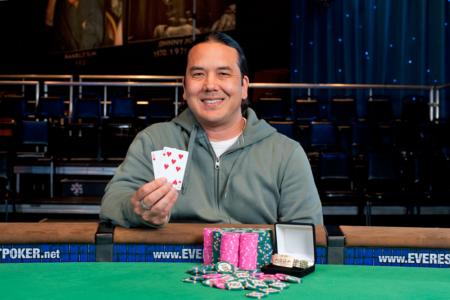 2010 Bracelet Champion #29 -- Matt Keikoan
Matt Keikoan -- $425,969
Daniel Idema -- $263,243
Kyle Ray -- $190,701
Jameson Painter -- $140,760
Brock Parker -- $105,782
Zvi Groysman -- $80,884
Simon Morris -- $62,897
Michael Mizrachi -- $49,732
David Chiu -- $39,959