Home 2010 WSOP Event Schedule WSOP TV Schedule Free Slot Games Site Map 3 Webmasters

Click on Event Schedule link to view available reports!




All linked player names have free bios, courtesy of FullTiltPoker
Event #3A and 3B No Limit Hold'Em
Day 1
Buy-in: $1,000
Players: 4,345
Prize pool: $3,910,500 going to the top 441 finishers

Day 1A

This No Limit Hold'Em event will be played in both the Pavilion and the Amazon rooms for Day 1A. If this runs anything along the popularity of last year's $1,000 buy in event, tons of players are expected. Seen so far are Vanessa Rousso, Amarillo "Slim" Preston, Chris Moneymaker, J.J. Liu, Tony Ma, Nenad Medic, Andy Black, Kathy Liebert, Humberto Brenes, Hevad Khan, Brock Parker, Tommy Vedes, Soheil Shamseddin, Eric Mizrachi, Shaun Deeb, Shannon Elizabeth, Jimmy Fricke and Erica Schoenberg to name just a few. Just 5 minutes into the fray, there was one person who got up and left quickly as possible. But he was not the first one to bust. That is how fast things are moving today. About 15 minutes after Gavin Smith arrived, he departed to enter another bracelet event. And yes he is gone for good. Smith was quickly followed by Brandon Cantu. Keep in mind that this is scheduled as a 4 day event, but it will take 5 calendar days to complete.

There were 2,601 players who signed up to take a seat on Day 1A. And as fast as they were being filled they were being emptied. Shannon Shorr ran into a streak of bad luck with his full house losing to quads and then his final demise being a set of Queens made by another player. Shorr took it well, leaving the Pavilion room cool, calm and collective. Joe Cada the 2009 WSOP Main Event champion was not far away from the rail when his elimination took place, losing by and Ace kicker. After dinner there were 788 still in the field with that number falling fast. Eric Mizrachi did not share the luck of his brother Michael Mizrachi in Event #2 as his A K lost out to pocket A's that turned into two pair (A's and 9's). By the end of the day, there were 276 that made the Day 2 cut.

Top 9 Day 1A top chip counts:
Terry Fleischer -- 119,300
Nancy Todd Tyner -- 103,000
Jerrymee Jose -- 96,100
Drew Crawford -- 95,000
Anders Taylor -- 93,200
Dan Lu -- 90,000
Brent Roberts -- 88,000
David Vanwert -- 78,900
Blake Cahail -- 78,400
Day 1B

A whole new crop of players are streaming into the Pavilion and Amazon rooms. Some of the faces are Amnon Filippi, Jeff Shulman, Sorel Mizzi, Neil Channing, Vitaly Lunkin, Theo Tran, Tony Dunst, David "The Dragon" Pham, Erick Lindgren, Jennifer Tilly and J.C. Tran. By the time level 3 registrations ended, there were an additional 1,744 players who took to the tables on Day 1B. That brings the total player count to 4,345. But some made early exits before the final count was made, like Phil Hellmuth Jr. He was down to 1,750 chips when he moved all-in with pocket 9's and was called by someone with pocket K's. By the river the other player had a full house (K's/9's), sending Hellmuth out for a cold one. Jeff Shulman lost out in a 3 way hand, resulting in him leaving the tables. Sorel Mizzi had to leave after his opponent won with an Ace kicker. Layne Flack went from smiles to frowns when he thought he won with a set of Aces, but quickly saw the other player had made a full house (K's/A's). Exit Layne Flack.

Others who made for the exit sign were Nikolay Evdakov, Jason Somerville, Chad Bautista, Terrance Chan, Jason Mercier, Nicholas Levi, Corey Dowd and Andrew "LuckyChewy" Lichtenberger. The 205 remaining from Day 1B will combine to bring 481 players to contend for the bracelet on Day 3.

Top 9 Day 1B chip counts
Braxton Dunaway -- 139,000
Timothy Boytor -- 108,000
Matthew Berkey -- 100,400
Thomas Joanides -- 98,200
Joseph Elpayaa -- 82,300
Justin Conley -- 77,200
Nicholas Chlebeck -- 70,400
Rodrigo Felix De Sousa -- 69,800
Michael Diclemente -- 64,900
Day 2

Today will be a good day with the money reachable at position 441, so it won't take long to pare down the field and start making people really happy. Still in the game are Men "The Master" Nguyen, Champie Douglas, Jae Hwang, Nancy Todd Tyner, Amarillo "Slim" Preston, Kevin Stammen, Jared Hamby, Jon Friedberg, Vanessa Rousso, Daniel Fuhs, Bryan Devonshire, Glyn Banks and Lee Markholt. And at 2:50 PM, they and many others were off to the races with short stacks going out almost immediately. The bubble was reached in 15 minutes with play slowing down to hand for hand by tournament officials. There was one very happy Men "The Master" Nguyen who stated that this is his 66th WSOP cash and has his eyes set on breaking Phil Hellmuth's record. (Currently as of this event, he is nine finishes behind all-time leader Phil Hellmuth.) Well, the bubble player lost the balance of his chips in a round with Kevin Stammen. The player went all-in with pocket K's and was called by Stammen holding A K. The board revealed 3 10 6 A A, which gave a set of Aces to Stammen and the boot to a player on the edge of happiness.

Within 30 minutes, the field was down to 369 players! The line to the cashier's cage was long and stayed that way for a while. By dinner time the player count had dropped to 188 players. After dinner break action resumed at level 15 with blinds at $1,500/$3,000 and a $400 ante. Jordan Morgan left the tables after his all-in with pocket K's was met with a Broadway straight made by David Arnold. Tommy Vedes also went to the middle with pocket K's only to have his tournament life ended with a caller brandishing pocket A's that held to the river. At around 3:00 AM the next day, there were 41 left that will see a seat on day 3.

Final Table Payout Schedule
$625,872
$385,106
$279,327
$206,904
$154,425
$116,141
$88,025
$67,221
$51,735
Top 9 players and chip counts:
Drew Crawford -- 800,000
William Davis -- 775,000
Dash Dudley -- 745,000
Nicholas Mitchell -- 681,000
Robert Scott -- 644,000
Dana Kellstrom -- 507,000
Terry Fleischer -- 489,000
Eric Baldwin -- 479,000
Aadam Daya -- 476,000
Day 3

The core focus is to have the field of 41 pared down to the 9 needed for the final table. Action continues in the Amazon room and began at 3:00 PM. After the long day of Day 2, many came to the table wiping sleep crumbs from their eyes. Jae Hwang busted out when the all-in move backed by pocket Kings was shut down by the set of 9's made on the flop by Cory Brown. Nancy Tyner went out badly after a move with pocket J's was called by a player with pocket 10's. The board showed 7 6 8 9 4 giving her opponent a straight and sending her to the cashier's cage. (Well, we've seen worse beats and at least she saw some cash for her efforts.)

Jeremiah DeGreef went through grief on his exiting hand. He went all-in with pocket Q's and was called by a player with A 9 offsuit. The dealer laid down A K K 2 K. Another fast look to make sure his boat was run over by a bigger boat and Jeremiah exited the Amazon room with a 16th place finish. Eric Baldwin also did not make the final table, finishing 15th in this event. Baldwin went to the middle with K Q and was called by Nicholas Mitchell with pocket J's. On the felt was J 3 3 7 K. So any boos and hisses heard may have come from Baldwin, but things proceeded nonetheless. After 8 hours the 9 for the final table was determined and will come together one more time at 2:30 PM to see who walks away with the gold bracelet!
Aadam Daya -- 2,855,000
Cory Brown -- 2,315,000
Gabe Costner -- 1,830,000
Dash Dudley -- 1,355,000
Bart Davis -- 1,355,000
Nicholas Mitchell -- 1,280,000
Isaac Settle -- 970,000
Rich Rice -- 690,000
Deepak Bhatti -- 400,000
Final Table

Okay, it's time to get the show on the road! The final table officially lasted 10 hours and 20 minutes. First man out was Richard Rice in 9th place after Nicholas Mitchell got his badly needed Ace card on the river giving him a pair and the win. Next in 8th was Dash Dudley after his move with 7 10 suited and a very short stack got called and defeated by the Ace high hand of Issac Settle. (At this point the beer intoxicated fans were standing on the WSOP equipment tables and received visits from the tournament director. They were basically understanding and cooperative until their player Nicholas Mitchell moved all-in which made them freeze until the hand was over.) For 7th place was Issac Settle who confidently went in with pocket J's and was doing okay, until he saw an Ace fall which gave Bart Davis the upper hand all the way to the river. Then on the next hand, Cory Brown left to collect the winnings for 6th place. Cory fell victim to the 10 high flush made by Gabe Costner. And in 5th place was Nicholas Mitchell. His fans have been yelling, screaming with one supporter who actually choked on his beer. (He's okay though.) What happened is that Mitchell and Deepak Bhatti went all-in preflop. Mitchell has 4 5 verses the A 7 of Bhatti. First card was a 4, but the next two were A 7. (Yes, security was very close by.) Then the turn card was a J and river a 3 which ended the charge of Mitchell and his Mitchellite followers. Bart Davis took 4th after Aadam Daya made a Ace high flush on the flop, winning the hand. Then Daya ended Gabe Costner's chance at a bracelet. Both went in preflop with Daya having A K and Costner with A Q. The board showed 9 2 A 9 5, which sent Costner to the showers by a King kicker.

The final hand of the tournament came when Aadam Daya was dealt Qd Qs against Deepak Bhatti's Kh 5s. Bhatti nursed a short-stack for quite a while, but finally went out when he shoved with the weak hand and failed to top Daya's big pocket pair. The board showed Js 5h 4s Ac 3d, giving Daya the victory and his first bracelet.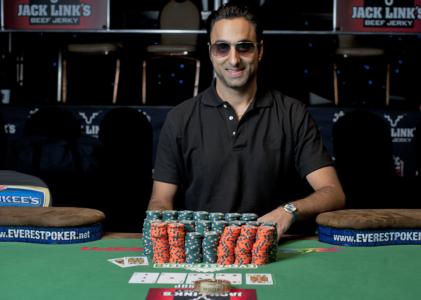 Aadam Daya -- $625,872
Deepak Bhatti -- $385,106
Gabe Costner -- $279,327
William Mark Davis -- $206,904
Nicholas Mitchell -- $154,425
Cory Brown -- $116,141
Isaac Settle -- $88,025
Dash Dudley -- $67,221
Rich Rice -- $51,735